What is Live Shopping: The New Live Sales Trend That's Revolutionizing E-commerce
4min read - iAdvize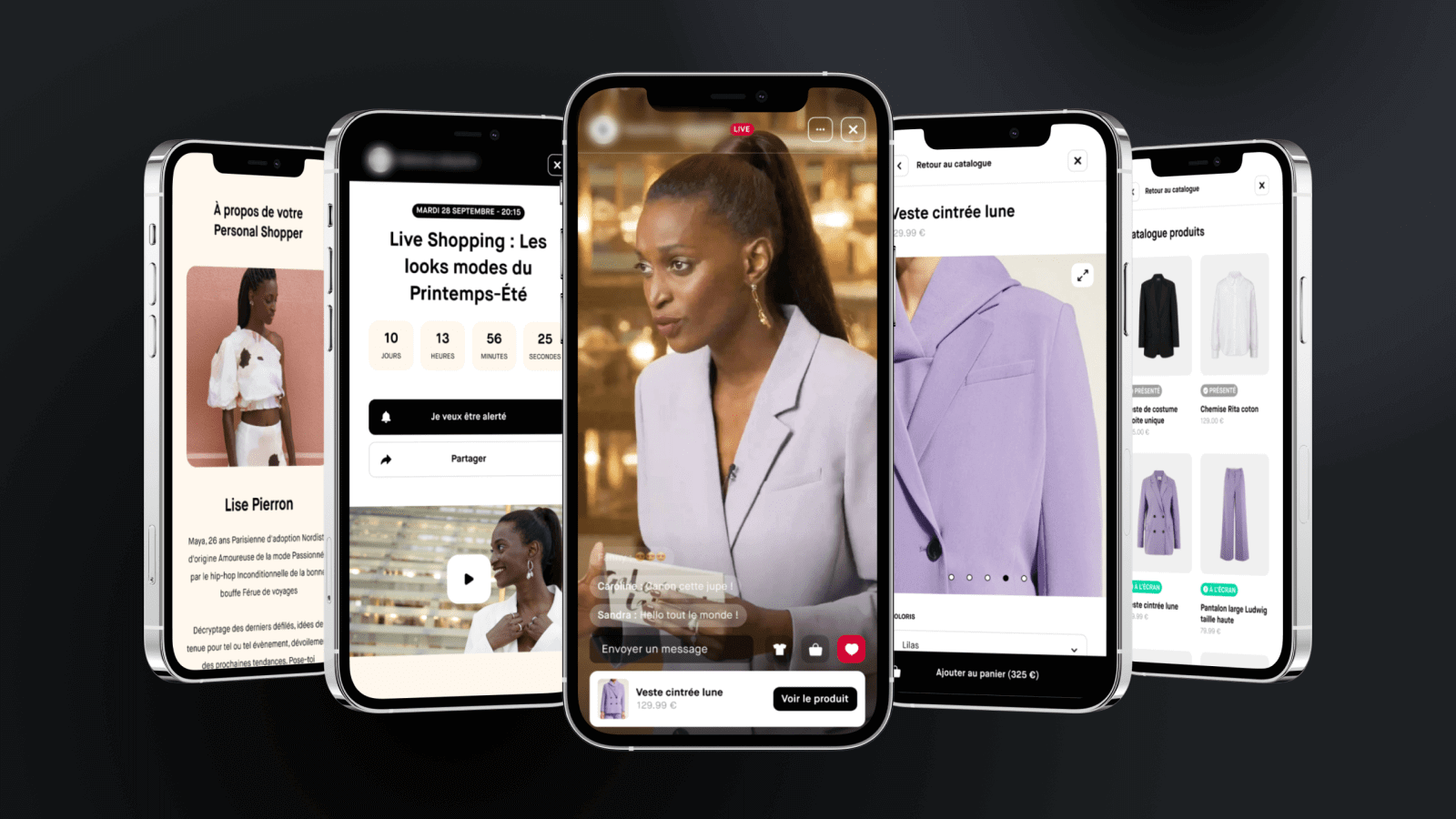 What if brands transformed the way they sell products online? At the crossroads of social, digital, and commercial trends, a new immersive and interactive sales channel is opening up the field of possibilities: Live Shopping. Come along for a guided tour of the phenomenon that is revolutionizing the online shopping experience.
What is Live Shopping?
​​Gradually spreading across the United States and Europe, the mysterious shroud surrounding Live Shopping is gradually becoming unveiled. This is no surprise since Live Shopping is still in its early stages: most consumers have yet to experience this new approach to online shopping. Live Shopping, also known as Live Commerce or Live Stream e-Commerce, is an online sales channel that allows consumers to instantaneously purchase a product presented in a live video. Consumers attend this free live video either via a dedicated platform or through social networks hosted by a brand or a retailer. Consumers become spectators and buyers simultaneously. Often, influencers facilitate the live event, though occasionally, brands may use their representatives or experts. The event is interactive and allows consumers to react in real time, thanks to comments and emojis.
Live Shopping Criteria:
Live video broadcast
100% online content
Presentation of one or more products from a brand or a retailer
Purchase in a single click
Presentation by an expert or influencer
Interaction between presenter and audience
The Origins of the Live Shopping Phenomenon
The live shopping trend emerged in Asia, particularly in China, where it is a true phenomenon. In 2016, eCommerce giant Alibaba launched its Live Shopping platform, Taobao, a major success for its online shopping presence. Consumers are embracing this new and innovative way of shopping. It responds to their need to affirm their social status as consumers while being an excuse for an entertaining experience. A new word became coined to perfectly describe this hybridization between entertainment and online shopping: shoppertainment.
Live Shopping is a new experience that has become, for several consumers, yet another hobby. Success for live Live Shopping comes from the privileged relationships created between the host and the viewers. The viewers, while attending the live show, react, comment, and interact with the host. This experience can also be viewed as a fusion of social networks and e-commerce, namely social commerce or social retail. Selected for their personality, some Chinese KOL(KeyOpinion Leaders) or influencers specialized in Live Shopping have seen their popularity take off in the last few years. They accumulate millions of views... and millions of dollars, figures that are catching many brands' attention. In China, Live Shopping represents more than 10% of e-commerce and is growing by 280% a year. According to estimates, sales in the Chinese market should reach 423 billion dollars by 2022. Live Shopping is on the rise and growing rapidly in the Western market. With uses that differ from those of their Asian counterparts, US consumers have already spent 1 billion dollars in live shopping in 2021! Nevertheless, Live Shopping is gaining momentum, and brands are increasingly interested.
Live Shopping: A Challenge for Digital Transformation
It's no secret that in the future consumers, will be highly connected. Expectations of Millennials and Gen Zers (people born between 1981 and 2012) are already pushing brands to take their customer experience to the next digital level, like with messaging. Live Shopping, is fully aligned with this context of digital transformation and conversation with consumers. When surveyed, 88% of Millennials and Gen Z say they are interested in Live Shopping. This new sales channel perfectly suits their search for a rich customer experience, both digital and human. A seemingly paradoxical demand that is made possible by increasingly social and personalized digital experiences. Yet this remains a challenge for brands.
​​Live Shopping appears as a new digital sales channel that enriches the e-commerce experience. The share of e-commerce in global retail sales has exploded in 2021. This explosion is notably due to the health crisis, rising from 13.6% in 2019 to 19.5% in 2021. However, this crisis is dragging on and, consumption patterns are now permanently impacted. Brands see Live Shopping as a new string to their bow, with the ability to generate incremental revenue and limit over-reliance on the physical sales channels. As a result, Live Shopping is being used to boost brands' omnichannel strategy.
How Can Brands Deliver the Best Possible Live Shopping Experience?
1. Evaluate the Relevance of Live Shopping
​​Many brands & retailers in the US and Europe are looking into the Live Shopping revolution. However, not all industries are equally suited for immersive and interactive demonstrations. A Live Shopping session requires a core community, interested or even passionate about the product offerings from the brand. Along with a die-hard community, for a live session to be captivating throughout its duration(say, ~45 minutes), the expert's presentation must create added value. ​​Typically, added value comes from innovative, exclusive, or in-depth product presentations. Finally, instant purchases work especially well in sectors that are sensitive to impulse buying. Live Shopping is therefore particularly well-suited in these industries:
​​Other sectors can find an interest in Live Shopping, such as furniture & home décor, and though they are marginal in the West, the food and automotive sectors are developing in Asia.
2. Choose the Most Appropriate Broadcasting Tool
Brands that wish to broadcast live to an audience can either go through their social media accounts, which include Instagram, Facebook, and TikTok or use an independent platform. The advantage of a platform is that it gives brands a D2C channel with much more strategic control. It is a premium solution that transforms the digital customer journey and gives brands a competitive advantage. A Live Shopping platform provides:
Broadcasting live streams on brands' websites and social networks
Customized interface to match the brand's image
​​Live Shopping experience designed per the brands' priorities and goals
​​Live stream data access
​​A global Live Commerce strategy
​​Product listings directly integrated into Live Shopping
3. Build the Right Strategy
Engaging a community of buyers requires strategic vision and planning. Live Commerce is not just a live stream: it must be a part of an ecosystem related to influence, fall within a conversion strategy, or even emerge from a global events calendar. In short, Live Shopping is a sales channel in its own right, which often requires expert support. In Live Shopping, everything counts. As an experience, it encompasses the entire buying journey. Examples of best practices to follow:
Before the live stream: Set up marketing actions to generate interest and a day-of audience
​​During the live stream: Engage with the community and moderate the conversation with defined & communicated rules
​​After the stream: Share on-demand video and live shopping content on product pages for new viewers
It is early days yet for Live Shopping in the West, but there is enormous potential value in simultaneously offering products and a human experience. Whether that value is awareness, engagement, or revenue. Live Shopping is set to revolutionize customer experience for brands.