3 Top Brands Share Their Secrets to Driving Revenue With Live Shopping
4min read - iAdvize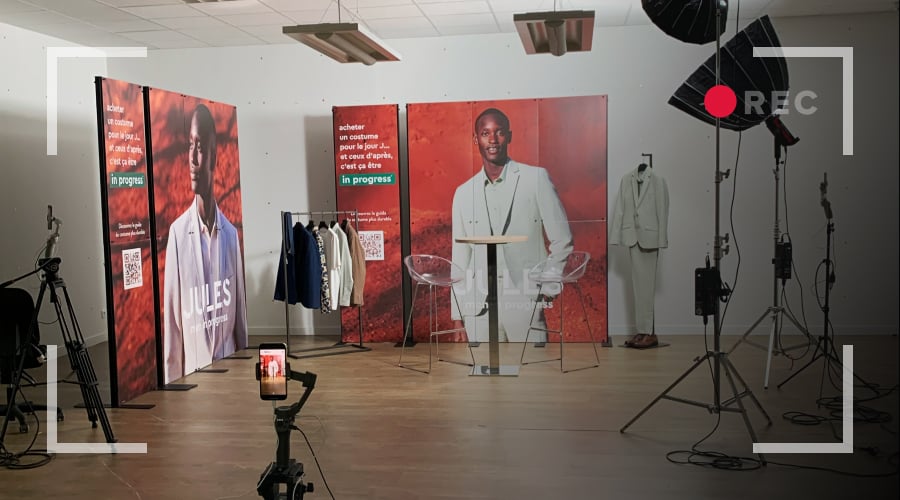 Influencers and celebrities are often key players in live shopping. Their credibility and likeness help brands build awareness and trust with new audiences. But the benefits of live shopping shouldn't be limited to brand awareness. Live events can do much more for your business, including driving revenue. Read on to discover how three top brands—Orange Spain, Canal+, and Magimix—are using live commerce to generate record sales and an exceptional ROI. We've analyzed these experiences over the span of two years to identify the fundamentals that make these events successful.
Live Shopping That Optimizes ROI
If you're getting mixed signals about live commerce right now, that's perfectly normal. Retailers have traditionally approached live shopping as a brand awareness strategy, and are often met with varied results. And yet, others that have committed to experimenting with this live video format are convinced of its strategic role in the future of e-commerce. So, what distinguishes these two categories of brands?
Their ROI Approach
If you view live commerce as a sales tool for events like new product launches, seasonal drops, or exclusive deals, they'll reap the rewards of:
Enriching your digital customer journey and driving conversion
Developing and maintaining your customer base to

generate long-term benefits
But how can you ensure you'll see success from every live shopping show you produce? Through discussions with top brands Canal+, Magimix, and Orange Spain that have integrated live shopping into their e-commerce operations and seen impressive results, we found there are three key elements to leverage.
Secret #1: Combine Your Live With a Current Event or Exclusive Product Offer
First and foremost, live streams should be promotional sales tools, meaning that their purpose is to bring together a community of new and existing customers. And there's really no such thing as an engaging event without a special occasion, whether that be an exclusive product offer or current event.
Quality over quantity is the main takeaway here. It's best to concentrate your efforts on fewer, well designed and executed live events that are correlated with other things, such as current societal events that are relevant topics to what your brand offers, or when you're already trying to promote new product launches or flash sales.
Magimix, leading French food processor and kitchen appliance retailer, took this advice to heart when planning their live shopping event strategy. Following the success of their first live shopping event, "Le Goût du Live", hosted by Laurent Mariotte back in 2021, the brand decided to host a follow up at the tail end of 2022.
"Le Grand Goût Du Live", launched in partnership with Marmiton, was a massive success for the Magimix brand. During the event, the hosts cooked exclusive recipes together with their Cook Expert and Blender Power appliances.
Then, they took the experience a step further by inviting the live audience to interact with enthusiastic brand advocates and other influencers ready to give expert advice and recommendations on the products being featured. This tactic honed in on the social commerce aspect of live shopping that a lot of retailers overlook when designing live shows. Incorporating social proof along with exclusive featured products that can only be bought during the event generated impressive results and customer satisfaction: 1.8 million total viewers, 29 million impressions on social networks, and a 17-point increase in awareness.
Secret #2: Find the Perfect Promotional Timeline
The second important factor to get right when building a live shopping event is finding the right timing to promote and launch the livestream. Letting your audience know for the first time about an upcoming event a week before it happens is likely to result in a live show that falls flat. Setting an event date for a week after a product launch is too late to get your audience excited about the products you're selling. This is why live commerce must be included in your initial marketing plan, rather than as the icing on the cake down the line.
We've seen this play out with different brands. For the same current event, results are much better for companies who organize their live shopping events on the event day, rather than a few days before or after. Orange Spain, Magimix, and Canal+ all stick to this principle, where they align the timing of their live shows with their exclusive offers or other world events taking place.
A benchmark in this area is the Canal+ Group. Drawing on its expertise in broadcasting sports competitions, Canal+ carefully selects the most eagerly awaited events and combines them with their live shopping events to boost subscription sales. Whether it's the French Motorcycle Grand Prix or the Champions League, the company knows how to launch an event at just the right time to attract a much larger audience and optimize sales potential.
Secret #3: Make the Event Interactive
This element brings us back to the fundamentals of live commerce. What really sets this revenue lever apart from other e-commerce tactics is its hyper-interactivity. Typical live shopping solution features include a live chat that's open for viewers to ask questions and make comments throughout the session, pop up polls, giveaway opportunities, games, and more. Taking advantage of these is key to creating an immersive and interactive viewing experience that meets the expectations of consumers seeking more authentic, personalized online shopping.
According to McKinsey, 71% of consumers expect personalized experiences from brands, and 76% say they're frustrated when this isn't the case. And yet, too many brands still overlook this consumer expectation and aren't fully embracing the technology that can make this possible. This also means that by extension, they aren't fully optimizing their opportunities for influencing their level of engagement with customers and their revenue potential. After all, interactive content has been shown to generate 2 times more conversions than passive content does.
One-to-many messaging is the best aspect of live shopping for increasing interactivity. This feature enables your brand to connect with your audience, and ask and answer their questions in real time, either in the live chat or as a live call out from the hosts. Including personalization like calling people by their name or pausing during the presentation to provide clarification on a question are ways of making viewers want to stay longer and follow through on a purchase.
Orange Spain's approach to its live shopping events make the brand a pioneer of customer interactivity. The telecom company has adopted a massively successful strategy of monthly, recurring live events—sometimes more during periods of high sales activity—that coincide with product releases to generate excitement. This set up allows them to routinely encourage sign ups for their Orange subscription and promote new offers, including the live's featured product or service (smartphone, game console, etc.) for that month.
For a leading brand that's transitioned more to digital in recent years, like Orange Spain, live shopping opens up unique dialogue with their customers. Their events often reach around 6,000 viewers of dedicated fans who mainly join an event because they're interested in buying products while watching.
"With live shopping, you can reach and develop links with audiences in a community-building way—people who're extremely committed to buying and interested in live video experiences. As a result, our conversion rate is always in the double figures, sometimes upwards of 15%."

Thibault Bonneton, Director of Digital & Remote Sales at Orange Spain
Now that you know the best kept secrets to live shopping success, get started developing your own live commerce strategy to achieve your business goals.