Why is Shopping Cart Abandonment a Problem for Retailers?
8min read - iAdvize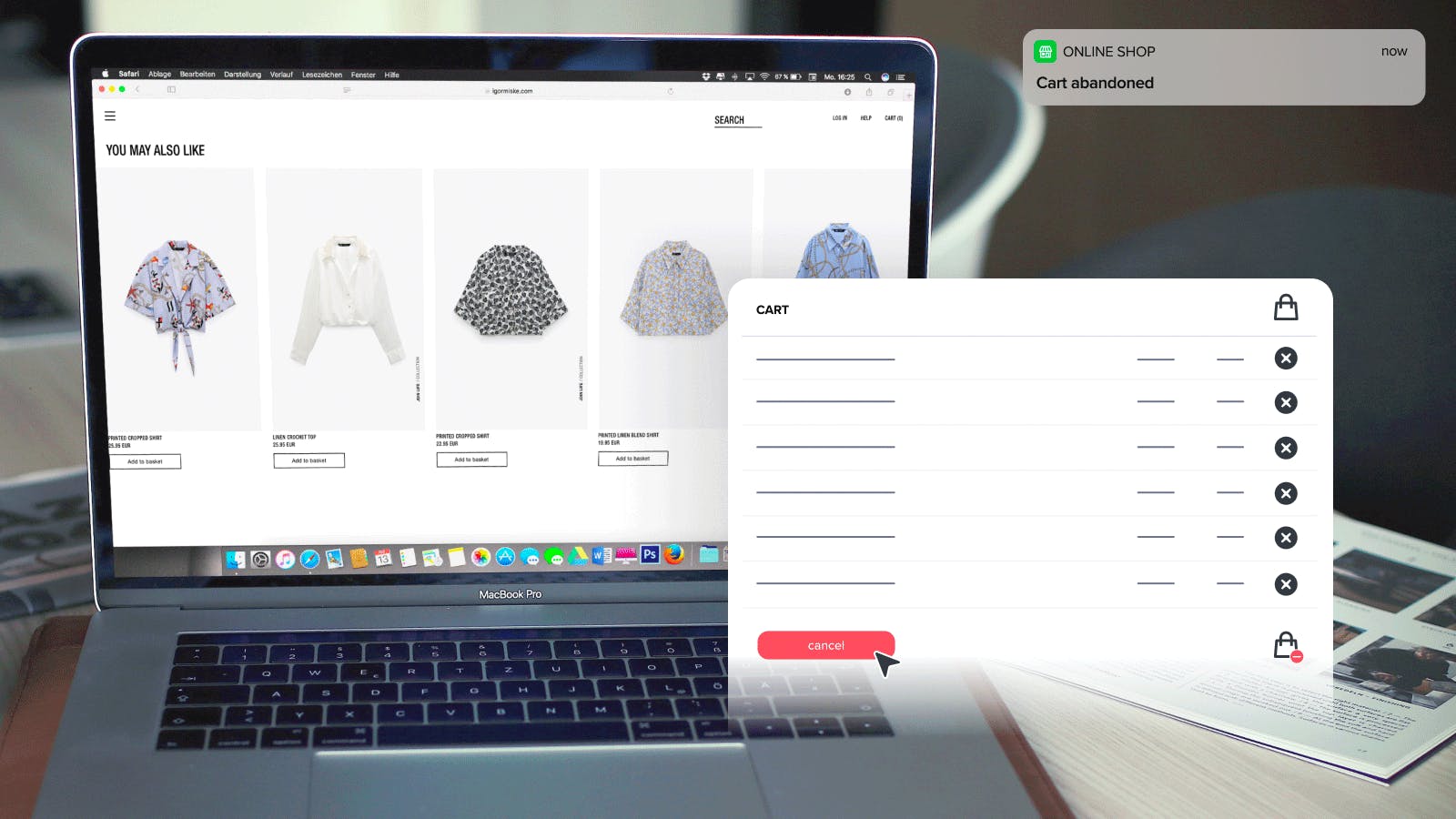 Chances are, you've put items in an online shopping cart but didn't complete a purchase. Maybe you were comparison shopping or got distracted and never went back to the site where you were browsing. It happens. A single instance of cart abandonment isn't a big deal for a brand, but that same scenario happens thousands of times each day. That's why cart abandonment is one of the biggest challenges digital retailers face today.
Just how significant is the issue? On a global scale, cart abandonment costs retailers $4.6 trillion a year. An estimated $260 billion is recoverable.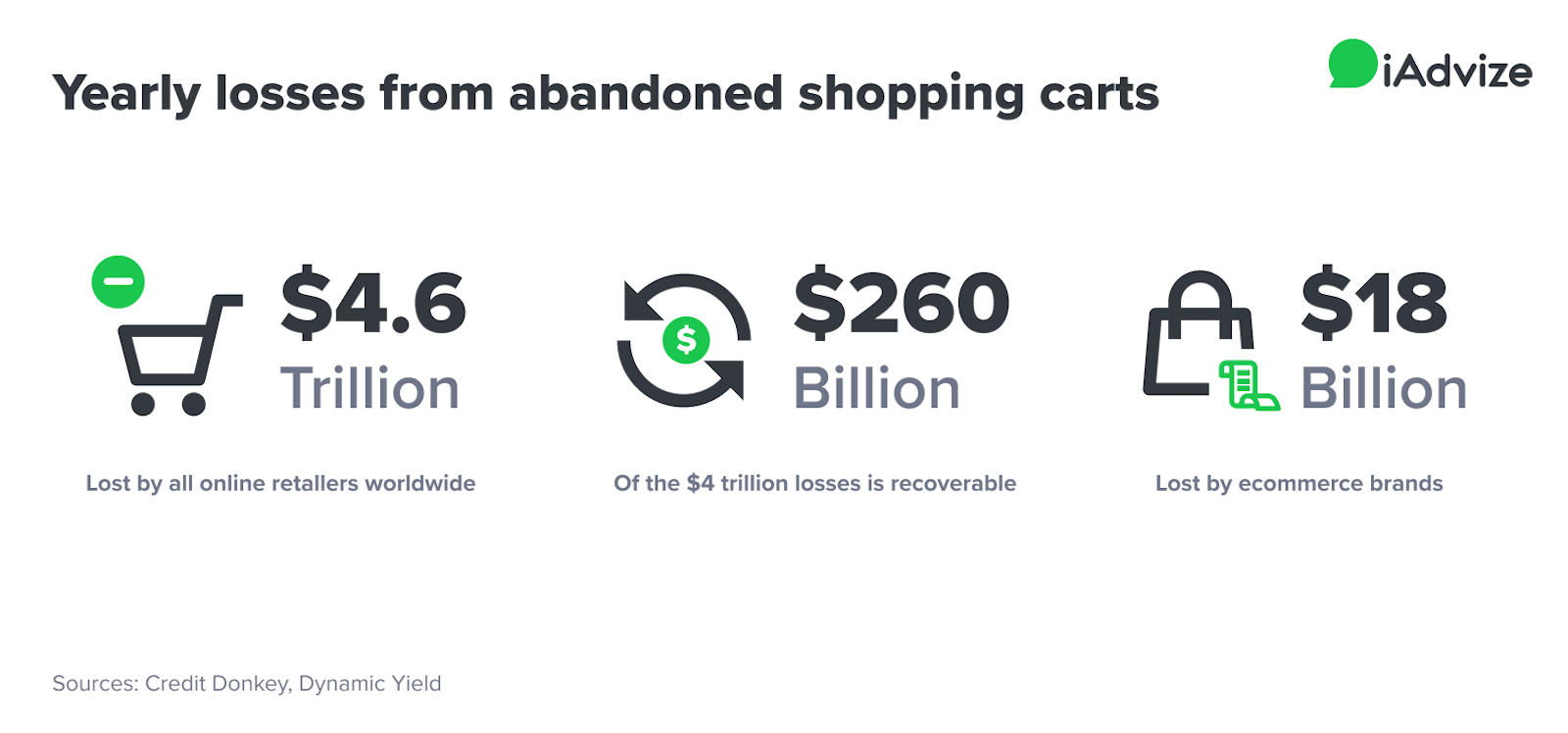 Recouping even a small percentage of abandoned transactions can yield significant revenue gains for your business. While you can always use after-the-fact approaches--like recovery emails and retargeting ads--your best bet is saving the sale before shoppers leave your website. A conversational approach that gives shoppers the information and confidence they need to buy can drive more sales and increase your average order value.
How Did COVID-19 Affect Cart Abandonment?
It's no surprise that digital retail sales numbers went up during the pandemic. That's good news. But the bad news is that cart abandonment increased as well.
Let's look at the numbers. In the US, online retail sales rose to $791.7 billion in 2020, up 32% from 2019, according to data from the U.S. Department of Commerce. Unfortunately, cart abandonment climbed as well, with one source citing a 95.5% abandonment rate in mid-2020, compared to 85.1% the prior year.
Are these trends going to continue in the post-COVID era? It seems inevitable that consumers' appreciation for online shopping is here to stay. Research from International Post Corporation revealed that many people turned to digital buying out of necessity during the pandemic, but most plan to continue shopping online going forward.
In the US, 60% of shoppers affirmed that they purchased more online during the pandemic, with 59% indicating that they planned to continue shopping more online in the future too.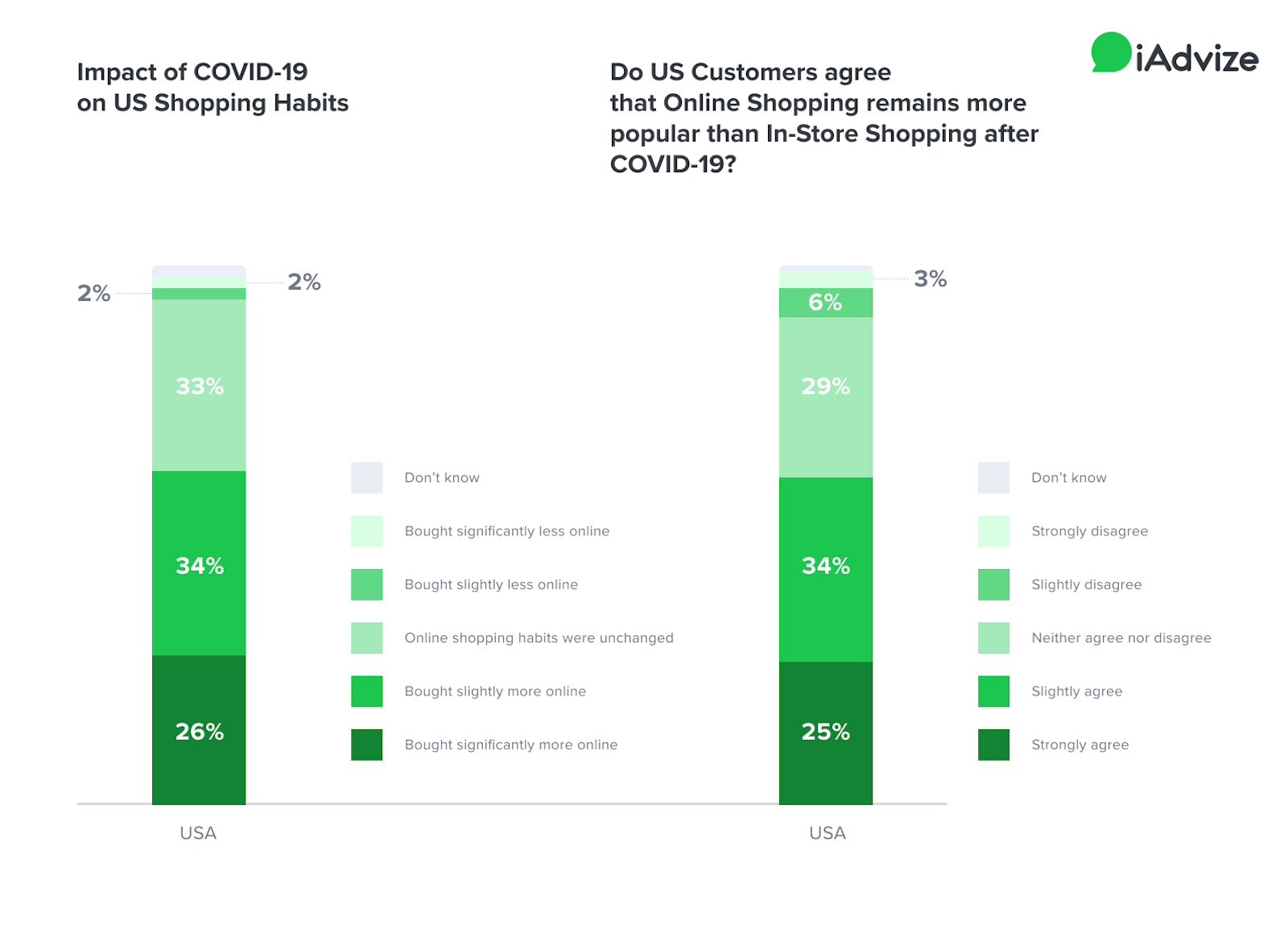 What about cart abandonment? No doubt, more people turned to online browsing to curb boredom during the COVID-19 stay-at-home period. So the spike in cart abandonment from mid-2020 was likely an anomaly. That said, industry experts know abandonment rates are high. According to the Baymard Institute, an organization that has studied the issue for over a decade, the global average abandonment rate is around 70%.
How Does Shopping Cart Abandonment Vary by Industry?
While general cart abandonment statistics tell a story, it doesn't help you understand if your numbers are on par with your industry peers. In truth, abandonment rates across industries vary widely, as data from Statista shows. At the low end, insurance providers have an abandonment rate of just under 70%, with the automotive sector having the highest rate at nearly 97%. A different Statista study found that high shipping costs and discount code problems were two top reasons for digital cart abandonment in the US.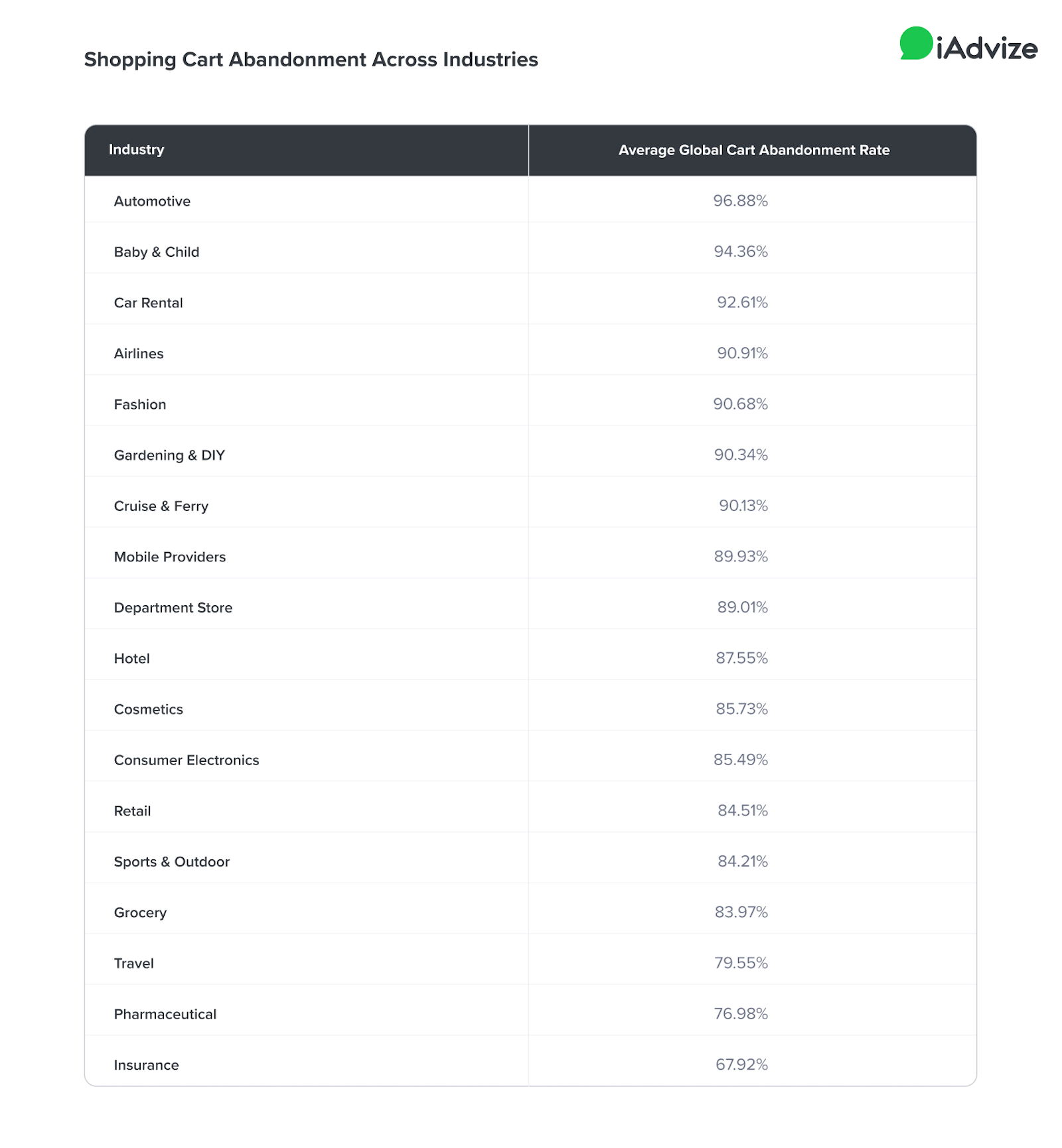 How Does Shopping Cart Abandonment Vary by Device?
Another factor that drives cart abandonment is the device consumers use when they shop. As research from Barilliance shows, abandonment goes up as screen size goes down:
85.65% – average cart abandonment rate on mobile phones
80.4% – average cart abandonment rate on tablets
73% – average cart abandonment rate on desktops
What does this mean for retailers? While there is room for improvement everywhere, brands can't ignore mobile. By the end of 2021, researchers expect mobile commerce to account for 72.9% of all retail eCommerce, up from 52.4% in 2016. Focusing on a high-quality, mobile-first user experience (UX) is a must to stay competitive and achieve higher conversions.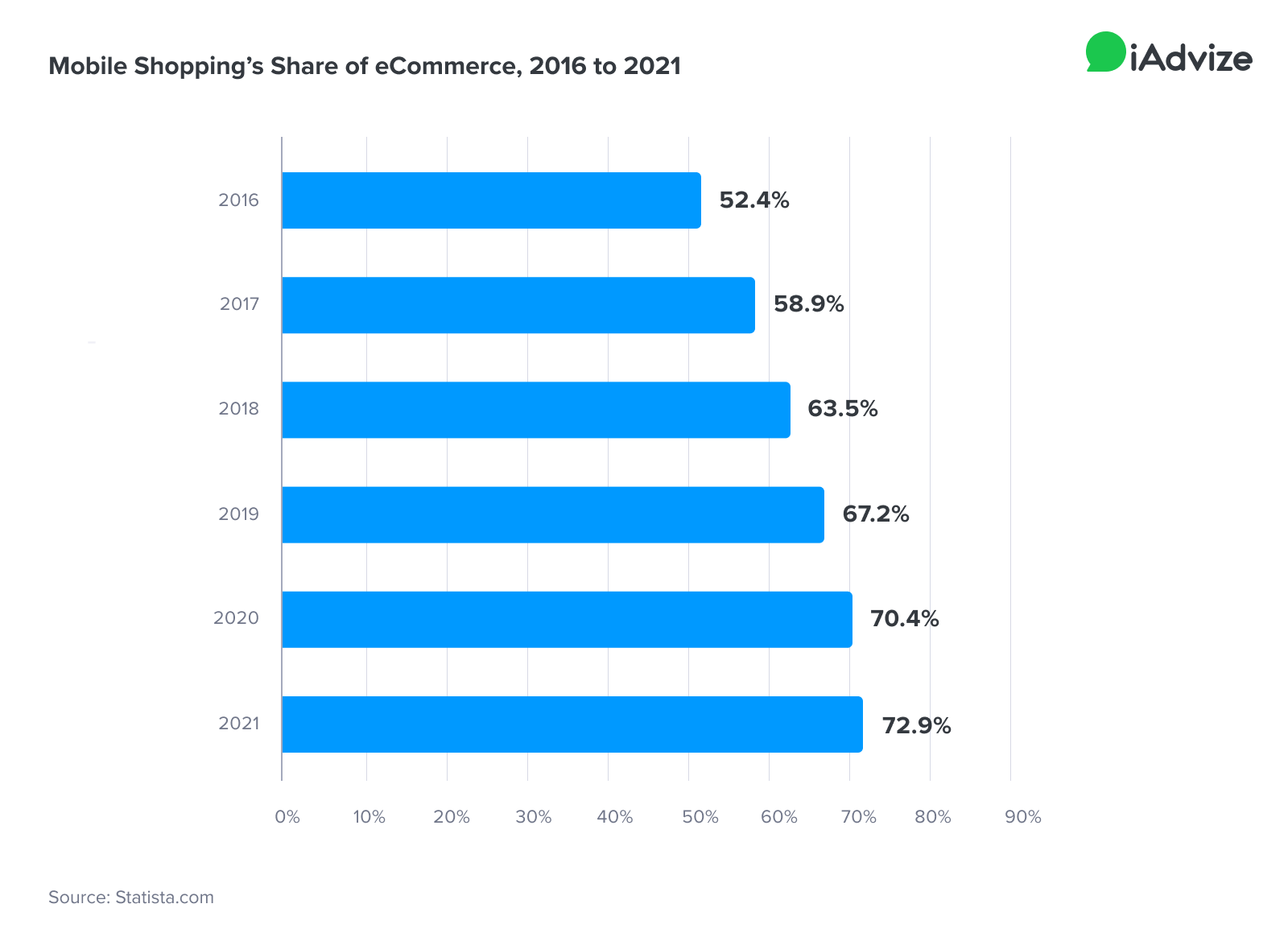 Why Do Consumers Abandon Shopping Carts?
Understanding metrics matters, but addressing cart abandonment requires you to be aware of the "why" behind shopper behaviors. By knowing why people don't complete transactions, you can devise strategies to convince them to convert.
Window Shopping: For some people, browsing online is a way to visualize possible future purchases. For example, people may browse travel websites to plan a dream vacation for the future. Or they may use a shopping cart as a way to collect ideas and start to budget for home renovations. Others browse online to pass the time and ward off boredom. Often, these people are less likely to buy in the imminent future, so.
Comparison Shopping: Some shoppers are ready to buy but want to do their homework first. They visit several sites to compare product alternatives and pricing before they order. You can guide these shoppers to a sale by providing them information on products, shipping, and return policies and may motivate them with a discount offer.
Budget and Finance Issues: Some shoppers genuinely want to buy, but final costs can hold them back. If shoppers expect to pay a specific price only to discover unexpected fees or high shipping costs at the end, they may pause. Others may not wish to pay the total price upfront and desire payment arrangements to spread out costs over time.
Logistics: It's common for brands to ask shoppers to create an account before purchasing, but requiring shoppers to register can be a deterrent. Shoppers also grow frustrated when faced with long checkout processes, an inability to see final prices before checkout, and slower-than-expected delivery.
Lack of Confidence: Our research has found that lack of confidence is a significant factor driving cart abandonment rates. Over half (55%) of the shoppers we surveyed said they'd abandoned a purchase because they didn't feel confident about it. Sixty percent (60%) of respondents didn't trust online reviews, while 42% said they felt overwhelmed by the array of choices available.

Reacting to Cart Abandonment After-the-Fact
While you can't recover every abandoned transaction, you can address some of them. To date, many retailers have focused on re-marketing strategies that target shoppers after they leave the website. Those approaches are a step in the right direction to mitigate cart abandonment.
How does abandonment re-marketing work? Retailers can tell when a shopper leaves items in a cart without purchasing them. If a person has signed up for an account or if you can identify a visitor's contact information, it's easy to follow up on an abandoned transaction with an email. You can also include a JavaScript tag called a pixel on your website that adds cookies to visitors' browsers--and then track that cookie and display relevant ads on other ad-supported sites.
Abandoned Cart Emails and Text Messages
Reaching out after visitors leaves your site does make sense since shoppers may have intended to complete the purchase but forgot. Sometimes, consumers just need a little extra nudge or a small discount to buy. It's no surprise that recovery emails earn high open and click-through and conversion rates: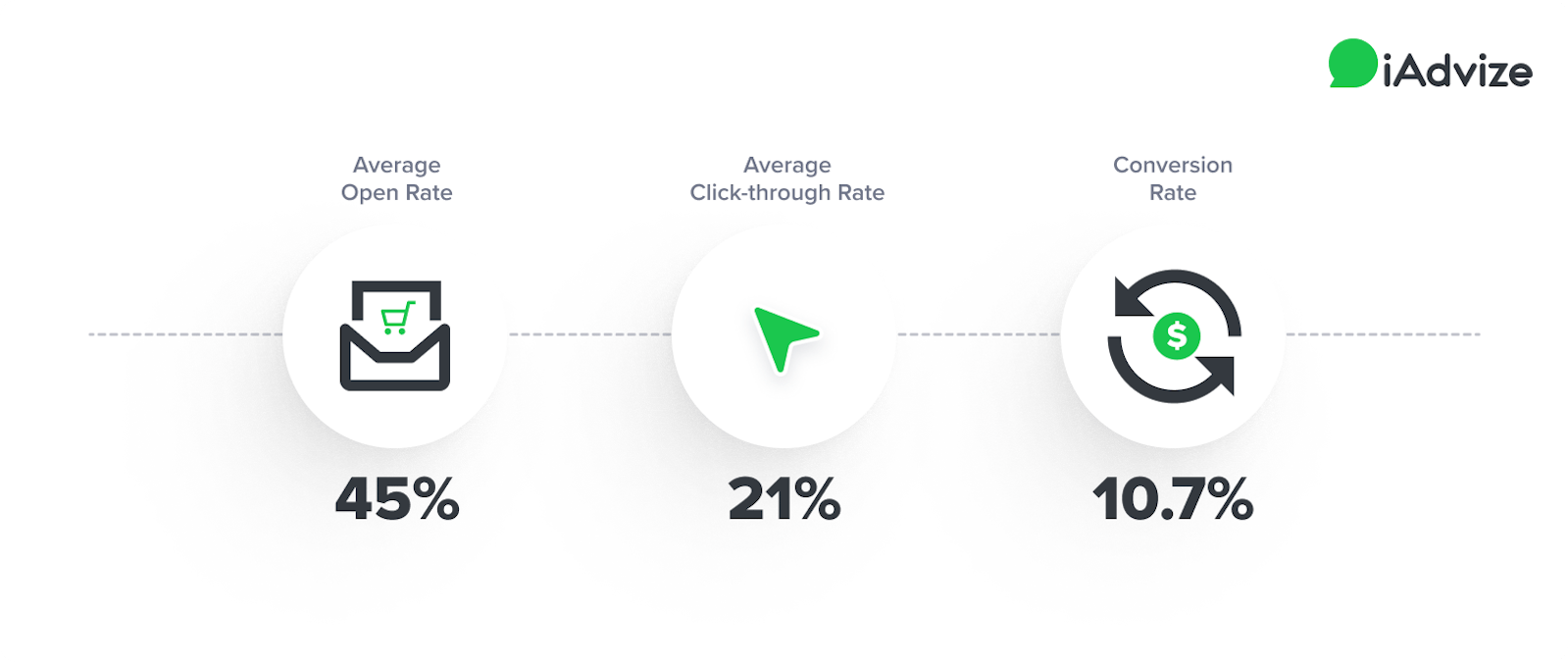 Abandoned transaction emails are "trigger emails"--a type of email that ties directly to a prospect's action. Overall, trigger emails perform 3x better than nurture emails tied to specific personas and batch emails to a broad mailing list.
While email has proven its value, more retailers are experimenting with recovery texts and seeing positive results. As reported in Retail TouchPoints, one company achieved an impressive 15% conversion rate by including texts in their recovery series.
Abandoned Cart Retargeting Ads
Using retargeting ads is another after-the-fact method to recover abandoned purchases. When you add cookies to visitors' browsers, you can track those cookies with retargeting applications. That way, you can present ads to people who have visited your site and left items in their carts. Your ads can appear on other sites they visit or on social media sites like Facebook, which launched custom audience features to support retargeting efforts in 2013.
You don't need to offer up to generic retargeting ads to every customer, however. Instead, you can personalize your ads in one or more ways:
By Checkout Stage: Some people place items in carts with no intent to buy, but those who advance through checkout are likely considering a purchase. You can adapt ads based on shoppers' last step in the checkout process. If a shopper left your site after receiving shipping costs, you could offer a free shipping retargeting ad.
By Product: Ads that show pictures of items left in shoppers' carts are more likely to grab their attention and drive conversions.
By First Time vs. Returning Shoppers: If you identify that a shopper has never visited your site before, include a "welcome discount" in your retargeting ad. For returning shoppers, your ad could consist of a message that thanks them for their patronage.
By Cart Size: You should treat lower-dollar-value abandoned carts differently from ones with higher total costs. A shopper who puts $50 in products in a cart may value a free shipping coupon. By contrast, shoppers who abandon $500 carts may appreciate discounts on premium products.
Web Push Notifications
Web push notifications are another tactic brands are using to recapture abandoned transactions after shoppers leave their sites. When someone visits your site, you can ask them if they would like to receive notifications from you. If they click yes, you can send messages to them even if they are not actively visiting your site.
While push notifications are helpful to share details about news and special promotions, you can also use notifications to remind shoppers about items left in their cart. Today, brands are successfully incorporating web push notifications into the series of abandonment contacts deployed across multiple channels. According to Retail TouchPoints, one brand has achieved significant results--an average of $48 in earnings-per-message--through web push notifications.
Preventing Cart Abandonment Before It Happens
For every shopper who appreciates an email, text, retargeting ad, or push notification reminding them of items in their cart, there's likely another who has a negative reaction to these approaches. After all, having a brand tracking your moves on its website can seem invasive, especially if you don't have a strong affinity for the brand. Poorly-timed or worded recovery outreach can actually drive away the very shoppers you're hoping to win over.
While cart abandonment recovery tactics are valuable, they still lack an essential element: a human touch. Our cart abandonment research has shown that people want support from brands while shopping online. Information and advice from a human brand expert can help shoppers evaluate products and make informed and confident buying decisions.
We found that a significant percentage of digital shoppers feel anxious before and after an online purchase. Among consumers surveyed, 60% said they "need more advice when making a complex purchase," while 56% affirmed that they "need more support from a retailer when buying high-value items."
When shoppers do get the support they need, they are likely to buy. Most will feel like they've had a high-quality digital experience and stay loyal to brands that support them during online purchasing.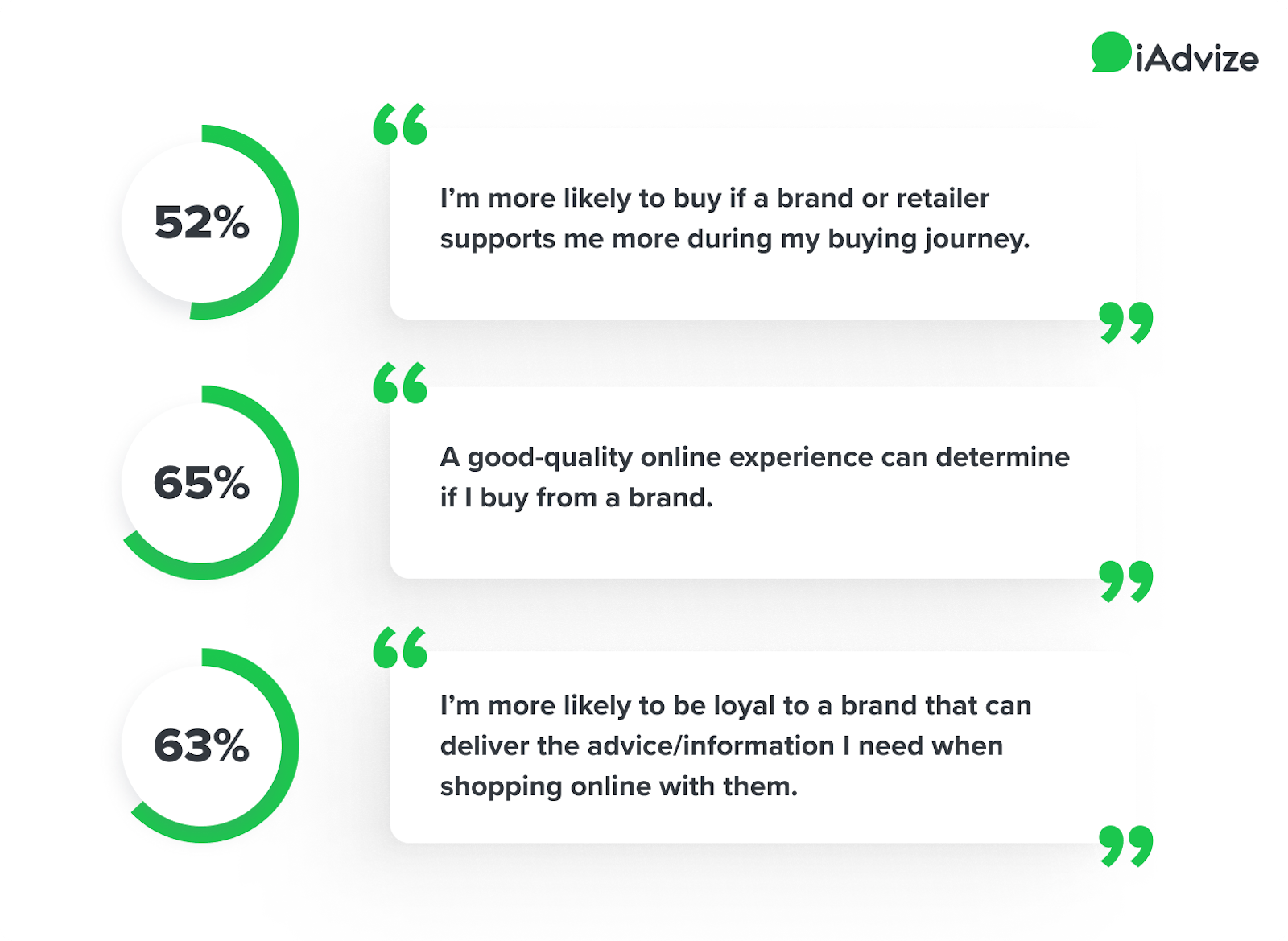 How can you engage with high-intent shoppers before they leave your website? A conversational platform lets you use behavioral targeting to identify likely-to-buy shoppers and give them options to engage with your brand. The best solutions offer consumers a choice: a chatbot for straightforward questions or an opportunity to chat with a live person one-on-one for more complex needs.
Often, customer support representatives (CSRs) are not in the best position to handle pre-sales inquiries. Their task is to manage many after-purchase needs, and shoppers may perceive CSRs as more focused on closing the sale than offering genuine advice. That's why a strategy that includes brand experts drawn from your community of customer enthusiasts is the optimum approach.
Our research also showed that shoppers could feel overwhelmed by options when shopping online. Consumers may experience a "paradox of choice," a feeling of overload that arises when presented with too many options. Instead of making shoppers feel confident, too much information can confuse them about what they want to buy and create lingering buyers' remorse after a purchase.
What does this mean? You may offer abundant product details and specifications on your website, but shoppers need genuine perspective on how products will fit into their lifestyles. By drawing on existing customers who are passionate about your brand to provide advice, you give shoppers an authentic voice who knows how your products work in the real world.
Another advantage: You can make on-demand expert support available 24/7 on your website. Even if shoppers contemplate purchases after business hours or on weekends, you can offer personalized guidance on buying decisions. While you'll see cart abandonment drop, you'll gain other business benefits as well, including higher conversion rates, increased average order value, and more repeat purchases.
Solving the Cart Abandonment Problem in Retail
With cart abandonment rates staying consistently high, it's clear that retailers need to do something to fix this all-too-common problem. The truth is, some abandonment will happen no matter what you do. Some shoppers will enjoy putting items in carts as a kind of window shopping, and others will pause before clicking "order" if the final cost is beyond their budget.
We've probably all abandoned carts from time to time. In fact, data from Forrester reveals that 88% of consumers surveyed said they had abandoned a cart before completing a transaction.

Shopping cart abandonment costs retailers around the world billions per year. Recovering even a small percentage of those transactions can yield significant revenue uplift.
You can try to lure customers back to complete a purchase after the fact through re-marketing strategies. Most likely, you'll want to have recovery emails and texts, retargeting ads, and push notifications as part of your cart abandonment recovery mix.
But today's leaders are taking a proactive approach, one that focuses on building relationships and saving the sale before customers leave items in carts. With a conversational approach, you can let shoppers know that the help and advice they need is readily available.
Give shoppers a choice to engage with a bot, an in-house support professional, or a brand expert to help them take the next step in their buying journey. Always ensure that the opportunity to connect to a human for live, chat-based support is with reach. Your customers will thank you for it.
Brands are learning that focusing on products and pricing alone isn't going to win over customers' hearts and minds. Instead, shoppers want brands to treat them with humanity and authenticity. They want to know you see them and value them as people, and a conversational approach does just that.
By offering the opportunity for shoppers to converse before they buy, you acknowledge that online shopping can feel overwhelming and impersonal. You let shoppers know that you don't just want to make a sale and pad your bottom line. You want them to feel supported and to feel positive about what they buy.
Those expressions of goodwill matter. They're what make shopping enjoyable and meaningful and the building blocks of customer loyalty and long-term relationships.