Choosing the Right Format for Your Next Live Shopping Event
7min read - iAdvize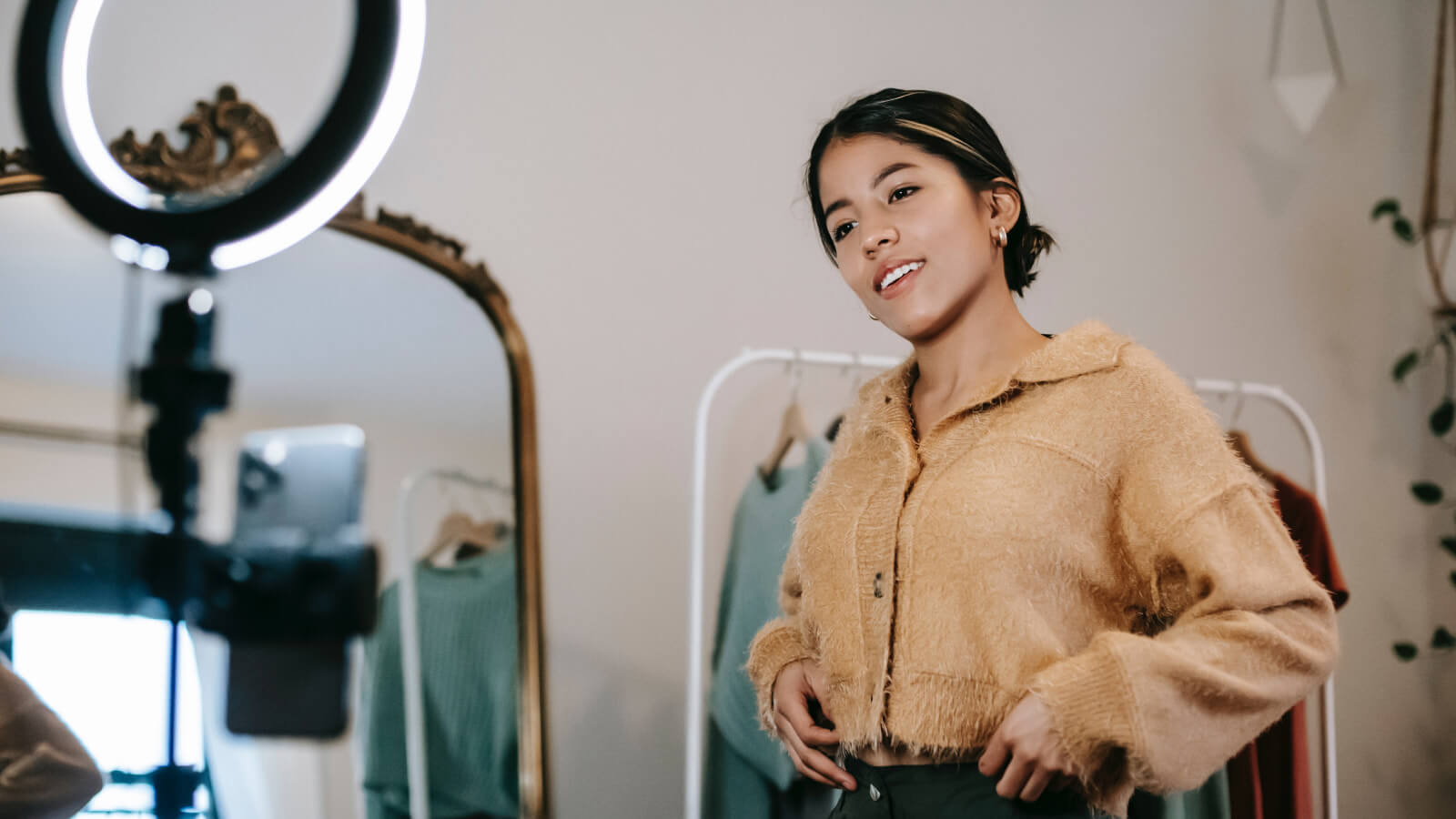 You've inevitably heard about live shopping. It's turning heads as top-name brands like Nordstrom, Petco, Tommy Hilfiger, Walmart and more have gone all-in. That can leave you wondering about if the time is right to bring the power of live shopping to your own company.

While there are proven best practices to follow, each live shopping event is as unique as the brand behind it. With so many ways to reach your audiences today, you need to think creatively, be different, and make an impact.

To create a standout live shopping experience, you can explore four proven approaches that work. Using that insight, you can build the just-right live shopping strategy for you.
In-Home Shopping, Retooled for the Digital Era
Truth be told: Live shopping has been around for decades. But older forms haven't earned the most stellar reputations with retailers and consumers alike.

The big example that comes to many people's mind is television network QVC, which first broadcast in the 1980s. While the network helped launch several brands, it earned a reputation for cut-rate products that weren't worthy of more discerning shoppers.

Even QVC has realized that the old-school shop from TV model is fading fast. 2021 saw QVC embarking on its own live shopping programming on social platforms instead of sticking with its broadcast-only model.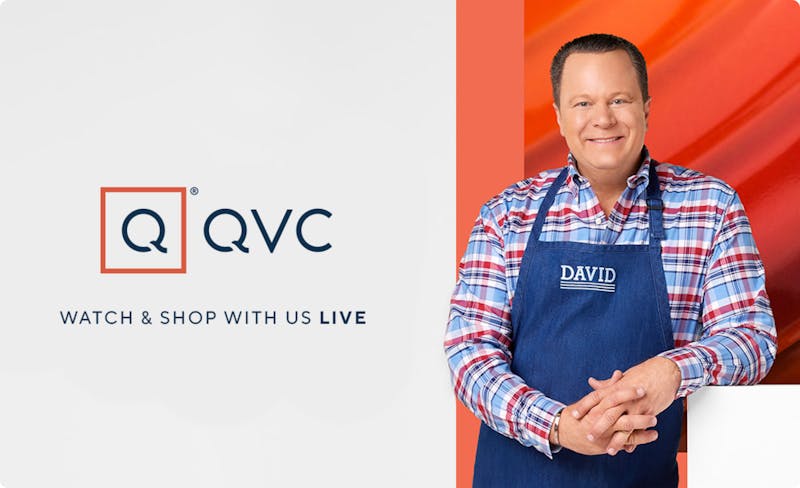 It's true: today's shoppers are unlikely to sit through long sales segments on TV. Instead, they're online, engaging with family, friends, and brands on social media. With its short, high-energy, interactive format, live shopping offers strong appeal to these digitally-savvy consumers.

And for brands? Live shopping offers powerful benefits, including:
Measurable revenue.

It's easy to track sales for each live event. Built-in shopping carts or links to product pages allow for streamlined data collection.
Social shopping support.

Many online consumers experience a "fear of missing out" (FOMO). They see others with desirable experiences or things and want the same for themselves. Live shopping uses the power of community to help people feel supported in their buying decisions.
Interaction and visualization.

Live shopping takes the guesswork out of online shopping by letting shoppers see products up close. Plus, hosts and other viewers can chime in with real-world experiences and help shoppers see how products fit into their lives.
Brand and community building.

Brands can use live shopping to promote core values and messages. They can also encourage shoppers to engage and connect them to social communities to build even stronger bonds.
Choosing the Right Live Shopping Approach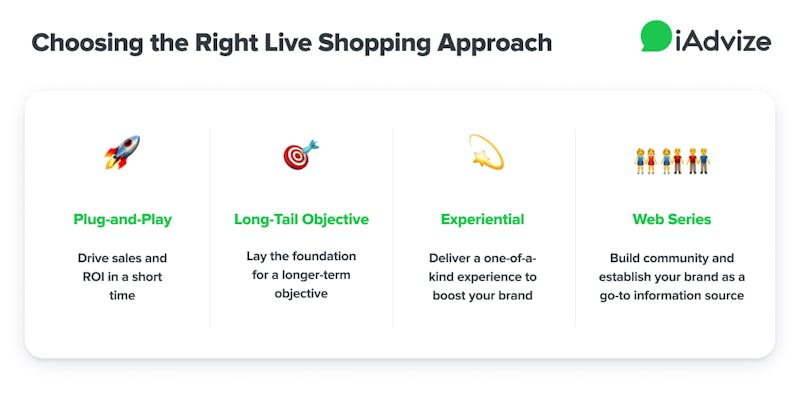 Which one is right for you? The answer is "it depends." You need to define your objectives up front and let your goals drive the format.

As your live shopping journey evolves, you may use all four approaches over time. Defining clear objectives for each event can set you on the path to success.
Start with the End in Mind
Before you embark on planning your live shopping event, you need to define your core objectives. Ask yourself what you want to accomplish and let that guide your planning.

Some events may focus on building brand recognition with conversions and return on investment (ROI) as secondary goals. At other times, your goal may be to sell as many products as possible during the event, and drive even more sales during replays.

As you can imagine, the formats of these events can be very different. Your objectives can also determine how frequently you want to host events and which product lines you want to target.

As brands start to understand the value of live shopping, they are using live events to make an impact at every stage of the B2C buying journey.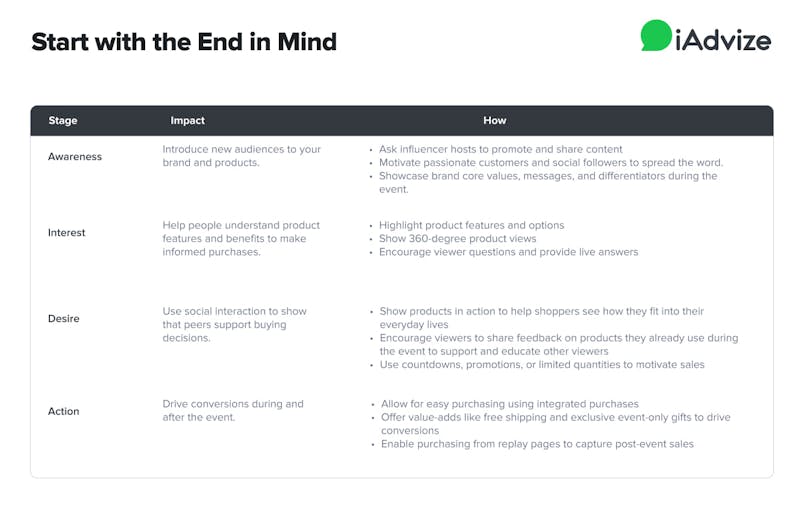 The 4 Live Shopping Approaches to Know
#1: Plug-and-Play
If lots of sales and high ROI are your goals, you can use a plug-and-play approach to live shopping. This flash sale style of event features less investment in production, along with shorter product presentations.

Even so, you'll need to keep in mind that live shopping events are usually short—30 to 40 minutes maximum. Most likely, you can only cover eight to 10 products in that window, so make every product choice count.

Pros
Opportunity to achieve higher sales volumes during live event
Require less-specialized lighting and sound equipment since there's less focus on presenting premium products
Emphasis on authenticity with a simpler production
Less expensive to implement than other live shop styles
Shorter prep time
Limited opportunity to cultivate brand recognition
Less personalized and more transactional feel
Maybelline Live Shop Flash Sale Sells 10,000 Lipsticks
Cosmetic brand Maybelline is one live shopping innovator that saw huge results with a flash sale. Partnering with actress, model, and opinion leader, AngelaBaby drew engaged audiences to the event, which took place across multiple platforms. According to Gartner, Maybelline sold more than 10,000 lipsticks during the live shop experience. This event shows the power of using a flash sale live shopping model to move high volumes of merchandise in a short time window.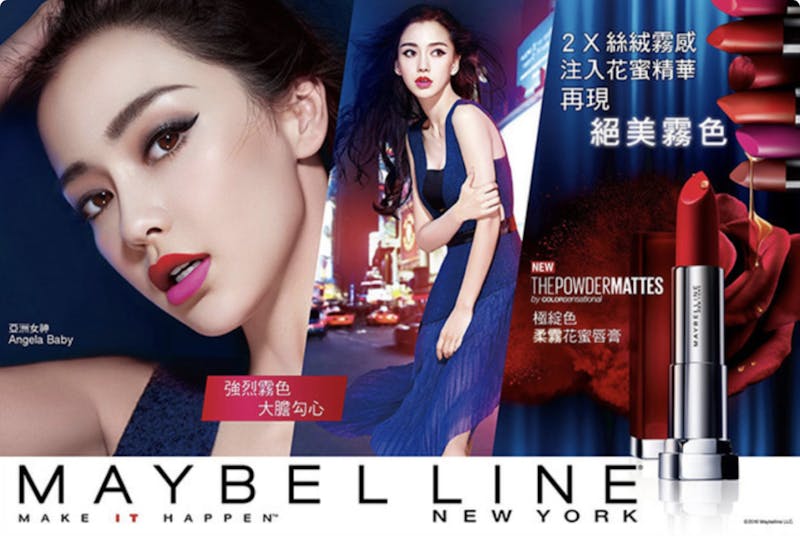 #2: Long-Tail Objective
Some live shopping strategies focus on creating a repeatable approach that works over the long term. These long-tail objective events are especially valuable to brands building out a direct-to-consumer (DTC) presence to drive more DTC sales.

With these events, the goal is staking a claim and laying a foundation. You want to draw attention to the fact that you're launching an exciting new channel to market. As such, you may initially measure success on metrics such as live audience size, replay views, and social shares and take a long view with respect to sales and ROI.

This event strategy can work well for brands selling expensive or premium products. For example, high-end automaker BMW has used a long-tail strategy centered on short, repetitive live event formats to generate interest in its vehicles. Since buying a car is a high-consideration purchase that requires research, BMW is less focused on on-the-spot sales with its live events. Instead, the brand has aimed to establish a DTC connection with buyers and support informed purchase decisions.

Pros
Make a mark as a live shopping innovator
Establish an approach to and feel for your live events that you can replicate
Create a proven, cost-effective live shopping strategy by industrializing your event approach
Lower transaction volumes than flash sales
Emphasis on building momentum instead of immediate revenue generation
From an Experiment to Certain Sales Uplift—Live Shopping Delivers for Quivr

Quivr is a specialty coffee and tea brand with an adventurous spirit. As a digital brand that's all about trying new things, Quivr jumped into live shopping with an event hosted by CEO Ash Crawford from his backyard. The initial event focused on sharing Quivr's brand values and introducing its products.

After that first experiment, Crawford saw the potential of live shopping. He explored several approaches before settling on a live shop format that works for Quivr. Now, Crawford says, every live shop drives a big sales bump, "It's like clock work or guaranteed that if we go live and I do a show, sales are increased for the next 24 hours like 150%."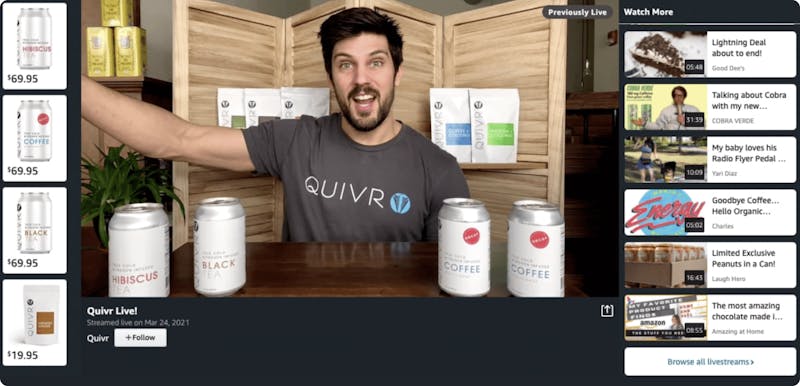 #3: Experiential
With their mix of entertainment, community, and excitement, live shopping events can cater to people who value experiences over things. Although live shops are short, you can still take time to show shoppers what makes your brand distinctive. Instead of fast sales, you can focus on building rapport and creating a positive memory that shoppers will carry with them.

Often, brands tap high-profile influencers or celebrities to host experiential events. An exclusive opportunity to see and potentially interact with these popular personalities is part of the appeal and a big motivator for fans to join in.

Experiential live shopping events often focus on education and demonstration. They may take the time to share in-depth information on a few products that embody what your brand represents in the marketplace and can work well for new product launches. Highlighting brand values or charitable efforts to put a human face on your company is another smart strategy for an experiential live shop.

Another way to create a unique experience is to choose a memorable location. Instead of filming your live shop event on a studio set, you can shoot outdoors or take viewers on an insider tour of your company. Sending product samples or gifts can also deepen engagement and create positive experiences for customers.

Pros
Create one-of-a-kind brand experiences that shoppers will remember
Showcase signature products or new offerings
Present the core values and messages that distinguish your brand
Lower emphasis on sales typically leads to lower ROI
May require higher production and equipment investment to deliver a world-class event
Bloomingdales Live Shopping Event Creates an Exclusive, High-Touch Feel

Legacy, high-end department store wanted to create a live shop experience with an exclusive feel. Hosted by Sandra Choi, creative director for luxury shoe and handbag brand Jimmy Choo, the live event covered hot footwear trends for spring. Instead of focusing purely on sales, Bloomingdales used special gifts to make shoppers feel appreciated and valued.

Bloomingdales sent any viewers who signed up in advance complimentary macarons and cocktails to enjoy while watching the event live. Also, the first 50 purchasers received an exclusive fashion sketch, with all viewers who stayed until the end eligible for a Bloomingdales gift basket and gift card drawing.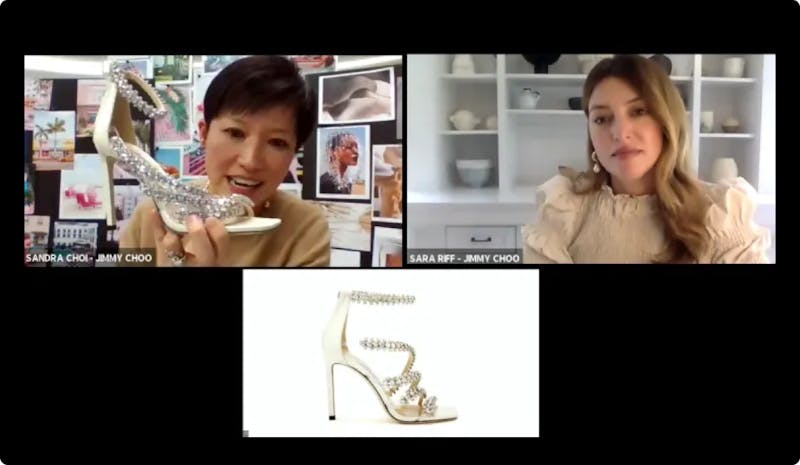 #4: Web Series
You may have specific live shop events to celebrate a milestone, such as your company anniversary, or to tie into a holiday. However, designing every event as part of a series from the start can help you build momentum and brand recognition while driving sales. A series of events can amplify positive sentiment in viewers' minds and make them more excited to engage with your brand.

This approach to live shopping requires commitment. You can opt for a limited run of live events to time with a product launch or a season, as Ann Klein did with a four-event holiday season series. Or you can go all-in and make live shopping an integral community-building activity, as Nordstrom has done with its Nordstrom Live platform.

Pros
Generate longer-term buzz and excitement among target audiences
Drive sales for specific product lines or seasons
Establish your brand's commitment to live shopping and community building
Strong commitment to and investment in live shopping required for success
Dedicated resources and partners to support ongoing live shopping programming
L'Oréal Hosts 1,000+ Live Shops as Part of its Shift to Digital

Like many brands, L'Oréal had to reinvent itself in digital spaces quickly during the tumult of 2020. As the Wall Street Journal (WSJ) reports, the brand quickly stood up online makeup consultations and virtual try-ons but knew it needed to do more to drive sales. Live shopping was a logical next step.

In just five weeks, the brand hosted more than 1,000 live shopping events through its website. With social influencers and beauty experts as hosts, the events included make-up tutorials and master classes. According to WSJ, viewers spent an average of 45 minutes watching the live shops, with conversion rates of up to 11% and an average basket size of $95.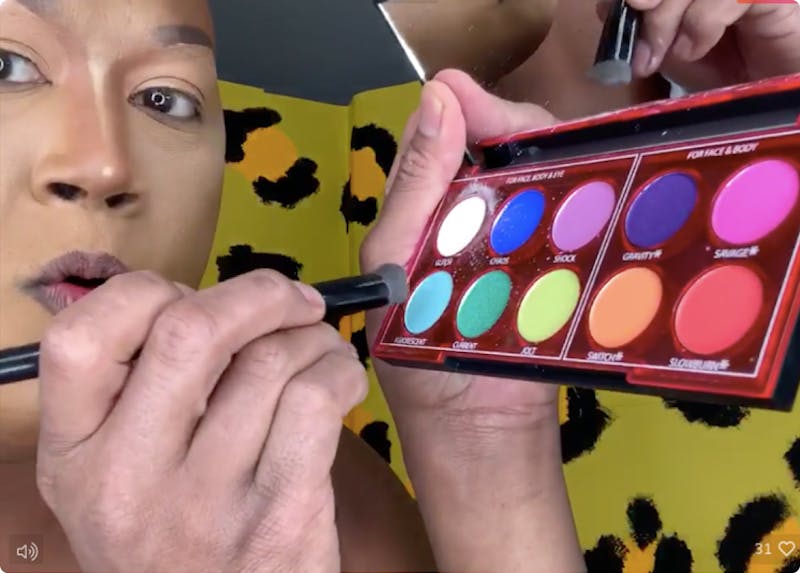 Host Live Events that Make an Impact
For your events, you'll need guidance from event production experts. These professionals will understand your goals, listen to you describe your vision, and bring your event to life through set design, lighting, and audio. What's more, they can support detail-intensive event logistics to make sure that essential tasks don't fall through the cracks.

No matter the format, you have a short time to capture viewers' attention and need to deliver an immersive, interactive experience. You need to stay on-brand and on-message to achieve your objectives, whether that means moving lots of merchandise or cultivating an experience to remember.