Decathlon Enhances its Online Customer Experience Through Messaging
2min read - iAdvize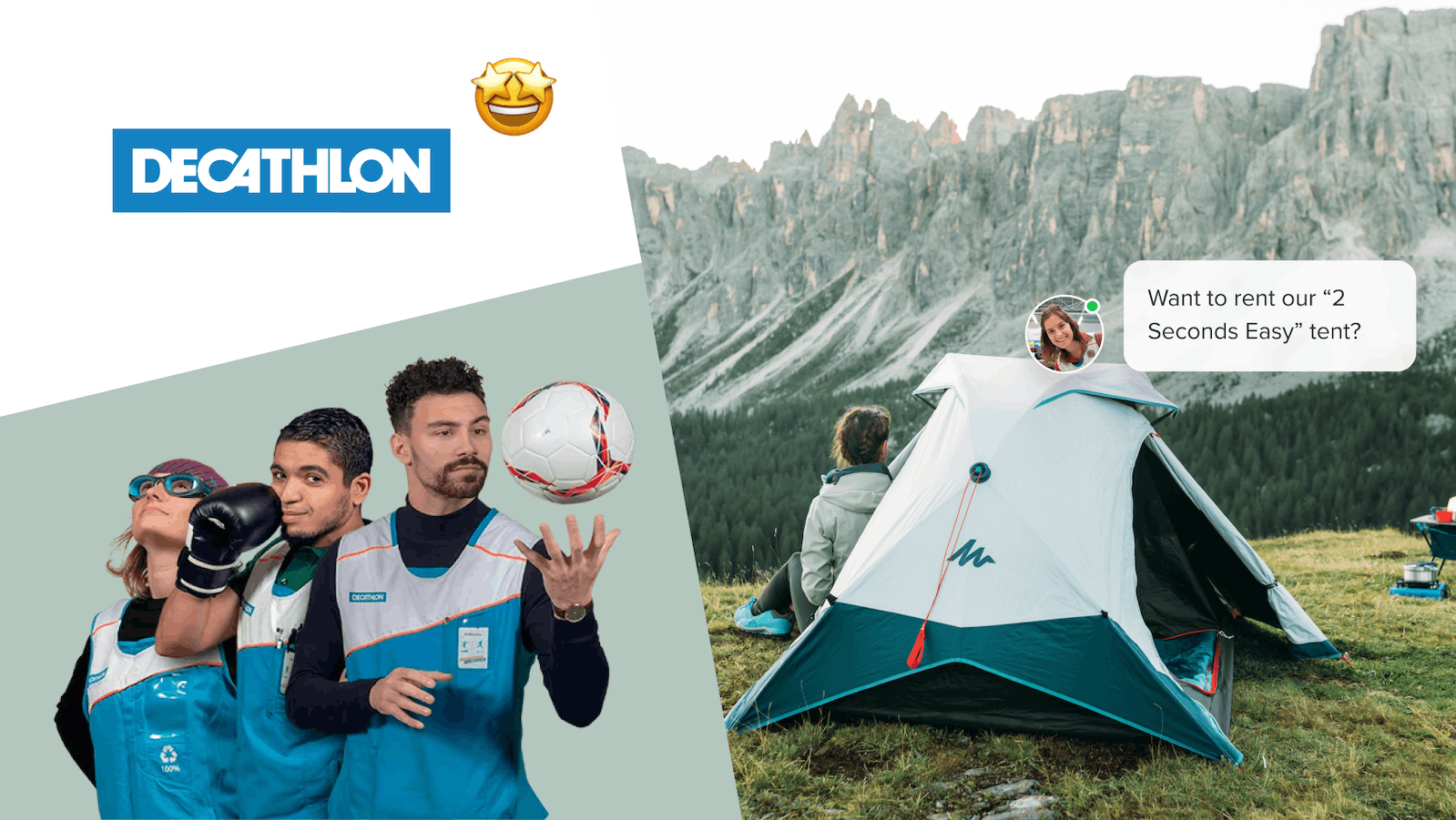 Focusing on customer assistance and loyalty has earned Decathlon undeniable success and popularity, with a strong international presence in 69 countries. Discover how this brand is able to continue providing premium digital service for all its visitors via messaging.
Nearing the end of 2019, Decathlon was elected France's favorite company.* This recognition came as a validation of the philosophy of this designer and distributor of sporting goods. Decathlon is not focused on satisfaction, but rather, delighting the customer, the number one priority for the French brand, since its creation in 1976.
We must always exceed our customers' expectations. Perceived service that exceeds expected service is the definition of customer success.

Martine Coupet, Director of Customer Relations at Decathlon France
Developing a Brand Experience In-store and Online
Popular sports brands and companies have entered an experience era.Decathlon has been a forerunner in this transformation by offering, in addition to the best sports products, a wide range of services, including sports guidance, but also pre-purchase product testing, returns, introductory sports classes, the Decathlon Coach mobile application, and more.
In-store as well as online, the development of this brand universe has had a large impact on the experience that had allowed Decathlon to foster loyalty in its clientele and expand internationally.
Decathlon's Stats
Turnover in France: €3.3 billion (+3%)
324 physical stores in France
15,000 events and introductory sports classes created through Decathlon activities
Present in 69 countries around the world
93,000 collaborators around the world
Increasing Digitalization and the Need for Online Support
E-commerce has seen a strong rise in activity, with +19.4% visitors on the Decathlon.fr website in 2019. This digital acceleration is confirmed by the success of the Decathlon Coach application, downloaded 1.3 million times and used by more than 500,000 active visitors.
In-store sports guidance is a strong identifier for Decathlon. Continuing this experience on Decathlon.fr via messaging has been essential for the brand.
Decathlon has chosen the iAdvize conversational platform to offer visitors an online experience as qualitative as it is in-store.
In 2019,
59,500 visitors assisted online on the Decathlon website
22% of mobile conversations
Online Support, Bringing Brands Closer to the Customer
The iAdvize messaging window appears on the Decathlon.fr Contact page, as well as on the pages of selective sports depending on the current campaign and pilots.
On the Contact page, targeting rules allow the brand to offer a conversation when the visitor is filling out a form, for a live response.
Objective: broaden the brand's close relationship with its customers through digital technology and generate the maximum customer satisfaction.
Chatting is less formal and a lot more fun and thorough than e-mail. It allows us to give our customers a quick response to their request for information, saving time for them, as well as for our staff.

Martine Coupet
A Top-performing Strategy That Converts
Just as it would be in the stores, sports enthusiasts benefit from online experts to respond directly to the questions that they pose on the brand's products and services.
Satisfy the customer: Priority #1
85% rate of customer satisfaction (CSAT) after conversation
34 seconds for the first response time

Convert more visitors into buyers
17% conversion rate after a conversation
€102: amount of the average shopping cart after a conversation, 60% higher than shoppers without online assistance
The possibility to keep track of the conversion rate and turnover generated from the platform, thanks to messaging, is very motivating for our collaborators.

Martine Coupet
*annual study conducted by OC&C