Why Becoming Conversational is the Top Priority for Brands in 2021
6min read - iAdvize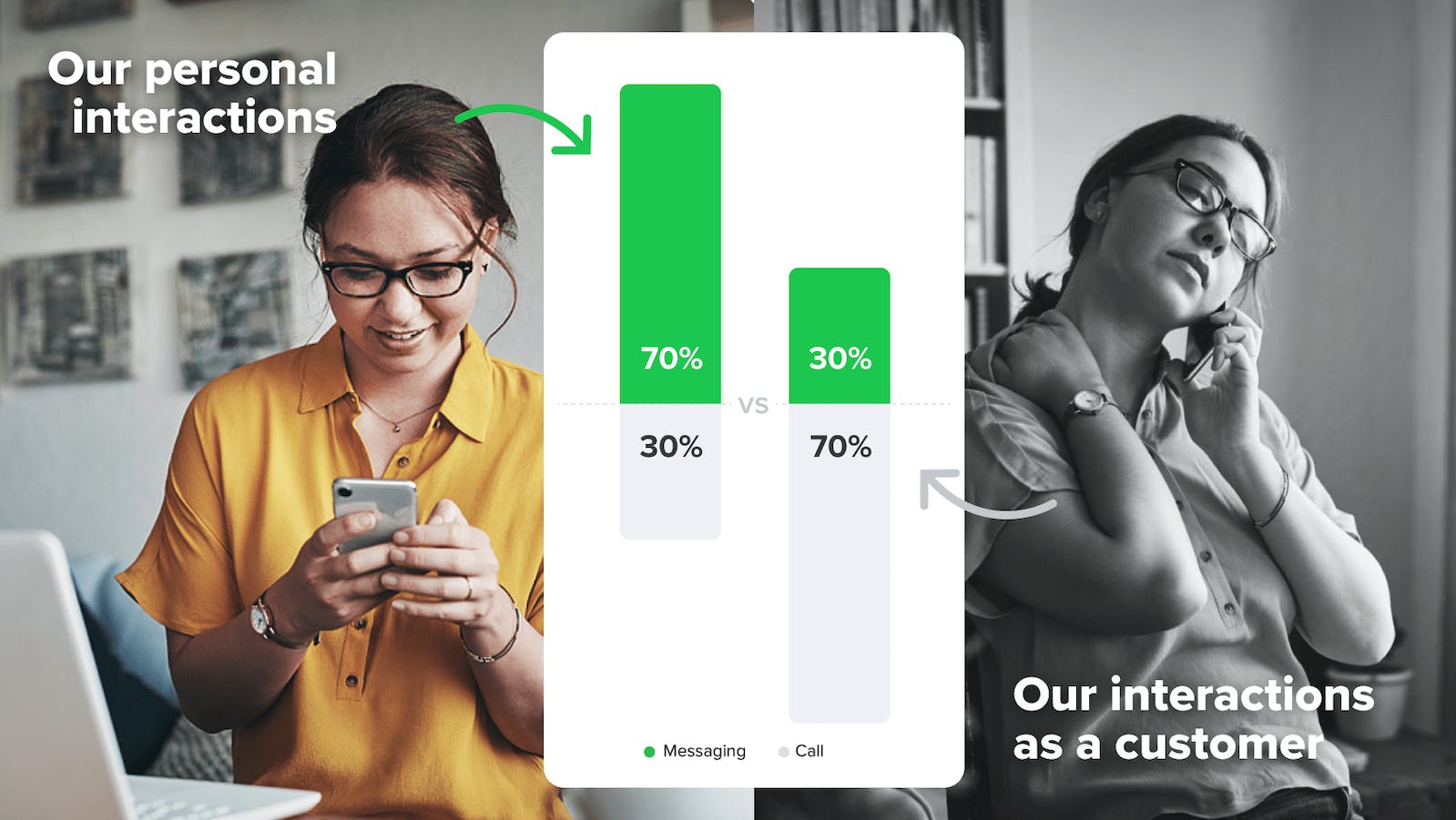 Digital customer service interactions are projected to increase by 40% in 2021, according to Forrester. The brands that are going to stand out will be offering the conversational experience that consumers enjoy with family and friends: natural, seamless, and consistent contact via messaging. Find out why this transformation is the CX priority for 2021.
An Axway survey asked U.S. consumers to rank the top 5 ways they used their smartphones. Right at the top was messaging. 70% cited it as their preferred use, ahead of phone calls (62%), and every day the gap between the two means of communication continues to grow.

Every day billions of people communicate with friends, family, and colleagues by messaging. Sending updates, asking for advice, scheduling or rescheduling meetings... On WhatsApp alone, 42 million messages are exchanged around the world every minute.

These new contact channels based on exchanging messages, whether it be on messaging apps (WhatsApp, Messenger...), on social networks (Facebook, Instagram, Twitter...), or on sites (chat) all come under the heading of messaging.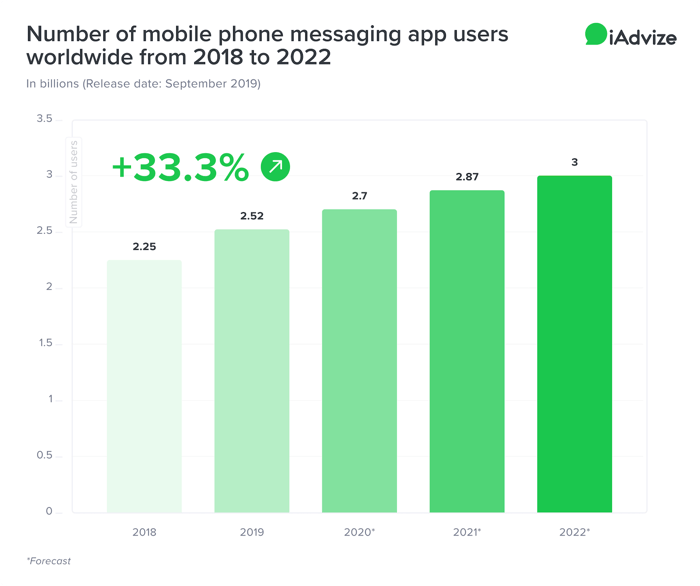 In less than 10 years since the advent of the smartphone, messaging has become the number one means of communication because it has perfectly adapted to our lifestyles. Like e-mail and voice mail but unlike calls, messaging by text video or voice does not require callers to be available at the same time. It is viewed quickly and provokes an immediate response.

As an asynchronous and non-intrusive channel, it reconciles two demands of our busy lives: the need for immediacy and multitasking.

70% of consumers prefer messaging over phone calls when contacting customer care, yet currently, on average, less than 30% of customer service interactions take place via messaging. Why is it that even though it is widely used in our personal lives, brands still have not picked up on messaging?

This is the immense paradox of customer experience. Filling out a contact form and waiting 48 hours for an answer, calling a hotline while browsing a site... In 2021, reaching a brand too often still requires using antiquated and unsuitable means of communication.
The Best Customer Experience is Conversational
The accelerated digitalization that we have been thrust into by the COVID-19 pandemic has made customer experience a key differentiating factor. The brands that have been able to meet consumers' needs for advice and reassurance on digital platforms are winning out and sometimes have even gained market share. As has been the case for European leader ManoMano, a pure player in DIY, which multiplied its sales by 4 during the first phase of the pandemic crisis.

To be successful, the digitalized customer experience must meet consumer expectations (simplicity, 24/7 availability) while still maintaining the authentic, human connection that has been impacted by social distancing measures. The solution lies in the conversational experience offered by messaging.
In the new reality since 2020, the use of chat technologies and social media has grown, with a threefold increase in consumers claiming they will use social channels, webchat, messenger apps and SMS chat as their main means of communicating with organizations.

KPMG, Customer Experience in the New Reality
As McKinsey & Company points out, brands must now "focus on creating a virtual, digital experience that is on a par with - or even better than - the in-person experience". That authentic and human connection in spite of distance is conversation.

Becoming conversational is the next major transformation for companies that want to stay competitive.
Seamless, Omnichannel, and Intelligent Conversation
Customers who are increasingly comfortable with technology in this "digital by default" world, want to get the information they need and solve their problems effortlessly. Minimizing customer effort is one of the six pillars of KPMG's "experience excellence" model.

The post-COVID customer not only wants to order online, but also wants to be assisted in real time through the same channel, and on the same device: mobile, in more than 70% of cases. The first point of contact naturally becomes messaging.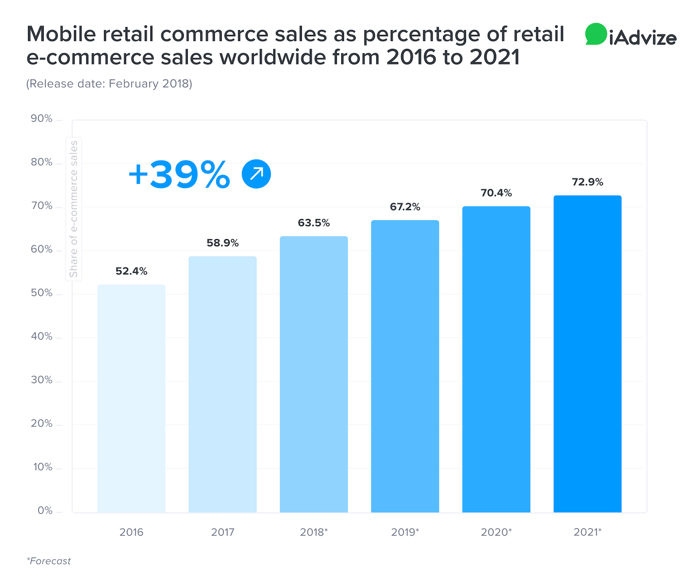 As with their personal use, this conversational experience with brands has to be smooth and seamless for the visitor. A quality of experience that is still a long way from being achieved: only 24% of businesses globally give themselves an excellent rating on whether they allow customers to switch seamlessly between methods of communication (NICE inContact benchmark).

E-mail, forms, telephone, social networks, chat... The average consumer now uses 10 different channels to communicate with companies. They expect a seamless experience moving between channels.
Customer service teams, who use an average of 9 channels, are now in a race to meet omnichannel expectations.

Salesforce, State of Service 3rd edition
Start an online conversation on a site, continue it on mobile via your favorite app, leave the conversation and return to it later, within the same thread, without having to remember all the background - that is the kind of multi-channel experience that brands need to deliver to their customers today. A goal that is technologically achievable, but which too few brands are offering, causing them to miss out on a first-class competitive advantage.
This omni-channel experience must also happen in a qualitative, relevant way. In this area too, progress has been immense, and many brands have understood that true AI is not about artificial intelligence but rather augmented intelligence, based on the power of bots and human intuition working together. This alliance will elevate the customer experience of the future. Gartner predicts that by 2022, 70% of customer interactions will involve machine learning applications, chatbots and mobile messaging.
Permanent, 360° Support
How can brands achieve this optimal conversational experience and be there for all their visitors all of the time?

Firstly, brands must deploy intelligent, powerful chatbots that are able to understand intentions and respond independently, 24/7, escalating questions to human respondents if necessary. Powered by Augmented Intelligence, the chatbots rolled out by bank Caisse d'Epargne BPDL handle 40% of visitors' questions completely autonomously. More intelligent than their predecessors, they generate 20 additional customer satisfaction points and process requests twice as fast.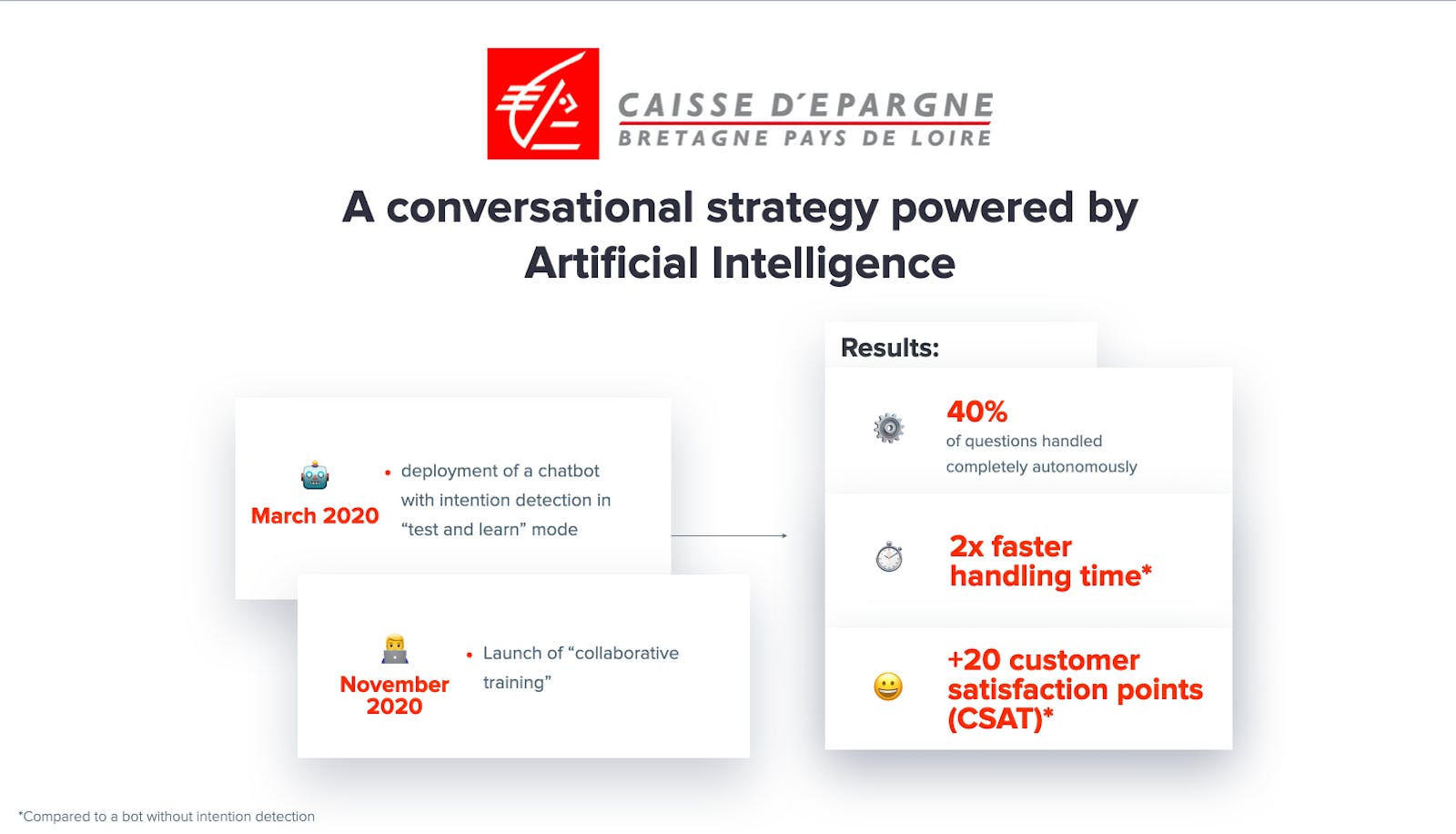 Conversational eCommerce sites combine these bots with a mix of respondents, including sales associates and independent experts on the pre-sales journey; chatbots and professional agents for after-sales care. As is the case with DIY brand Leroy Merlin, which relies on an expert community provided by iAdvize to support its visitors with their projects, including in the evenings and on weekends. Shipping, product availability, order tracking... In 2020, messaging became the 2nd most used channel for interacting with the brand. It deployed chatbots to send quick answers for frequently asked questions, and redirect requests to the right expert. In parallel, Leroy Merlin redeployed 16 sales associates online to help visitors find their way around the web site.
Asynchronous messaging, which allows questions to be sent and responded to when an advisor is available, is an additional ally in increasing the brands' response capacity.
We found that the benefits of investment in asynchronous chat increased contact-center efficiency and improved customer loyalty.

Think with Google, "Consumers want to message businesses"
Something that Best Western Hotels & Resorts France has also found by focusing on this strategy: cutting its emails by a third while achieving 77% customer satisfaction.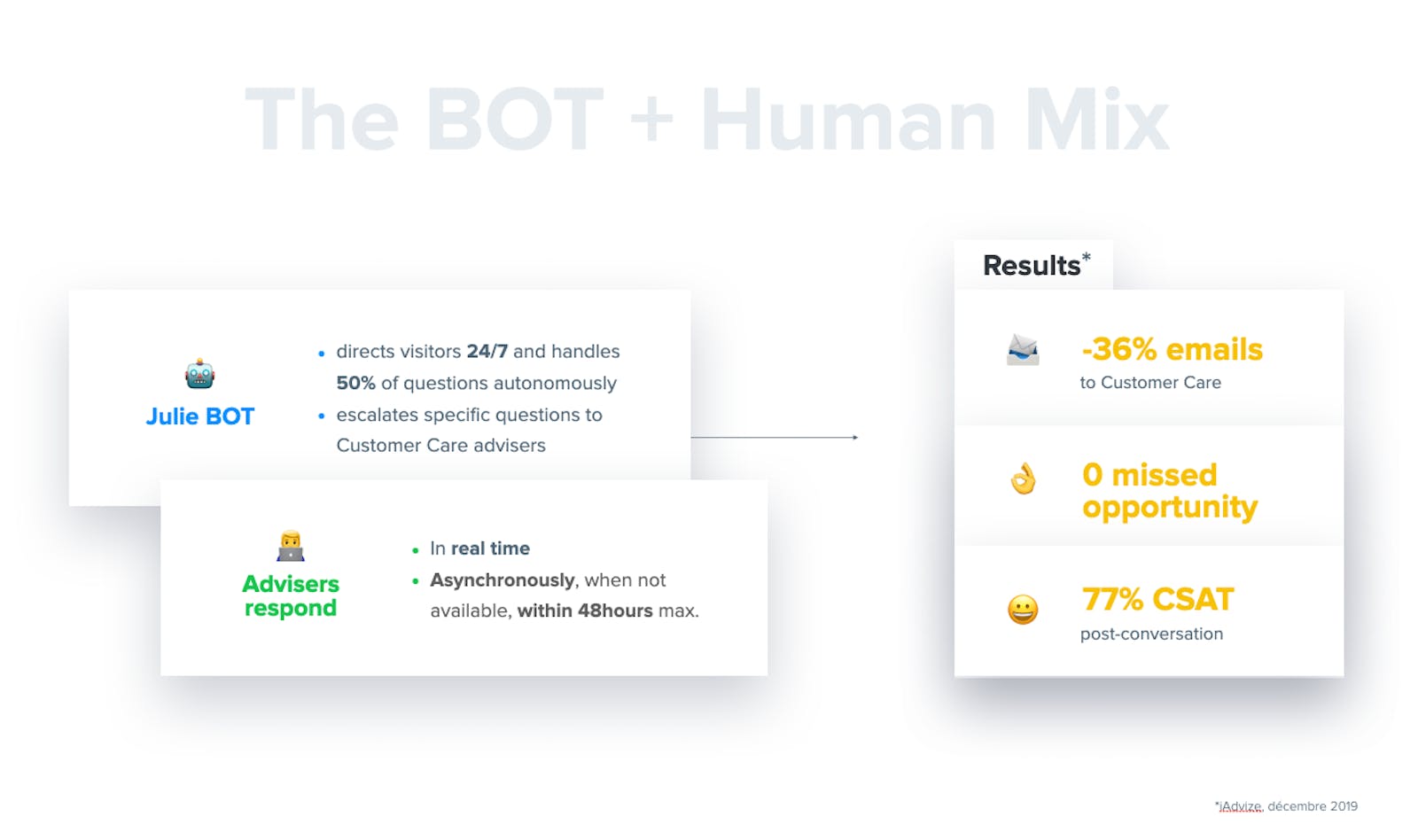 As well as being available at any time, this conversational experience must also be multi-channel and include the physical point of sale. Whether through click-and-collect, remote advice or drive-to-store, the pandemic crisis has revealed the fundamental role of omnicanality in supporting sales and the ROI of physical stores. That is why Samsung onboarded up to 300 retail associates and 60 in-house agents in one week, to advise customers on their website, via iAdvize, in response to a 200% to 300% increase in traffic during the first wave of the pandemic.
A Global Transformation

Nowadays, the challenge of brand differentiation no longer lies in implementing technology: messaging has become a standard. 60% of companies expect increases in their communications technologies budgets for 2021, and the figure for companies offering or planning to offer their customers contact by messaging has increased to nearly 85%. The key is making this change successfully.

The conversational experience has to be offered in line with brands' budget constraints and profitability objectives. It must be part of a strategy that includes detailed and continuous tracking of short and medium term KPIs to measure its impact (CVR, NPS, CA/visit, AOV, abandonment rate...) and an analysis of the content of conversations, to improve the overall customer journey.

That is why at iAdvize, our goal is to make brands conversational. It all starts with an audit, which we designed to support some of the foremost brands in terms of digital experience, like Fnac Darty, Samsung, OtterBox and ManoMano. The result of 10 years of expertise, the Conversational Maturity Index measures the experience gap between what brands offer and what their customers expect. It highlights the competitive upside of deploying a conversational strategy and benchmarks your company against your industry's maturity level.

We ensure that your conversational strategy is ROI driven, piloted, and tracked with detailed KPIs at every step of the customer journey. The topic should involve all teams impacting the customer journey: marketing, eCommerce, and customer care. The idea is that messaging is not an add-on, but should gradually replace the more expensive and less satisfactory historical channels of telephone and e-mail.

This gamble paid off for our client Fnac Darty, who has put messaging at the heart of its multi-channel strategy, and has achieved a 65% reduction in e-mails, as well as 10 to 30 additional NPS points.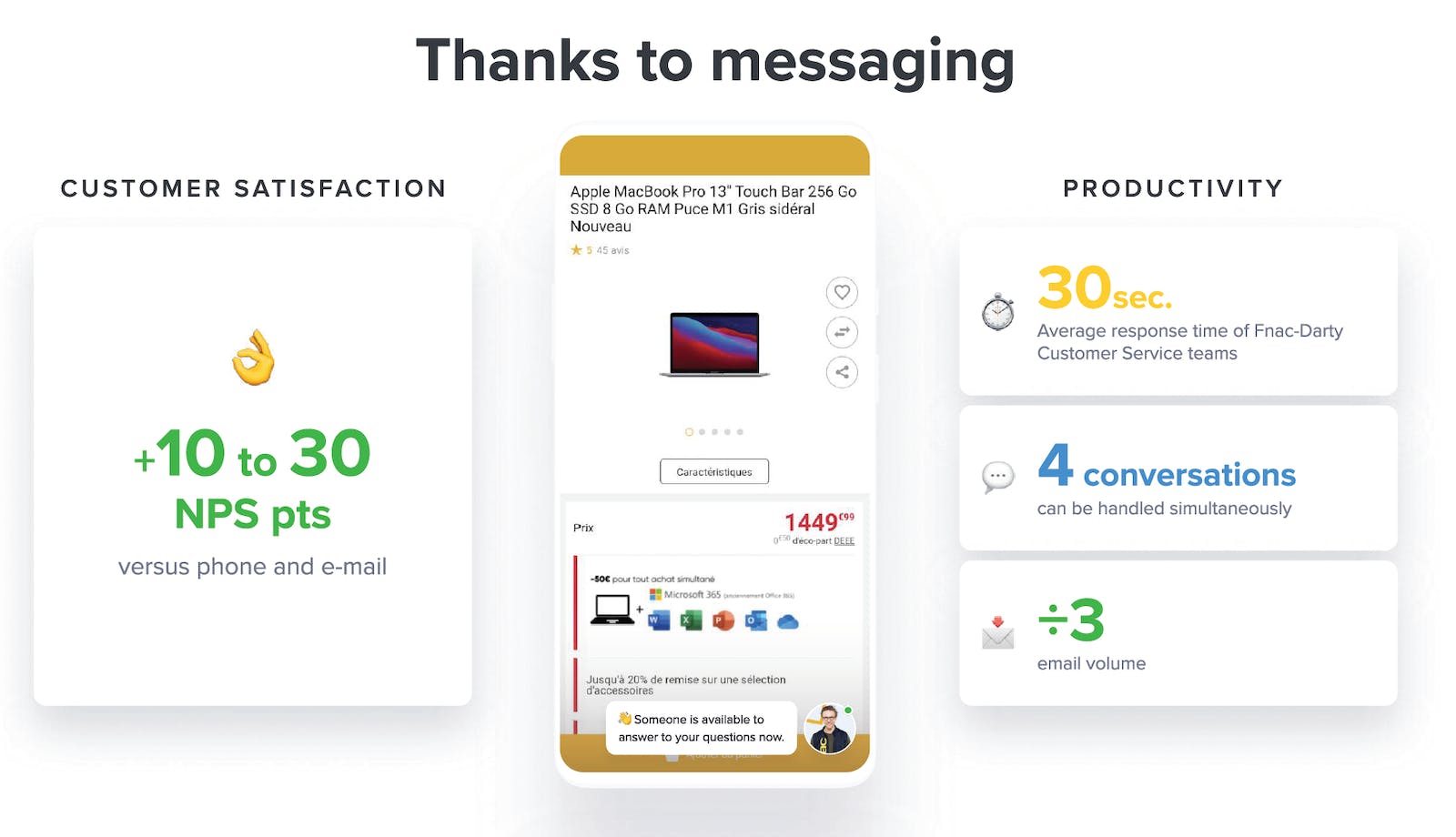 The millions of data items contained in the brand's online conversations and which are continuously analyzed by our platform's AI are a gold mine for our clients. They allow them to identify and eliminate pain points on the customer journey, to optimize their performance, and also to design the products and services of tomorrow.
3 priorities will define customer experience in the post-pandemic era: digital excellence, safe and contactless engagement, and dynamic customer insights.

McKinsey & Company, Elevating Customer Experience Excellence in the Next Normal
Accelerated digitalization has opened up the range of possibilities for analytics. Pioneering companies will be those that have understood the importance of dynamic data and will use it to gain a very precise vision of customer needs and expectations. This valuable information will allow them to optimize their budgets, address long-term goals such as CLV, and thrive in this new digital age.