Tales From the Frontlines
7min read - iAdvize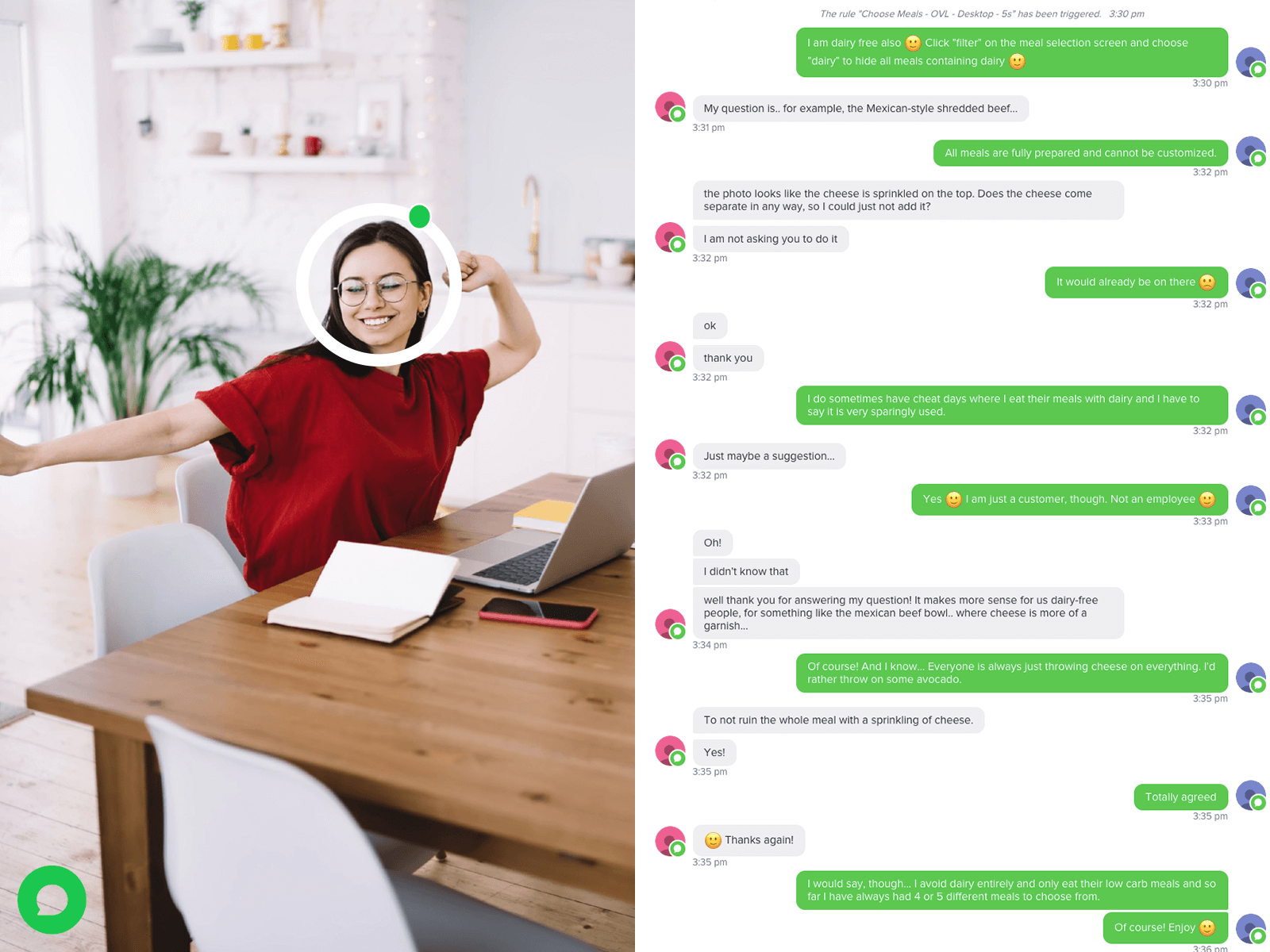 Changes ushered in by the coronavirus pandemic challenged all of us--and retailers are no exception. Amidst all the gloomy stories of renowned retailers succumbing to financial woes, online commerce was a bright spot. When shoppers could no longer head out to stores, they turned to their laptops and mobile phones to buy necessary goods.
For digital retailers, this influx of shoppers presented an opportunity. Those best equipped to rise to the occasion had the infrastructure to deliver truly personalized, human-to-human relationships. Conversational platforms became a key differentiator for retailers in the COVID-19 era.

Even if you haven't deployed or maximized your conversational platform yet, you can learn from brands who have taken the lead. No two market segments have the exact same conversational needs. And no two conversations are alike.

As you look ahead towards the post-pandemic era, you can look to brands that have made conversation with digital customers a priority. Read on for examples of real chats between frontline brand experts and customers and witness the power of helpful advice, empathy, compassion, and a human touch.
Consumer Electronics
Today, consumer electronics play a significant role in our lives. It's no surprise that revenue in the consumer electronics marketplace is on the rise in the US. Revenues will reach $464 billion by 2024, up from $375 billion at the end of 2020, according to Statista.

Since electronics can be costly, consumers take a cautious, measured approach to buying decisions. This is nothing new. As Google previously reported, shoppers can take months to make a personal technology purchase. They can use 14 or more sources to conduct research before buying. Nine out of ten consumers use search or review brand and retailer websites before they engage with a potential seller.

During the pandemic, many businesses rushed to bring their products online, which led to more choices for consumers. Although shopping options increased, the quality of the experiences varied widely. Some of the worst experiences suffered from poor product details, disjointed processes, or high risk of fraud and cyber-attacks.

But not all experiences were negative. Companies offering a conversational experience could stand out in a turbulent era. They were able to offer the empathetic, human touch needed in an unpredictable time.

You can support shoppers in their need to perform in-depth research as they look for consumer electronics products. Having knowledgeable experts ready to engage in conversation can help people perform comparison shopping and find devices to fit their needs and lifestyle.

How does a conversational approach support the consumer electronics buying journey? Take a look at the chat below between an individual looking for a desktop computer and a tech-savvy expert. Clearly, the shopper has done significant research and clarified some specific requirements for their next desktop. The shopper is seeking specific information on how many external devices can connect to the model under consideration.

Through a brief exchange with an expert, the shopper gains valuable insights and pricing details. Although the shopper is not yet ready to buy, the information provided is appreciated and can support sound decision-making.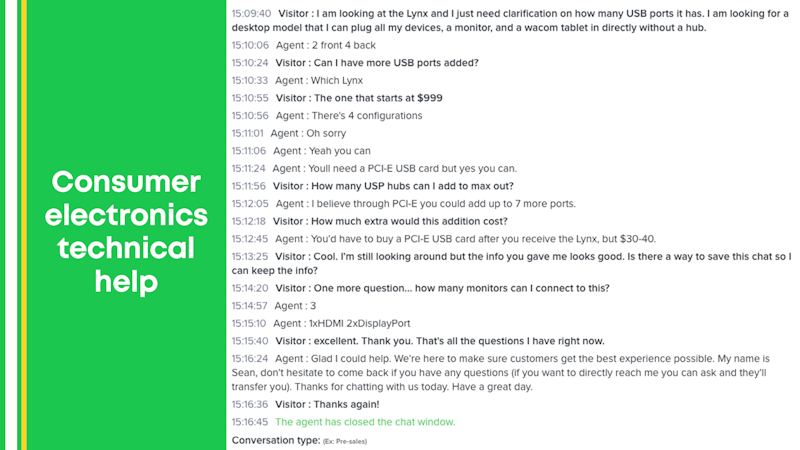 While not every person has a desktop computer and an array of peripheral devices, most of us do have mobile phones. In fact, Pew Research reports that 96 percent of Americans own some kind of mobile phone, with 81 percent of people possessing smartphones. For many of us, our mobile phones are the primary way we stay in touch with friends, family, and colleagues.
Being without a mobile phone during a time of need can be immensely stressful. And purchasing a mobile phone can be an unexpected expense--and a big hurdle--when life circumstances are already difficult.

The chat below between a mobile phone expert and a shopper shows how a mobile phone can be a lifeline for people and families. The shopper is seeking a mobile phone for his grandfather, who is ill with cancer.

Although the shopper starts out inquiring about trading in phones for a discount, the expense is a barrier. The expert answers additional questions and problem-solves with the shopper to help find phones in the family's budget range. Although the conversation likely won't lead to a purchase, the kindness of the expert will motivate the shopper to stay loyal to a favorite brand.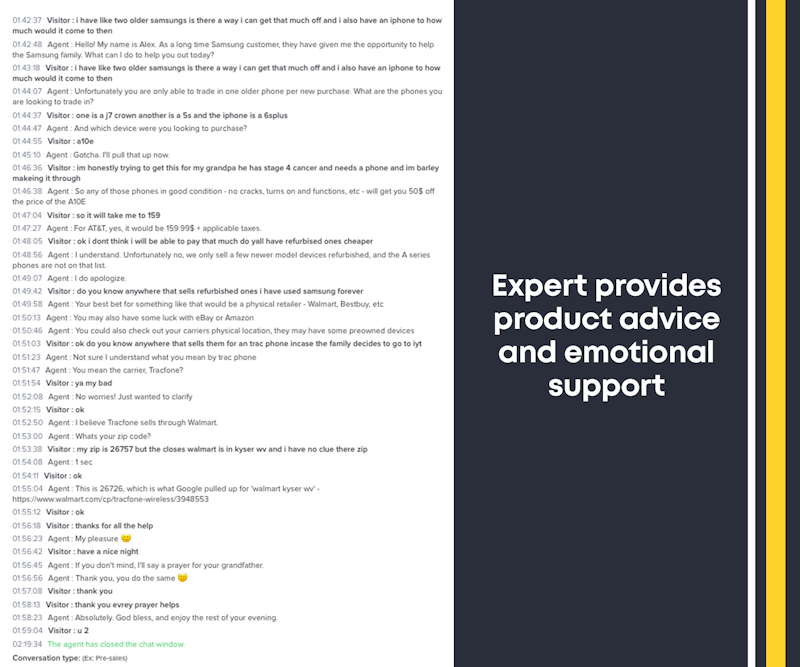 Sports & Outdoors
In the past few years, the online sporting goods market has enjoyed a steady 10.3% growth rate, according to IBIS World. As more people make health-conscious choices in the coming years, the market is likely to continue growing.

During the first months of the pandemic, sales of sporting and outdoor goods lagged, but eCommerce and direct-to-consumer channels proved to be a bright spot. As an example, online sales of outdoor footwear increased by 17%, while overall sales of outdoor footwear fell, according to Footwear News. Industry analysts see trends like these as signs of accelerating adoption of eCommerce for buying sports and outdoors products.

Smart retailers are getting ahead of these trends by offering a conversational approach. As the pandemic led many shoppers to expand their consideration sets, sites with a conversational approach could build relationships with visitors.

A great example of the potential and power of conversation is apparent in the following chat. A shopper visits a website for a reputable brand and becomes intrigued by a product line. After a series of questions with a knowledgeable expert, the shopper gains understanding of a product that could make a valuable gift for a loved one. By sharing direct product experience and offering a discount code, the expert can guide the shopper towards a purchase.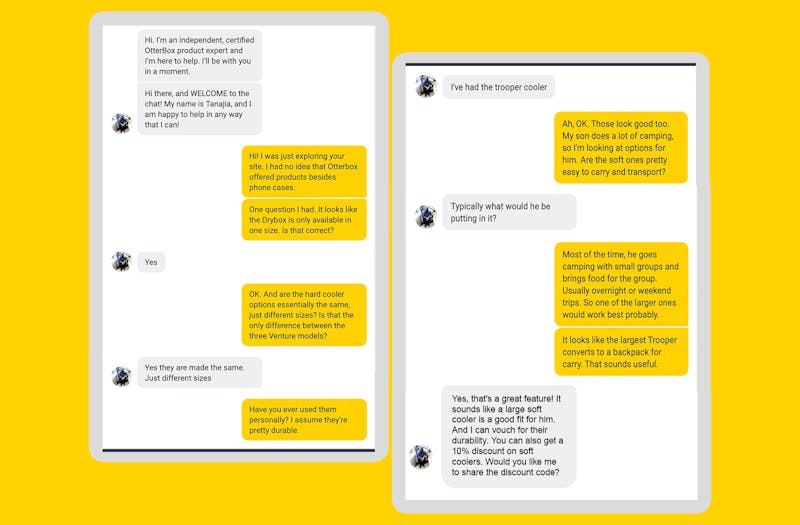 Starting a new sport or fitness regimen can be challenging, especially for people who have fallen out of a health routine. A brand can deploy experts to give shoppers the support and guidance they need to safely start exercising. In this chat, a shopper gets advice on how to start using a piece of exercise equipment and build up over time to meet personal weight loss goals.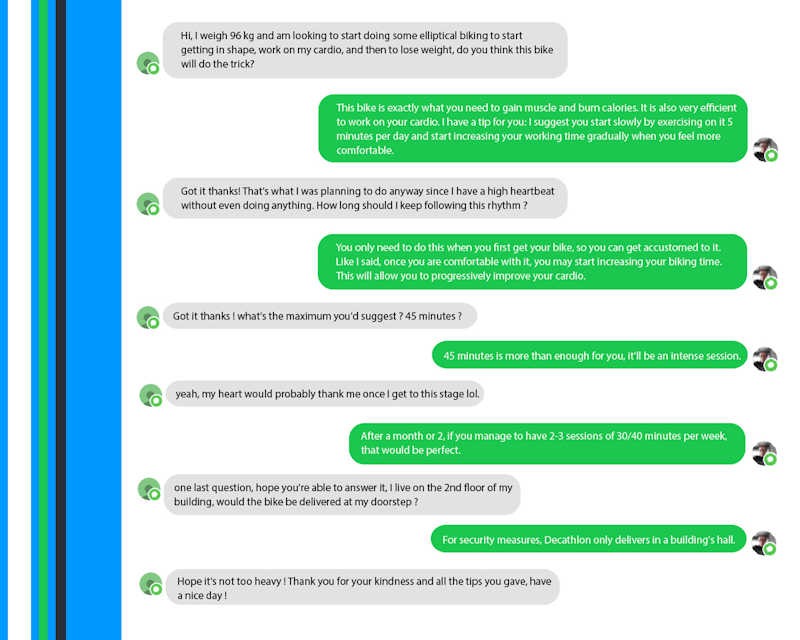 Home Improvement
While other industries struggled during the pandemic, the home improvement sector saw sales rise. According to home remodeling website Houzz, leads for contractors increased by nearly 60 percent. Some home professionals reported that they were busier than ever. The uptick is not a complete surprise since many people spent more time at home and felt motivated to make changes to their living space.

Not only were contractors seeing business surge, but home improvement and do it yourself retailers were enjoying a business boom. Two leading chains, Home Depot and Lowes, posted impressive mid-year earnings during a time when many retailers recorded losses.

When shopping for home improvement items, consumers typically research before buying. According to one study, 90 percent of shoppers research online, with 40 percent saying that the research they do is "very important" to their purchase decision.

Home improvement purchases--especially big ticket ones--need to fit into shopper's most personal spaces. Some home improvement decisions play a part in people's lives every day. And that makes buying the right item extremely critical.

For home improvement retailers, a conversational platform is a vital tool to help shoppers make confident online purchases. A shopper can ask a home improvement expert clarifying questions that can go beyond the items at hand. Shoppers can also gain practical DIY advice and tips to make their at-home projects successful.

Consider this example of a conversation between a home improvement expert and a shopper. At the start of the conversation, the shopper is considering a specific garden arbor model, but learns it isn't available in the local area or for order online. Through conversation with the expert, the shopper explores an alternative and learns about the retailers generous return policy.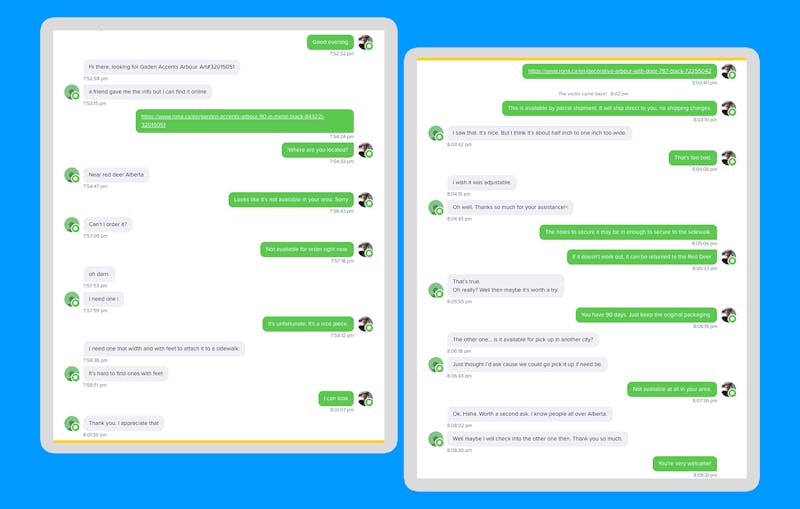 In this example, a website visitor is looking for advice on a bathroom renovation. Specifically, the individual is looking for advice on how to install shiplap and make it strong enough to hold up shelves. Through conversing with an expert, the visitor explores several installation options. Although the conversation doesn't turn into an obvious sale, the individual feels informed and empowered. This type of informative and helpful conversation builds trust and can motivate someone to revisit a site and make purchases as needs arise during home projects.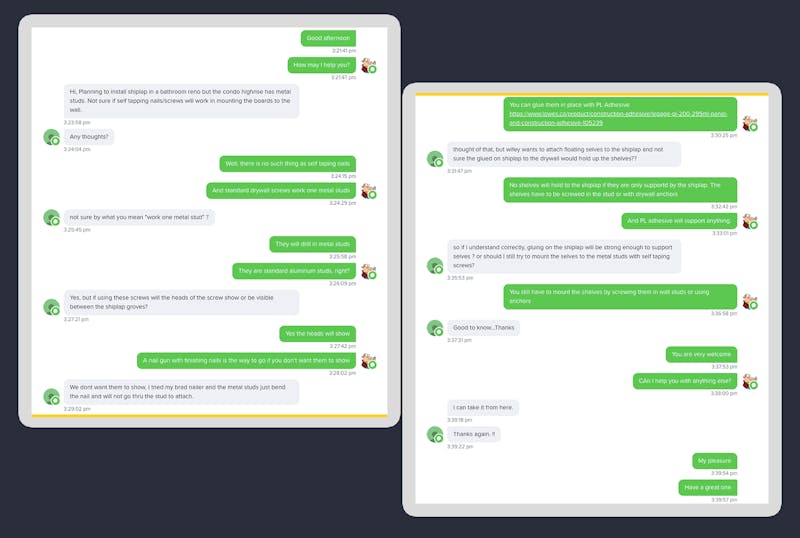 Other Examples of Online Purchasing
Although the shift to digital for retail was well underway, the coronavirus pandemic shifted eCommerce into high gear. According to data from Adobe Analytics, online sales during the first eight months of 2020 reached nearly $500 billion--with an extra $107 billion spend online due to the pandemic.

That period of 2020 also saw 130 days where consumers spend more than $2 billion online. During 2019, there were only two days of the whole year--both in the busy holiday season--where online sales reached over $2 billion.

Shoppers turned to the web for everything from food to personal care items to day-to-day necessities. The experiences they had during stressful pandemic stay-at-home or quarantine periods would help form lasting impressions of brands.

Providing meaningful advice and personalized support through conversation is a sure way to win points with shoppers. Take a look at this conversation between a brand expert and a husband shopping for shoes for his wife. He wants to secure a good deal, but make sure he's paying for a genuine item from a premier fashion brand. The expert reassures him and makes him feel confident about his purchase.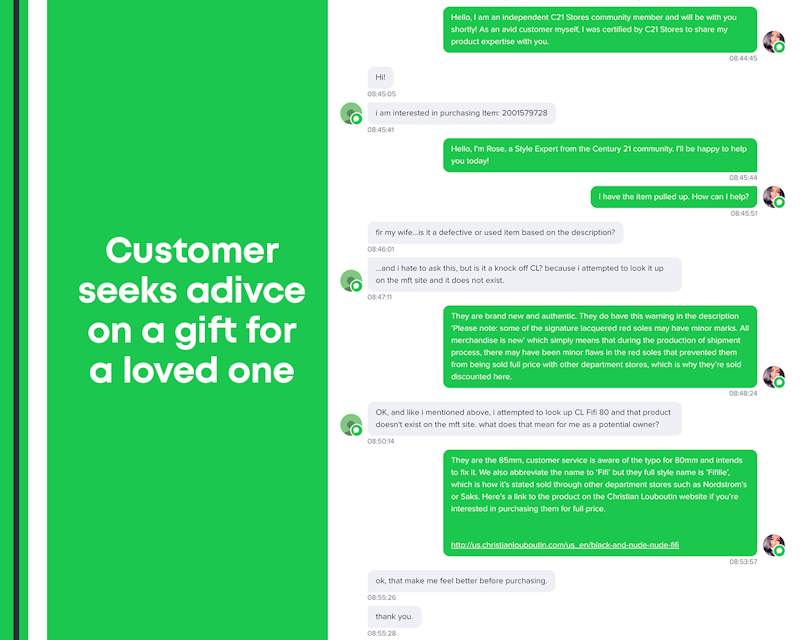 At times during the pandemic, some foods and household goods were difficult to find in brick-and-mortar retail stores. These shortages spread to many traditional online retailers as well. However, DTC suppliers stood ready to pick up the slack with innovative packages and monthly subscription orders.

Even before the pandemic, meal kit subscriptions showed strong promise. COVID-19 accelerated interest in the meal kit market as many people avoided eating out and shopped more at home. The convenience of pre-packaged kits coupled with health-friendly menu options contribute to the strength of the market. According to research published in Grocery Dive, the meal kit marketplace could reach $20 billion in 2027.

Some meal kit shoppers need to balance dietary restrictions, allergies, and other needs to make healthful choices. In this conversation with a brand expert, a shopper asks for advice on how to navigate a dairy-free diet and maximize meal delivery choices.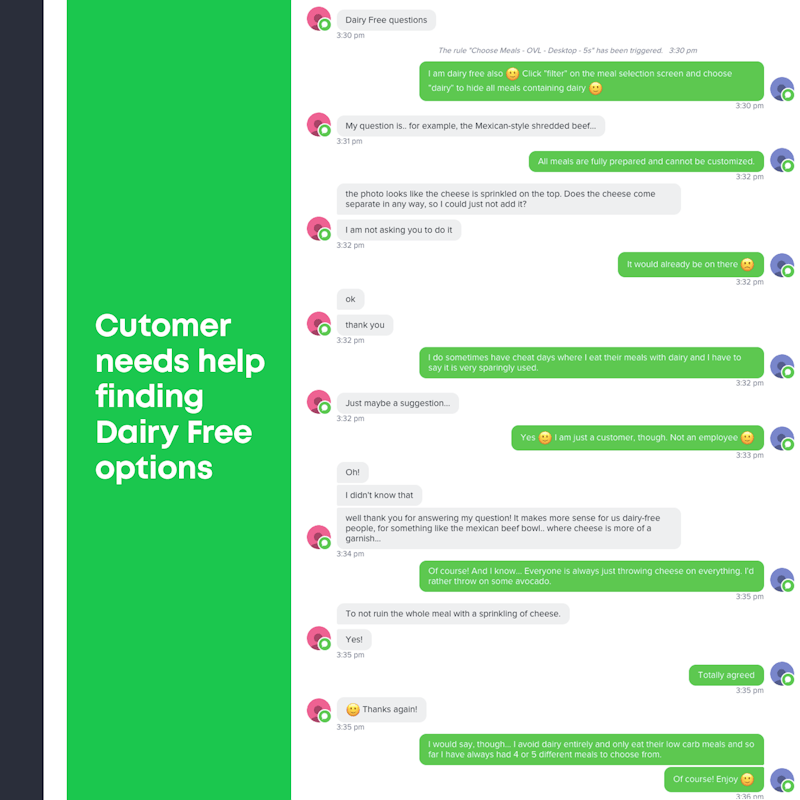 Bringing Humanity to a Digital World
If the coronavirus pandemic has taught us anything, it is the power of connection. At times, we've all sacrificed normal routines and in-person contact to safeguard the health of ourselves and others. It hasn't been easy. But it's taught us all to value those small moments of human connection, wherever we may find them.

Although many companies have claimed to be customer-centric, current realities compelled them to rethink how they engage with customers. Instead of creating a digital presence that is rich in information, brands need to focus on fostering human connection online. With a conversational platform, retailers can offer genuine personalization and specific content that meets all shoppers where they are.

A conversational approach that relies on brand aficionados with product expertise can foster the authenticity and humanity customers desire. Instead of feeling anonymous, shoppers can give voice to their needs and concerns and receive meaningful answers.

As our real-world examples of frontline conversations show, no two conversations are alike. Some shoppers are seeking facts, others want to feel empowered, and others need care and compassion.

The pandemic accelerated the digital transformation that was already underway. Now that we've moved past the first operational shockwaves, we can create strategies that move our businesses forward. And customers need to be at the heart of all we do.

Without question, embracing conversation as a way to meet the varied needs of digital customers is critical for the next chapter. Every brand needs to use a conversational platform to bring humanity to a digital world.