Sideshow Achieves 60% Ticket Reduction in Less Than Three Months With iAdvize
3min read - iAdvize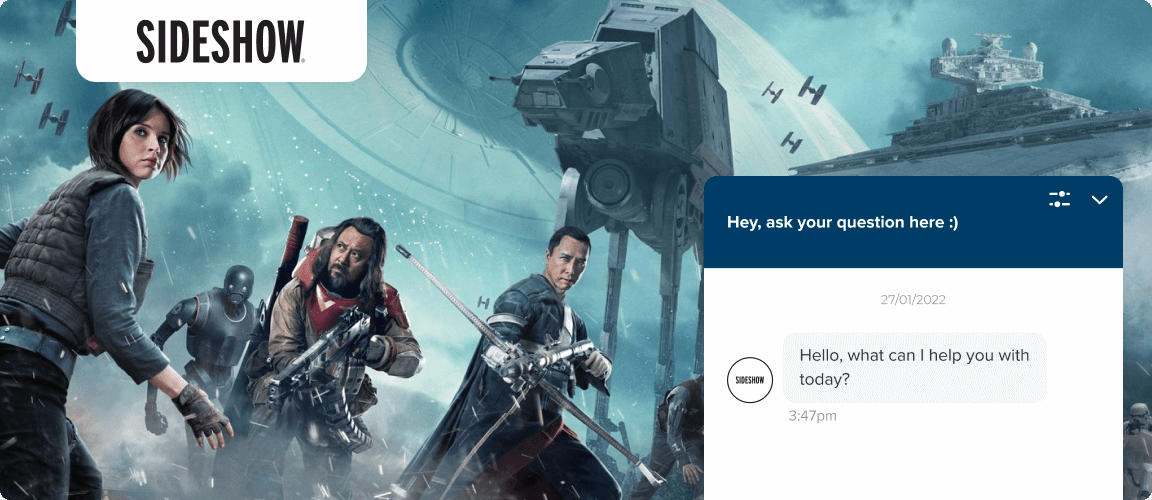 Sideshow Leverages a Conversational Strategy To Reduce Ticket Volume and Embrace Their Community's Culture
Founded in 1994, Sideshow manufactures and distributes collectible products that help people stay connected to their favorite films, television shows, and comic books. The company specializes in articulated figures, statues and busts, film prop replicas, and fine art that portrays popular characters from several high-profile brands.
Sideshow's top customers are passionate entertainment and pop culture enthusiasts who enjoy collecting figural art. To fulfill its aim of connecting people around the globe with the characters they love, Sideshow knew it needed to offer world-class customer service. Sideshow knew they had to prioritize the customer and wanted to optimize their customer care approaches.
They turned to iAdvize to reinvent its service to be more efficient, personable, and memorable.
Reduce Supply Chain Disruptions to Improve Product Delivery Expectations and Alleviate Customer Frustrations
Sideshow was experiencing high levels of supply chain disruptions that were resulting in product delivery delays and customer frustrations. Some of those challenges that they faced included,
Customer service representatives being overwhelmed by the high volume of calls and inbound contacts, leading to an increased employee turnover rate
Rising costs for recruiting and training new representatives, which took a toll on Sideshow
Their previous provider's platform offered a poor user interface and a simplistic bot that couldn't suggest personalized support
The bot did not represent the Sideshow brand, it was neither precise nor personalized enough, required significant intervention to set up, and did not embody their voice and messaging
Service team couldn't provide 24/7 coverage to connect with the brand's worldwide audience, heightening customer frustrations
Decrease Customer Service Costs & Boost CSAT Scores
Sideshow's CSAT scores were around 60% and their customer service costs remained elevated. Chris Pirotta, Sideshow Vice President of Marketing, knew that increasing CSAT while decreasing costs would be an ambitious goal, but one they had to prioritize.
After reviewing the current state and envisioning the future, Sideshow knew they had to make a change. They sought a new conversational service solution to empower them to achieve specific goals:
Ticket reduction: Freeing up employee talent to focus on the things that matter
Leveraging AI to educate visitors on self-service
Delivering a 24/7 omnichannel luxury experience
Increasing CSAT and NPS
The iAdvize Solution
Sideshow's search for the perfect customer solution led them to iAdvize. After clarifying Sideshow's primary requirements and long-term goals, iAdvize set up the initial partnership with four task forces and project owners from both companies:
Engagement:

Tasked with designing seamless conversational experiences.
Conversation:

Responsible for building an AI that matched the Sideshow brand tone.
Expert:

Handled sourcing, certifying, and onboarding passionate customers willing to take on brand ambassador roles.
Technical integration:

Oversaw integration with Sideshow IT systems.
A significant focus of the project was to capitalize on the energy and passion of the Sideshow community to develop dedicated ambassadors to represent the brand. To achieve this goal, the project teams sought superfans from Sideshow's Facebook following of nearly 50,000 strong.
After securing approval, iAdvize deployed the bot on four pages of the Sideshow website for two hours to capture data on how visitors engaged with the bot. Through this soft launch, project teams gained clarity on demand for the bot and how people would use it. These insights helped the team to focus on high-traffic customer journeys.
The Results: Reduction in Tickets by the Thousands and +32% Increase in CSAT Scores To Strengthen Their Digital Customer Experience
By deploying iAdvize's conversational platform, Sideshow achieved significant results in less than three months:
iAdvize was able to help us reduce tickets by 60%, resulting in thousands of fewer tickets, freeing up time for our amazing support staff to focus on top-level customer needs.

Chris Pirotta, Sideshow Vice President of Marketing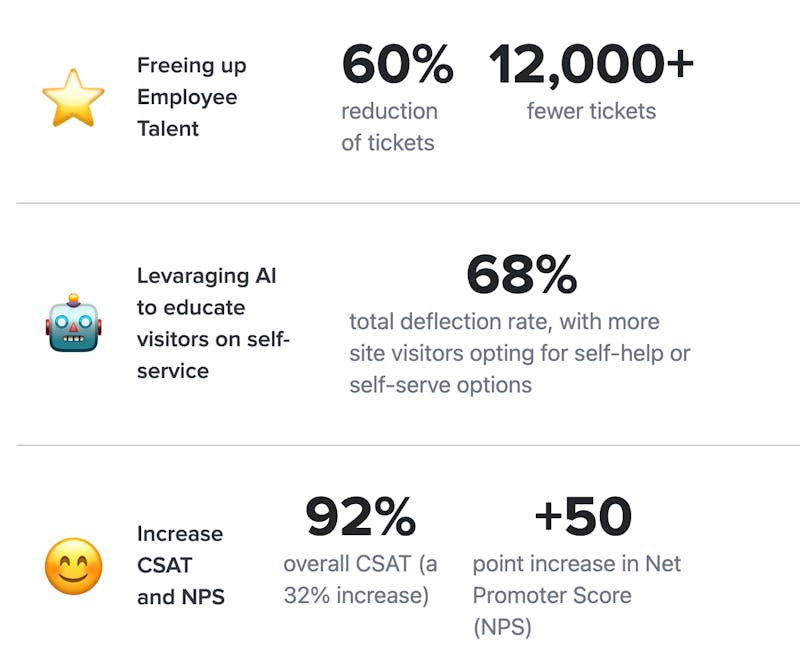 Going forward, Sideshow expects to expand its partnership with iAdvize to reach more customers on more platforms and keep growing its fandom. Chris Pirotta, Sideshow Vice President of Marketing, looks forward to a bright future with iAdvize:
At Sideshow, we take great pride as a customer support leader in our industry. Sideshow is staffed by authentically passionate pop culture fans - finding a novel method to share that passion with our customers has been critical to our continued evolution and growth. As such, we are excited to take this next step with the plethora of tools and techniques provided by the wonderful team at iAdvize.

Chris Pirotta, Sideshow Vice President of Marketing