Ed Billmaier, Samsung US: From last year to this year, we've grown sales by 10x
5min read - iAdvize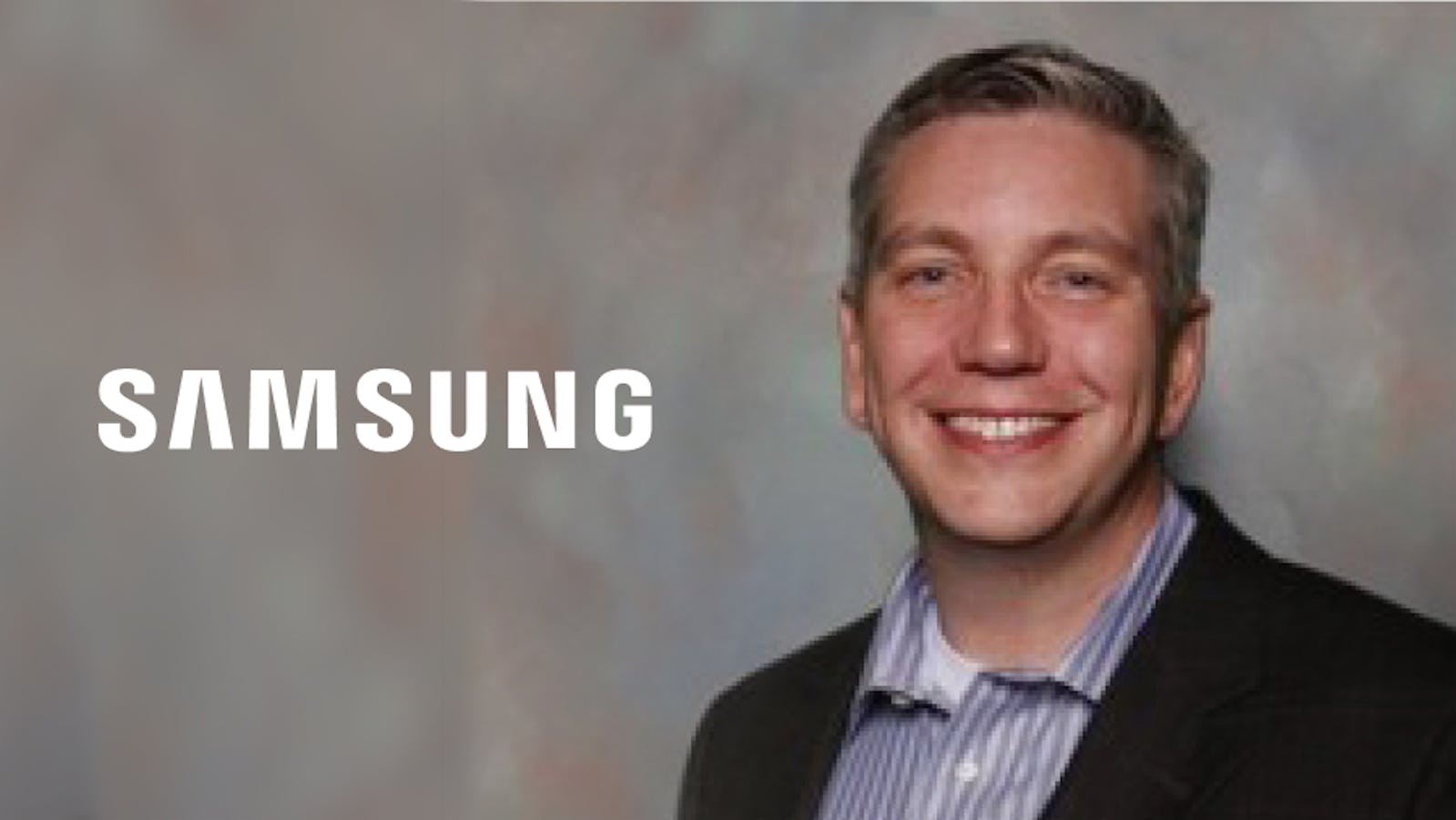 Samsung US launched their partnership with iAdvize in early 2019, determined to replicate the same level of CX offered in their retail stores, online. Since then, the world leader in consumer electronics has been able to grow its e-commerce sales by 10x while fulfilling its objective of giving US customers the information they need, when they need it and how they want it, when considering a purchase on Samsung's website. Ed Billmaier, Director of e-Commerce Customer Service at Samsung Electronics America, joined iAdvize's virtual Conversation20 event to discuss their agile, powerful conversational strategy, and how gathering customers' insights is the next big thing in CX optimization in the consumer products industry.
Not your typical digital customer experience strategy
Samsung's customer service strategy has evolved over the years to focus on elevating agent knowledge to support customers with complex, in-store purchasing decisions. This heightened in-store experience has been integral for helping shoppers with questions about high-tech goods such as home appliances, laptops, smart TVs and of course smartphones.
So how does this history of in-store customer experience excellence translate over to the realm of eCommerce? According to Ed Billmaier, it all comes down to identifying & analyzing the top questions asked by customersThen, developing frictionless ways of delivering the information customers need, when and how they want it.. "We're trying to create a much more engaged and opportunistic approach to really understand how the customer experience is going" explains Ed Billmaier. And then further optimize it.
The Samsung US ecommerce customer Service strategy is based on several factors:
Fixing the gaps of knowledge causing the customer to have to call the company: an individual getting the answer by themselves is best.
Automating and developing self-service solutions for questions that may require interactions with an agent, as in the use of chatbots.
Giving the agents the most complete training and the best tools to be able to deliver information in the best digestible manner and provide an outstanding customer experience.
Their comprehensive strategy ensures all the customer's needs are catered to, in the most efficient way. Offering superior customer experience is an ever-evolving process for the CX specialist:
We are constantly looking for opportunities to tweak and improve our approach from little things to really big things, just to make sure that we're really improving that experience for the customer.

Ed Billmaier
That's the challenge Samsung Electronics America decided to tackle with the help of iAdvize's conversational strategy. In 2019, the iAdvize platform was implemented onto Samsung US' website to allow visitors to interact with the brand in real-time via messaging, through a team of independent experts sourced and selected by iAdvize.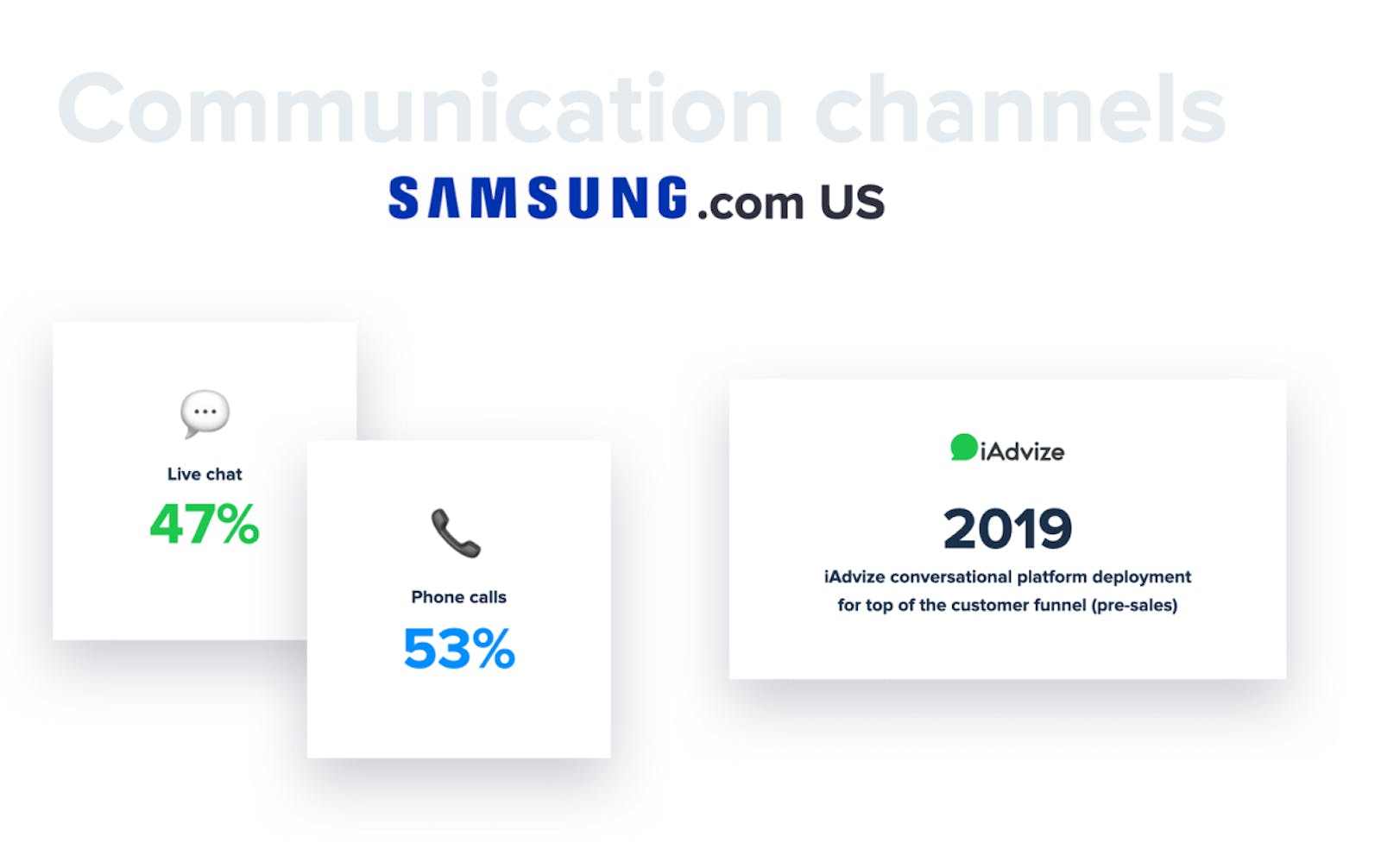 Optimizing team organization to reach a new level of customer satisfaction
Simply put, the goal of every company's customer service is to reach the highest customer's satisfaction score. Tools are useful for that. But more than tools, the agents' team organization can be crucial in reaching that goal. That's the approach taken by Ed Billmaier when engineering a thorough organization of online purchase assistance around the use of the iAdvize technology. This deployment has since been described as the best-in-class strategy by Samsung executive leadership.
We literally have three teams focused on supporting iAdvize through what we've called the ePromoter program: the group of iAdvize experts, our retail agents and we also have an outsourcing agency.

Ed Billmaier
To give more context, the ePromoter program, which started off as a regional initiative, was designed to advise customers throughout the world and increase the number of sales generated through online conversation. "We really want to make sure that we're creating options for our customers to get these answers where they need it, when they need it and how they wanna get it." Indeed, with the rise of eCommerce, "No longer are we tied to a physical store to be able to answer questions. And so the ePromoter program role becomes critical to really be able to answer those questions and alleviate confusion that the customer might have."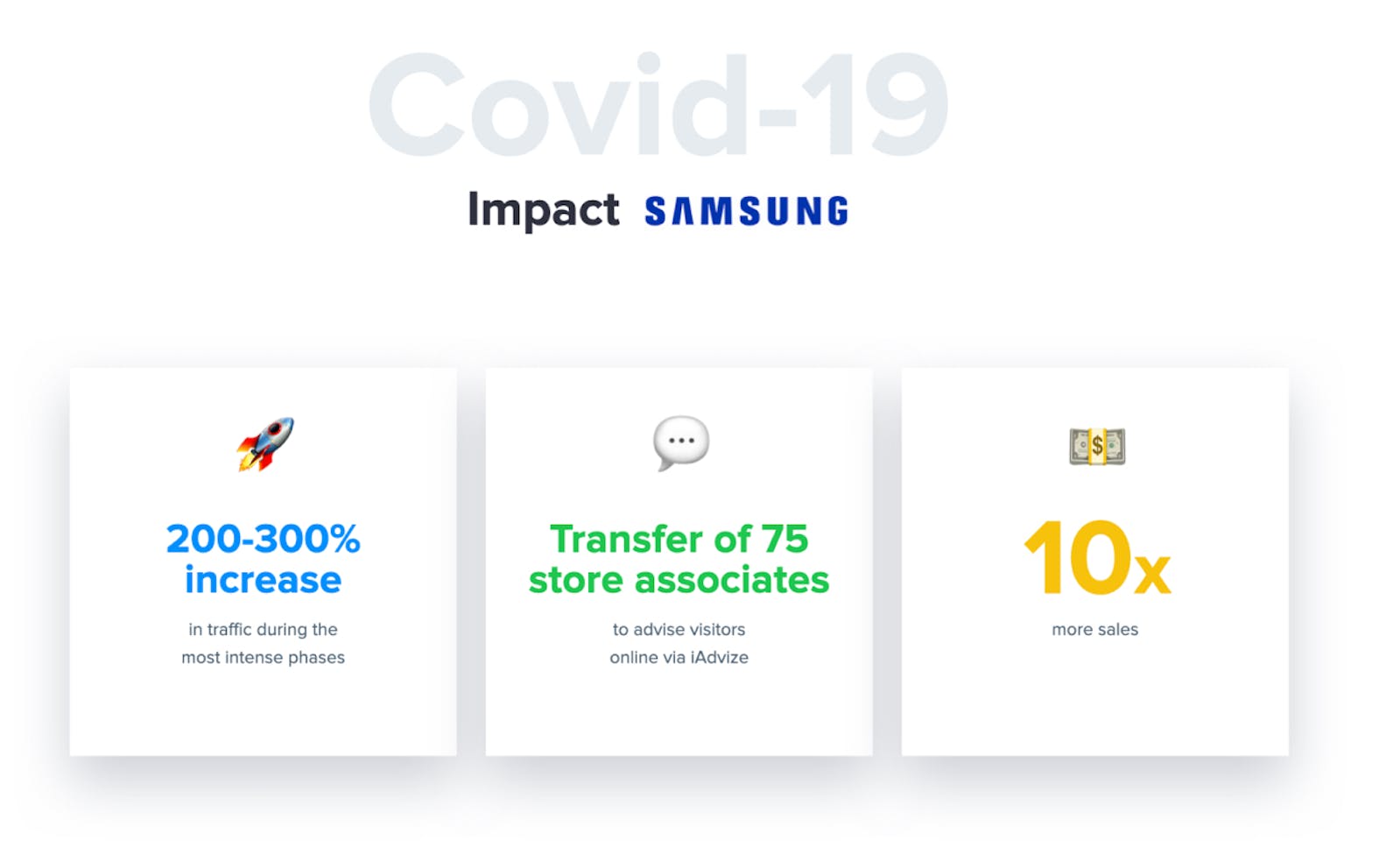 The core pillars of the ePromoter program are:
Creating a global team of agents available at all times.
Building bridges between messaging tools to timely deliver the most expert and accurate information to the customer.
Capitalizing on customers' data and conversations insights.
With these pillars in mind, the strategy for sales agents' interactions has been anything but a heavy sales approach. More like advisers, their mission is to help visitors by answering their questions. And it seems that it definitely helps close the sales:
What we're finding is that from last year to this year, we've grown sales by 10x and can attribute it to the ePromoter program.

Ed Billmaier
Taking the time to train the teams played a big part in reaching those results. "As we learned more about iAdvize's tool and how to leverage it, how to train people and get more effective at it, we've seen the impact on our conversion rate, on our customer satisfaction and our NPS going up quite a bit. Since we first started a year ago to where we are at today, we've seen tremendous progress."
Another part of Ed Billmaier's strategy has been to integrate his existing tool ecosystem with the iAdvize solutions, in order to increase the teams' performance. "We've tried to build bridges between iAdvize and our knowledge base in Zendesk for example, which is pretty robust, to give the expertise to a much broader group rather than just our internal team." The department has implemented an educational program for all their agents, as well as a certification process, to ensure they develop their expertise across all Samsung's topics and product lines. This has already produced impressive results.
We've seen huge improvements in our conversion rates since we've put the educational programs in place, and we've also seen CSAT go up tremendously, especially within our outsourced group and the expert group, which is fantastic.

Ed Billmaier
Ed Billmaier achieved these results by organizing the team down to every detail to ensure the operational efficiency of all 3 groups complement each other, the end result being that Samsung customers, wherever they were and in whatever time zone, could engage with an agent when needed:
Independent experts

sourced and trained by iAdvize to educate and inspire Samsung's customers, who tend to cover more of the evening shifts.
An outsourced team of agents filling in gaps in the 24/7 response coverage.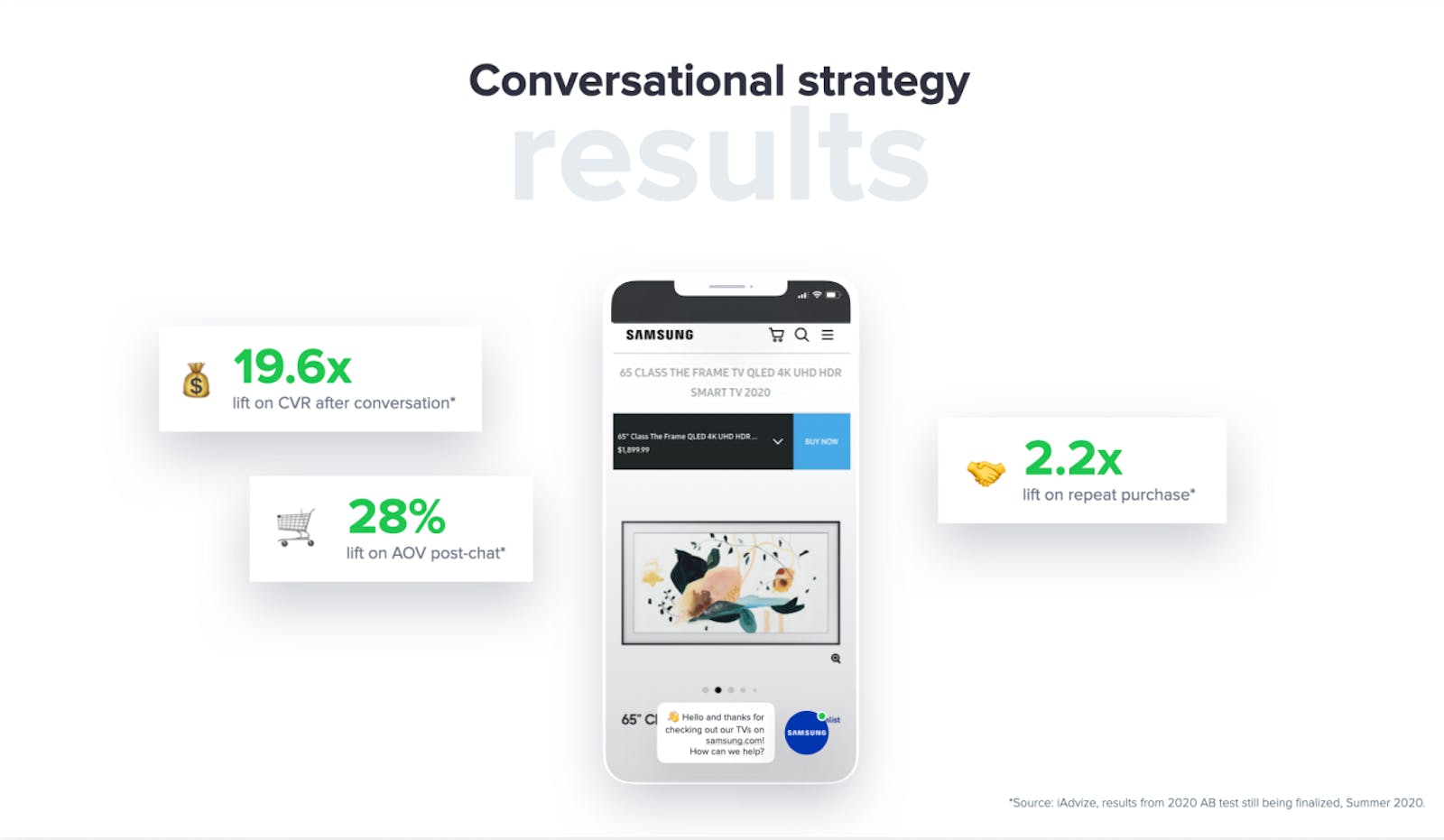 Relying on iAdvize's reports to get total overview of the customers' needs
"How do we get these opportunities, how do we get the insight and how do we drive improvement so that we can create more self-service or actually eliminate defects and make it easier for the customer to get the answers she/he needs to complete the purchase?" Getting insights on customer behaviors has been a core objective pursued by Ed Billmaier. Thanks to the robust iAdvize's analytics tools, the platform generates 5 Samsung-specific daily reports providing a complete overview of his customers' needs, as well as granular insights into the adjustments to be made to the digital strategy.
The depth of the conversation insights provided by iAdvize was a major motivating factor.
Because we're really looking to improve how it works, looking at which rules are driving certain types of behaviors, driving customers to engage, driving conversion rates and what's the data like by groups. It can be very different by organization and product division and so, having that insight helps us see what we are doing here with success and why it isn't working there.

Ed Billmaier
The platform tracks a litany of KPIs, such as the number of customers visiting the website, the conversion rate, the average order value and the revenue produced through messaging; the CSAT, especially used by Samsung Electronics America to figure out the specific training needed for the team; but also the VoC, voice of customer, which can be analyzed by looking at the terms or phrases frequently used, in order to identify the content gaps and how to better answer customers' questions.
Being a proactive user of iAdvize has helped Samsung Electronics America get the best from their conversational strategy. When the opportunity of testing a new insight tool developed by iAdvize arose, Ed Billmaier did not hesitate to express his interest. As Ed Billmaier put it, "One of the things that's been fantastic about iAdvize is as we've run into challenges, we've been able to work with them, to say hey, we need this type of data set, we need this kind of information. And one of the great things is that they've been open to trying new things for us to get this information."
Building bots with iAdvize to streamline conversations, using the tool's data to build the customer team's budget and the planning going forward to ensure 100% website coverage, and relying on independent experts to assist customers in the shopping experience, are some of the key features which have been useful for Ed Billmaier to improve his teams' performances and customers' satisfaction. From these results, he added that:
tools with flexibility like iAdvize provide that kind of next level capability to really engage customers in a completely different manner than they are typically used to.

Ed Billmaier
By using iAdvize, Samsung's ecommerce customer experience was able to rapidly adapt and is already preparing to get ahead of what's next to deliver memorable customer experiences. Something undeniably important in our rapid journey through global digital transformation.