How to Measure the Success of Your Live Shopping Event
6min read - iAdvize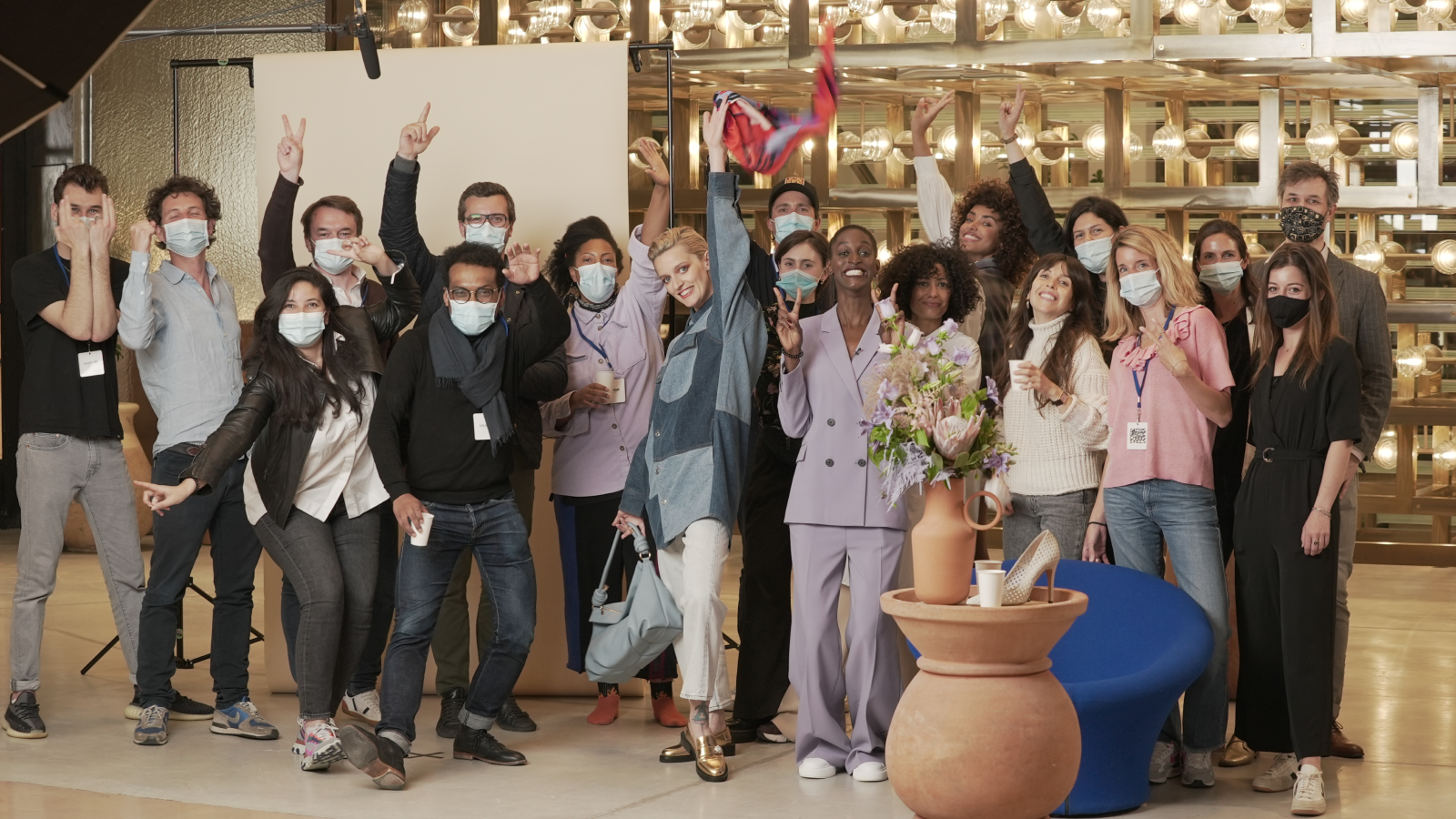 Live shopping is an exciting new way to reach audiences. Despite live shopping's burgeoning popularity, you can't just toss an event into cyberspace and expect to achieve results.
You need to plan ahead, establish clear goals, and use the right metrics to evaluate success. For some events, a high sales volume is the desired objective, while others may focus more on awareness or community building.
Which metrics should you be tracking? We've compiled a list of some of the key measures that you should keep track of to understand the outcome of your live shopping event.
8 Live Shopping Metrics to Track
Some metrics only make sense to track before or after your event. For example, you'll only track registration numbers before your event and replay views after your event. But some metrics play a role in your analysis of the event as a whole.
1. Page Views
A page view is a common web tracking metric that occurs when a web page is loaded or reloaded in a browser. Essentially, this metric tells you how many times your page was viewed by visitors in a certain period. However, it doesn't tell you how many people visited your page.
Use this metric to gauge event success:
Pre-event.

Determine the number of page views of a landing or sign-up page prior to your event. This helps you evaluate the effectiveness of your messaging and promotions, and helps predict attendance.
Post-event.

Tabulate page views of select pages—such as those for featured products—during or after the conclusion of your live shopping event. Even if all the page views don't turn into sales, you'll know that you've successfully drawn traffic to your site.
Want a real-world example of page views as a success metric? In early 2021, the shoe brand Aldo hosted a live shopping event featuring a celebrity stylist and a TikTok influencer. In the five days immediately following the event, the Aldo website experienced 17,000 page views, with each visit lasting an average of 12 minutes and six seconds. Clearly, the live event drew people to explore Aldo's site and learn more about its shoe portfolio.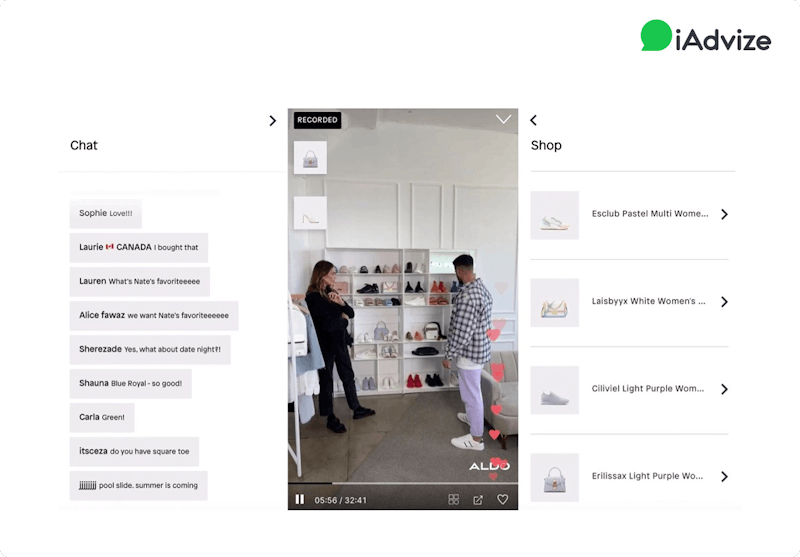 2. Shares on Social Media
One of the best ways to get the word out about your live shop is on social media. You should measure social shares to see if your event is gaining traction and attention.
Pre-event.

You can track shares from your event landing or sign-up page and on your social posts. If you've

engaged a social influencer

to host or promote your event, you can track that person's social shares as well. Tracking pre-event shares and engagement can help you understand your potential audience volume.
Post-event.

Shares after your event tell you if your message, products, and promotions resonated with attendees. If they feel excited about having participated, they'll be more likely to share your event with others.This can drive new audience reach and help secure more registrants for future events.
Other social engagement metrics—such as likes and comments—can also help you understand if your event and promotional content is having the desired impact. If you're using other promotional tactics, such as email or web advertising, you should be sure to measure those too.
3. Pre-Event Registrations
While your social outreach and other marketing campaigns will get the word out, you need to make registration easy. Let people add your event to their calendars and enable reminders via text and email, including a notification minutes before the event kicks off.
4. Conversion Rate
When doing a live shopping show, you can track many different conversion rates based on the actions that matter most to your business, like:
Number of registrations compared to impressions for a social advertisement
Number of registrations compared to visitors on your landing or sign-up pages
Amount of sales compared to event attendees
Amount of sales compared to replay views
To make it easy on the business front, you should seek out a live shopping platform or partner that calculates sales conversion rates for you.
McKinsey & Company reports that the conversion rates brands see for live shopping often outpace those achieved through traditional e-commerce.
Live commerce is entertaining and immersive, keeping viewers watching longer. It also telescopes customer decision journeys from awareness to purchase. Time-limited tactics such as one-off coupons can be used to generate a sense of urgency. Companies report conversion rates approaching 30%—up to ten times higher than in conventional e-commerce.
5. Number of Viewers
Another essential metric is the number of viewers who watch your event. You can track the number of people viewing your live while the event is in process. Keep in mind that fluctuations in viewership are normal. Throughout the event, you'll likely see a surge of visitors at the beginning with attendance tapering off over time. Prevent drop-offs by saving desirable products or exclusive deals for later in the event.
You'll also want to track the views on your replay videos. Often, brands find that they sell more products during replays than they do during live events, so make it easy to find replays on your website and promote social sharing.
As interest in live shopping grows, you can expect to see increasing viewership for both live events and replays. Consumer research found that 28% of shoppers would be motivated to buy more with live commerce.
Real-word examples prove this data true. Petco witnessed sustained viewership growth through its commitment to ongoing live shopping experiences. Its first event, a spring pet wear fashion show, was a resounding success with more than 300,000 live and replay views. By the holiday season, the brand achieved more than 400% viewership growth, meaning its events were reaching millions of shoppers.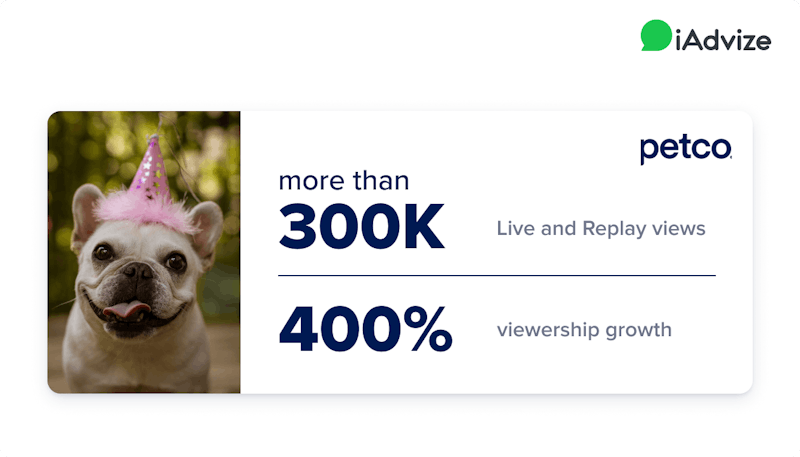 6. Viewing Time
Most live shopping events are short, clocking in at 30-40 minutes long. As with other forms of video-based communications, measuring the length of time people engage with your live shop can tell you how interested and engaged your audience is. You can easily see if shoppers are dropping out at predictable points in your event and develop ways to keep the audience engaged. A simple approach is not revealing all the details about upcoming deals and promotions.
How much time can you expect viewers to devote to your shop on average? Successful live shops average seven minutes of viewership time. During that time, you can elevate awareness and help shoppers learn more about your brand messages, personality, and select products.

7. Average Order Volume
A lower AOV may mean you've chosen to highlight less appealing products or that your prices are too high. Use proven tactics to increase AOV, like bundling products together to create a complete, fashionable look that features several items. Another approach is having a threshold at which shoppers earn a valuable perk, like a discount or free shipping. You can also offer exclusive gifts or discounts on future purchases to boost your live event AOV.
8. Return on Investment (ROI)
The first question many executives ask about a potential live shopping endeavor is, "What's the potential ROI?" For some events, like flash sales, generating a lot of sales quickly is the goal. Others may focus on long-term objectives, such as amplifying brand awareness or building community.
In some cases, especially when the event features expensive or premium products, it's less realistic to expect significant sales during an event. Focusing on education and building trust is a more viable strategy.
What to Track During Your Event
While your event is happening, you should keep an eye on specific performance metrics to ensure your event is meeting its intended objectives.
Here are some of the metrics you can track during your live shopping event:
Average attendance length.

In addition to tracking the number of viewers during your event, you'll also want to track how long they stay. This can alert you to potential drop-off points, so that you can strategize on how to keep your audience engaged.
Product clicks.

Track clicks to gauge interest in each of your featured products throughout the event to see which resonate most with your audience.
Unique chat users.

Track the number of unique individuals contributing to your chat to understand audience engagement. Whether you have lots of dialog from a few people or many people chiming in with questions, opinions, or ideas, you'll get a sense of how vocal your audience is.
Number of chat messages.

This can tell you a lot about audience engagement and interest. You can track trends to understand when people are more likely to comment or which products sparked the most interest.
Adds to cart.

It's important to track the number of featured products being added to viewers' carts. Not only does this help you predict sales, but it can also indicate potential problems. If you see people adding items to a cart, but not following through with a purchase, it could indicate that pricing is too high or that your check-out process is difficult or unclear. Promotional deals or clarifications from your hosts can help push those stalled sales over the finish line.
Orders completed.

Completed orders tell you just how willing your audience is to follow through with purchases. While high sales volume isn't the goal for every live shopping event, you ultimately want to generate some revenue. On the other hand, live shopping events that feature exclusive products see popular items sell out in minutes.
Revenue.

How much revenue are you generating during your event? This metric helps you determine the effectiveness of your event approach, hosts, and featured products, and more importantly, if and when your brand should do another live shopping show.
By tracking these metrics live, you get a complete picture of how your event is performing in real-time. You can also compare these data points between events to observe meaningful trends and strategize to make future events more impactful.
Set Your Sights on Live Shopping Success
The key metrics you choose will tie directly to your event format and objectives. Still, you'll want to keep track of core statistics, like number of viewers, average viewing time, and conversion rates.
Metrics provide you critical intelligence into what's working and what isn't. As you gain more experience with live shopping over time, you should see your metrics trend upwards. The more insight you have, the better equipped you are to design standout live shopping experiences that attract audiences, boost your brand appeal, and grow your revenue.
Is your brand ready to become the next live shopping success story? Let Aploze by iAdvize be your guide. We've partnered with brands like LG, Samsung, Sideshow, Valentino, Philips, and more to create immersive and memorable live shopping experiences.