How can messaging help companies maximize their e-commerce performance?
4min read - iAdvize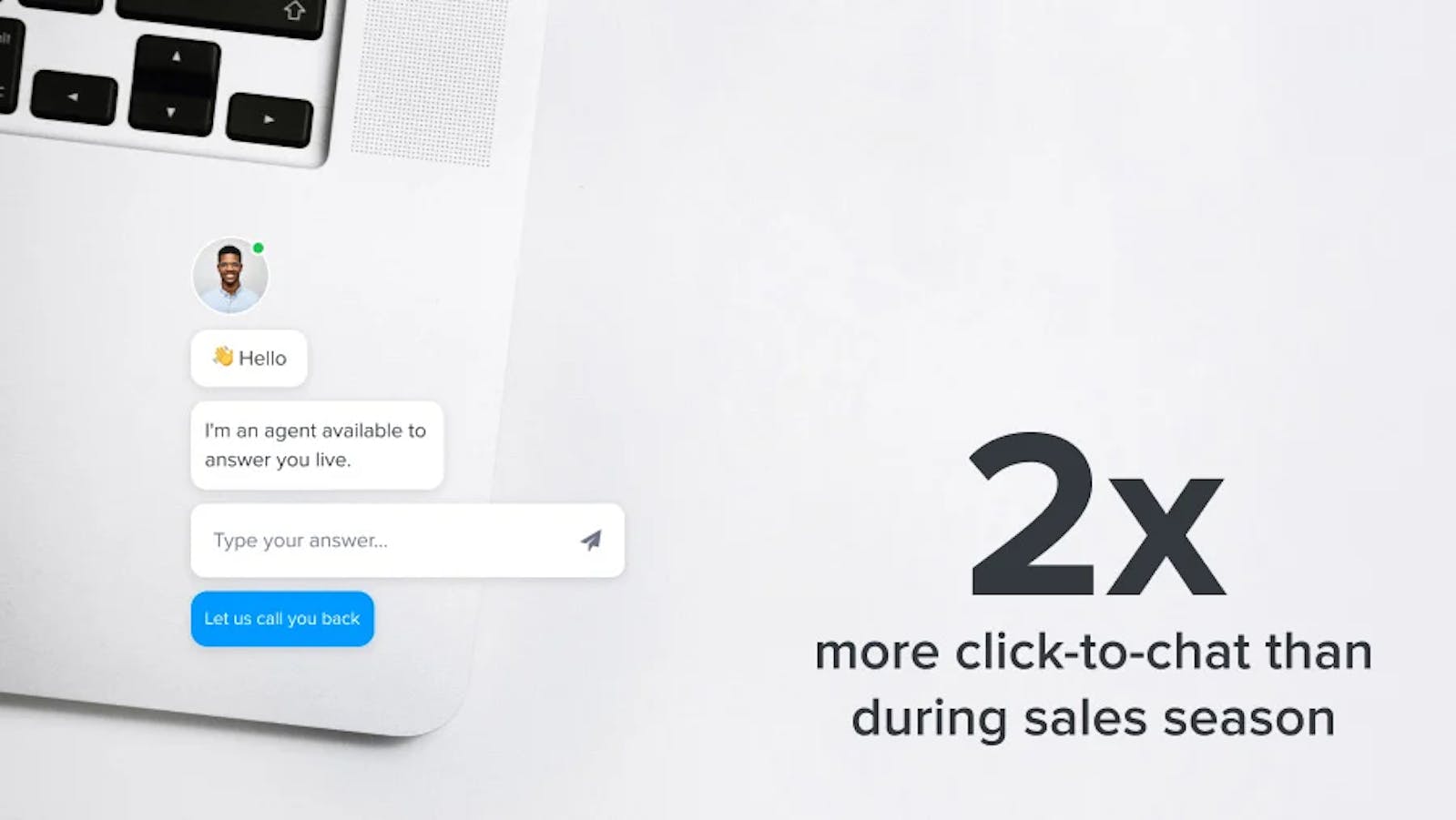 Times of crisis mark a unique opportunity for brands to display their strengths and grow closer to consumers, by being available and listening to them. As McKinsey points out, "[In these times], a customer's interaction with a company can trigger an immediate and lingering effect on his or her sense of trust and loyalty." According to the American research firm, "rapidly innovating to redesign journeys that matter to a very different context will be key."* For many players whose businesses were entirely converted to digital overnight during the pandemic, online conversation beccame an essential tool to assist customers seeking advice and reassurance; a key means of remote communication to satisfy, convert and retain more visitors.
1. E-commerce: providing strong performance from some of our clients
The quarantine implemented in mid-march 2020, in several regions around the world created a necessity for a large part of commercial activity to be digitalized, which has translated to a strong comeback of activity on this channel for certain clients in the consumer goods industry.
In the illustration below, we have compared the number of weekly visits for our clients in six different divisions in the consumer goods sectors, with the number of visits from the second week of January 2020 (the first week of winter sales). From the week of March 23rd, 2020, the food, DIY, and High-tech sectors registered visitors at a higher, or equivalent rate to the period during winter sales. Beyond April 13th, visits exceeded the traffic of the first week of winter sales on every division studied (2x for DIY), with the exception of fashion and jewelry. The latter remained at half of the traffic observed during winter sales, which is a particularly high season for this market.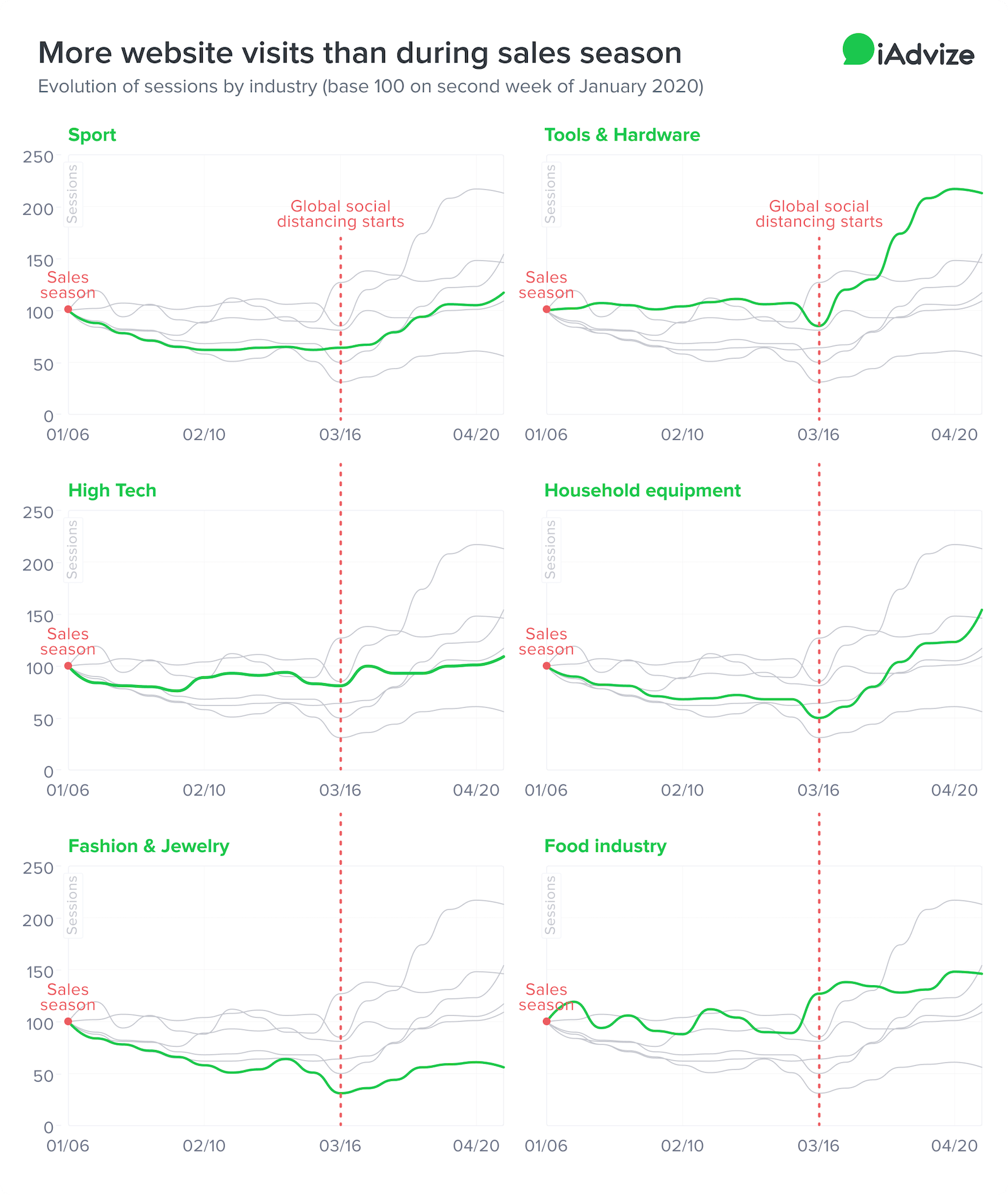 On the part of online sales, as shown in our second chart, the increase in transactions persisted from the beginning of March, with levels higher than those of sales for our clients in the food, high-tech, and DIY sectors. From mid-April onwards, weekly sales exceeded the number of transactions recorded during the first week of winter sales for all the divisions studied (2x for sports, high-tech and household appliances; 5x for DIY), with the exception of fashion, which remained at half the level recorded during sales periods.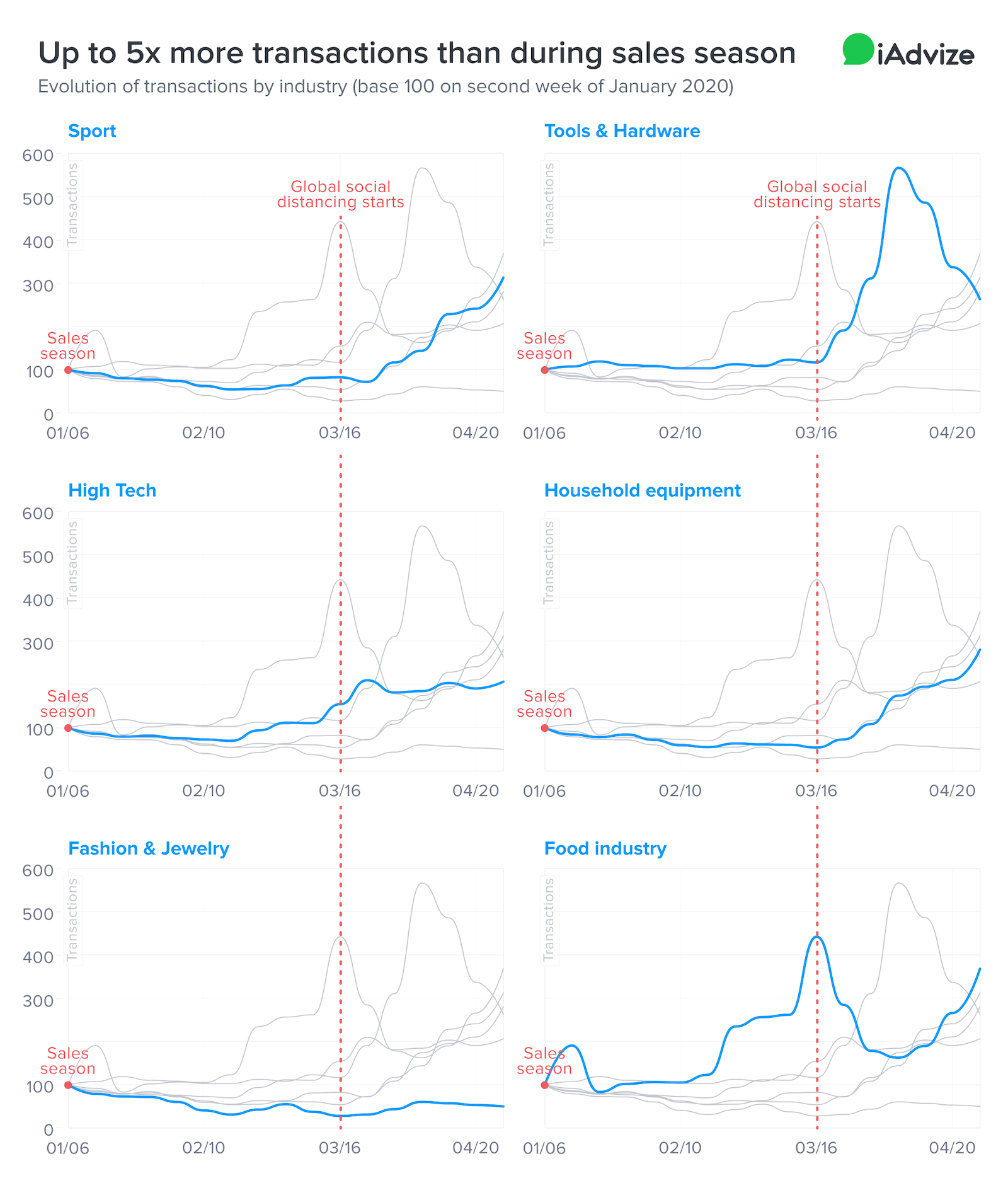 2. Performance supported by messaging throughout the buyer's journey
Online shopping assistance is crucial for brands, this was especially true during COVID-19. For our customers whose points of sale closed, the challenge was to offer the same quality of advice as they would deliver in-store. For all of them, whether major store chains or pure players, messaging proves to be a crucial sales and loyalty tool at every stage of the customer journey. This is why companies are currently intensifying and optimizing their conversational strategies.

Awareness. Have you ever visited a site, collected items in your shopping cart, and then left the page? Whether it's a lack or surplus of information, mistrust, or a site that is just too complex to navigate, the reasons for abandoning a shopping cart can vary. What these cases have in common though, is a lack of engagement from the buyer. What if an expert had offered to assist you via chat? Our conversational platform includes a targeting engine which, based on various criteria such as browsing behavior, detects buyers in need of assistance. A chat window appears to offer them assistance.

At the beginning of the coronavirus crisis, many of our clients adjusted their targeting strategies to strengthen their online assistance. This is shown in the graph below, which depicts the evolution of click rates and the proportion of visitors who select the chat button to receive online support among our customers in the consumer products industry. This was twice as high from the week of April 20th, 2020, compared to very busy periods like sales seasons.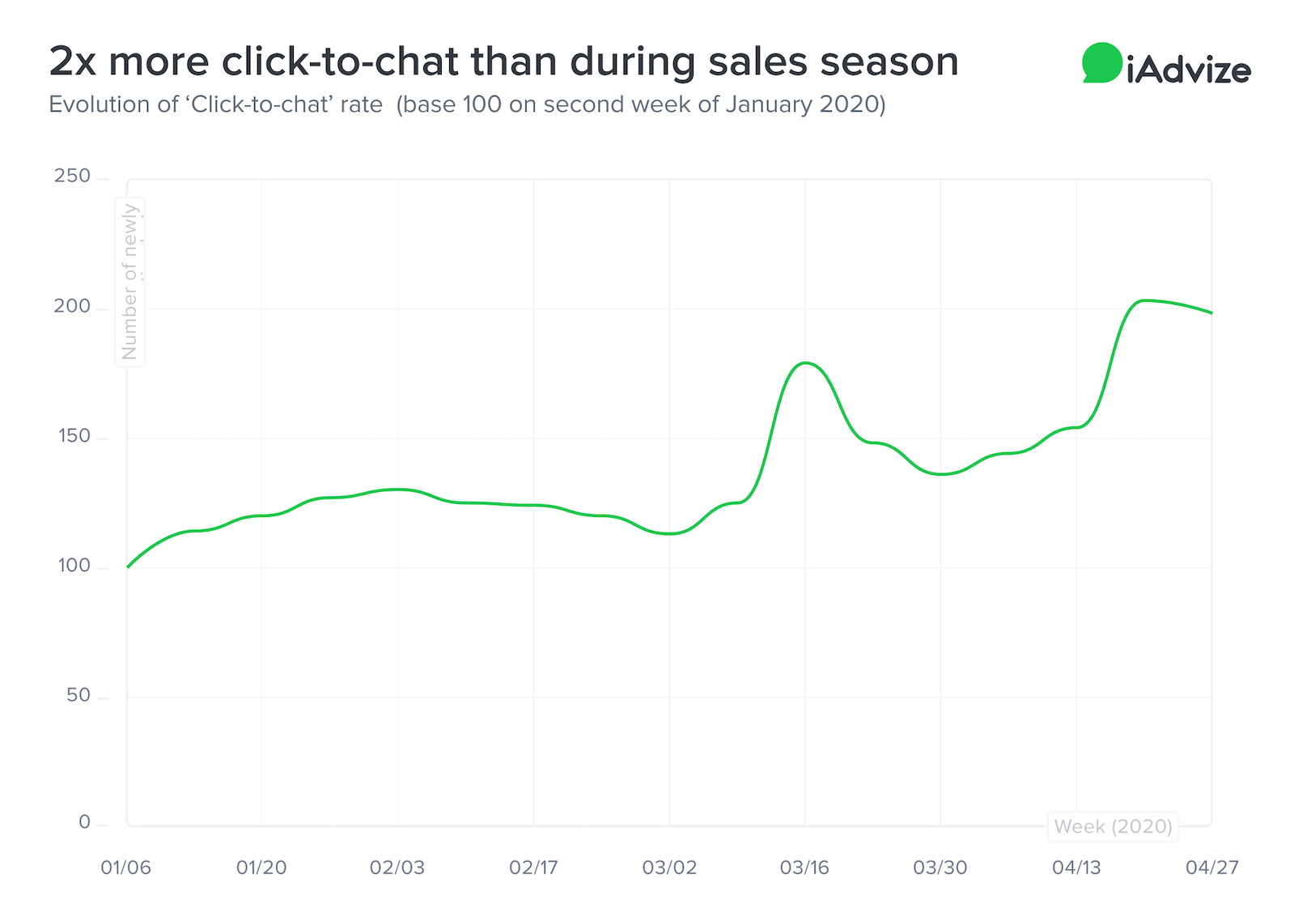 Consideration. Once the customer is engaged through the chat, the online agent offers the visitor relevant purchasing assistance, in the same way as they would in a physical store.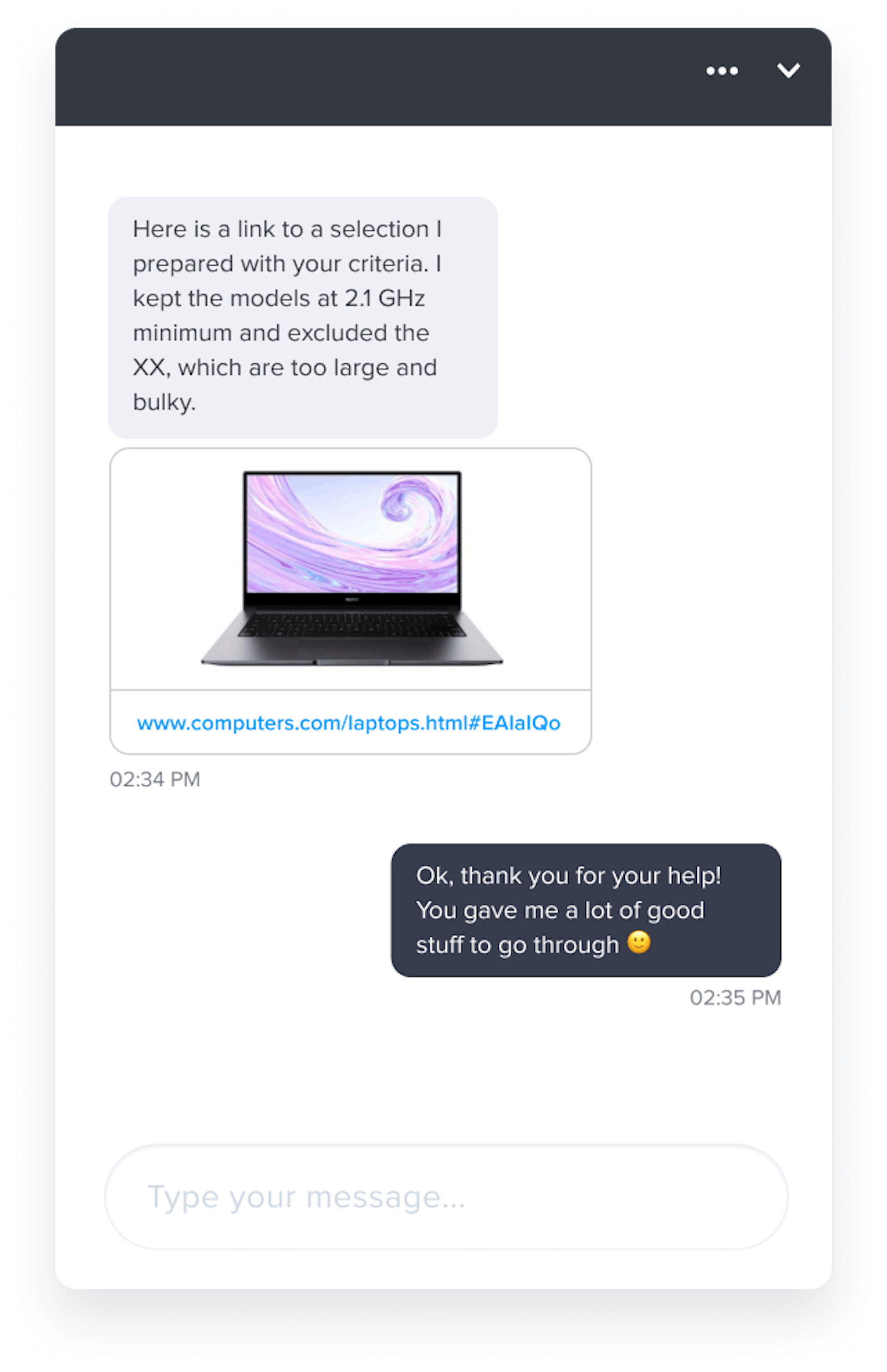 Purchase. One study "Total economic impact" conducted by Forrester** on a European eCommerce website stated that an average conversion rate of 13% for customers who engaged with an online agent, compared to an average rate of 4% for visitors who didn't engage via chat. In mid-April 2020, a similar conversion rate was observed on our platform in the consumer goods industry; experiencing a peak of 16.5% in mid-March.

Support. Visitors during the crisis were in desperate need of reassurance, which explains in part, our record "click-to-chat" rates. Direct, free, and widely used, messaging is popular with customers and brands alike. 70% of consumers prefer messaging to voice calls when contacting customer service.***
3. Customer Case Study : A leader in electronics and appliances puts messaging to use, supporting online consumers during the crisis and well after.
One leader in electronics and household appliances has trusted iAdvize since 2012 to provide pre-sales guidance to its customers on its e-commerce. During COVID-19, the company relied even more on this channel. It implemented a comprehensive and focused conversational strategy to offer the best digital experience and optimize its e-commerce sales:
Pre-sales from 8 am - 8 pm; a hundred professional sales staff deployed on the site to answer visitors' questions about the brand's different product families, providing them with their expertise, and allowing them to make the best choices.
Pre-sales in the evening; or when all the advisors are occupied, a community of thoughtfully selected independent experts called ibbü takes over to be sure visitors are assisted 24 hours a day.
After-sales (FAQ and contact pages), Due to the abundance of questions streaming in due to the pandemic (delivery, deadlines, etc.), a chatbot was deployed, to either handle part of the site visitors' conversations itself or to transfer the most complex cases to the professional advisers.
This system was completed by the activation of iAdvize's asynchronous functionality, which provides a 24/7 point of contact. This allows the brand to handle a maximum number of conversations and better manage peaks on demand.
This strategy allows the brand to:
provide visitors with relevant and reliable guidance concerning purchasing, with a post-chat conversion rate of over 20%,
generate maximum customer satisfaction, with a post-chat CSAT score of over 80%.
These happy shoppers will become tomorrow's loyal customers, both online and in-store.