How to Increase eCommerce Average Order Value
9min read - iAdvize
The goal of every marketing program is to bring in more customers and drive more sales. While those factors are important, they are not the only pieces of the puzzle when it comes to growing revenue. Another factor is average order volume (AOV).
While building traffic is vital, especially for early-stage digital businesses, you shouldn't neglect AOV. Here's why:
A higher AOV leads to healthier cash flow, which is a sign of business stability.
Traffic influx directly ties to search engine updates and algorithm shifts. Your business has no control over these changes—and your traffic and revenue can suffer while you adapt to new search norms.
Improving AOV lets you weather ups and downs in traffic from any traffic source to help you build more predictable digital revenue streams.
Reviewing the basics about how to calculate AOV is a first step. Once you understand that, you can explore different factors that affect your AOV—such as your industry, seasonality, and traffic sources. You can always apply AOV traditional techniques for uplift, such as targeted price increases and free shipping thresholds.
Today's most forward-thinking brands use innovative strategies to increase AOV. They employ pre-sales conversation to help customers gain personalized answers to questions and make smart buying decisions.
How Do You Calculate Average Order Value?
The formula to calculate AOV is simple. All you need to do is divide your total revenue by the number of orders taken to derive your AOV.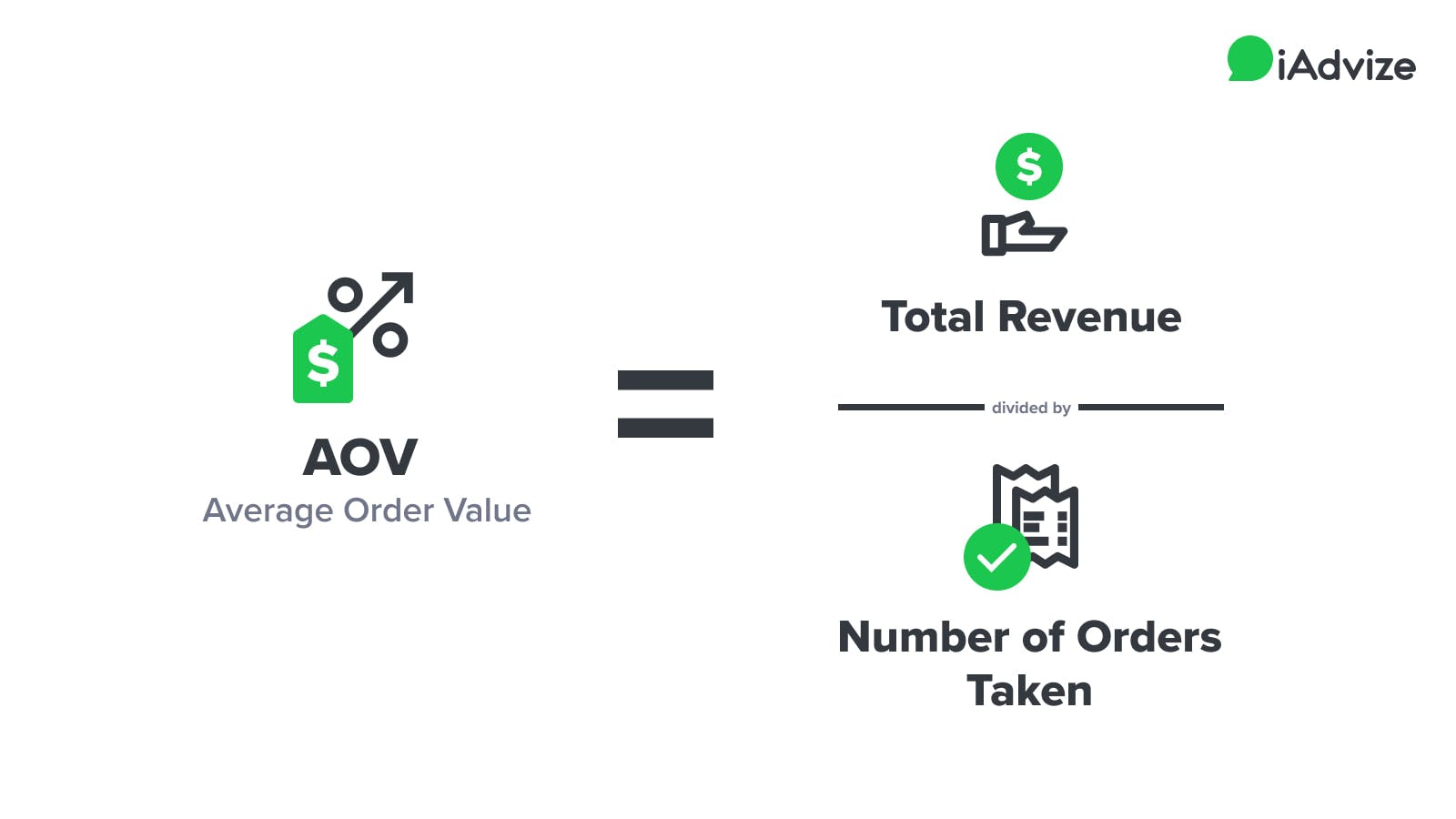 But don't let the simplicity of the calculation lead you to dismiss AOV as a less-critical metric. Instead, you should calculate AOV frequently to understand buying trends in your business.
What can AOV show you? Imagine you have the following sales numbers for a two month period:

What do these numbers tell you? Clearly, orders have dropped significantly, and that has hurt your revenue. But the promising news is that your AOV has increased. You can focus your energies on customer acquisition to boost your revenues.
Also, you can compare these trends to prior years. Is August typically a big sales month for you in years past, with an expected dip in September? Looking at past year data can tell you if your current performance is on par, better, or worse than the same period last year. That insight can help you understand what to adjust to ensure continued revenue growth.
Many Factors Affect Your AOV
Once you know what AOV stands for and how to calculate it, exploring AOV benchmarks is a logical next step. You may find yourself wondering how your AOV sizes up against your competition or your industry. Also, you should examine AOV across multiple dimensions -- such as devices that shoppers use to access your site and traffic sources. Seasonality is another factor, with many retailers experiencing higher AOV during peak shopping times, such as the year-end holidays.
That said, you can start to look at cross-industry benchmarks to gauge your business's AOV. Recent global trends show AOV peaking during the fourth quarter of the year, likely due to holiday shopping. In the US, the second quarter of 2020 saw a higher AOV, most likely caused by a surge of online shopping during pandemic-related stay-at-home mandates.

Industry and AOV
Clearly, your industry plays a big role in your AOV. Retailers and brands that sell bigger-ticket items, like electronics or home furnishings, will typically have higher AOV. By contrast, companies that sell lower-priced items often have lower AOV.
When assessing how your AOV sizes up against others, it's important to consider your AOV in the context of your industry. Consumer buying needs will evolve over time so AOV for your business or your industry can fluctuate.
During the peak of the COVID-19 stay-at-home restrictions, AOV trends shifted significantly. Shoppers turned online to buy necessary items they'd usually buy in stores, so the consumer packaged goods, and pet supplies industries enjoyed rising AOV. Meanwhile, less necessary items, such as apparel, housewares, and consumer electronics saw declining AOV.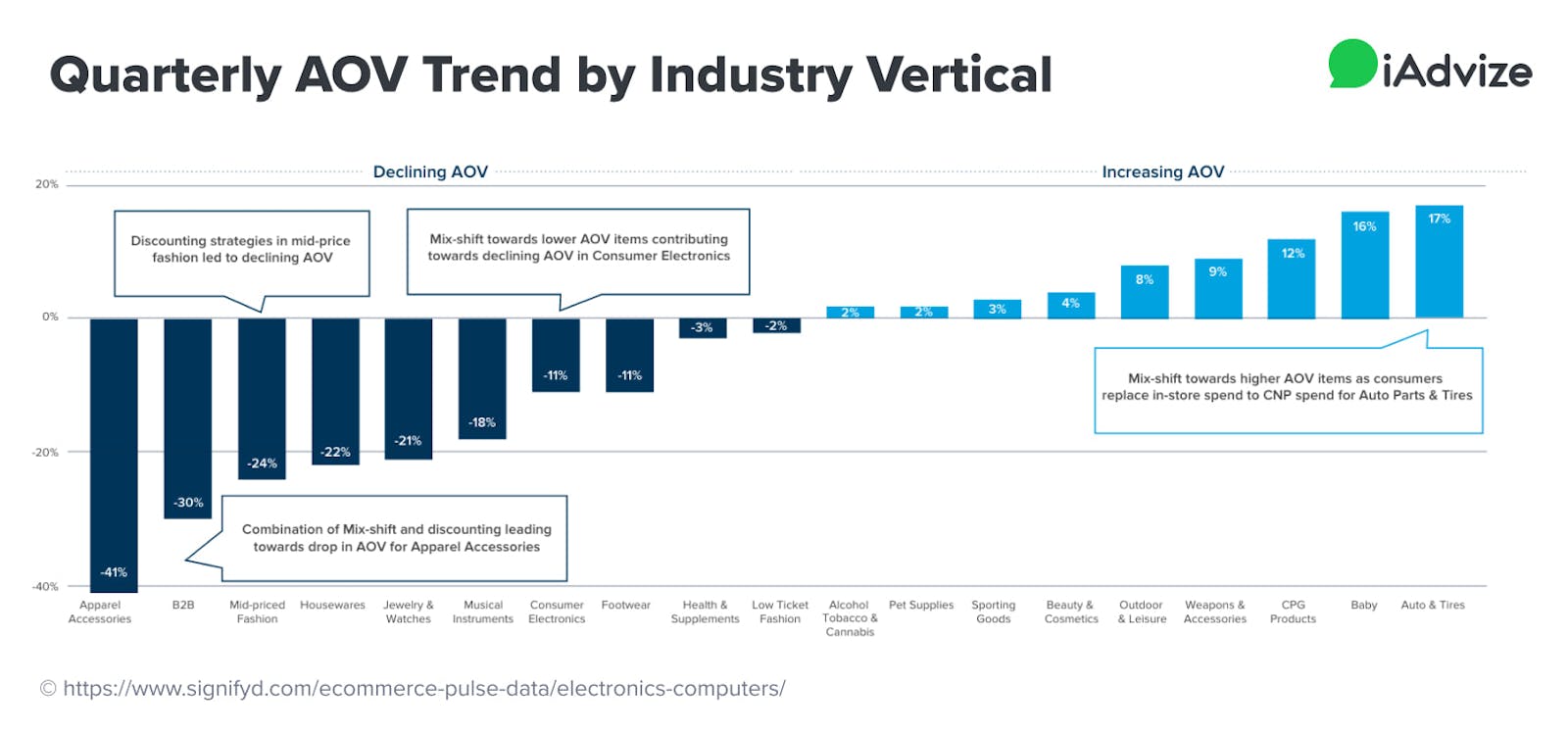 At iAdvize, we track AOV for clients across the various industries we serve. As you can see, there are a wide range of average order volumes across industries, with an AOV around $50 at the low end for Cultural Goods & Hobbies at AOVs in the thousands for luxury retailers.
Comparing AOV for 2020 with AOV for the first quarter of 2021 reveals some perspective on AOV trends in the early post-pandemic period. Some industries, such as Fashion Jewelry & Accessories, Luxury Sporting Goods, and Food & Beverage have remained on a relatively consistent AOV level from 2020 in 2021. However, other industries have experienced notable AOV shifts. AOV in the Beauty sector has climbed, while Wines & Spirits and Large Retailers have seen their AOV shrink.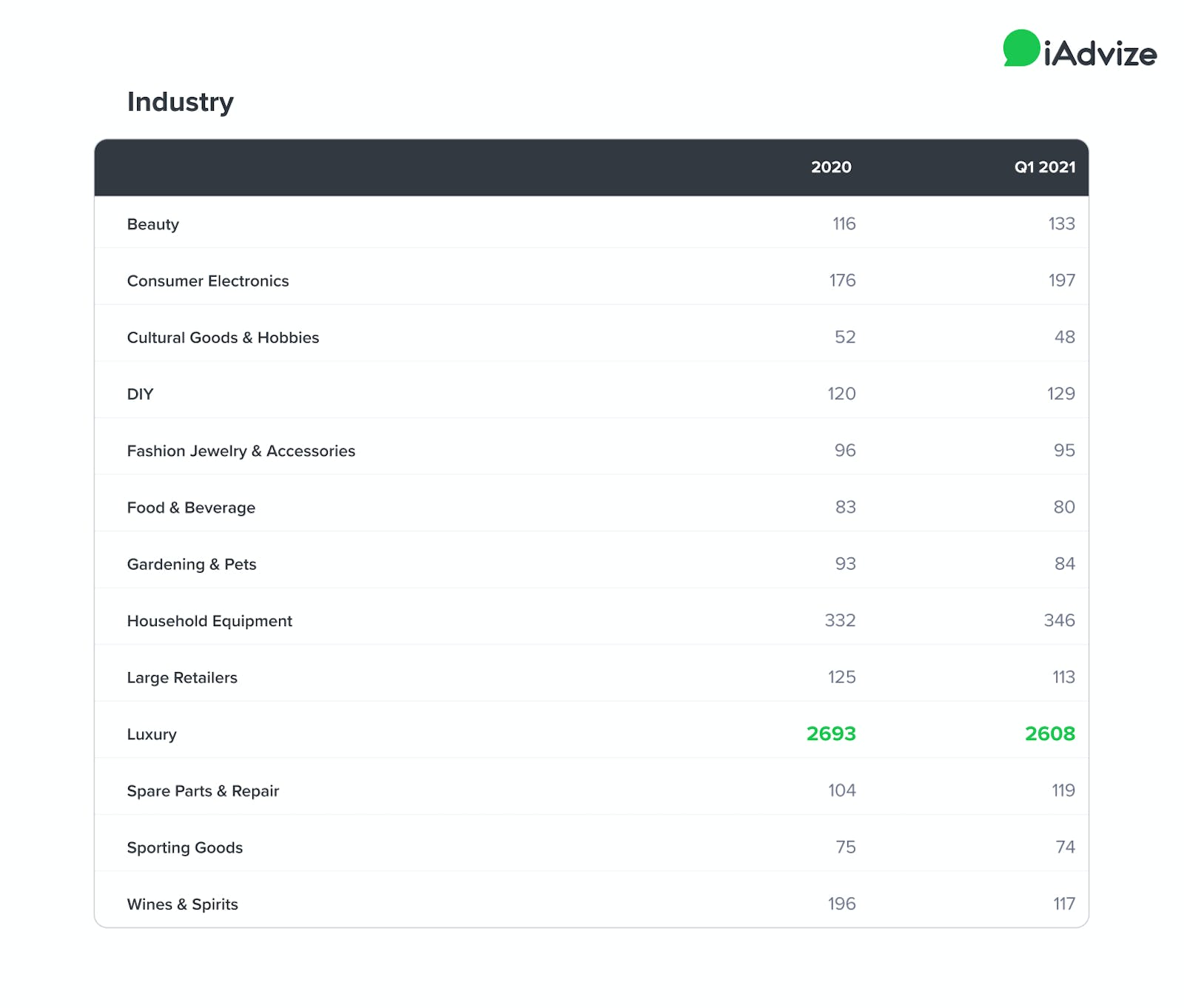 Seasonality and AOV
It's no surprise that AOV surges during specific and predictable seasons of the year. Most retailers anticipate that the year-end holidays will be a busy season. Depending on the nature of your business, you may find that order sizes increase as shoppers prepare for outdoor activities in the spring, vacations in the summer, or back-to-school in the fall.
You may find it helpful to track AOV during your busiest seasons and compare year-on-year results. That way, you can observe trends and trajectories over time.
Equipped with that insight, you can assess your AOV trends within your industry or geography. One source for information is Statista, a research organization that tracks year-on-year AOV for Cyber Week, which occurs each year around Thanksgiving in the United States. In addition to tracking AOV for Cyber Week as a whole, Statista tracks daily AOV trends for Thanksgiving through Cyber Monday.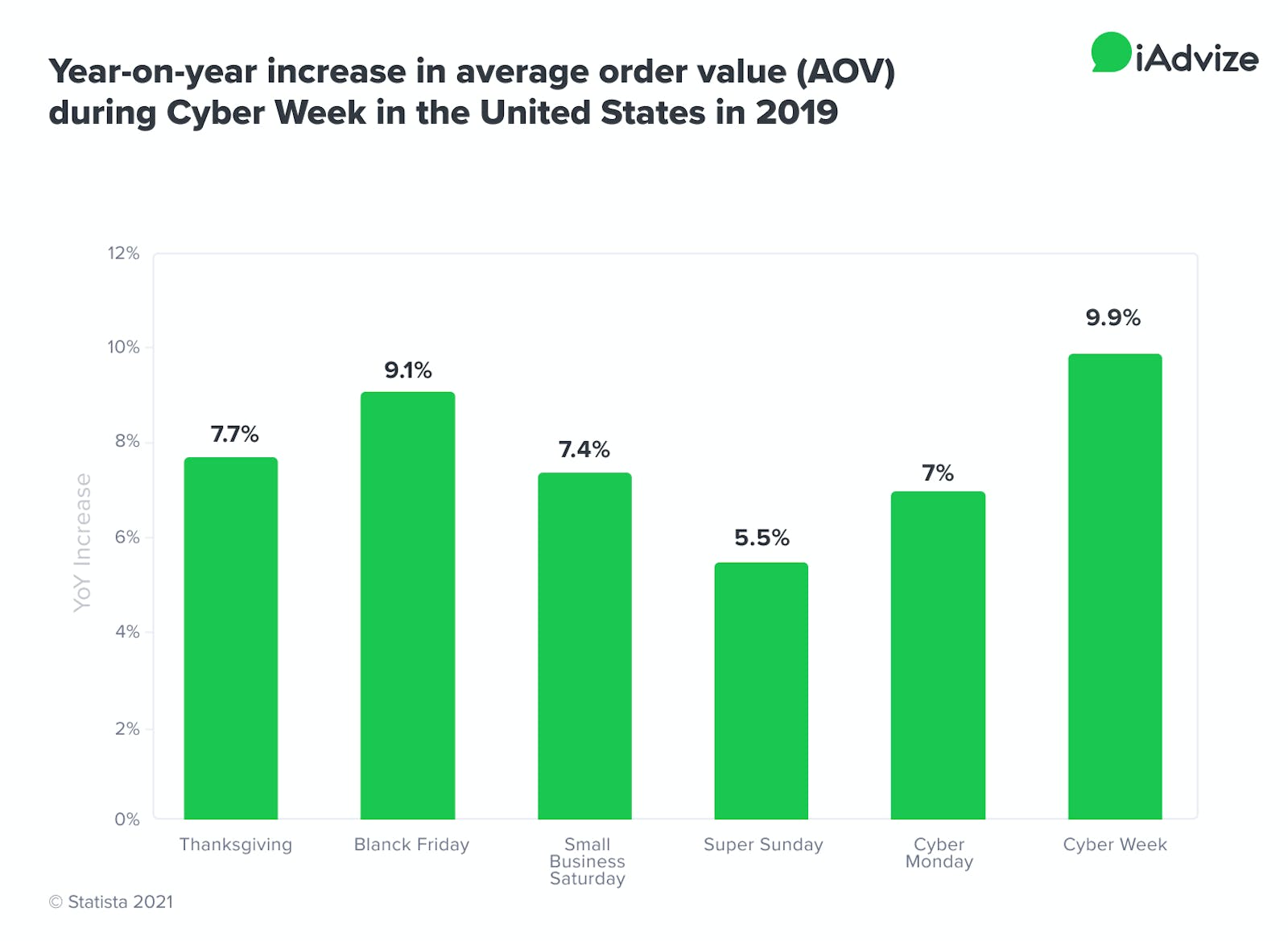 You can also calculate your holiday shopping AOV via device and compare it to broader shopping trends. That way, you can learn which shopping channels your customers prefer and fine-tune the digital experience to drive higher AOV.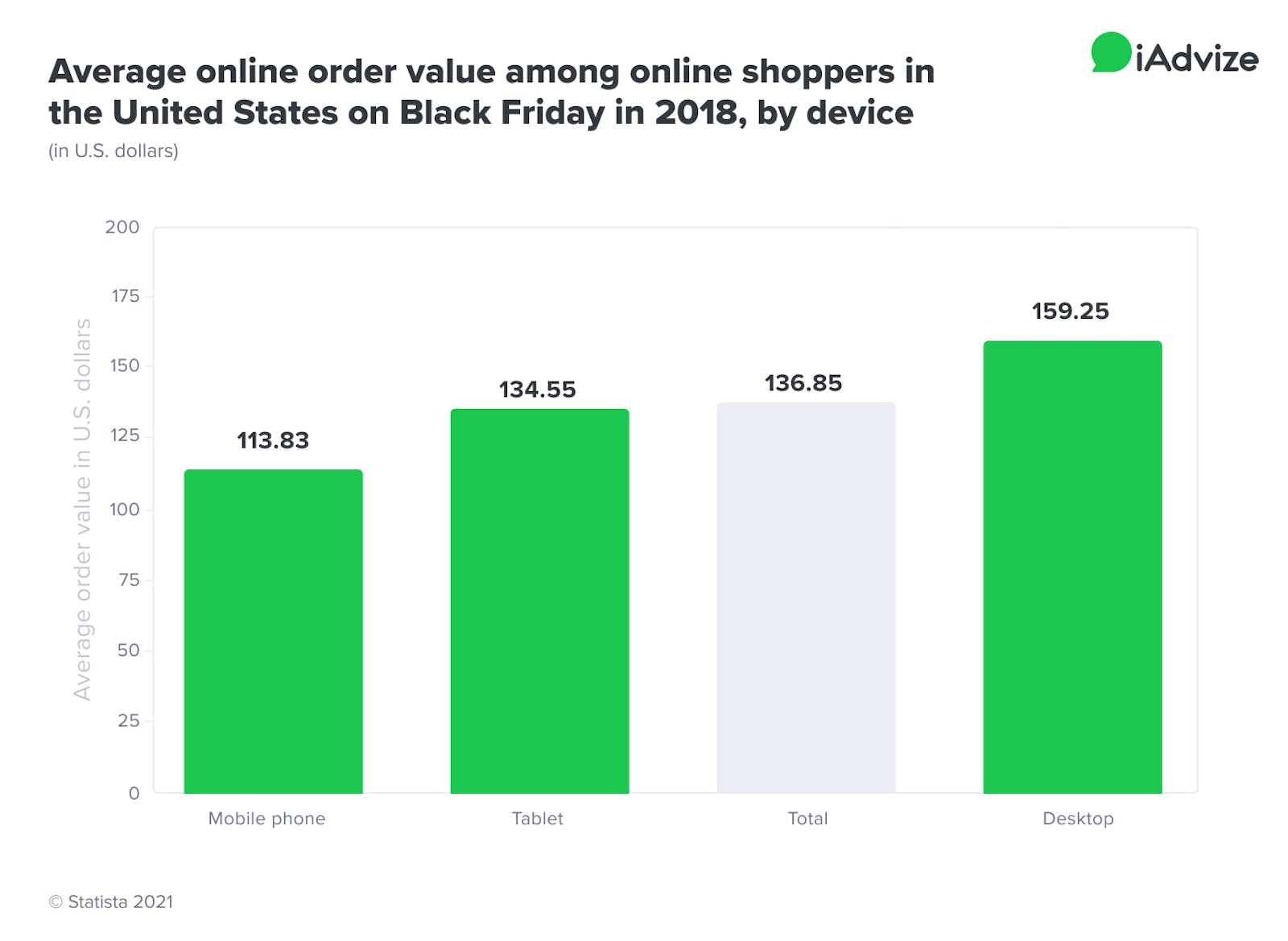 Device Used for Purchases and AOV
Studying AOV for peak seasons help you prepare for those high revenue-generating months. But you shouldn't depend on one big season to carry you through the year. Analyzing AOV across different devices over time can help you understand how the changes you make to the digital experience drive sales.
Desktops have long held the top spot for many eCommerce metrics--including AOV. As this recent data from Statista shows, AOV for desktop purchases outperformed other channels, including tablet and mobile. Of course, many people were spending time at home due to COVID restrictions during that era, so emphasis on desktop purchasing made sense.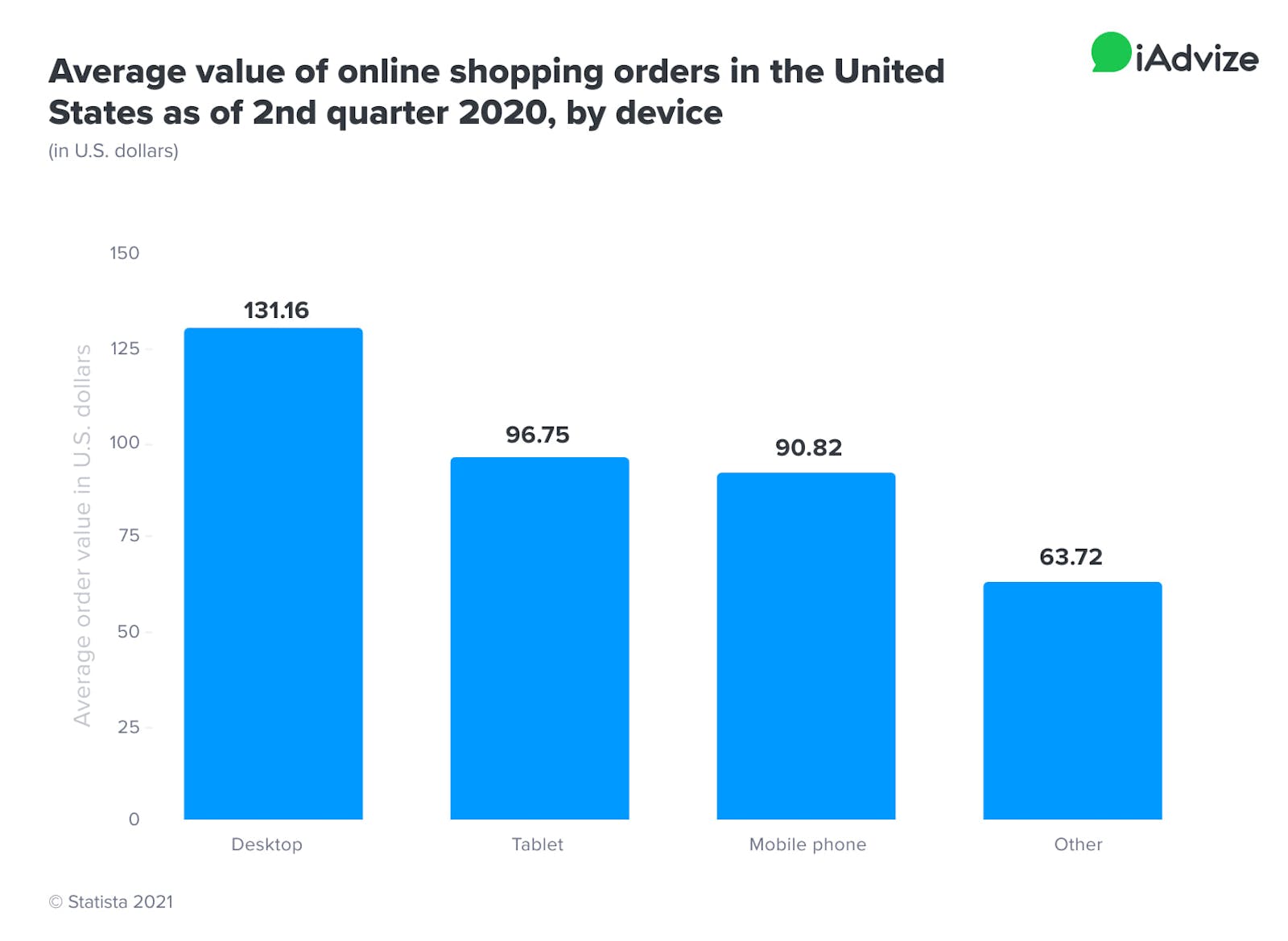 Comparing this data with other analysis shows that desktop continued its dominance in 2020, with other devices gaining steam by year-end. Of note, mobile and tablet AOV dipped year-on-year for the fourth quarter, but devices in the "other" category grew significantly.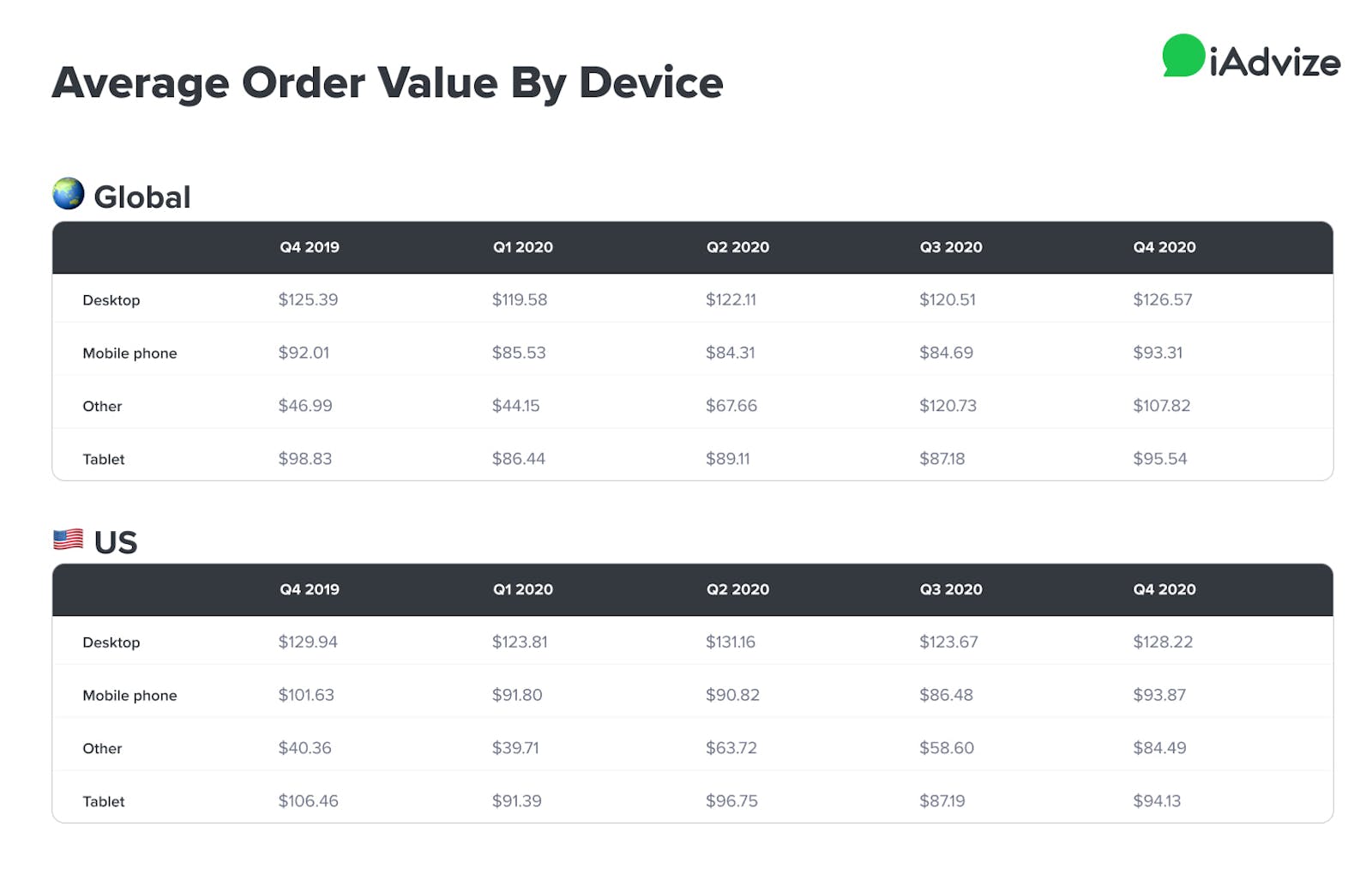 Traffic Source and AOV
Another way to explore AOV is by considering the traffic source driving each purchase. This insight can tell you whether your campaigns--whether search, email, or social—are delivering strong AOV.
According to data from 2020, shoppers who visited websites directly--with no referring source--placed some of the biggest orders, on average. Most likely, this trend occurs because shoppers who visit specific sites directly are familiar with the retailer and may know exactly what they want to buy. Email AOV was also high throughout the year, which is reasonable to expect for an audience that has opted in to receive promotions from a specific retailer.
By contrast, search and social marketing are customer acquisition tactics designed to drive new business. Both sources saw lower average AOVs throughout the year. Search achieved its peak in Q42020, no doubt fueled by the holiday shopping season. AOV for sales from social marketing were consistently the lowest throughout the year, but social remains an important brand awareness channel for most retailers.

Store Performance and AOV

Your brand reputation and relationship with customers also affect your AOV. Data on store performance reveals that top-performing stores have higher AOV: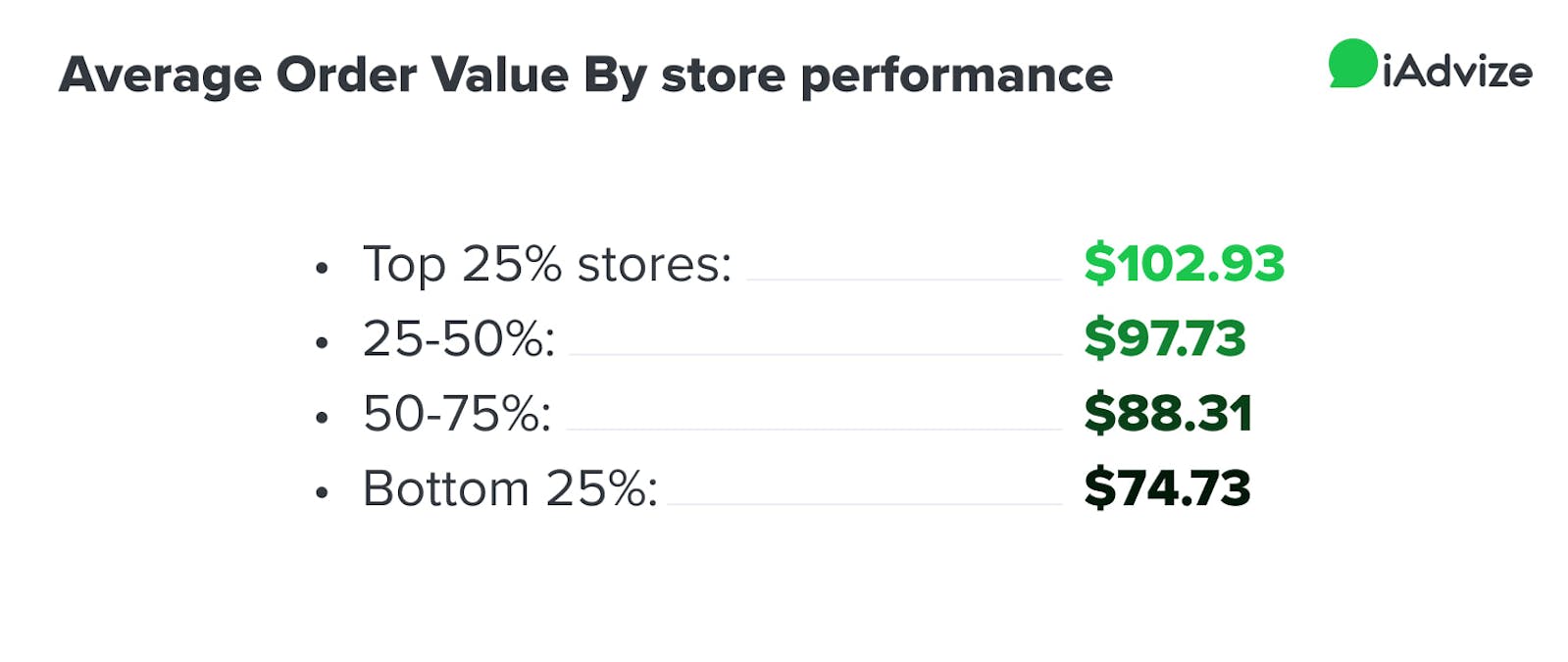 What does this mean? Consumers tend to buy more from brands they know and trust. Brands that perform well secure more purchases and can keep investing in innovation and digital experiences. Premier brands can achieve AOV up to 30% higher than less-reputed competitors.
5 Tactics to Improve Your AOV
Performing AOV analysis helps you understand how your company performs in comparison to your industry and across other dimensions. Once you understand your company's AOV trends, you can implement these well-known tactics to improve AOV.
Increase Pricing
Increasing pricing for your products and services seems like the most straightforward way to increase AOV. But you should consider this approach carefully. New customers who are unfamiliar with past pricing may have no issues paying a higher price for your offerings. However, repeat customers who know what you have charged in the past may balk at paying more and start looking around for alternatives.
Staging moderate prices increases on select products is going to work better than instituting an across-the-board price hike. You may also need to offer discounts or promotion in tandem with new pricing to help customers feel like they are still getting a good value.
Offer Bundles and Packages
Encouraging shoppers to buy more products from you is another way to increase your AOV. And bundles and packages can help you achieve that goal.
Imagine you're a clothing retailer that sells a popular summer bathing suit. While shoppers may flock to your online store to buy that product, you can package it with related products to motivate more spending. For example, you can create a bundle with the bathing suit, a beach towel, flip flops, and a sunhat. Buying each item separately could cost customers $175 total, with the bathing suit costing $70. If you offer a package for $150, customers who would just buy the bathing suit at $70 may opt for the money-saving bundle at $150. You'll AOV will rise as a result.
Establish a Free Shipping Threshold
Every time you motivate a shopper to buy more from your site, you increase your AOV. A free shipping threshold is an excellent way to meet this objective.
For example, if you have a free shipping threshold of $50, shoppers at or near that amount may buy another item to reach the threshold. Another strategy is to have a threshold only on select products where you can make a profit.
You'll need to run tests to determine the right free shipping threshold. Imagine your shipping threshold is $100. You may make some profit at that level, or you may not. Experiment with setting your threshold at $125 or $150. Do you make profit at those levels?
Offer Discounts on Future Purchases
Another strategy to boost AOV is to offer discounts on future purchases. Again, you can set a threshold above which shoppers earn dollars that they can put towards future purchases. That way, you can motivate shoppers to buy more to reach the threshold by offering the promise of future savings.
Some retailers, for example, offer $10 off a future purchase for every $50 spent. That $10 must be spent in a very limited time window. While some shoppers will take advantage of this promotion, others won't. Testing will help you understand the right thresholds, discounts, and profit impacts of these types of promotions.
Buy More, Save More
Everyone knows that buying in bulk can save money—and you can implement that strategy on your site to increase AOV. Make sure that the money-saving potential of purchasing multiple products at once is clearly available on your site to nudge shoppers to buy more.
For example, a retailer who sells vitamins can offer individual products for $20, two products for $18 each, or three at $17 each. Shoppers may be motivated to spend a bit more and "stock up" by buying three products at once for $51 instead of making three separate purchases for $60.
Consultative Pre-Sales Service Can Increase Your AOV
Today's top brands go beyond common tactics to implement innovative approaches to increase AOV. Adopting a conversational strategy—with a focus on giving shoppers opportunities for 1:1 connections with pre-sales experts -- is fast emerging as the leading way to improve your AOV.
Why does digital conversation work so well? Online shopping, while convenient, lacks some of the interpersonal appeal of brick-and-mortar shopping. Shoppers can touch, feel, or try on goods, or easily engage with sales representatives when shopping digitally. This anonymous experience can diminish shopper confidence and cause some shoppers to hesitate about purchases. It's a driving factor behind the consistently high cart abandonment rates in digital retail.
Many brands have customer support teams that focus on customer concerns and questions after a sale. But these customer-facing agents need to specialize in post-sales service and can't always provide first-hand advice on various products shoppers may be considering. When deployed for pre-sales, in-house reps may seem less authentic, since shoppers may assume that brand agents are driven by a commission rather than shoppers' true needs.
However, a conversational approach provides the authenticity and expertise that digital shoppers need. Shoppers can receive consultative support from a pool of brand experts who are also customers. These experts can offer real-world advice on products to help shoppers clarify how products fit into their needs and lifestyle.
When shoppers receive personalized attention and answers, they will feel more confident about their buying decisions. Our experience working with retailers validates that conversation fosters higher AOV for digital retailers. For example, one multi-national retailer achieved 12% uplift in AOV, and incremental profit of $981,000, thanks to its conversational initiative.

The AOV uplift was one of several measurable benefits achieved by the retailer. Taken together, the benefits resulted in a 64% ROI and a net present value of $3.3 million.

AOV is a Critical Metric for Every eCommerce Retailer
There are many measures of success in business. At times, it can feel difficult to understand which ones require focused attention and which are less critical. But average order volume is one metric that every retailer with a digital presence should track and monitor.
Calculating AOV is easy. All you need to know is your total sales and total orders for a specific period. You should determine your overall AOV for your entire business regularly. Many businesses perform monthly AOV calculations. That analysis will give you a quick snapshot of customer buying patterns and help you discern seasonal trends.
By digging deeper can help you learn even more about your business. You can compare your AOV to others in your industry to benchmark yourself against competition. Also, you can examine AOV by device or traffic source and use that insight to refine the user experience and your outbound campaigns.
There are many tried-and-true tactics that can help improve your AOV—such as price increases, discounts on future purchases, bundles, and more. It's worthwhile to test tactics like these and determine which benefit your business.
A conversational strategy is emerging as the clearest path to proven AOV uplift. Through conversation, you can provide consultative pre-sales advice to assist online shoppers in making buying decisions. Shoppers can get questions answered in real-time and select the right products for their needs.
When engaging in conversation with brand experts, shoppers can understand the true value of higher price-point products and may buy add-ons or complimentary offerings. All of these factors drive higher AOV.
Even incremental AOV increases can yield big gains for your business. With a strong, consistent AOV, you can weather seasonal ups and downs and search algorithm changes that can decrease traffic volume. Adding a conversational option can deliver lasting AOV uplift that empowers you to grow revenues and take your business to new heights.