How to Implement a Live Streaming Shopping Strategy in 13 Steps
6min read - iAdvize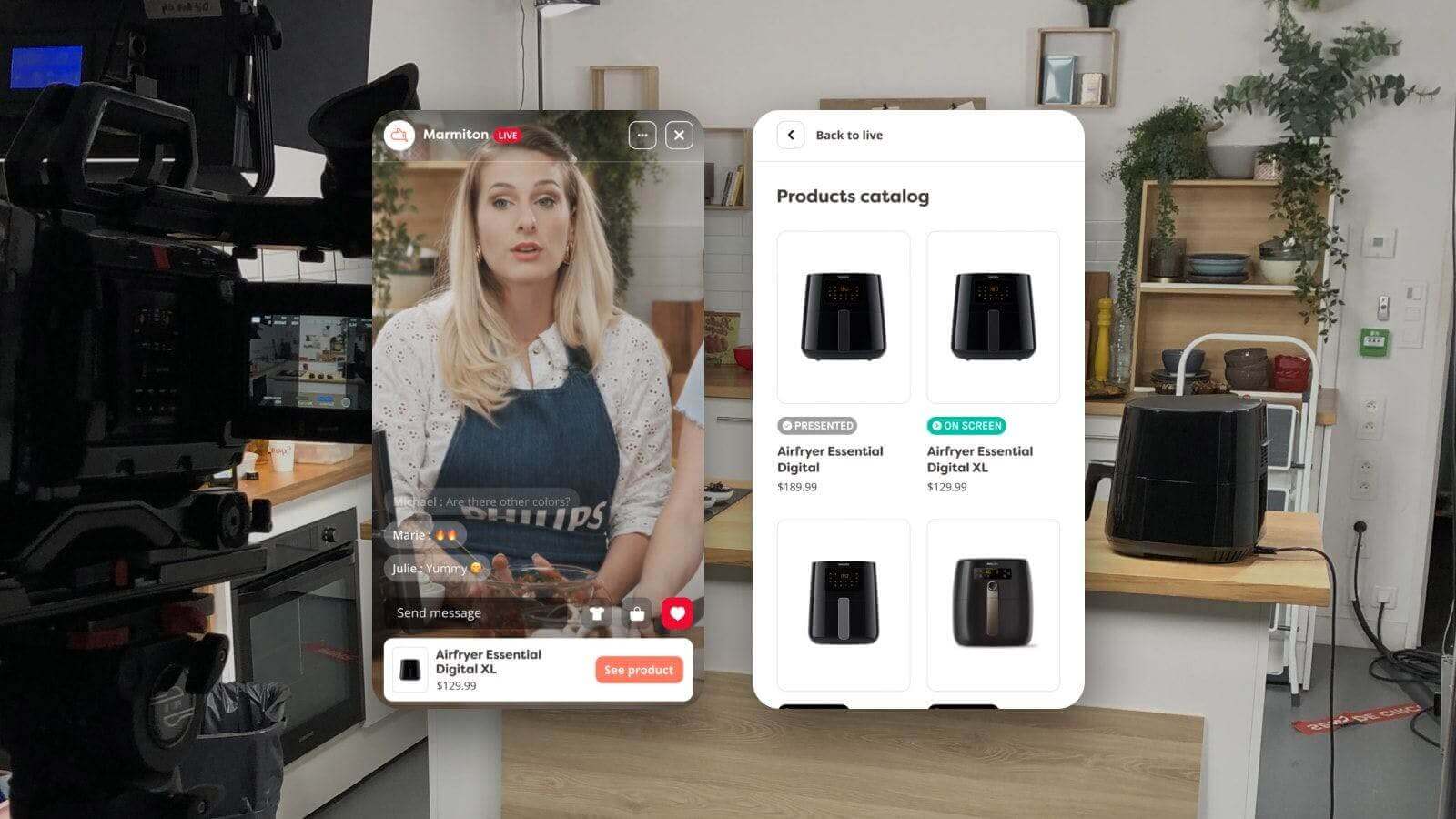 Live shopping gained its roots in Asia and is more recently taking off in Europe and the United States. With the right platform and technology, live shopping events can revolutionize your customers' online shopping experience and enhance your entire digital strategy. This innovative engagement lever is the newest customer acquisition channel that brands are jumping on because of its unique ability to create personalized, one-to-one interactions in a one-to-many format. The idea is simple, and the results are exceptional. See what our CEO, Julien Hervouët, had to say about how live shopping will claim its place in the digital shopping world.
First and foremost, you must think of a live shopping event in 3 phases: the before, the during, and the after. Understanding the role that each of these play in launching a live shopping event is essential to its success. Read on to learn how to design state-of-the art live events from start to finish.
A live shopping event takes place in 3 phases: pre-live, the event, and post-live. Each of these are essential to achieving a successful and immersive show that keeps your customers coming back.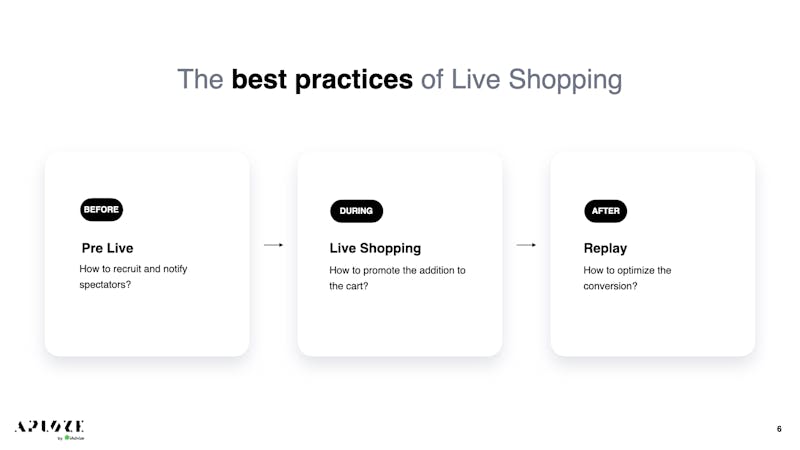 A successful live shopping event can help you to boost your reach, conversion opportunities, and engagement rate on a massive scale. In this article, we give you 13 tips to build and manage a successful live shopping event.
Technical Tips for a Successful Live Shopping Event
Tip #1: Frame Your Live Shopping Event Shoot
The use of multiple cameras is strongly recommended in order to bring a qualitative and immersive experience to life. Why a multi-camera experience?
To zoom in on products or the live chat while hosts are talking or presenting

To take wide shots

To bring your live shopping event to life

Today the experience has become standardized. It's more accessible: you can now film from several phones, or professional cameras. Therefore, it's extremely simple to deliver such an experience, and the prices are becoming more and more competitive.
Regarding format, the vertical view (portrait, 16:9) is the most suitable for live shopping. The main reason being that today, between 80 and 90% of the use is done on mobile. Thus, since the majority of people who consume live shopping do so on mobile, we must be able to deliver a format that adapts to it.

Tip #2: Profile Moderators for Your Live Shopping Event
The role of the moderator is critical during a live shopping event. He will respond to comments and questions asked during the Live. Some lives generate a lot of engagement, sometimes over 3000 reactions, of which over 500 are questions. Thus, it is difficult for the facilitators to answer all the questions asked.
The role of the moderator is, therefore, to support the facilitators in interacting with the spectators. Ideally, you would need two moderators per live shopping event.

Finally, be aware that there is often redundancy in the questions asked. To overcome this, the facilitators can give a general answer: the moderator identifies a question corresponding globally to the same theme as the others, and the facilitators answer it.
Tip #3: Build Your Live Shopping Team
The first thing to know in building a live shopping event is that several departments will be affected. For the event to be successful, you have to communicate about it, choose a certain number of products, and expose the brand. Therefore, it is vital to integrate the marketing and e-commerce teams. Internally, there is a certain number of people to tune in.
For the live experience itself, you will generally only need three profiles:
A Director: in other words, a guarantor for the cameras, the lighting, the framing, and the smooth running of the recording.

A Stage Manager: this is the person who will take care of "spinning": that is to say, setting up the rehearsals, validating the speech upstream, ensuring a quality presentation of products.

A person who takes care of the management of the tool: Displays the products and questions to the facilitators at the right time

Tip #4: Promote Your Live Shopping Influencers
For a more successful experience, we strongly recommend the presence of a duo. The first personality is someone who is rather expert in the products, on the technical and intrinsic elements of the products and who will therefore be able to present the products to the spectators. The second element of the duo will instead strive to be the spokesperson for the spectators. Indeed, this second profile will focus on the spectators and the animation: he will be concerned with questions and answer them, his animation will be based on his feelings and the sharing of his emotions. Hosting a live event with a co-host is a great way to generate excellent results after the experience.

1st Phase, Pre-Live: Build a Dedicated Audience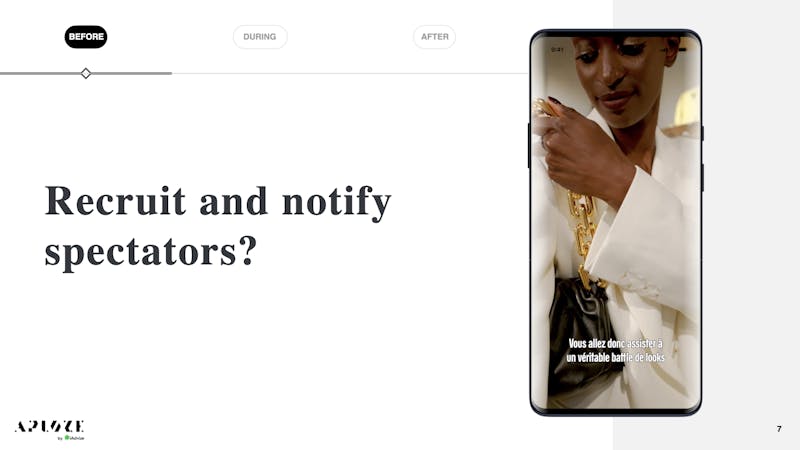 Tip #5: Promote Your Event at Least 7 Days Before Going Live
In order to get impactful engagement and conversions, it's essential to advertise your event long before going live. We recommend that you start promoting your event at least 7 days before its launch date. The best teasing format is the video format, which can better capture and inform your customers more effectively. In terms of content, we advise you to highlight:
The subject

The theme you are going to discuss

The date and time

The concept of live shopping

The various advantages they will have during the live event (ask questions, buy Live…)
Tip #6: Mix Different Distribution Channels & Engage With Influencers to Amplify Your Message
Make sure you choose channels that activate! Do not hesitate to take advantage of these levers such as your CRM base, Display/CRM amplification, relay the event on social networks, reach your community and those of your influencers. A good practice to note is the animation of your Live Shopping Event by influencers. These influencers will come and co-host the Live Shopping Event with you and will have an extremely strong pulling effect on the event. On the other hand, influencers allow you to amplify your message to the extent that you no longer reach only your community but also that of your influencers. Therefore, you recruit new prospects to present your products.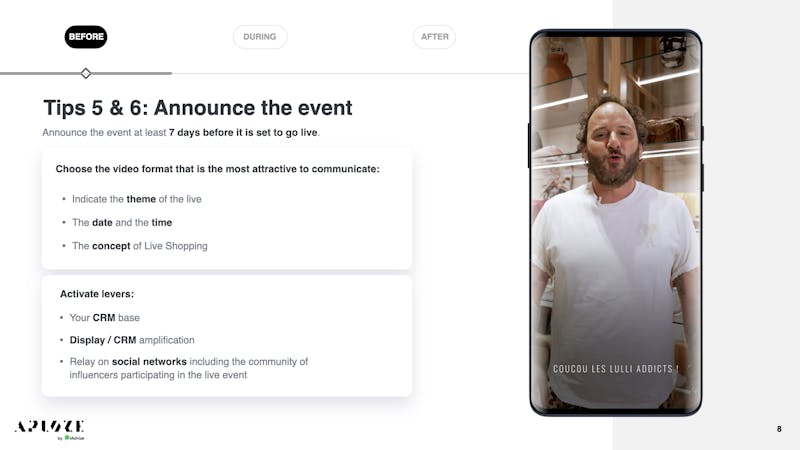 Tip #7: Find the Perfect Time To Broadcast Your Live Shopping Event
How do you find the ideal niche? Take an interest in your shoppers' stats so that you are aware of the best days and peak times on your website. It's also a necessity to take an interest in the TV program too! Indeed, a Presidential address, the Super Bowl, or a program like Survivor could considerably reduce your audience, so don't ignore it.
Benoit Cizeron, VP of Live Shopping at iAdvize, as well as Aploze's CEO, noticed that Saturday and Sunday work well in terms of audience generation.

On Fridays, your customers will be more likely to spend time with their friends and families and unwind after the week, and therefore will be less likely to attend your live event.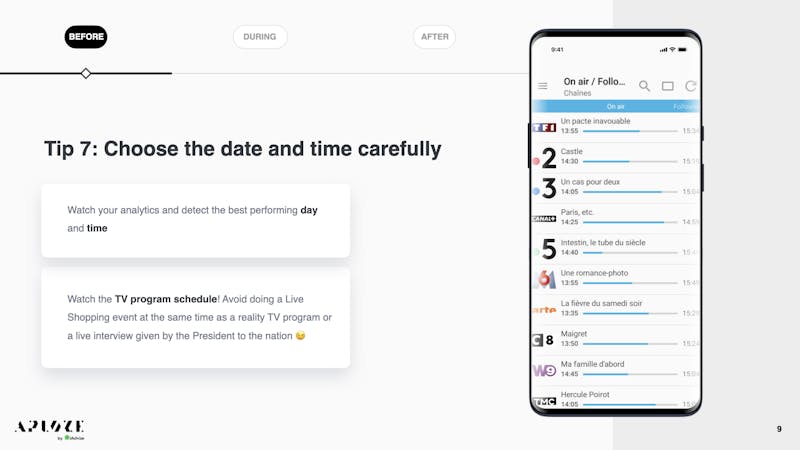 Tip #8: Notify Viewers In the Moments Leading Up to the Event
Once you announce your event, a reminder is required. Send a simple notification to spectators who wish to be reminded of the time of the live event. A text notification five minutes before the start of the event is optimal. The advantage of the text channel is that it's the one that generates the most responsiveness. Finally, to remind everyone that you're presenting a live shopping show, publish a story on your social networks about 5 minutes before the start of the live event under "Backstage" conditions. With this type of practice, you can easily double your audience.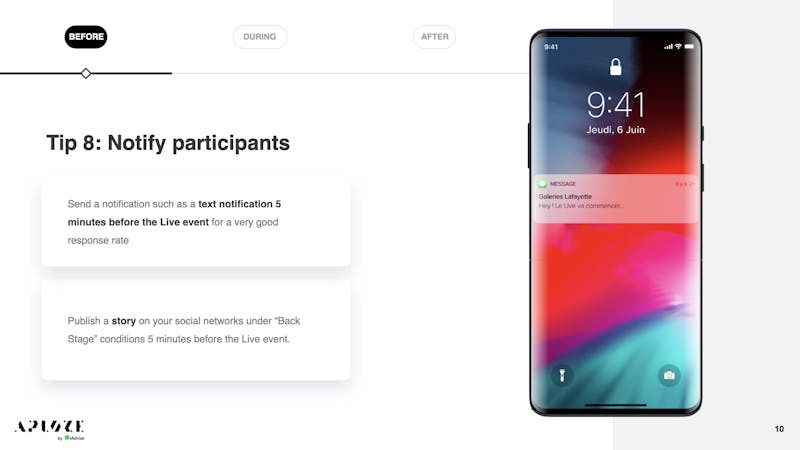 2nd Phase, During the Live: Promote Add-to-Cart & Other Features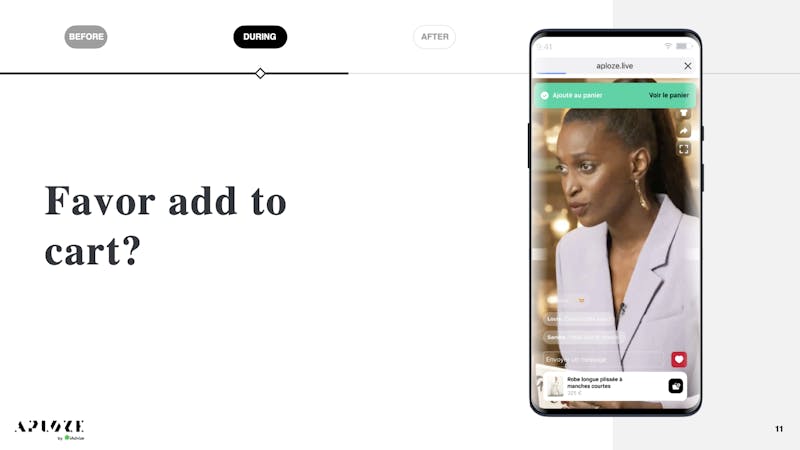 Tip #9: Encourage and Promote Interaction With Viewers
You need to interact with your viewers as much as possible during the live session; invite them to ask questions, challenge them by asking their opinion, solicit their tastes, thank them personally following a comment. These are all examples of how you can personalize your live shopping events. During a show, it's important that hosts or facilitators focus on interacting with their audience while they present and talk about the products. In order to get better engagement and conversion rates, your live event must stand out from a typical demo. It must be interactive and immersive.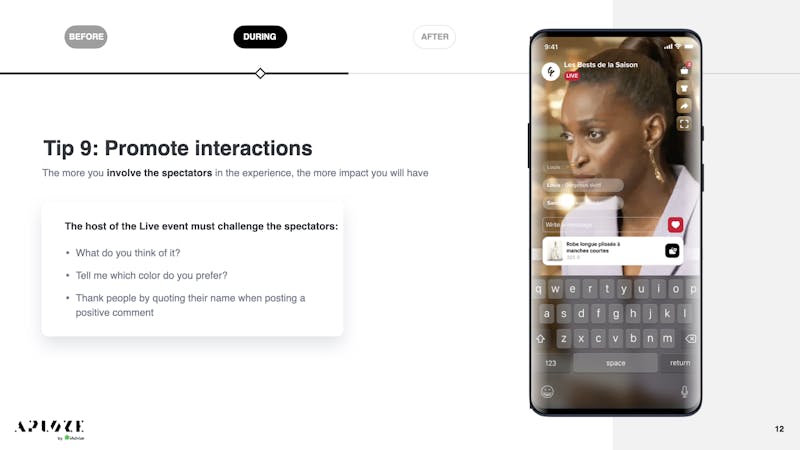 Tip #10:

Create Incentives, Like Exclusive Offers and Discounts, to Generate a Better Conversion Rate
The live shopping channel boosts viewer enthusiasm for new products and special promotional offers. By working on your commercial offers (exclusives, vouchers, live contests, polls, games, etc.), your conversion rate is bound to increase. Moreover, your replay viewers will be more likely to want to attend the next one. Ideally, we recommend that you present at least two new products, as well as some that are exclusive to the live event attendees.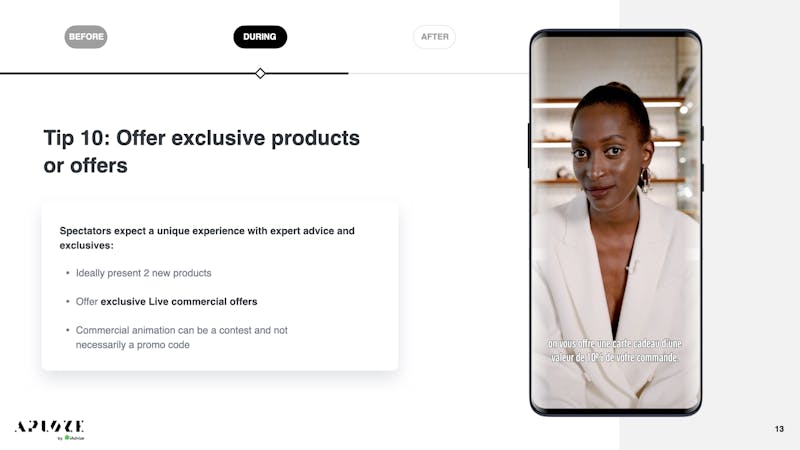 Tip #11: Make Sure to Answer Viewer Questions
It's important to have as little of a delay as possible between a question and its answer. The Aploze by iAdvize solution enables questions to be pushed directly to the live event session host, so that they can answer them immediately and personalize their responses. Product demonstrations should be kept to a minimum so that you can promote authenticity and answer as many questions as possible. Ideally, the product presentation should be limited to three key arguments and focus the rest of the live event on viewer questions.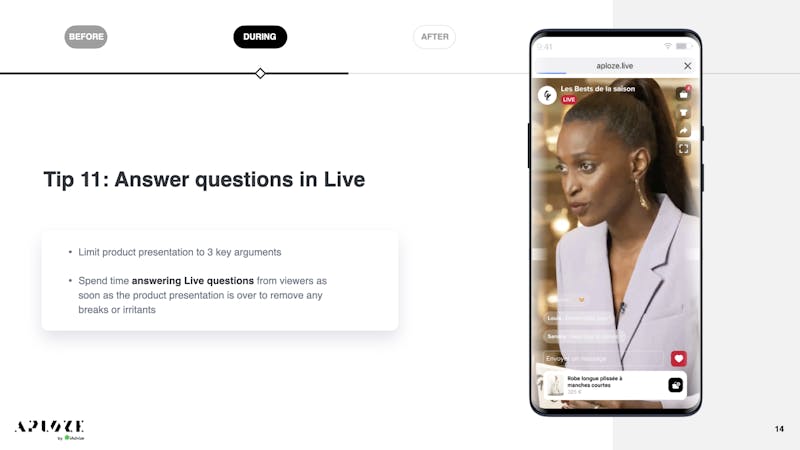 3rd Phase, Post-Live: Optimize Your Sales
Tip #12:

Instantly Publish Your Event Replay & Activate the Conversational Replay Feature
At least 30% of your revenue is generated after the live shopping event. The Post-Live phase is so important that we suggest publishing the live replay to your website page immediately. In tandem with this, make sure you activate our unique Conversational Replay feature (i.e. placing a live chat button on the video) to guarantee that late-comers can still see everything that happened during your event and purchase the products featured throughout without navigating away from the page.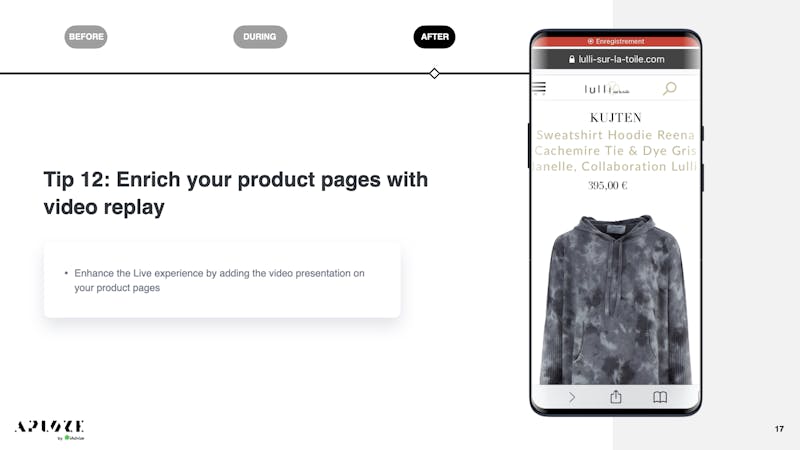 Tip #13:
Capitalize on Your Live Event by Enriching Your Product Pages With "Video Capsules" that Highlight Specific Products
Live shopping is also a way to enhance the customer experience by adding live clips to your product pages. By doing this, you can make a catalog less static thanks to different animation formats. These formats are extracts and video widgets.. Finally, you must capitalize on the Live event. Create 40 to 60 second video capsules on a live flash: a question or a moment, which can be used for social networks and allowing a redirection to your Live replay for a complete experience.