How Do I Increase Loyalty and Retention?
9min read - iAdvize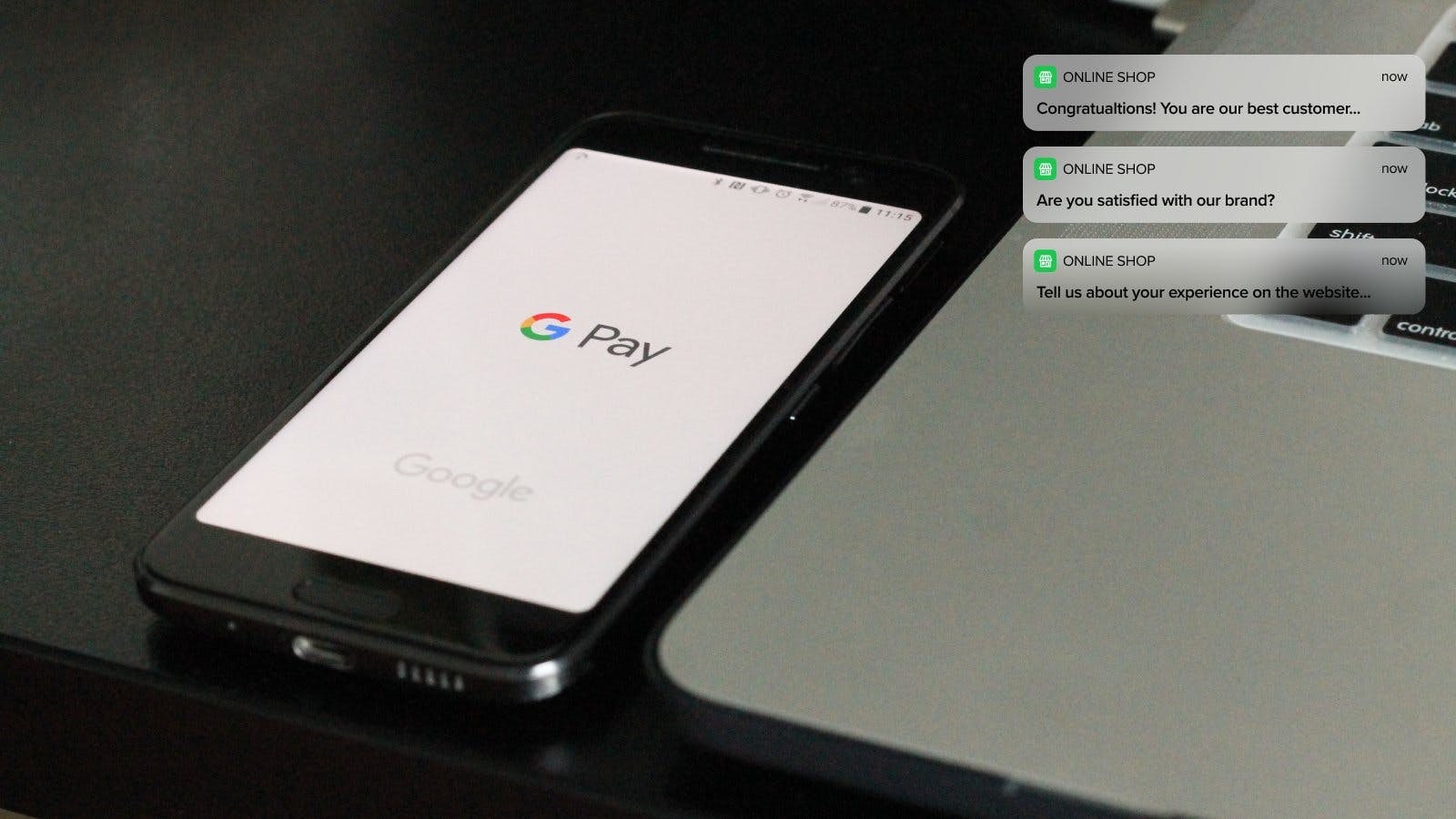 We all have our favorite brands that we turn to again and again for products and services. From punchcards to rewards points to emails with exclusive insider discounts, companies have used varied tactics to keep us coming back and buying more.
But loyalty programs like those are only the tip of the iceberg. Today's industry leaders need to keep asking, "How do I increase loyalty and retention?" And they must stay ahead of the curve and adopt new practices to hold on to customers.
Why? The digital world has accelerated customer expectations. These days, you're not just competing with others in your industry. Instead, shoppers also weigh the interactions they have with you against other customer experience (CX) leaders.
Even if you offer the most compelling rewards and discounts, shoppers may be turned away by a poor experience. Also, some shoppers also feel disgruntled if they can't find the details they need or receive conflicting information from brands. As Retail Dive reports:
73% of consumers will defect after three bad experiences
44% of shoppers will leave a brand if they can't find the information they are seeking
23% of shoppers abandon brands if they encounter conflicting information
What is more, only 44% of shoppers say that they bring their concerns to the company. As a result, you could have a significant number of shoppers who stop doing business with you but never say a word.
How can you retain shoppers and foster brand loyalty? Start by reviewing some facts, data, and metrics on retention and loyalty. Then, learn about the elements of positive digital CX that keep shoppers coming back.
The most important step you can take is instituting a conversational program that gives shoppers a 1:1 opportunity to get the information and answers they need to make educated buying decisions. Forging strong bonds with shoppers and respecting the human element in retail will motivate customers to stick with your brand over the long term.
The Difference Between Loyalty and Retention
While retention and loyalty are related, there are some differences between the two concepts that you should know. In brief, you can think of retention as a practice that focuses on preventing customer losses, while customer loyalty emphasizes relationship building and growth.
Customer retention means that someone buys from you again after a first purchase. But he or she may not feel a strong affinity for your company. By contrast, customer loyalty means that a customer prefers your brand over others. If given a choice, loyal customers would choose your company over competitors--every time.
Increasing Loyalty and Retention Yields Measurable Results
You've undoubtedly heard that it costs more to recruit a new customer than to retain an existing one. As the Harvard Business Review (HBR) reports, several studies on the cost of acquisition vs. retention exist with varying results. Depending on the survey you choose to cite, it can cost between five to 25% more to gain a new customer than retain an existing one.
Another well-known statistic from a Bain & Company's Fred Reichheld, creator of the Net Promoter Score, reveals that customer retention offers a potential revenue upside. According to Reichheld, increasing retention by a mere 5% can yield revenue increases of 25% to 95%.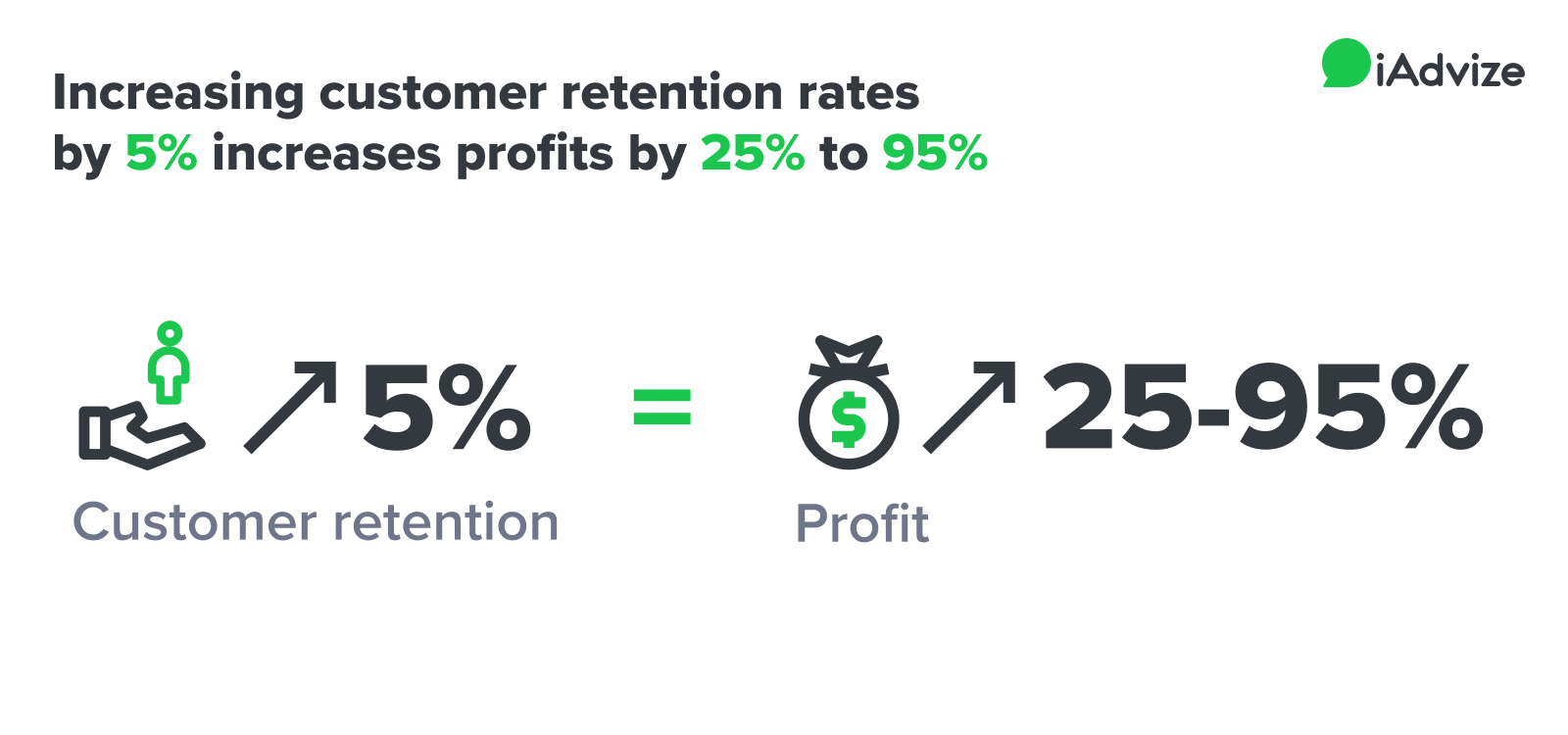 As Reichheld explains:
"Return customers tend to buy more from a company over time. As they do, your operating costs to serve them decline. What ís more, return customers refer others to your company. And theyíll often pay a premium to continue to do business with you rather than switch to a competitor with whom theyíre neither familiar nor comfortable."
So focusing on retaining customers and fostering loyalty isn't just a feel-good idea -- it can yield measurable bottom-line results.
The good news is that many shoppers want to stay loyal to brands. As one recent consumer study revealed, nearly three-quarters of customers feel loyal to at least one company. And over half say they'll expend extra effort to purchase from their preferred brands. You can build on consumers' innate desire to stand by favorite brands to increase loyalty and achieve financial gains.
How to Calculate Customer Retention Rate
To know if your strategies are effective, you need to calculate your customer retention rate. Fortunately, the CRR calculation is relatively straightforward:
Select the time period for your analysis. You could choose to measure CRR over a month, quarter, or year.
Identify the total number of customers at the start of your analysis period.
Determine the number of new customers you gained.
Subtract the number of new customers from the number of customers at the end of the period, then divide by the number of customers at the start of the period.
Multiply the result by 100 to arrive at your CRR percentage
For example, imagine you started with 200 customers and gained 70 new customers while losing 20 customers. You would end up with 250 customers at the end of the period. Your customer retention rate for the period would be 90%.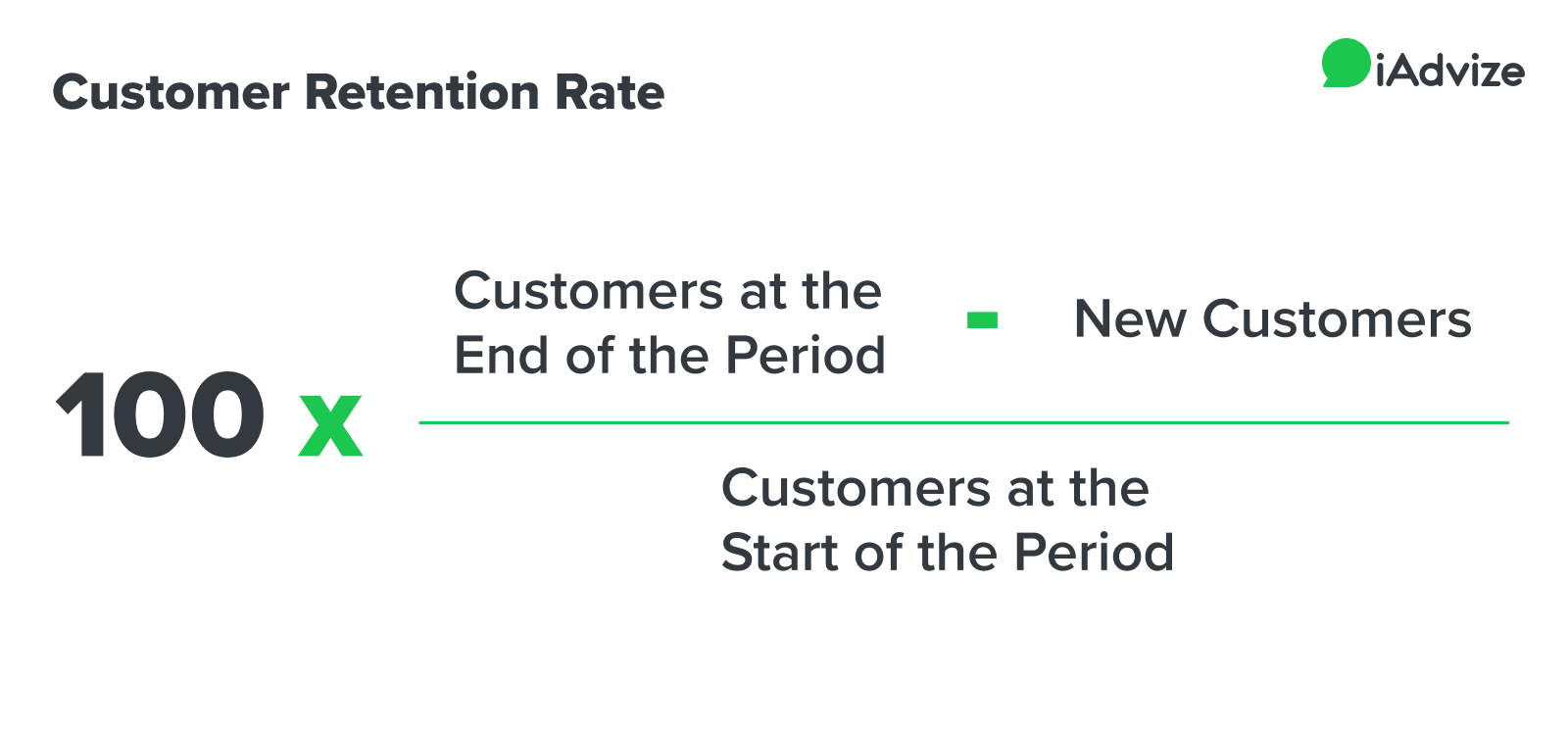 How to Measure Customer Loyalty
Calculating CRR is one way to gauge your success at building fostering loyalty. But you'll need to look at several metrics to understand how successful your loyalty efforts truly are.
Here are a few to know:
Customer Churn Rate (CCR)
Your CCR reveals the number of customers lost during a period. Clearly, when churn is high, you need to step up your retention game to stop hemorrhaging customers. You can calculate CCR by dividing the number of customers lost in a period by the number of customers at the start of the period: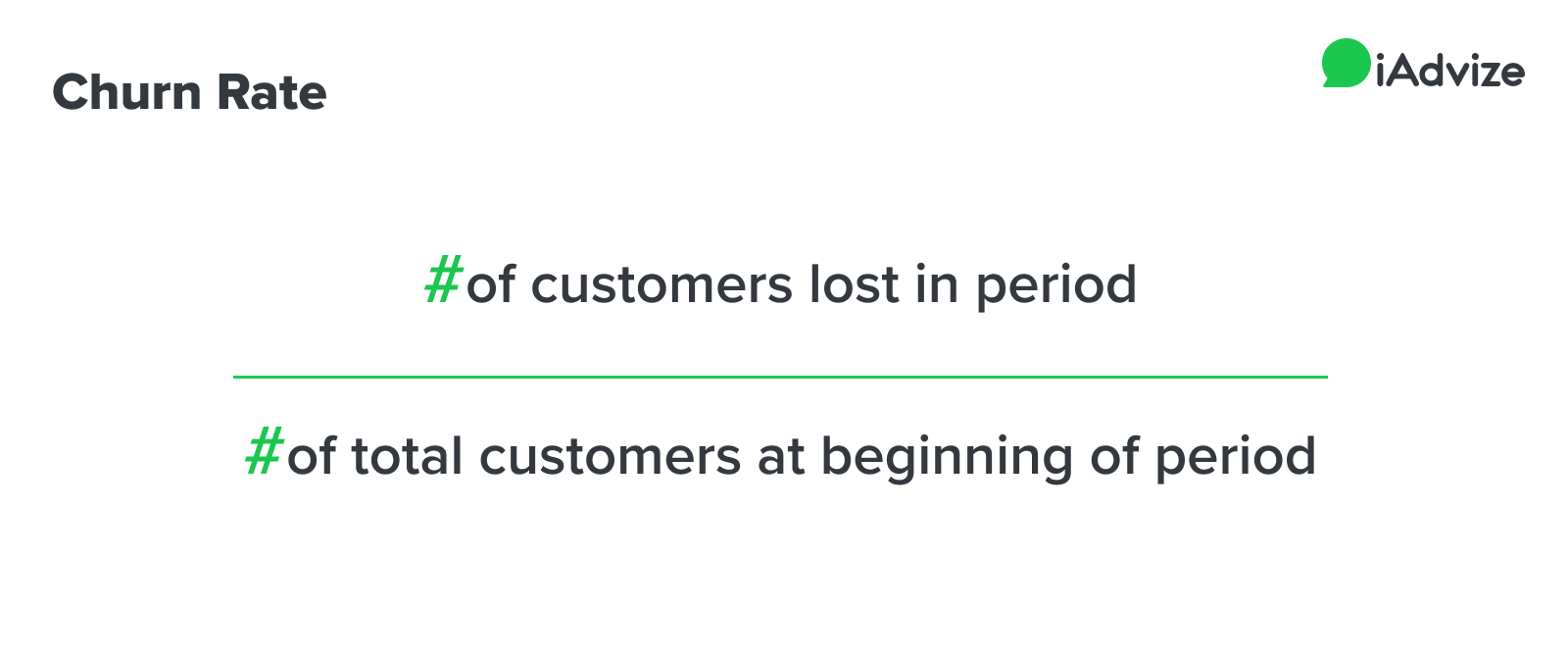 Customer Lifetime Value (CLV)
Considered by many brands to be a top metric to track, CLV shows you how much customers spend during their relationships with your brand. You can calculate CLV by multiplying the single sale average by the repeat transactions average and the retention period.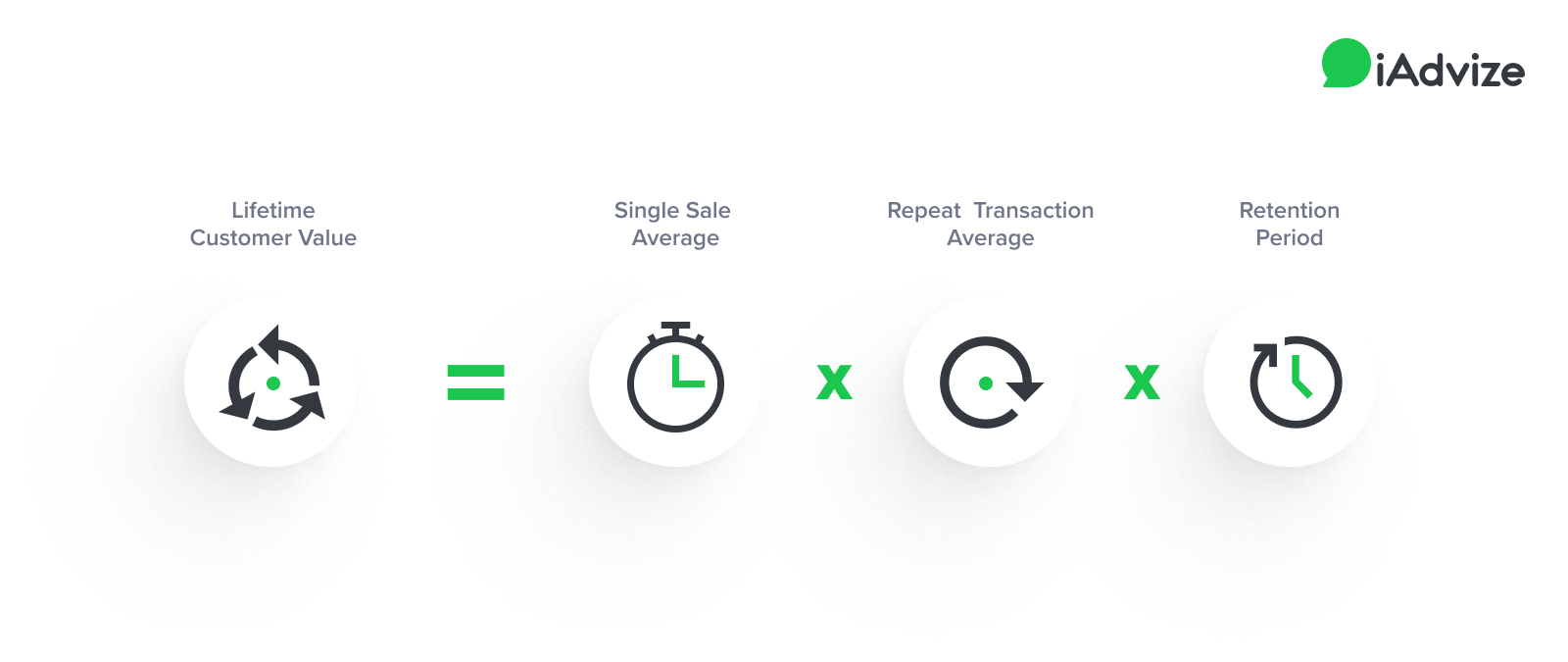 Net Promoter Score (NPS)
A popular way to gauge customer satisfaction and loyalty, NPS is a common element of post-interaction surveys. To calculate NPS, you use a one to 10 scale and ask one question: How likely are shoppers to refer your brand to friends or colleagues?
You then determine the percentage of promoters (those who respond with a nine or 10) and the percentage of detractors (those who answer one to six). Subtract detractors from promoters and multiply by 100 to derive your NPS score.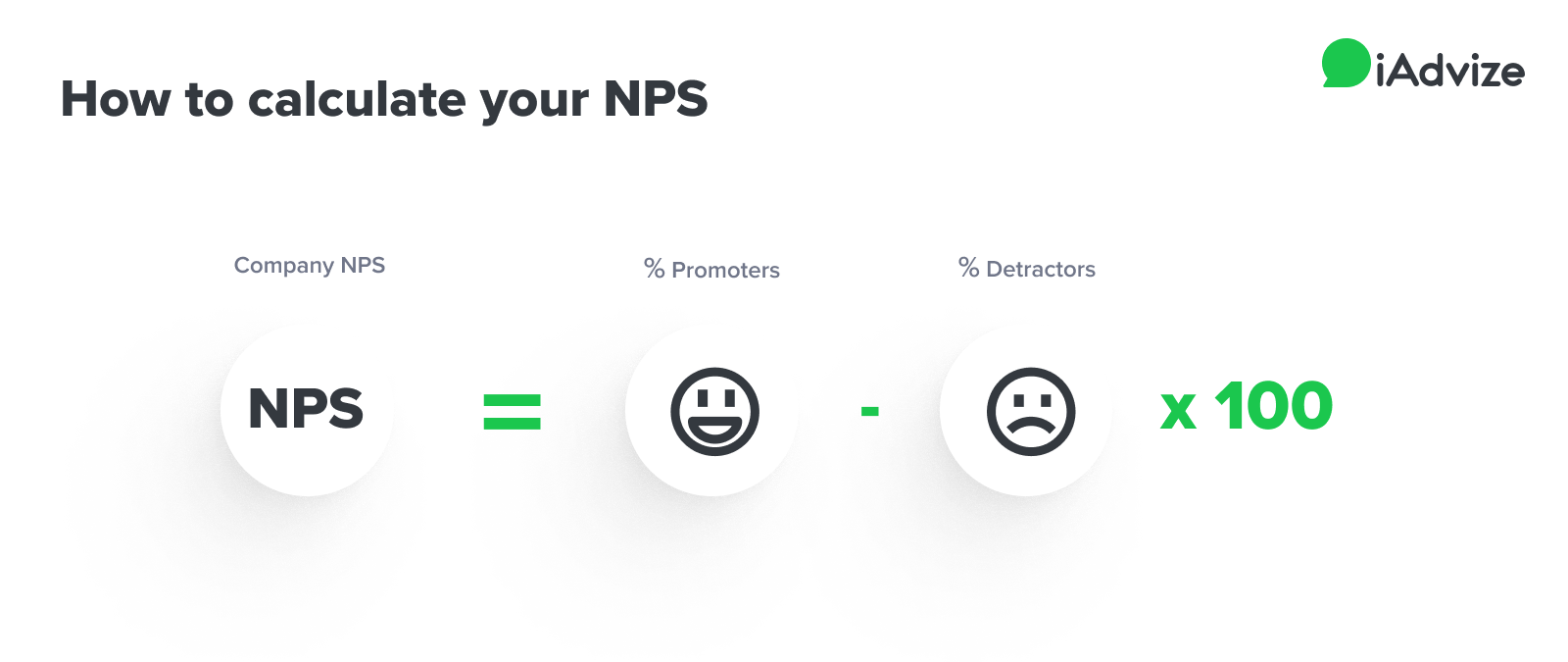 Customer Loyalty Index (CLI)
CLI is similar in approach to NPS but measures more dimensions of loyalty. Like NPS, CLI is a valuable asset in a post-interaction survey and asks consumers to provide ratings using a numeric scale. However, CLI uses a scale of one to six and asks consumers three questions:
How likely are you to recommend us to your friends or contacts?
How likely are you to buy from us again in the future?
How likely are you to try out our other products and/or services?
In the CLI scale, one stands for "definitely yes," and six means "definitely no." To calculate CLI, you index the scores and then calculate the average score across the three response categories. The answer scores are: 1 = 100, 2 = 80, 3 = 60, 4 = 40, 5 = 20, and 6 = 0.
How Do I Increase Retention and Loyalty? 3 Things to Know
Keeping tabs on select metrics helps you understand if you are keeping customers and boosting loyalty. And that's important to know.
You should never forget that you may attract someone to buy from you the first time because of the quality of your product or special promotion. But the experiences they have with your brand are what customers will remember most.
With that in mind, here are three things to know about customer retention and loyalty.
#1: It's Not All About Your Products
You may think that building products with all the bells and whistles will win customers over and motivate them to stick with your brand. But research suggests that's always not the case.
Interestingly, enticing first-time buyers with feature-rich products may actually have a detrimental effect on customer retention. According to research from the Massachusetts Institute of Technology (MIT) Sloan School of Management, people may initially select products with more features but grow dissatisfied during use due to "feature fatigue."
An example MIT cites is consumers who chose between one technology product with 21 features and another with seven features. While the product with more features seemed appealing to many people at first, consumers said they wouldn't choose that product again. MIT suggested that the same phenomenon could happen with hotels that offer ample amenities to get customers in the door--but can't rely on perks alone to draw people back.
What's the takeaway? Quality products matter, but the experiences people have--both when they interact with your brand and use your products--make a big difference in loyalty and retention.
#2: Exceptional Experiences and Loyalty Go Hand-in-Hand
It seems obvious that delivering an exceptional experience is critical to boosting retention and loyalty--and research from CX thought leader Bruce Temkin affirms this truth. Through consumer research, Temkin evaluated four dimensions of loyalty--whether people would be likely to repurchase, recommend, trust, and forgive based on their experiences with brands.
No surprise: Consumers who received excellent CX were far more likely to stick by brands and recommend them compared to those whose experiences were very poor.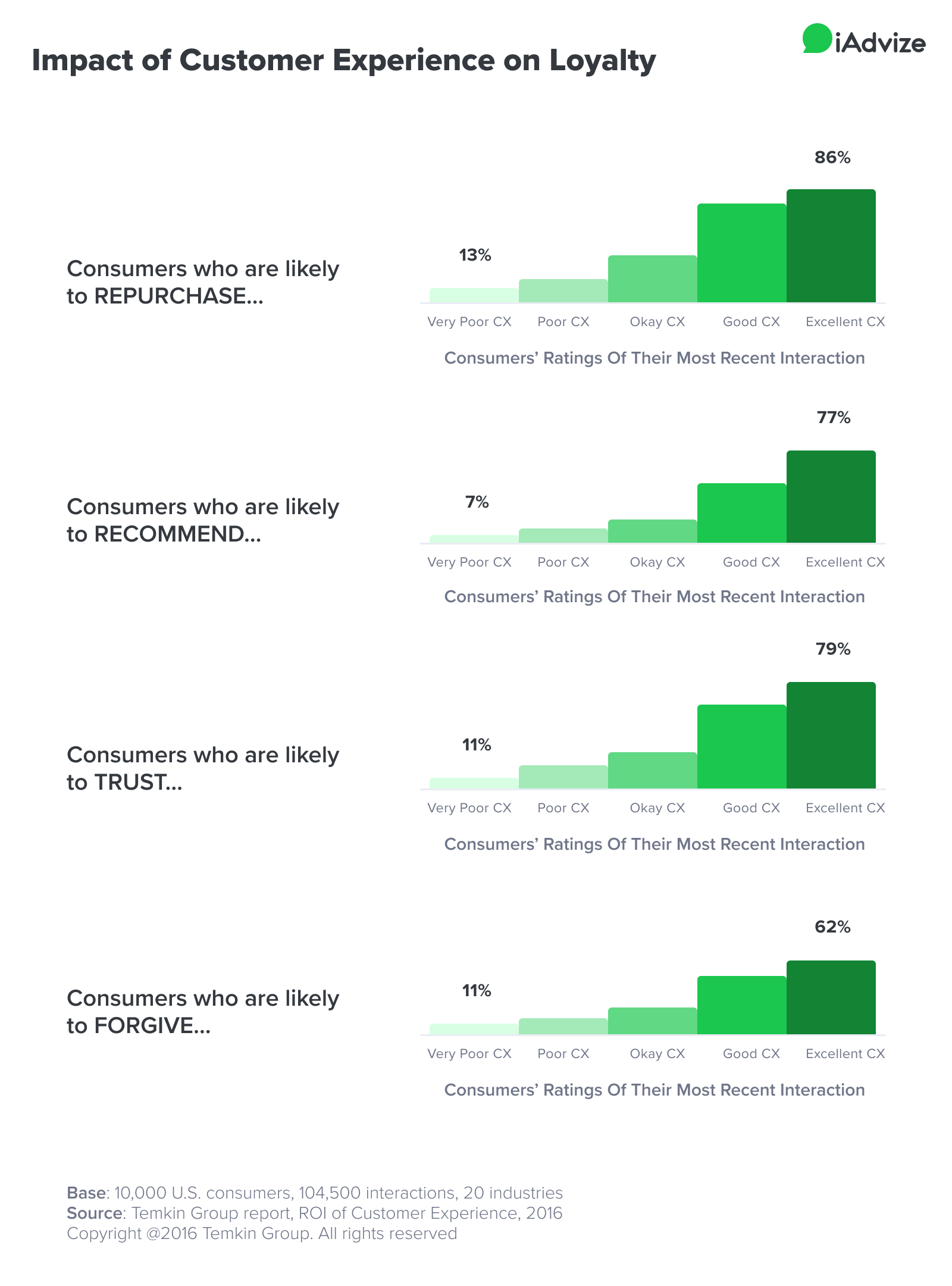 #3: Focusing on Digital Relationships Matters
While brick-and-mortar retail remains strong, more people use digital channels for at least some steps in their shopping journeys. Focusing on fostering solid relationships with online shoppers is a must if you want to keep customers and bolster loyalty.
Make a Good First Impression
You know that saying, "you never get a second chance to make a first impression." It's true in life, and in retail. In fact, KPMG research found that retail websites were the source of initial product awareness for one-third of consumers, surpassing physical stores and digital advertising. What does that mean? Not only should your website provide clear product descriptions and photos, but you also need to make it easy for shoppers to get help if they need it--whether through a chatbot, an in-house agent, or a brand expert.
Be Authentic and Helpful
People want genuine advice to help them make purchase decisions. That's why 65% of people in the US say they rely on input from friends and family when deciding what to buy, according to consumer research.
While you can't replicate those trusted relationships, you can support 1:1 conversation between shoppers and brand experts. Through conversation, you can provide authenticity, empathy, and meaningful support to help shoppers make thoughtful buying decisions.
Streamline Digital Experiences
One of the biggest appeals of online buying is efficiency. Instead of needing to drive to a store and examine product options, shoppers can research and buy in minutes from the comfort of home. Keep this desire for convenience in mind when designing your digital experiences, and make sure that help is available every step of the way.
Be Attentive to Unhappy Customers
It's easy to build a rapport with happy customers but not so comfortable relating to dissatisfied customers. But research published in the Harvard Business Review shows that you can turn angry customers into loyal ones through attentive service.
HBR even found that companies in two of the least-favored industries--airlines and wireless carriers--saw significant NPS score jumps when they paid particular attention to unhappy customers. Also, HBR found that service with a personal touch made an even bigger impression and actually motivated people who had complained to be willing to stay loyal and pay more for future purchases.
Provide Prompt Service
Since digital retail is all about convenience, it's no surprise to learn that shoppers don't want to wait for service. Today, consumers are showing a strong preference for chat and messaging apps. These apps are familiar from daily use with friends and families, and shoppers know a quick response is the norm. Research has shown that people expect prompt replies and that younger shoppers prefer resolving issues with companies via messaging apps.

Offering Personalized, Expert Advice Boosts Customer Retention and Loyalty
Since today's shoppers favor brands that deliver standout experiences, you have to be ready to deliver. To make a positive impression on digital shoppers, you need to offer one-on-one expert advice. With this approach, you can achieve every factor that turns an adequate experience into an exceptional one. You can provide prompt, efficient digital service, offer authenticity and personalized guidance, make a good impression, and tend to the concerns of unhappy customers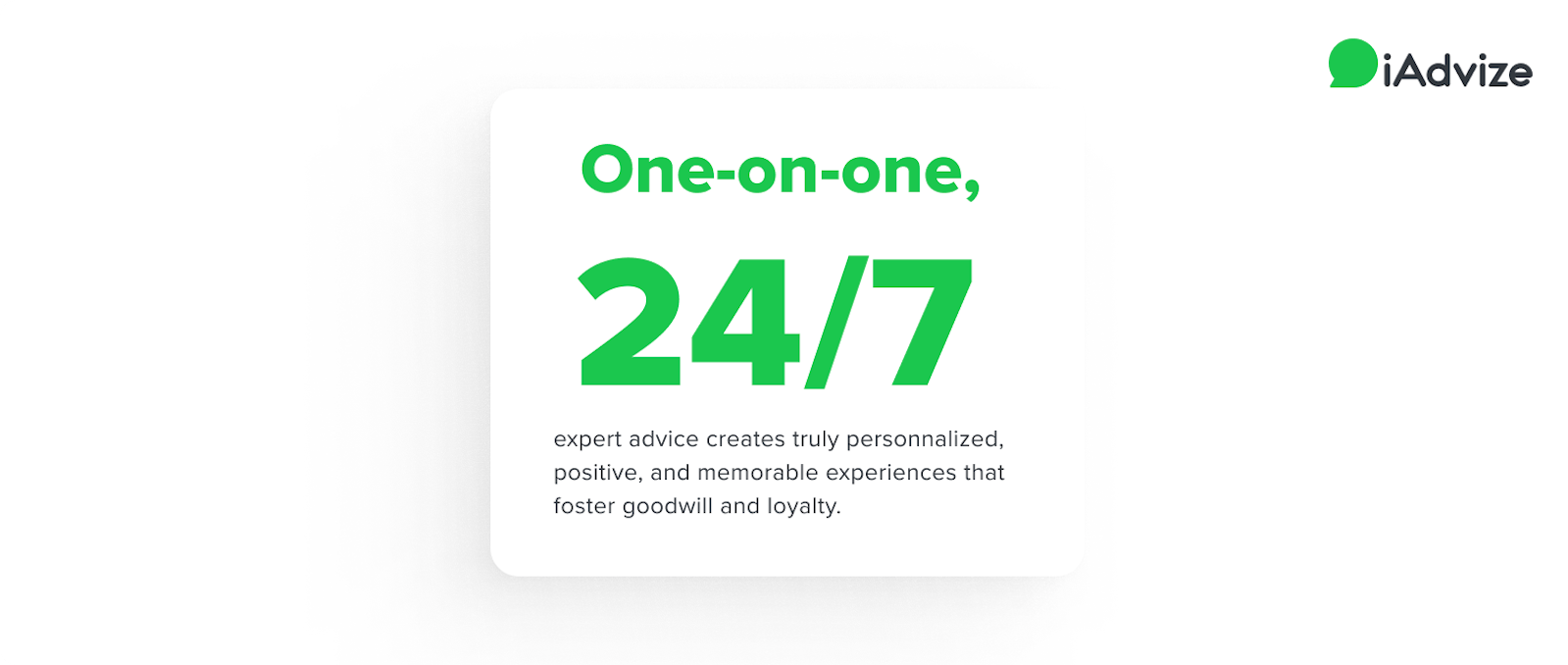 Paying attention to the human side of the retail experience will wow shoppers and motivate them to buy from you again. Remember that even a small uplift in retention can generate big financial gains--so the extra attention to service excellence will be worthwhile.
Delivering top-tier CX offers its own financial rewards. According to a study by PricewaterhouseCoopers (PwC), people are willing to pay up to 16% more for a great experience. Every industry PwC studied saw a price bump due to stellar service.
Another critical data point: 73% of people say that the experience a brand delivers influences their purchase decisions. And 42% said they'd willingly pay more if a brand offered a welcoming and friendly experience. Unfortunately, over half of consumers said their expectations for service excellence weren't being met, according to PwC.
What does all this mean to you? Providing superior customer experiences is a must if you want to hold on to customers and see your revenues climb. In today's hyper-competitive digital environment, you simply can't afford not to prioritize customer retention and loyalty.
Are You Loyal to Your Customers?
Without a doubt, every company spends time thinking about how they can encourage customers to buy more and stay loyal. But it's time to flip the script. You need to show customers that you value and care about them and that you're willing to go the extra mile to build a relationship with them.
Today's customers know they have options. Thanks to technology, it's as easy to buy from a company on the other side of the world as it is to purchase from a business down the blocks. For brands, that means the competition to keep every customer is fierce. While quality products and promotions will always draw in some customers, how you treat them can be the difference between a loyal customer and a dissatisfied defector.
Your best bet is making conversation the heart of your loyalty and retention strategy. When you make it easy for people to connect with you one-on-one, they'll get the answers they need, with the human touch they desire. Instead of feeling like a number, they'll know that you see customers as individuals.
Let your focus on people and relationships guide your decision-making and put tools in place to foster authentic personal connections with customers. You're sure to build a passionate customer base who views you as one of their favored brands.