The Future of Social Commerce: Independent, On-Demand Brand Advocates
4min read - Julia Lackey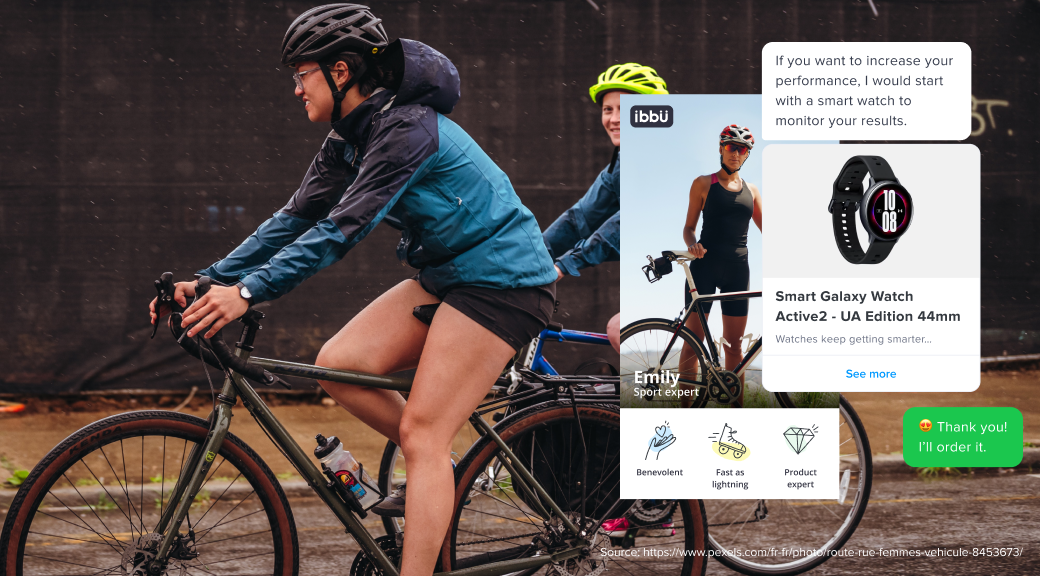 Digital communication trends are always evolving. People want to instantaneously interact with companies across their preferred channels. The most recent consumer expectation builds on this: shoppers want the connection they have with their favorite brands to be highly personalized and conversational. How are top businesses solving this lofty challenge to build a truly conversational customer experience? By combining the world of live chat, the human touch, and social commerce to create a new pre-sales revenue lever that builds on conversational commerce: independent, on-demand brand advocate communities.
Social Commerce: What It Is & Why Your Customers Crave It
A social commerce platform is e-commerce's best kept secret weapon for the modern consumer. Research overwhelmingly shows that online consumers love 1) the reassurance of shopping with others and 2) using product reviews to guide their own buying decisions. And because social media is the pinnacle of this kind of digital connection and social proof, social commerce naturally gained its roots on channels like Instagram, Facebook, Twitter, and TikTok.
So, what actually is social commerce?
In short, it's peer-to-peer promotion and selling through the use of digital communication channels.

Now, as retailers recognize that social commerce can, and should, go beyond social media outlets, strategies are evolving to focus on conversational commerce-based messaging–i.e. connecting with customers in a deep, authentic way at every step of the buying journey.
What do we mean by this?
Expanding the scope of peer-to-peer communication mediums to include things like website live chat, SMS, third-party app messaging, and live shopping.
Where does the peer-to-peer part come in?
When you leverage the communities of customers who use and love your products or services and want to share their enthusiasm. Connect these people with fellow shoppers (the browsers on your website) through live messaging channels and let their own positive experiences with your products work as your company's very own live and interactive version of a Google review.
What Are On-Demand Brand Advocate Communities
The content and quality of each conversation your brand has with potential customers has a greater impact on your customer experience ROI than most anything else. Shoppers want to feel like their needs are being met, voices heard, and issues addressed. So, here's the customer experience question of the year: How do you meet these expectations at scale, without sacrificing quality?
Incorporate social proof into your pre-sales strategy.
An independent, on-demand brand advocate program helps brands turn their biggest fans into rockstar online pre-sales consultants. They essentially provide a level of social proof and credibility that only true enthusiasts of your products or services can. And the best part? The process to implement a community of these enthusiasts is quick, easy, and entirely brand controlled. Even better, the qualification and training of your brand advocates is done for you.
Here's how it works: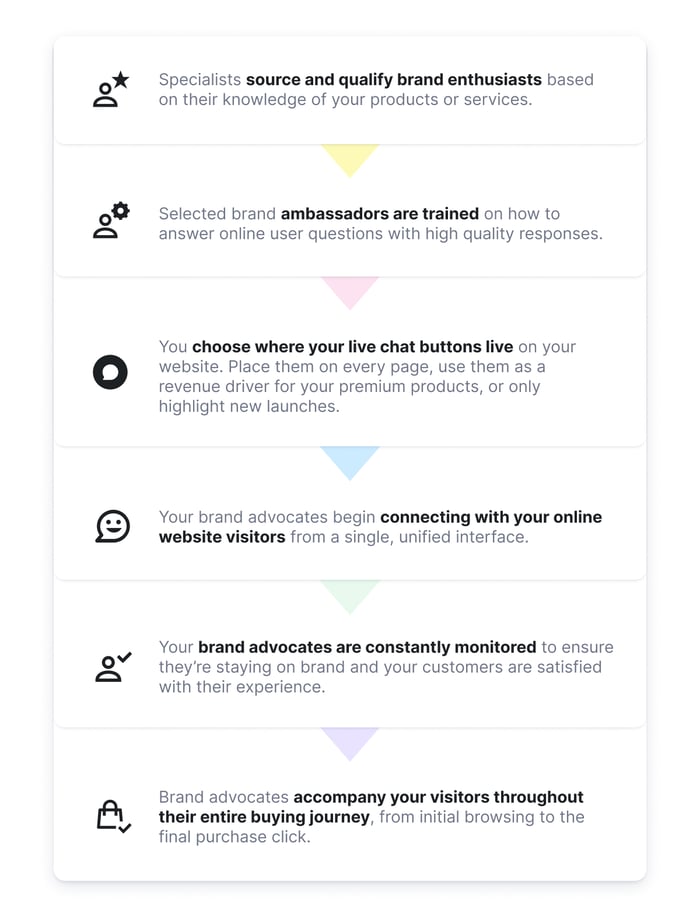 The beauty of an on-demand brand advocate community is that it thrives on leveraging your existing customer base—i.e. people who already love your products and services and know them well because of their existing customer loyalty. But this is just the tip of the iceberg!
Top Benefits of Building a Brand Advocate Community for Your Business
1. It's Social Selling That Cuts Costs
63% of consumers need to hear company claims 3-5 times before they actually believe them. With the majority of shoppers so hesitant to trust businesses, it's important for brands to invest in a customer experience that builds and sustains customer trust and loyalty.
Independent brand advocates help achieve this by providing all customers with a hyper-personalized shopping experience. Social proof is critical to a potential customers' decision to go through with a purchase. After all, 92% of people will trust a recommendation from a peer. Advocates approach their conversations with your e-commerce browsers in a way that feels like they're talking with family or friends, rather than a company, while strictly adhering to your brand's quality and professionalism standards.
2. It Drives Revenue and Optimizes Your ROI
Offering your customers social proof in addition to stellar customer experiences helps drive revenue in the long term. 70% of people will trust a recommendation from someone they don't even know, which gives you a great opening. Providing quality responses that go beyond typical FAQ answers, like customized recommendations or expert advice from someone who uses the products themselves, helps boost brand credibility even further and encourages the potential customer to purchase.
Advocates are also available 24/7 (like during nights, weekends, holidays, and other non-traditional hours) that typically prevent customer service operations from providing complete coverage. Around-the-clock pre-sales brand advocates are live and ready to discuss specific product details and offer advice to your browsers to help ensure that you aren't missing out on any conversations or conversion opportunities.
Social Commerce Strategies in Action
Sideshow: An Army of Super(Hero) Fans
"It's not automation just for the sake of automation. It's automation with a humanized purpose. It's an ambassador program--ultimately, the ability to take my super engaged audience and turn them into an independent sales team."

-- Chris Pirrotta, VP of Marketing at Sideshow
Sideshow is a global champion of conversational experiences. This pop culture action figure and merchandise brand achieved the ambitious goal of increasing customer satisfaction while reducing CX costs through the development of their own independent brand advocate community.
How did they do it?
First, they deployed AI-enabled live chatbots to offer self-service options and reduce inbound tickets. Then, they sourced and trained a community of pop culture movie enthusiasts who were familiar with Sideshow's products to offer advice and support to visitors 24/7 in an authentic and flexible way.
The results were impressive:

Samsung: A Community of Electronic Enthusiasts
The ultimate goal of Samsung's US entity in recent years has been to connect directly with customers, better understand consumer needs, and transform into a direct-to-consumer brand.
They addressed this through their own social commerce strategy where they launched their first-of-its-kind ePromoter program: an independent brand advocate community, dubbed ePromoters, of electronics enthusiasts who provide Samsung.com online shoppers expert advice on the latest products. With the help of these advocates, Samsung was able to reach a 100% coverage rate and provide 24/7 care for all its customers.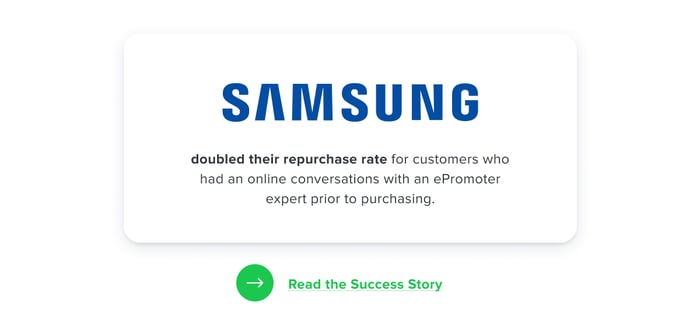 Discover the Power of Social Selling
A social selling strategy that builds off of conversational commerce is your best vehicle for curating hyper-personalized connections with your customers. Top conversational retailers, like Samsung and Sideshow, have realized this and are using their dedicated customer bases to level up their digital user experience.
Ready to see how a peer-to-peer selling program can work for your business? Let's get started building your own community of independent, on-demand brand advocates today!
Turn your browsers into buyers with the iAdvize Conversational Platform.