Conversational Maturity Index: Back to School Companies 2022 Ranking
10min read - iAdvize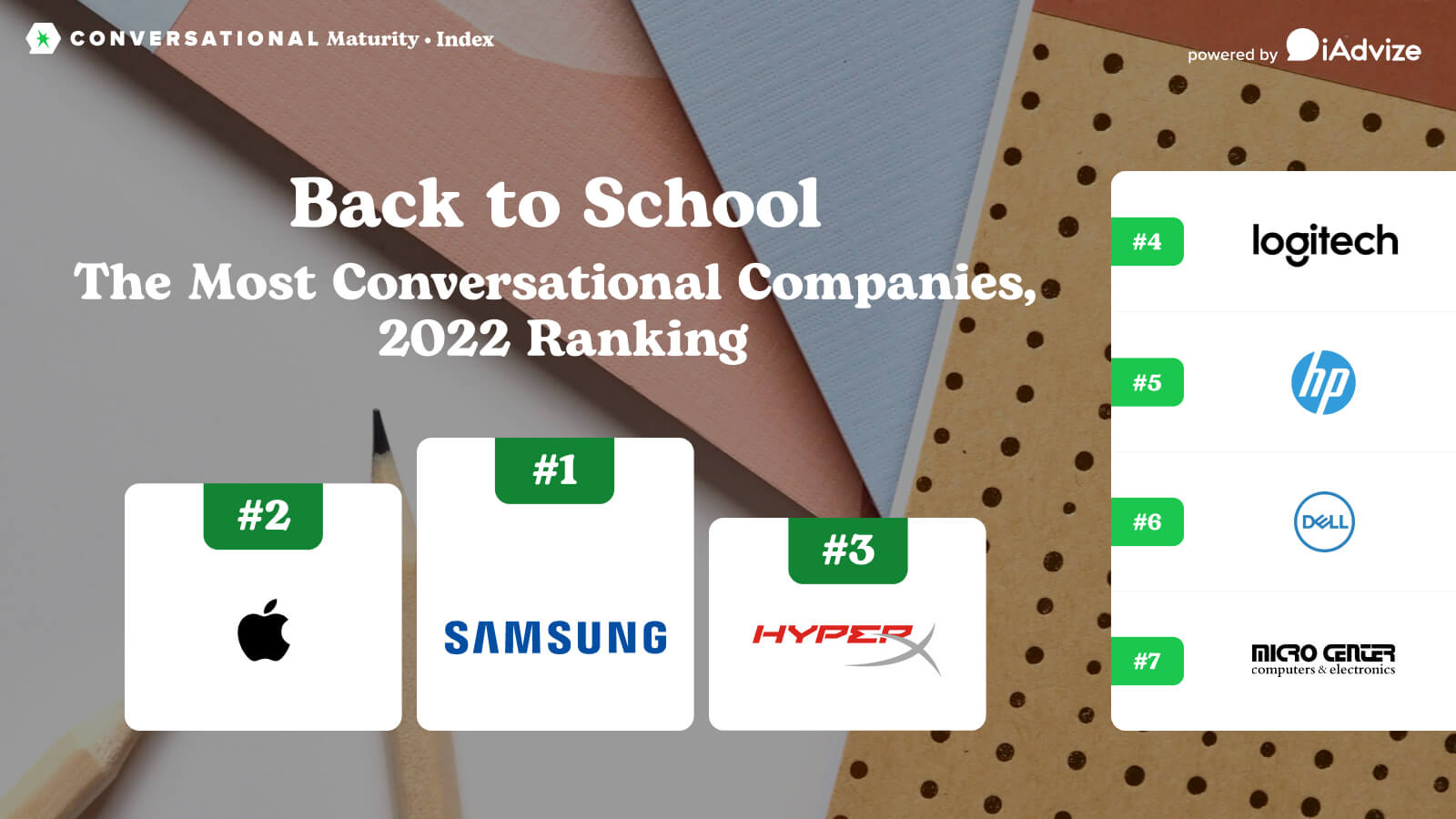 As summer comes to an end, students everywhere are frantically searching for deals on back to school items. The students who look for back to school items tend to be Gen Z consumers. They prefer messaging and, in particular, want authenticity from the companies where they shop.
According to SmartBrief, authenticity is at the center of decision making for Gen Z shoppers. Their research shows that 27% of Gen Z always share recommendations after they make purchases, 37% share most of the time, and 69% "very often" search for reviews when considering a purchase. More than 85% trust recommendations from friends and family, 76% trust online reviews, and 62% trust social followers.
Many companies in the back to school shopping world understand that authenticity is critical for their customers' shopping experience. They have the answer but the question for them is how. How do they provide an authentic purchasing journey for their customers?
Today, it is vital for companies to provide an experience that will resonate with customers. We are currently in the experience economy, an economy that is centered on consumer experiences, personal connections, and humanity.
In the increasingly digital world we live in, companies need to adapt to the experience economy. Companies that don't acknowledge digital transformation will fall behind, and potentially miss out on the benefits of the digital revolution.
iAdvize recognizes conversation as a key component of the experience economy. Conversation provides the human touch that customers desire during their online shopping experience.
At iAdvize, we identified six key pillars required for a successful conversational strategy:
Based on an evaluation of each pillar, we developed a unique assessment tool, the Conversational Maturity Index (CMI). The CMI uses a rapid online chat experience assessment to generate a score that identifies how conversational a company is relative to others within the same industry. In other words, the CMI evaluates the maturity of a company's conversational strategy.
This month, we utilized the CMI to examine the most conversational companies in back to school shopping.
Back to School 2022 Ranking
Our CMI research revealed that the most conversational back to school companies prioritize authentic, real-time expert advice with rich and easy-to-use messaging. They share a unique method of building meaningful relationships with customers on an emotional and human level. Back to school companies understand the importance of fostering customer relationships and offer personalized experiences to create a positive memory.
Companies leverage this conversational approach to enhance their customers' digital experience and, as a result, loyalty. The top CMI scorers in the industry were Samsung, Apple, and HyperX. Below is a summary of their conversational approaches.


Industry Standouts
Samsung: Leads the Pack Prioritizing Authenticity and Expertise
Samsung has revolutionized the chat experience. They are a pioneer in chat, offering customers an experience that is memorable and leaves them satisfied with their purchase. Samsung had a vision in 2019 to add experts to their conversational platform that had authenticity and expertise to help drive online sales. This vision came from Ed Billmaier, the current the Director of e-Commerce Customer Service at Samsung. Ed understood the importance of transferring the in-store experience online and decided to partner with iAdvize in early 2019 to optimize Samsung's conversational strategy.
Samsung implemented its ePromoter program, a program focused on evaluating customer experience (CX), as their partnership with Iadvis began to take off. The program hit the ground running. During an interview in September of 2020, Ed talked about the positive impact of the ePromoter, crediting it with increasing Samsung's online sales tenfold from 2019-2020.
Since taking off in the CX space, the goal of Samsung has been to drive online sales with passionate brand power users. Samsung chat experts actively look to find the perfect product for their customers. After asking about web designing features, Harpreet (the expert respondent) found a couple of laptop options. They did not just send a link to the laptops and let you take it from there. The expert is authentic and candidly goes out of their way to ensure that you have all the knowledge you need to make an informed decision.
Samsung is one of the true conversational leaders in the consumer electronics space, offering chat on their website 24/7. Conversation is at the core of Samsung's digital engagement and eCommerce strategy. Back to school shopping has never been easier with Samsung leading the pack.

CMI - Back to School - iAdvize - 2022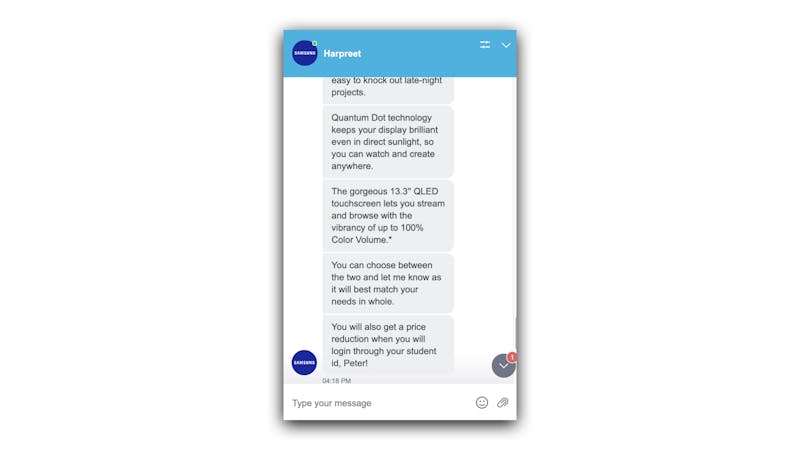 CMI - Back to School - iAdvize - 2022
Apple: Uses AI and Human Interaction to Balance Scalability
Apple has a unique chat that uses a conversational approach to online interactions, featuring a combination of humans and bots to fulfill customer needs. A conversation is initiated by a bot engaging with the customer. The bot has built-in artificial intelligence (AI) that quickly and accurately identifies the customer's intent.
The bots answer many questions but, if the customer still feels that they need more help, they can escalate the conversation to a human. The human respondents are experts in specific product offerings on Apple's site, assuring the customer gets the right expert to answer their questions. Apple's conversational approach is both flexible and scalable to meet changing consumer demands. It prioritizes customer connections on an emotional level, emphasizing elevating the digital CX and leaving customers feeling positive in their purchases.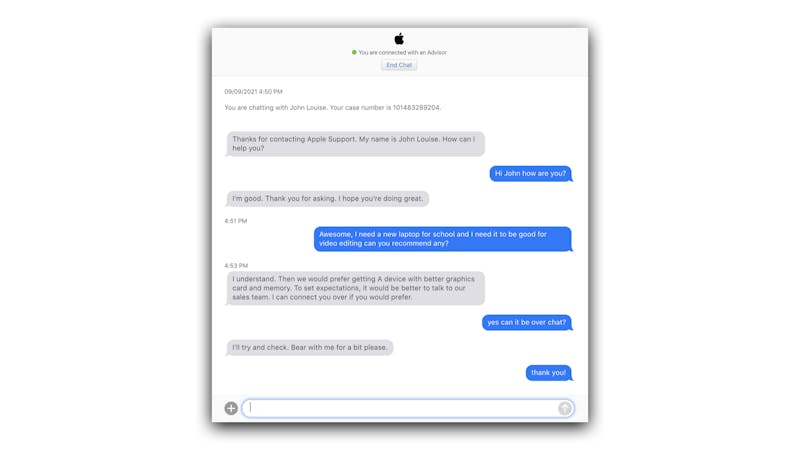 CMI - Back to School - iAdvize - 2022
HyperX: Experts that Simplify Pre-Sales
HyperX has more unique product offerings than most for back to school supplies, as they are primarily used as an outlet for gaming aficionados. Nonetheless, they also provide products such as microphones, keyboards, and memory storage which students can buy.
HyperX's chat listens to the exact needs of the customer and then provides them with the features of their products. Genuine advice is given to customers, telling them the ins and outs of the different products and educating them throughout the conversation. They give reasoning behind their buying suggestions, providing the customer with the expertise they need to make an enlightened decision.
HyperX's chat is easily accessible on both the web and mobile. The webchat fits seamlessly into the user interface (UI) and is easy to minimize and maximize. Another strong point: the HyperX chat lets shoppers share rich content, such as documents or photos, to enhance the conversational experience.
The focus of HyperX on the human-to-human relationship helps elevate the online shopping experience, reaching customers emotionally with candid product advice. They have built a community of passionate product experts that understand precisely what the customer wants, creating bona fide relationships that resonate with buyers for years to come.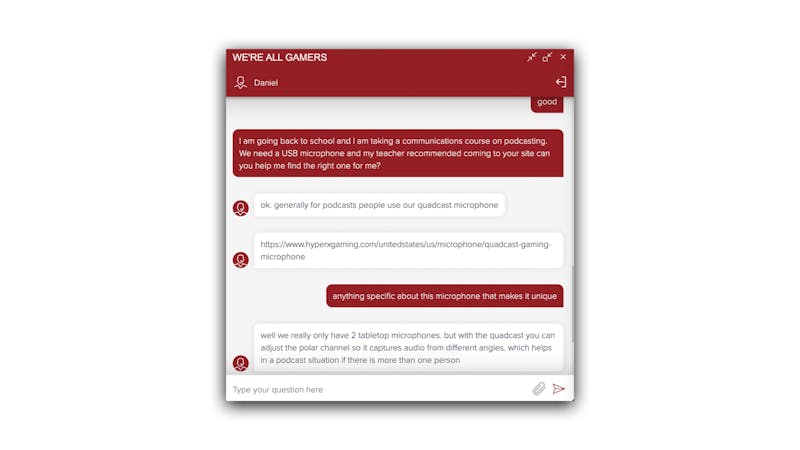 CMI - Back to School - iAdvize - 2022
Key Findings for Back to School Shopping
Genuine Expert Advice for a Stress-Free Shopping Experience
The back to school shopping experience usually is met with tantrums and hair-pulling. The most conversational back to school companies understand this and prioritize offering authentic and empathic customer advice. Being conversational is at the core of consumer values, and the companies that recognize this can elevate their customers' digital experience.
Organizations that utilize the human aspect can build bonds with their customers, resonating with them for the distant future. Today, companies too often ignore the human aspect of their digital experience, leaving customers feeling undervalued and confused about their purchase. The leaders in the back to school shopping space can transfer the in-store experience online. They offer the same expertise a customer would receive in a store, while also creating a more convenient shopping experience.
Companies with successful eCommerce sites have a conversation box that blends well into the UI on mobile and desktop sites. The colors, images, and fonts for the conversation box reflect the look and feel of each company's identity. The chats are generally easy to find and, when found, experts are readily available to engage customers if needed. These experts share personal experiences, relatable advice, and recommendations to give customers a genuine human shopping experience.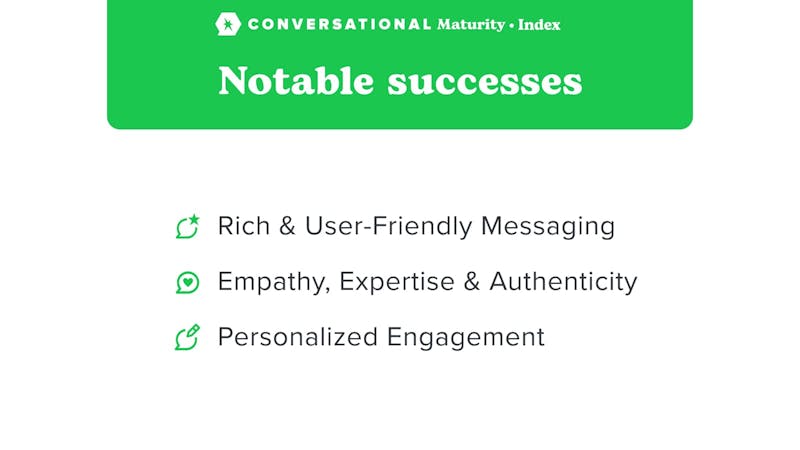 CMI - Back to School - iAdvize - 2022
Scalable, Omnichannel Components Need Improvement
The lowest CMI scores for back to school companies were in the Scalability and Omnichannel & Seamlessness pillars which assess, respectively, the means to offer the experience during peak periods and to offer a seamless experience via messaging, even beyond your site. One specific area way in which companies could improve is by offering more channels by which they could be accessed by visitors. All of the companies on this ranking have an active chat on their website accessible to shoppers. However, by adding access channels, such as WhatsApp, Facebook Messenger, and Twitter, they could reach more customers and be available to answer their queries.
Another area where many back to school companies could improve is in their scalability. As noted above, Apple uses a balance of both human and AI bot respondents to optimize scalability. The mix of AI and human interaction allows customers to receive the best shopping experience possible. Having both offers different avenues for the customers to learn about products they are considering and guarantees that their needs will be taken care of effectively.
No customer wants to wait for long for a response to their inquiries. Doing so makes them feel treated like a number rather than a human. An AI bot enables customers to express their concerns within their shopping experience and, when required, provides them the best expert possible based on a list of pre-qualified questions. This allows companies to provide their customers with the confidence that they are being heard and valued, elevating the CX. Implementing both AI chatbots and human respondents lets companies perfect their scalability and provide all their customers with the experience they deserve.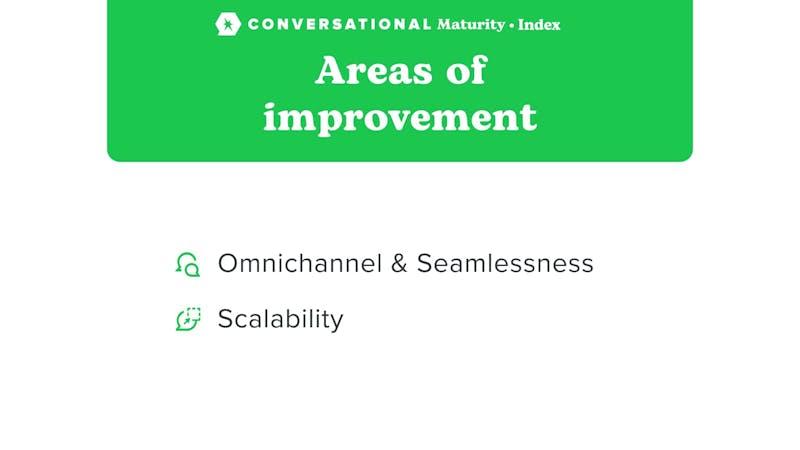 CMI - Back to School - iAdvize - 2022
How Conversational Maturity Index Research is Conducted
This CMI is powered by insights from more than 2,000 retail brands and 10 years of experience in the CX industry. It has become essential for retail brands to provide online consumers with the kind of authentic, seamless conversational experience they have every day through messaging. The assessment helps retailers to analyze their conversational strategy and find out how they can improve to better meet customer needs.
For this eighth analysis on the back to school shopping space, we examined leaders using the CMI framework of 80 discrete-value questions based on the six pillars. We analyzed 25 of the top brands and retailers based on revenue, reputation, and market presence. We visited each website to perform assessments of conversational features using our standard question sets.
To dive deeper into conversational capabilities, we utilized available to chat or messaging features on websites. We would engage with a customer-facing representative to gain information on a specific product and ask both general and specific questions to evaluate the experience.
With this information, we would then assign scores using our standard question set and calculate scores for each pillar, each brand overall, as well as industry averages.
A Framework Built on Six Pillars
The CMI examines the current experience of a brand or retailer measured against six critical pillars of an ideal CX for today's consumer. Those pillars include:
Expertise, Empathy & Authenticity
Scalability
Personalized Engagement
Rich & User-Friendly Messaging
Omnichannel & Seamlessness
Business Drive
Expertise, Empathy & Authenticity
An exceptional conversational approach can provide genuine, humanized connections between shoppers and brand representatives. There's nothing more memorable about a digital experience than when a chat respondent recognizes needs and priorities 1:1 conversations that flow easily and invoke emotion. Those interactions represent what is measured in the "Empathy, Expertise, and Authenticity" dimension.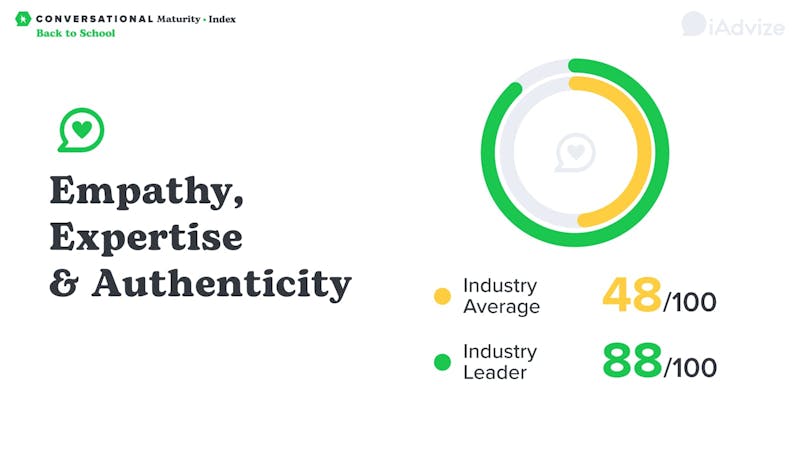 CMI - Back to School - iAdvize - 2022
Scalability
Scalability can be challenging when it comes to delivering personalized conversations. Using chatbots to keep up with rising demands is a simple fix, but it can often lead to impersonal conversational experiences. Leading retailers use a mix of bots and humans intelligently and perform well on the "Scalability" dimension of conversational maturity.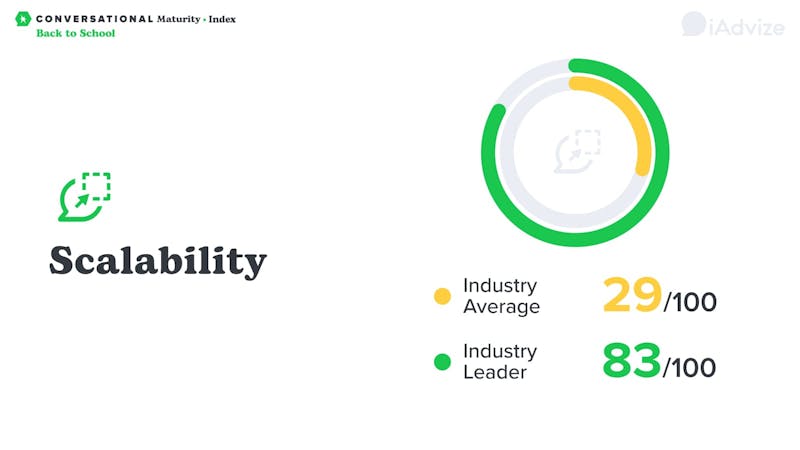 CMI - Back to School - iAdvize - 2022
Personalized Engagement
Purchase history and browsing interest might seem like an obvious way to recommend products for customers, but these methods aren't necessarily personal. Forward-thinking retailers have human agents who foster personal connections to understand shoppers' true intents, needs, and questions while shopping online. These are the factors taken into account when looking at the "Personalized Engagement" pillar.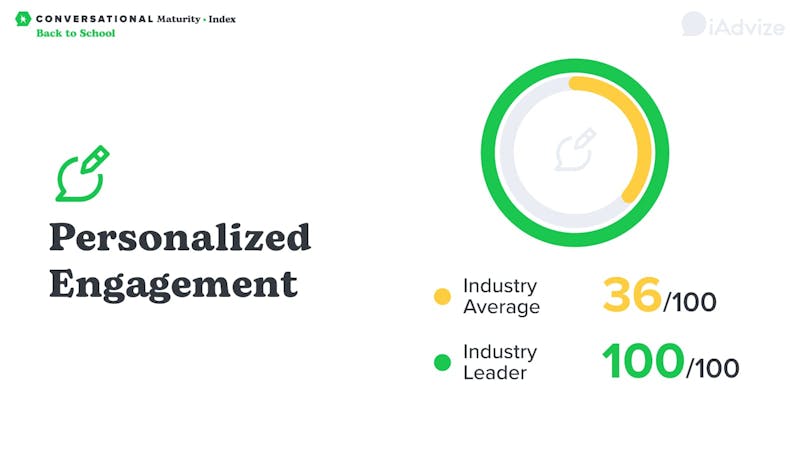 CMI - Back to School - iAdvize - 2022
Rich & User-Friendly Messaging
In an online shopping environment, messaging should be integral to the digital experience. Ideally, messaging options should be easy to locate and use while blending seamlessly into the user interface (UI) which should match the branding and be uncluttered. Messaging should also open on that same shopping page, preventing the need for customers to switch back and forth between tabs. Retailers who lead in this dimension offer a rich, engaging multimedia experience that allows consumers to even share emojis, photos, and documents.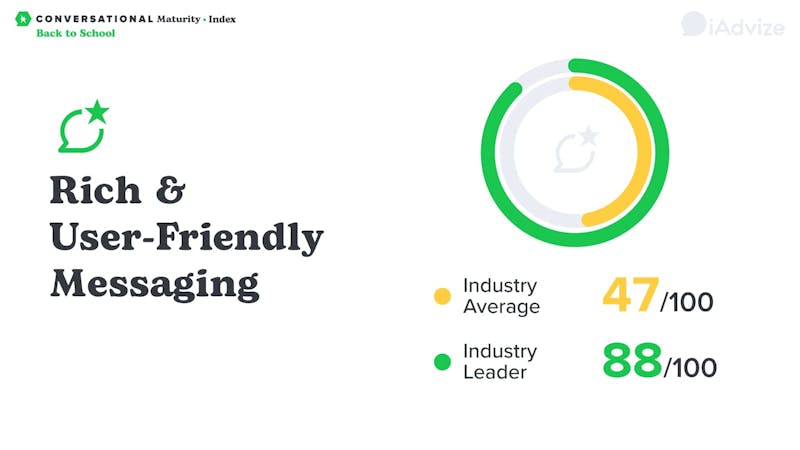 CMI - Back to School - iAdvize - 2022
Omnichannel & Seamlessness
As online shopping becomes increasingly popular, brands and retailers need to offer support in various ways. Leaders use asynchronous messaging approaches, allowing customers to start a conversation with messaging and add to it over time. They offer the ability for shoppers to have a complete conversation, or stay connected with messaging even after leaving the site. This signifies a job well done in the "Omnichannel & Seamlessness" category.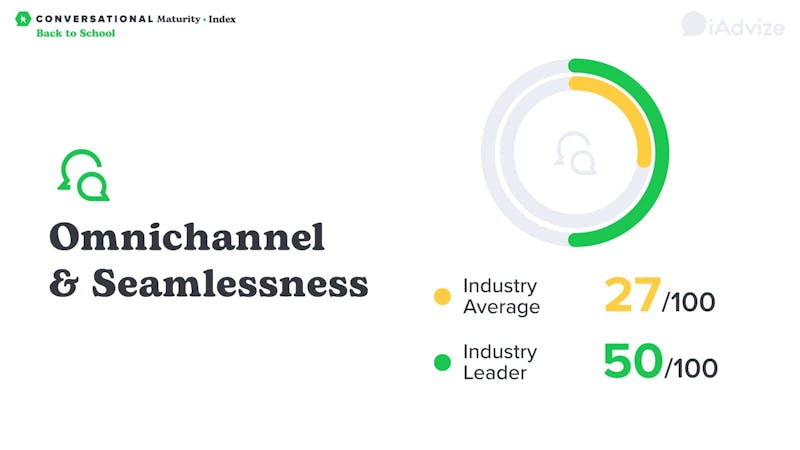 CMI - Back to School - iAdvize - 2022
Business Drive
The first five pillars of conversational maturity are found in features and experiences delivered on a brand's external website or mobile app. Business drive, however, is the internal factor that underpins an organization's conversational efforts and thus can only be uncovered through close examination of a company's culture and values.
Challenges of Back to School Shopping
Back to school shopping takes place at a hectic time of year for parents and students alike. In the past, both parents and students would travel to multiple stores to get all the supplies they needed. It was a painstaking process, going store to store hoping that the next one would be the last stop. Hours later, one would finally finish, hoping that next year would be simpler.
An obvious benefit of shopping at a physical store itself is the help from in-store associates who are knowledgeable on the product offerings. However, this benefit is contingent upon the effort put forth by the associate and their motivation to help the shopper. The physical in-store experience can be stressful as crowds, waits for assistance, and long lines can leave students feeling more anxious about going back to school than before.
Enter the digital age. No longer does back to school shopping have to drain the life out of parents and students. They are now able to do all of their shopping online by clicking add to cart, simplifying the back to school shopping journey. Shopping online for back to school supplies is easy most of the time. However, it can sometimes be challenging for students to find exactly what they need. Yes, they can find your products online, but they do not always feel as confident with their purchase as they do after an in-store shopping experience.
This is where the importance of a conversational strategy comes into play. Companies need to have that balance between the convenience of shopping online and the expertise of in-store associates. Organizations that succeed in the online shopping arena offer customers a memorable experience that resonates with them for years to come. To be successful, companies must meet their customer's expectations, or accept that they will fall behind in the experience economy.
Successful companies have passionate experts who are brand power users, meaning experts who are loyal customers to the brand which they are trying to sell. Behind the chat bubble, these experts pride themselves on their authenticity, empathy, and expertise. Their goal in mind is to make the experience as straightforward and stress-free as possible for their customers. By following this goal, they create meaningful relationships with their customers, who in return tend to be loyal to that company for the distant future.
Companies who want to be successful in the digital shopping game need to emphasize being conversational. The companies that go above and beyond in terms of their digital CX know this. They have a conversational approach that provides the 1:1 connection customers desire, answering their needs for convenience and substantive information.
Organizations more than ever are noticing the importance of implementing a conversational platform that provides the proper digital experience for their customers. If you can relate to customers on a human and emotional level, you will grow trust and build genuine relationships with your customers at scale. Those who understand this will use these methods and win in the experience economy.
What Industry is Next?
It is always important to focus on self-care both physically and mentally. One quote that always caught my eye was, "If you look good, you feel good". That is why the next industry we plan to focus on for our CMI assessment is the beauty industry.
About the iAdvize Conversational Maturity Index
Launched in March 2021, the iAdvize Conversational Maturity Index (CMI) is a resource for brands to evaluate their digital strategy and benchmark against other companies in their industries. iAdvize independently analyzes well-known companies in select industries to report on the state of conversational maturity. In addition, brands can complete an online self-survey to understand the current state of their conversational initiatives.