Conversational Maturity Index: Pet and Garden Companies 2022 Ranking
8min read - iAdvize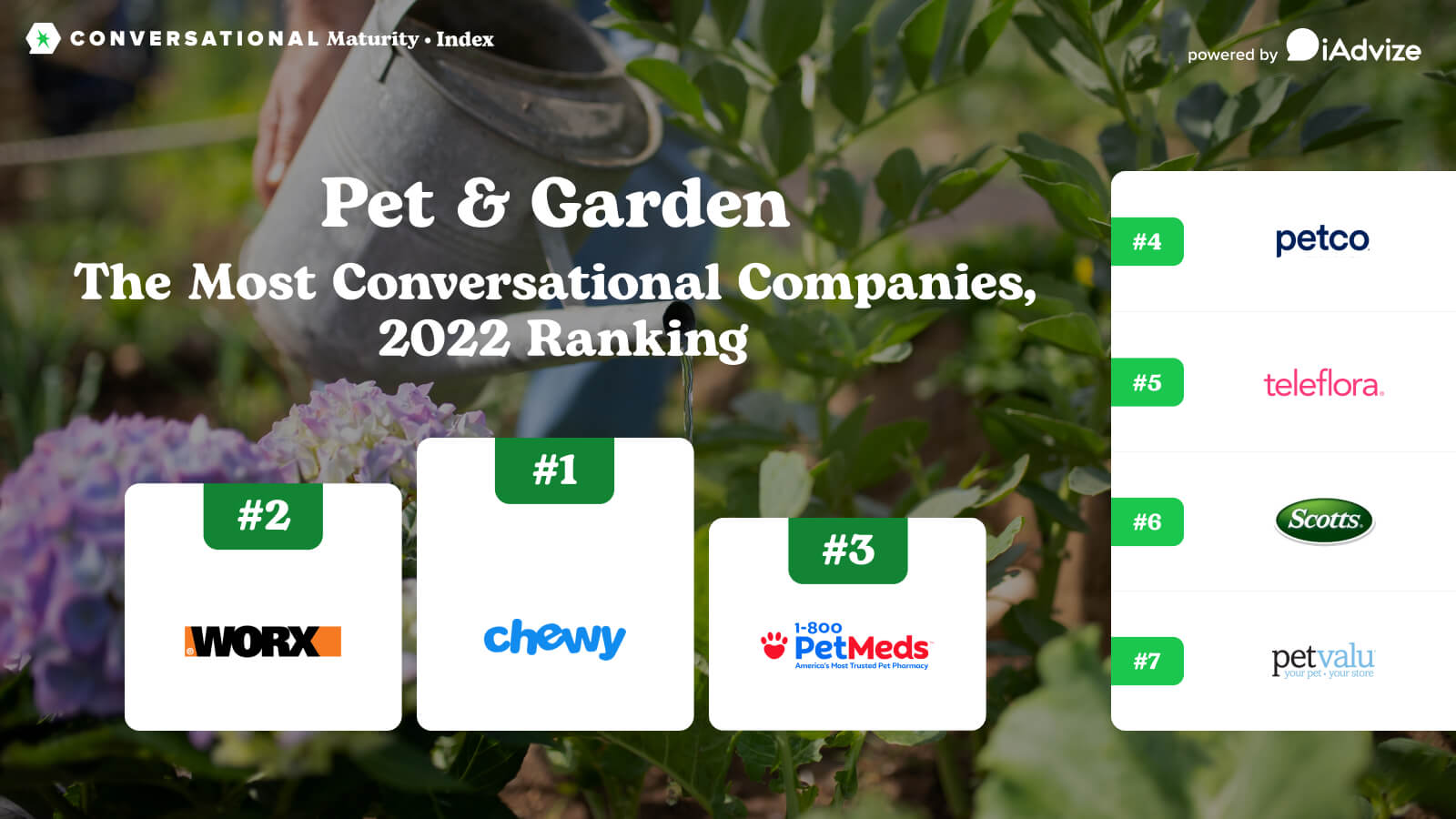 What makes an experience memorable? Is it the use of real-time expert respondents who build a connection with your customers at an emotional level? Or is it memorable because of rich, user-friendly messaging, creating a stress-free experience?
Today's shopping environment is all about experiences, personal connections, and humanity. Brands can no longer take customer loyalty for granted. They need to deliver hyper-personalized experiences for their customers in order to gain this loyalty.
According to research, eighty-four (84%) of customers want brands and retailers to treat them like a person, not a number. Companies today have to move away from generic everyday experiences. This requires creating distinct and memorable customer experiences (CX).
Becoming conversational means relating to customers on a human and emotional level. This builds trust and loyalty, creating genuine relationships between companies and customers.
The question that remains though is how do brands & retailers create a strong conversational strategy?
At iAdvize, we identified six key pillars required for a successful conversational strategy:
Based on an evaluation of each pillar, we developed a unique assessment tool, the Conversational Maturity Index (CMI). The CMI uses a rapid online chat experience assessment to generate a score that measures the conversational aptitude of a company relative to others within the same industry. In other words, we're looking at how easy and pleasant it is for customers to communicate online -- the conversational strategy.
This month, we utilized the CMI to examine the most conversational companies in the pet and garden verticals.
Pet and Garden 2022 Ranking
Our CMI research revealed that the most conversational pet and garden companies share a common method of "humanizing" relationships with their customers. They prioritize building connections with customers on an emotional level. This creates genuine relationships between customers and company representatives. Overall the pet and garden verticals were not as advanced as past CMIs like consumer electronics and sporting goods. The average CMI score was 32 which was the lowest of any industry we have measured. Using the CMI, we identified the Scalability and Omnichannel & Seamlessness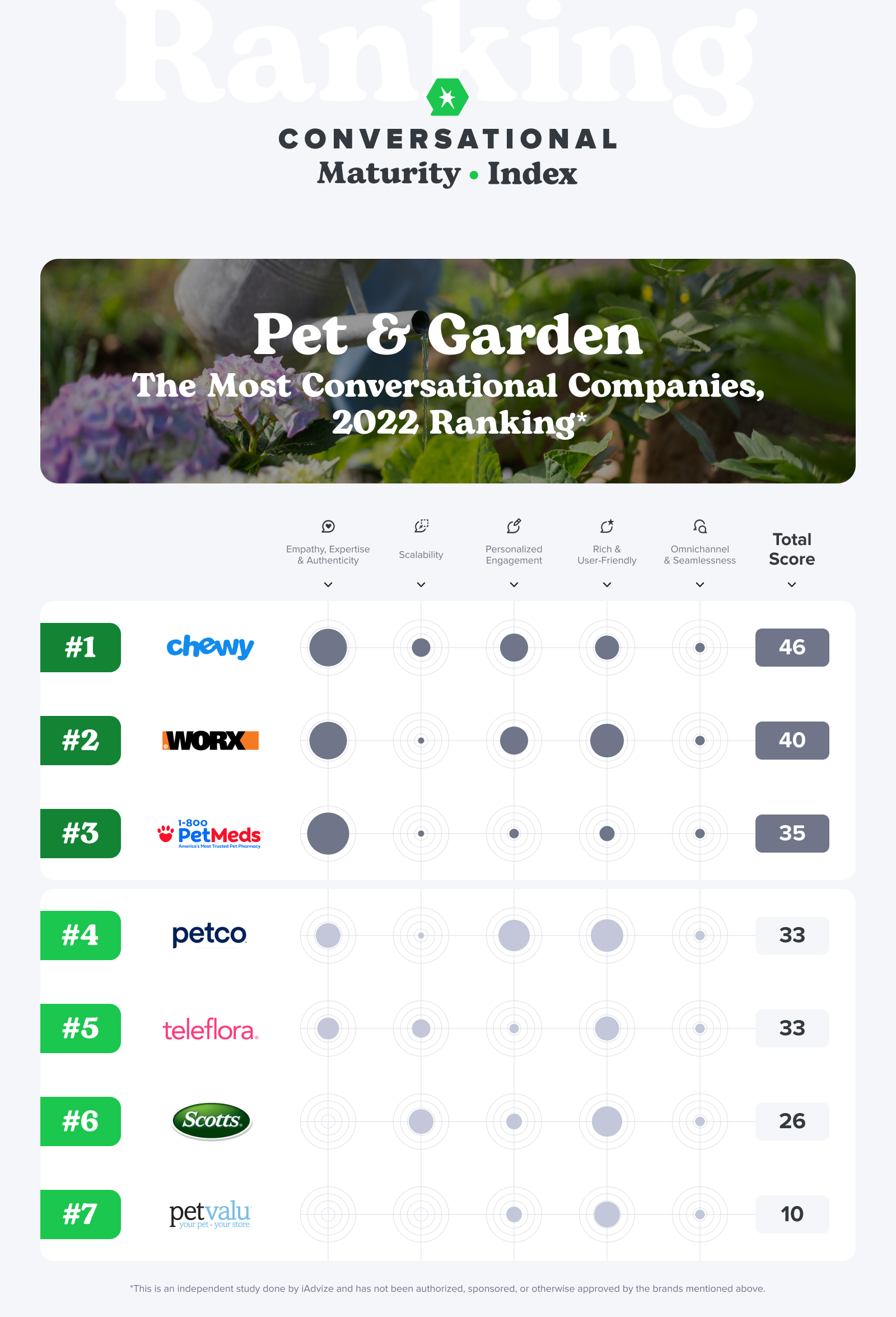 Industry Standout: Chewy Earns Number One Spot
Chewy
The chat available on Chewy's e-commerce site was the most conversational of all the pet and garden companies. The first part of the conversation begins with a brief questionnaire just asking for your name and email address. From there the chat opens in a new tab and within seconds you connect with a live expert. The experts are knowledgeable in many different sectors within the pet industry, offering multiple solutions to problems with key reasoning behind them. While most chat respondents will just send a link to a product Chewy decided to go above and beyond. The expert here saw my confusion when talking about wet versus dry foods. Instead of sending me a link on the differences, they helped me out, giving me a thorough explanation of the benefits of wet food.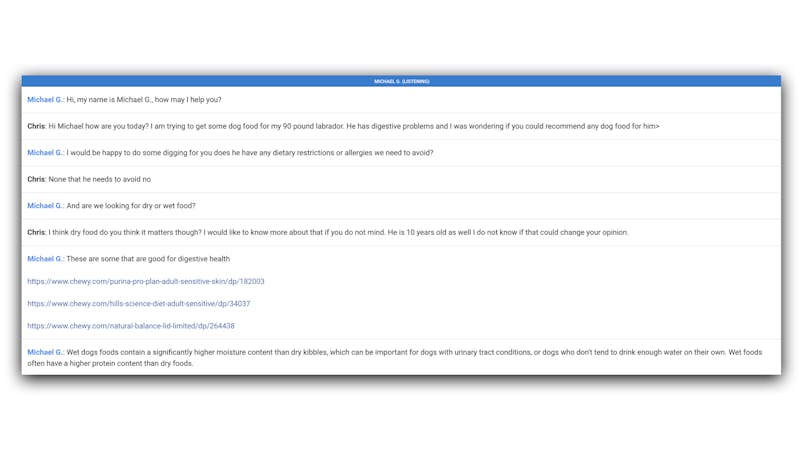 The respondents at Chewy also put in a large effort in connecting with the customer on an emotional level. They want to learn more about your pet or "furbaby" as they call it, building a bond between the shopper and the expert. They even went a step further by complementing the name of my "furbaby", Puck. Some people may find this to be too invasive, but from a loving pet owner's perspective, I found this to be a breath of fresh air. The expert is making a real effort to connect with the customer on a personal level, ensuring them that their pet is in the best hands possible. Chewy has excellent live chat experts and the ability to be available 24/7 makes it an unforgettable experience.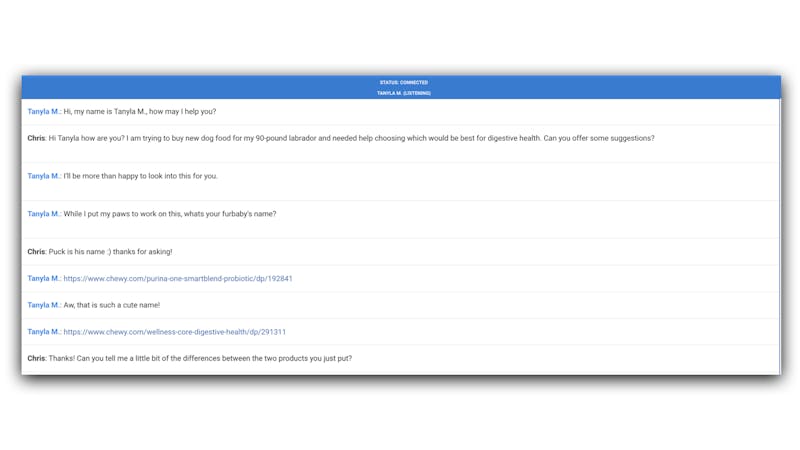 So what really drove Chewy's score on the Conversational Maturity Index? It all comes down to the first pillar – the expertise, empathy, and authenticity of their experts. Chewy recognizes the importance of that human connection over chat. They place an emphasis on the quality of their customers' conversations with their experts.
The obvious negative portion of this chat experience was the User Interface (UI) itself. The chatbox was fine, however, going to a new window is frustrating to shoppers. Shoppers today want to have the chat opened on the side while they shop, simultaneously This is an easy change and another I would argue that they could do would be to implement asynchronous messaging. This gives shoppers the ability to connect different conversations over time on the e-commerce site that they are visiting. This enables a seamless experience, giving customers one continuous conversation across their entire journey. These are both practices that are not utilized in the pet and garden verticals - and either of which would be a prudent investment for the digital transformation of their live chat.
Key Findings for Pet and Garden
Genuine Expert Advice for User-Friendly Messaging
The pillars that ranked the highest in the pet and garden verticals were Empathy, Expertise, & Authenticity, and Rich & User-Friendly Messaging. They have rich and easy-to-use messaging, providing an optimized CX across all platforms. The digital experience for both mobile and desktop is consistent in their offerings. Human respondents for both verticals offer an experience that leaves their customers feeling confident with their buying decision.
The conversation box on most of these sites represents the companies well. It reflects the look and feel of each company's identity concerning color, images, and font. Engaging with an expert is a simple process, as the chat options are easy to find and not hidden on the website. Chat respondents share personal experiences and relatable advice, connecting with customers on an emotional level.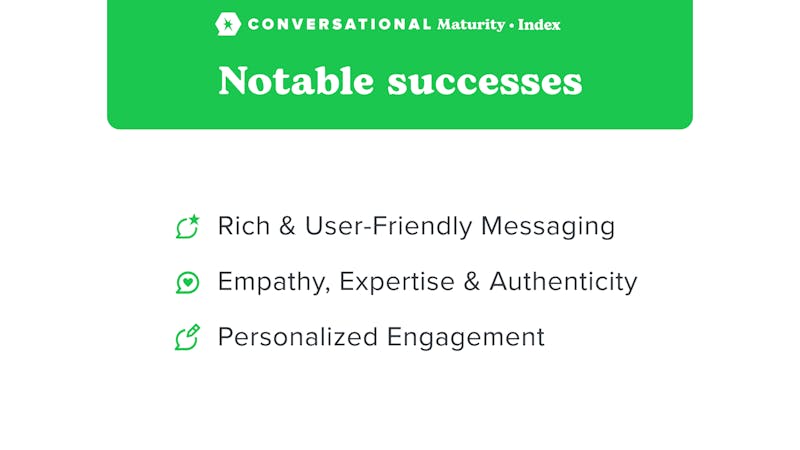 Scalable, Omnichannel Components are Areas of Weakness
The lowest scores for pet and garden companies were in the Scalability and Omnichannel & Seamlessness pillars. The pet and garden verticals have room to improve and put in place the use of asynchronous messaging. This feature is a message retention system that allows customers to start a conversation and add to it over time. This gives customers the ability to look at old expert advice in the thread without the fear of losing it.
Another component that they should address is the use of AI chatbots. Both verticals are lagging in the realm of chatbots. They could use AI chatbots to reach the highest level of conversational maturity.
There are solutions out there for these pillars that can enhance the CX for your company. Typical best practices include the following,
The option to stay connected with messaging even after leaving the site
Leaving messages for experts outside of chat hours
Finding the right mix of AI chatbots and human respondents to optimize scalability.
We are in the heart of the digital age, and always-on consumers expect 24/7 availability from their favorite brands. The mix of AI and the human touch allows companies to deliver human-centered experiences. If respondents are slow with their answers to a customer's question, then forget about a potential long-term relationship. This negative experience will stick with the customer, and instead of waiting, they will turn to another company.
Companies need to create strong bonds with their customers. They can do this by connecting with them on an emotional level, gaining their trust and loyalty. The implementation of asynchronous messaging, AI chatbots, and real-time expert respondents, gives companies the ability to perfect their scalability and provide all their customers the shopping experience they deserve. Investing in CX practices like this will help increase customer loyalty and retention.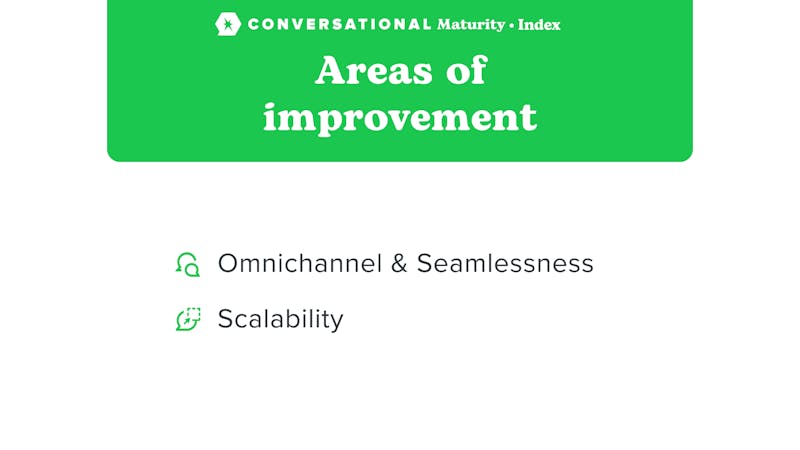 How Conversational Maturity Index Research is Conducted
This CMI is powered by insights from more than 2,000 retail brands and 10 years of experience in the Customer Experience (CX) industry. It has become essential for retail brands to provide online consumers with the kind of authentic, seamless conversational experience they have every day through messaging. The assessment helps retailers to analyze their conversational strategy and find out how they can improve to better meet customer needs.
For this seventh CMI analysis on the pet and garden verticals, we examined leaders using the CMI framework of 80 discrete-value questions based on the six pillars. We analyzed 7 of the top brands and retailers based on revenue, reputation, and market presence. We visited each website to perform assessments of conversational features using our standard question sets.
To dive deeper into conversational capabilities, we utilized available chat or messaging features on websites. We would engage with a customer-facing representative to gain information on a specific product and ask both general and specific questions to evaluate the experience.
With this information, we would then assign scores using our standard question set and calculate scores for each pillar, each brand overall, as well as industry averages.
A Framework Built on Six Pillars
The CMI examines the current experience of a brand or retailer measured against six critical pillars of an ideal CX for today's consumer. Those pillars include:
Expertise, Empathy & Authenticity
Scalability
Personalized Engagement
Rich & User-Friendly Messaging
Omnichannel & Seamlessness
Business Drive
Expertise, Empathy & Authenticity
An exceptional conversational approach can provide genuine, humanized connections between shoppers and brand representatives. There's nothing more memorable about a digital experience than when a chat respondent recognizes needs and priorities 1:1 conversations that flow easily and invoke emotion. Those interactions represent what is measured in the "Empathy, Expertise, and Authenticity" dimension.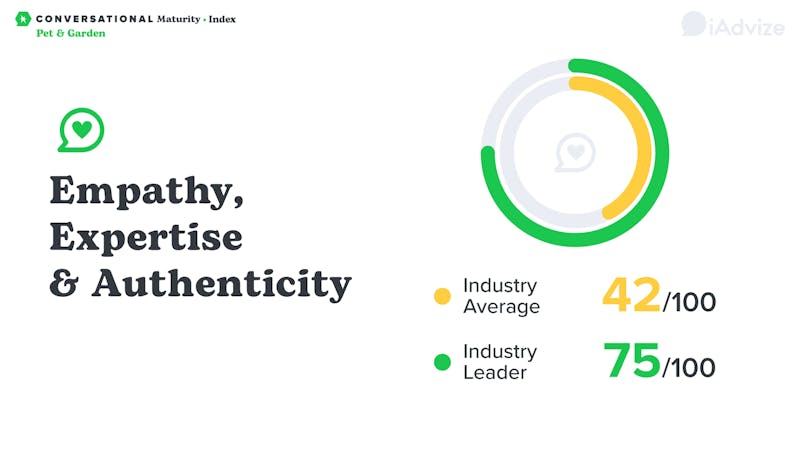 Scalability
Scalability can be challenging when it comes to delivering personalized conversations. Using chatbots to keep up with rising demands is a simple fix, but it can often lead to impersonal conversational experiences. Leading retailers use a mix of bots and humans intelligently and perform well on the "Scalability" dimension of conversational maturity.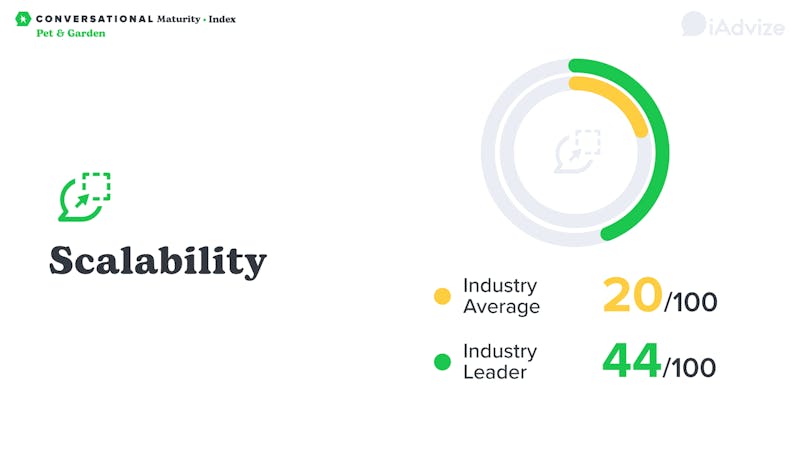 Personalized Engagement
Purchase history and browsing interest might seem like an obvious way to recommend products for customers, but these methods aren't necessarily personal. Forward-thinking retailers have human agents who foster personal connections to understand shoppers' true intents, needs, and questions while shopping online. These are the factors taken into account when looking at the "Personalized Engagement" pillar.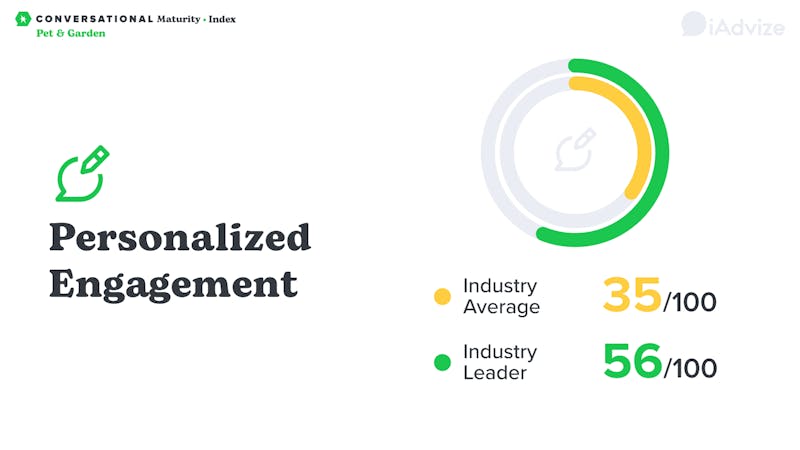 Rich & User-Friendly Messaging
In an online shopping environment, messaging should be integral to the digital experience. Ideally, messaging options should be easy to locate and use while blending seamlessly into the user interface (UI), matching the branding and being uncluttered. Messaging should also open on that same shopping page, preventing the need for customers to switch back and forth between tabs. Retailers who lead in this dimension offer a rich, engaging multimedia experience that allows consumers to even share emojis, photos, and documents.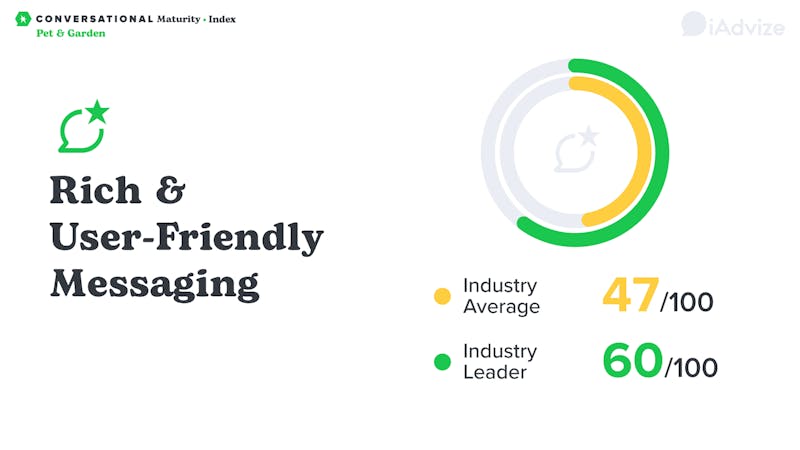 Omnichannel & Seamlessness
As online shopping becomes increasingly popular, brands and retailers need to offer support in various ways. Leaders use asynchronous messaging approaches, allowing customers to start a conversation with messaging and add to it over time. They offer the ability for shoppers to have a complete conversation or stay connected with messaging even after leaving the site. This signifies a job well done in the "Omnichannel & Seamlessness" category.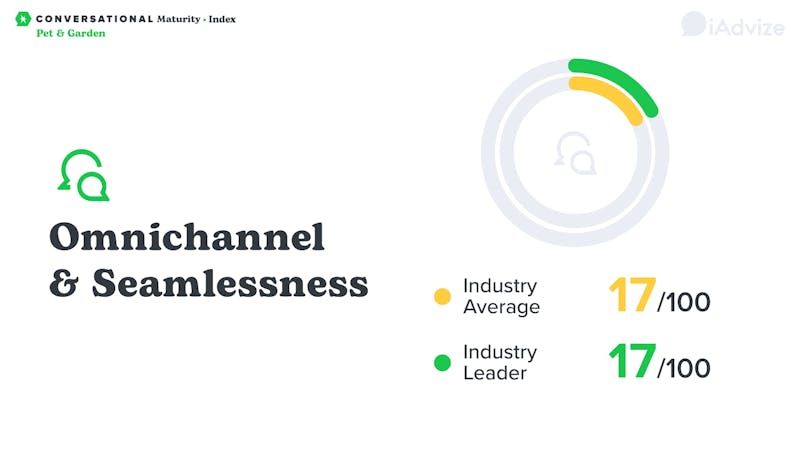 Business Drive
The first five pillars of conversational maturity are found in features and experiences delivered on a brand's external website or mobile app. Business drive, however, is the internal factor that underpins an organization's conversational efforts and thus can only be uncovered through close examination of a company's culture and values.
As the CMI grows and we engage with more companies on their CMI scores, we'll have more insights and metrics about business drive to share.
How Pet and Garden Compares
Our previous CMI assessment reviewed the spare parts and repair industry. We found that the most conversational companies in spare parts and repair excelled in offering authentic, personable experiences. This is similar in the pet and garden verticals but not to the same extent. The spare parts and repair industry has been the most conversational industry (41 CMI score average) we conducted research on thus far. On the opposite spectrum, pet and garden were the least conversational (32 CMI score average).
Both verticals scored highest in the Expertise, Empathy & Authenticity, and Rich & User-Friendly Messaging pillars. These verticals connect with their customers through emotion and empathy. This creates a memorable experience for the shopper. They genuinely care about your shopping experience, creating a stress-free environment. This then leaves the shopper feeling confident with their purchase.
Companies in both the spare parts and repair and in the pet and garden verticals scored low in the Scalability pillar. The use of conversational AI Chatbots was rare within either sector. They both were also underwhelming in the Omnichannel & Seamlessness pillar. Additionally, lack of best practices such as the use of asynchronous messaging and omnichannel chat diminishes the feeling of seamless conversations that customers are expecting.
Out of all the industries we have analyzed, pet and garden were the least conversational, averaging a score of 32, with the highest being 46. The pet and garden verticals have room for improvement in the Scalability and Omnichannel & Seamlessness pillars. These pillars if optimized correctly can help with the overall maturity of the conversational strategy, building genuine relationships with customers at scale. Other industries that we assessed include hardware, sporting goods and outdoors, and consumer electronics.
What Industry is Next?
While we still have some time left this summer, it is slowly but surely coming to a close. Soon comes the time for students to shift their focus to school again. That is why next up on our CMI assessment we plan to focus on back to school shopping.
About the iAdvize Conversational Maturity Index
Launched in March 2021, the iAdvize Conversational Maturity Index (CMI) is a resource for brands to evaluate their digital strategy and benchmark against other companies in their industries. iAdvize independently analyzes well-known companies in select industries to report on the state of conversational maturity. In addition, brands can complete an online self-survey to understand the current state of their conversational initiatives.