Adapt to the New Pace of Digital Retail--But Don't Lose Sight of Your Customers
7min read - iAdvize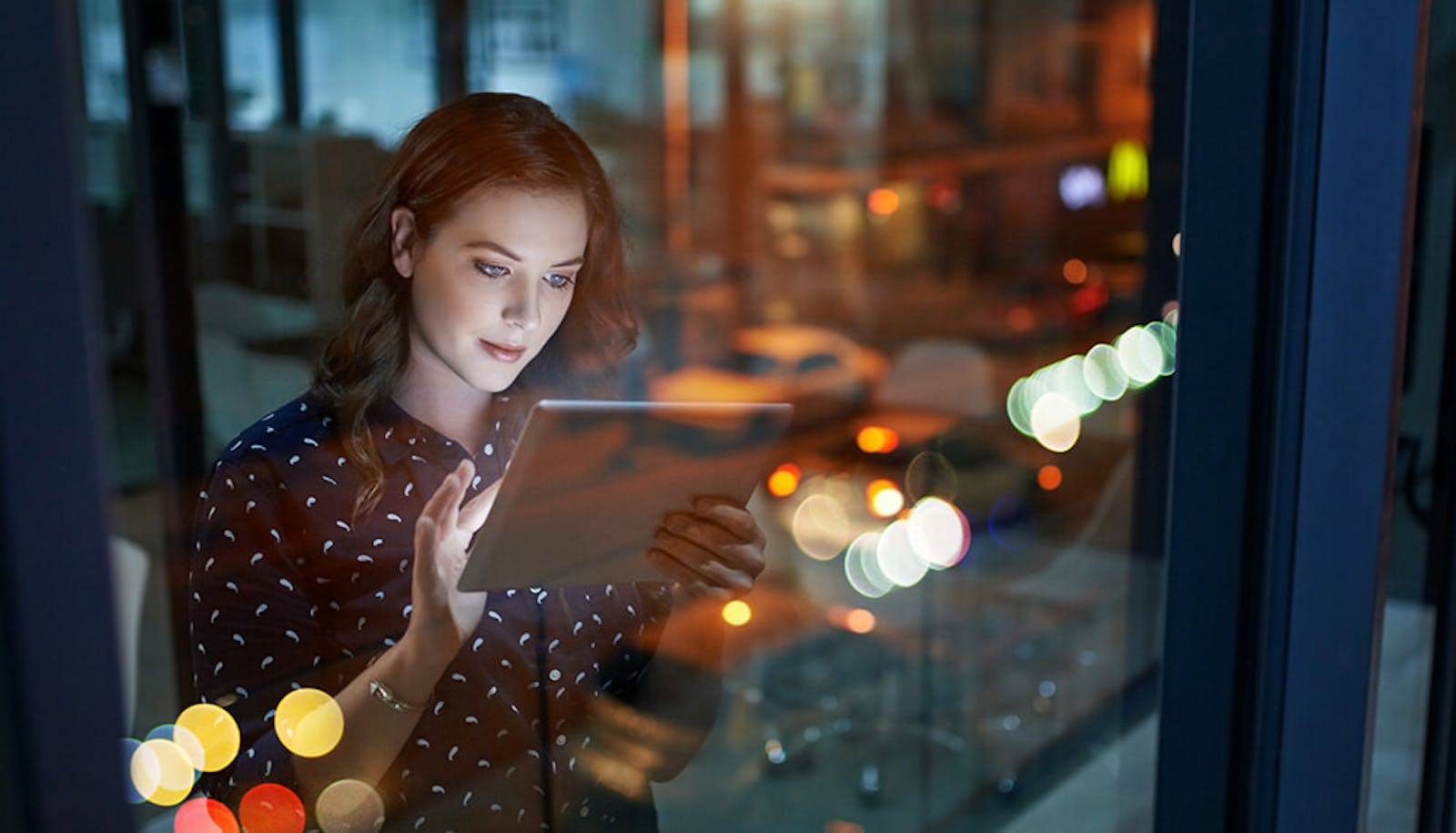 Digital retail is in fast-forward. According to a recent survey, the number of consumers reporting online purchases grew by 34.9% year-over-year.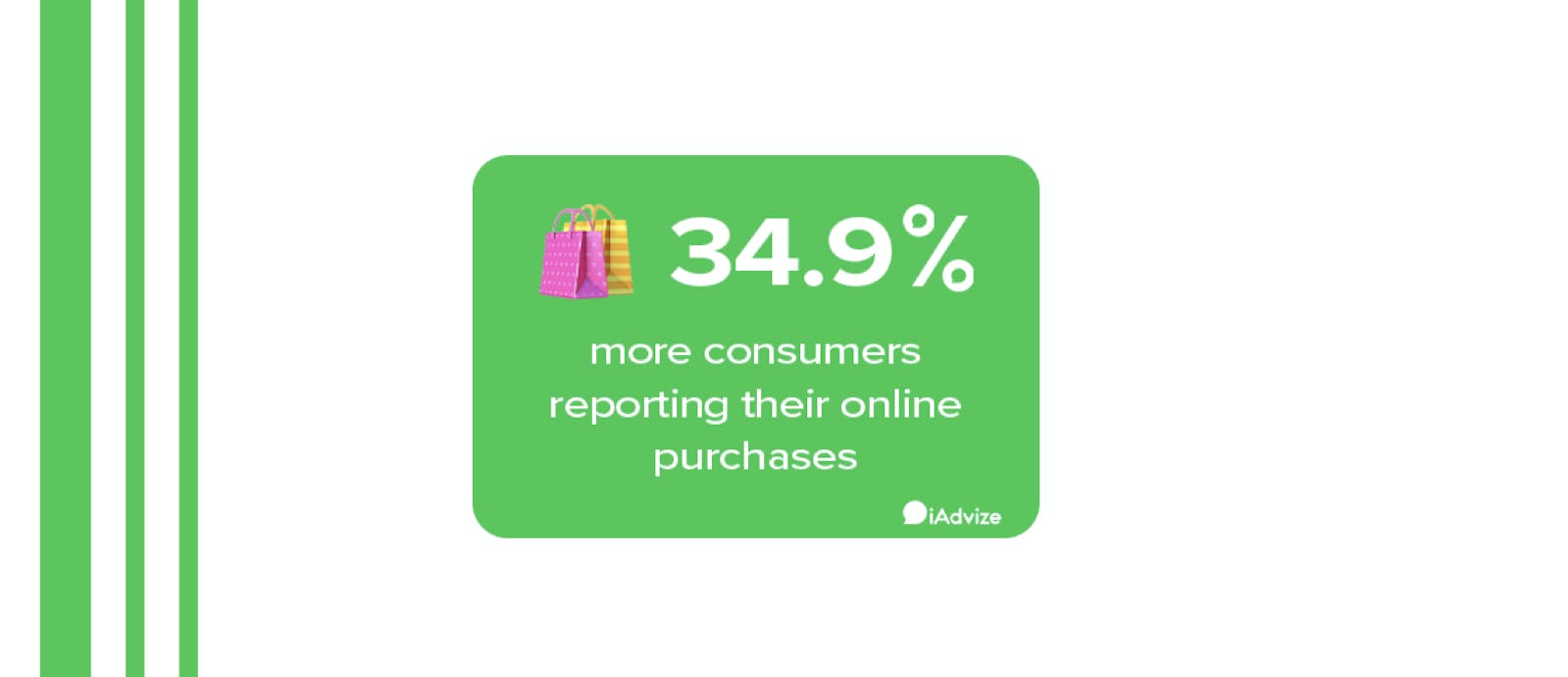 Brands have needed to adapt quickly to provide expanded purchasing, pick-up, and delivery options to customers. No doubt, some of the new practices we've adopted will influence how consumers buy and retailers sell going forward.

But one thing hasn't changed: Customers still expect positive and personalized experiences.

During these rapidly changing times, retailers should not lose sight of the importance of the customer experience (CX). Yes, operational and budget issues need our attention. But now is not the time to look inward. We need to stay centered in knowing that the human connections and relationships with customers matter.
The Time for Digital Transformation Is Here -- Ready or Not
The digital revolution in retail isn't new. We've been talking about it and reacting to it for years. But according to Forrester, many companies haven't looked at digital from the right angle. Instead, many companies have moved IT operations to the cloud and looked at digital as another channel to market.

What's the right approach, according to Forrester? You should focus on customer outcomes. Don't just think of your website as a way to sell more products to customers. Recognize that it's a tool to help customers further their goals.

With this mindset, you can ensure that your digital investments and priorities map to customers' core needs. And remember that customers are always comparing the digital experiences they have with you with other business interactions they have online. As Forrester explains:

Your customers' digital experiences with other suppliers already shape their perceptions of value. Today, your customer[s] assess the value of your services based in part on your ability to integrate into their digital world.

Consulting firm Deloitte affirms that delivering value for customers must be the focal point for digital business. Although technology is driving change, customer behaviors, and their desires for "always-on" experiences are just as influential. Deloitte encourages brands to adopt a customer success mindset that focuses on helping customers achieve their end goals.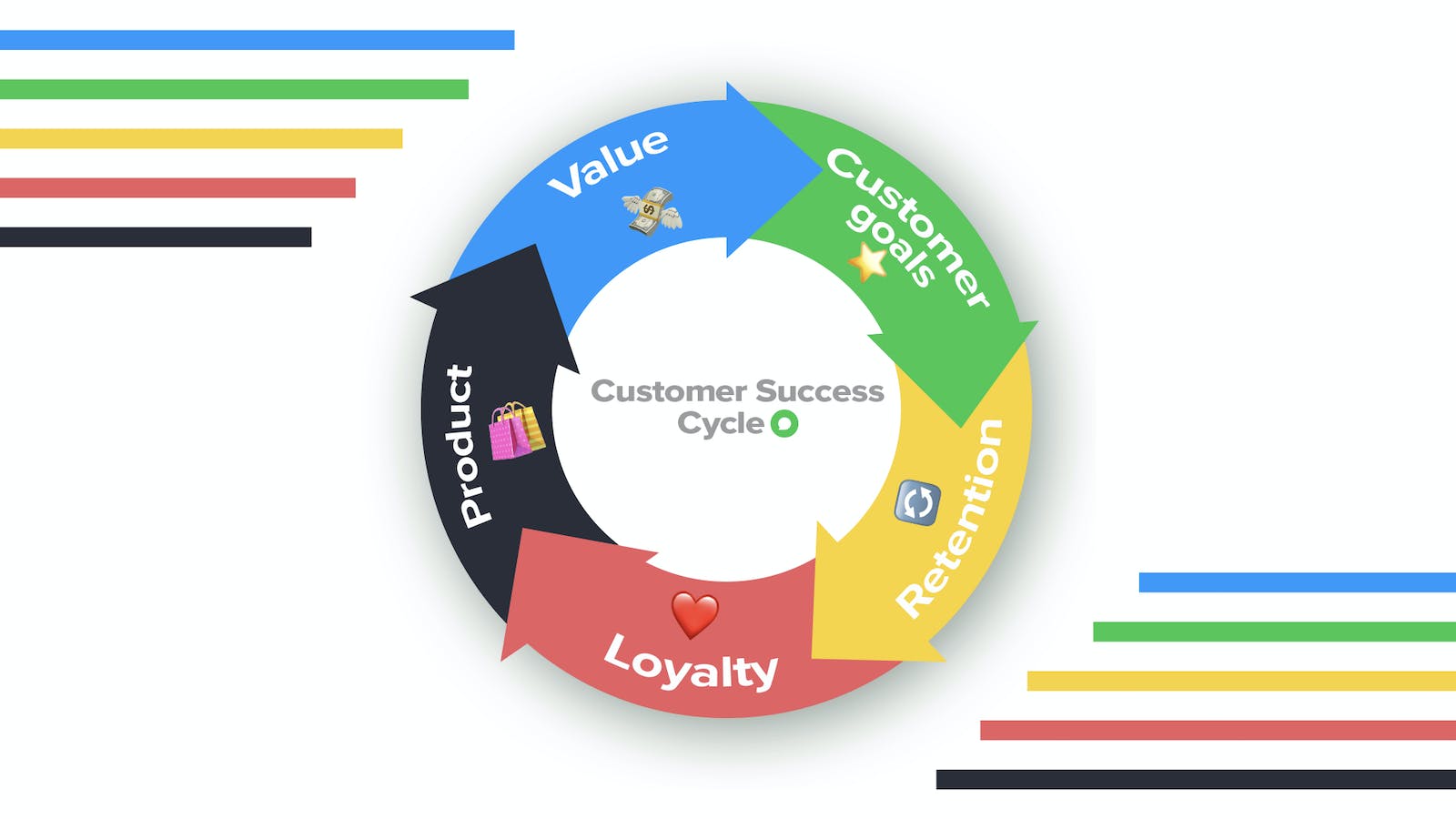 So what is the end goal for your customers? Think of it as what your customers truly hope to achieve by buying your products.

If you're a fashion retailer, your customers don't just want to add items to their closets. They may wish to express personal style and exude confidence. Or they may want comfortable, practical clothing. If you provide outdoor products, your customers may appreciate durable gear that helps them fulfill their dreams of adventure.

Every retailer's goal is to sell more products. But customers' typical goals center around making their lives better.

In digital retail, this disconnect leads to many abandoned purchases. Our research has found that fifty-five (55%) of shoppers say they don't purchase because they don't feel completely confident about it. Over half of customers desire more advice when making a complex or high-value purchase. Also, over 60% of customers don't trust that online reviews are genuine.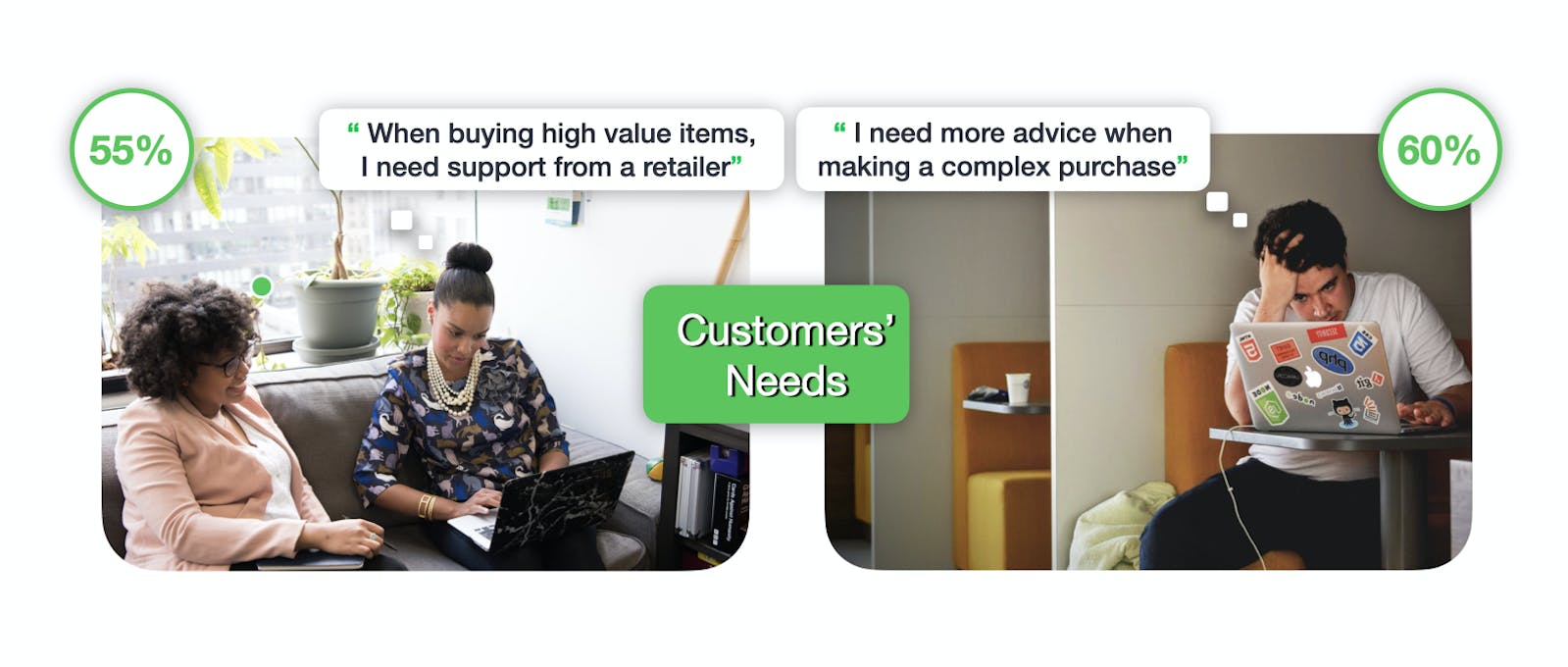 The type of advice that customers need most is human-to-human and authentic. Importantly, consumer research has found that over 70% of people believe that talking directly to brands is important. Yet, only 26% of brands say they engage in any dialogs with customers about their experiences.

What's the bottom line? As you evolve your digital approaches, put your customers' needs first. Help them achieve their end goals and let them connect with a human for personalized guidance and support. With conversation, you can understand customers, help them identify their needs, and educate them on viable product solutions.

Digital consumers will feel more confident about their purchase decisions. And they'll appreciate it when you address their needs to talk to someone during the buying process. You'll meet customers' goals--and reach your goal of selling more products as well.
Competition for Digital Customers Is Intense
Online shoppers have grown accustomed to getting what they want promptly. They have quick impressions about websites and don't linger if they can't find what they need. In fact, web usability research has shown that people form opinions about sites in just 50 milliseconds or 0.05 seconds.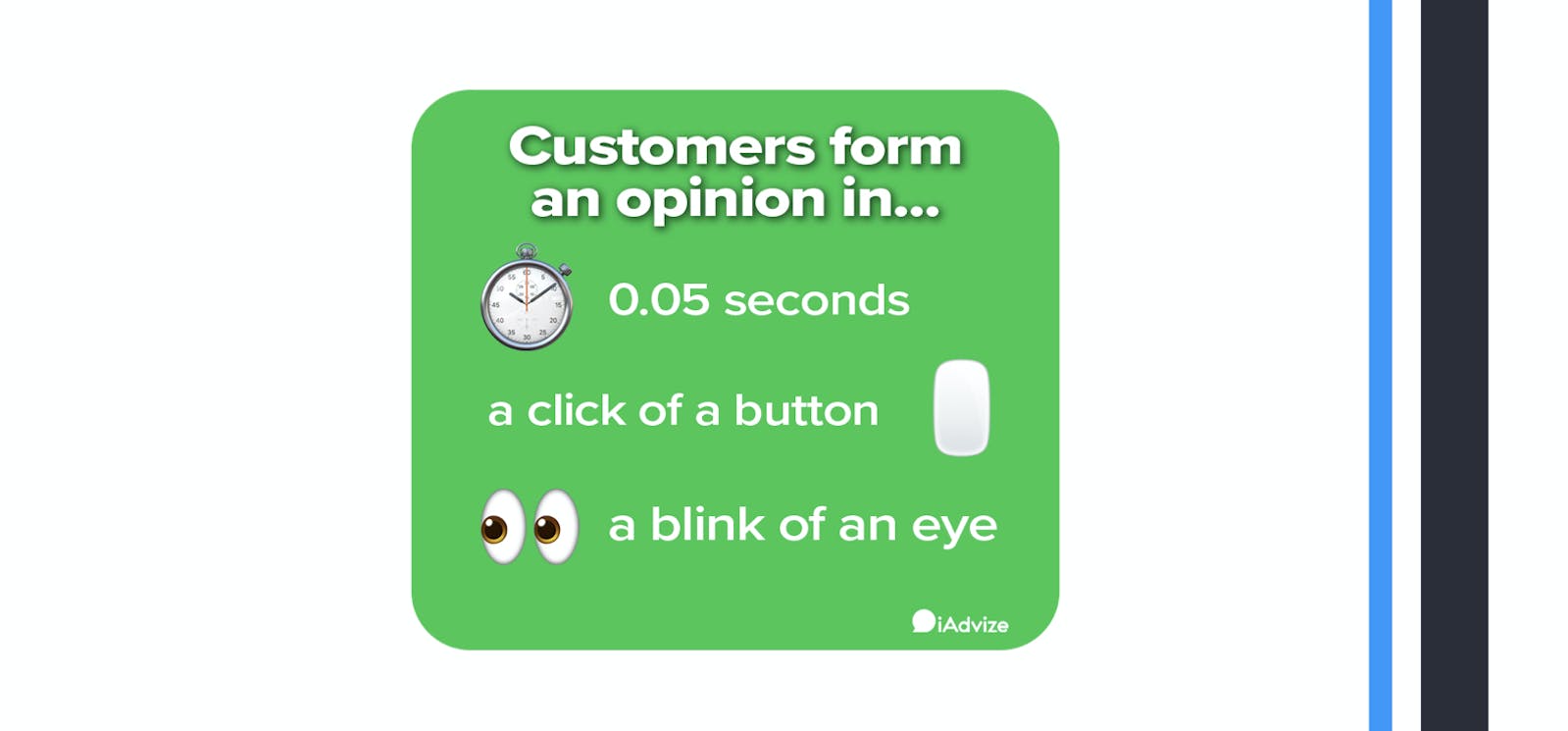 If people stay beyond that 50-millisecond mark, they want ease and convenience. Many retailers have addressed this reality by streamlining checkout processes to try to drive conversions.

But we also need to acknowledge another truth about online retail. Shoppers often visit sites to browse, not buy.

One study found that 92% of shoppers who visited a brand's website for the first time didn't intend to make a purchase. What were they doing? Comparison shopping or gathering product details.

Another notable data point: A third of shoppers who visited a site with an intent to buy didn't complete a transaction. And 98% of shoppers left a website because they couldn't find enough information on the products they were considering.

Another study provided additional insight into the barriers to purchasing online. Forty-two percent (42%) felt overwhelmed by too many choices, and 52% said they stopped buying from a site that made it too hard to choose the right product. When choice overload happens, 71% of shoppers have switched to a competitor that made it simpler to select the right product.

For retailers, there is a fine line between providing information and too much. It's a Catch-22, really. Not enough information can drive customers away, but too much can deter them from buying.

You could refine your product pages forever and never achieve the exact right level of detail for every customer. But there is a solution. The best way to ensure that customers get the perfect amount of information for their needs is to allow them to converse with brand experts. Through a conversation, a shopper can ask the questions that matter, evaluate product options, and make educated buying decisions. Conversations are also valuable for just-browsing shoppers. You can educate them on products and plant the seeds for future purchases, or cross-sell and upsell opportunities.

As more people turn to online shopping, retailers need to address shoppers' needs for speed, convenience, and personalization. Shopping online already involves an inevitable wait for deliveries to arrive. But shoppers want resources and information to make purchases the moment that they decide they're ready to click buy.

A well-timed, personal 1:1 conversation can be the deciding factor that motivates conversion. And it can also introduce shoppers to new products outside of their familiar online buying territory.
Consumer Behaviors Are Changing
According to Cap Gemini research, consumer appetite for online shopping has never been bigger--and is likely to keep growing. Although many consumers turned to digital shopping out of necessity, that preference is going to continue. Cap Gemini's study also found that people's preference for digital shopping could surpass in-store shopping very soon.

What does this mean for retailers? Here is a rundown of three significant digital retail trends to know:
#1: People Are Trying out New Digital Shopping Options
As Retail Customer Experience reports, people are trying out new digital shopping options. For example, online grocery and meal kit purchases have seen massive upticks in adoption. But the convenience of having food delivered directly to the home could inspire new purchasing habits for many people:

People who start using online food shopping and purchasing meal kits might find the convenience worth it, even once they can go back to shopping the way they did before. Further, as consumers try new shopping options and become more digitally sophisticated, those habits are likely to stick -- especially if they order several times, enjoy the experience and get used to it.
#2: BOPIS Is Seeing Significant Growth
Buy online pick up in-store (BOPIS) is also on the rise. Data from Adobe Analytics revealed that BOPIS saw a 62% year-over-year increase. In some sectors--like grocery stores and restaurants--curbside pick-up had already taken root. But today, many other retailers have embraced BOPIS. CNBC identified some big names, such as Bed, Bath & Beyond, Best Buy, Dick's Sporting Goods, Kohl's, and Nordstrom, that have added BOPIS options. Even high-end brands like Louis Vuitton are getting in the act.
#3: Shoppers Are Turning to Brand and Manufacturer Websites
Another trend of note: Nielsen has found that more customers are going directly to brand's and manufacturers' websites for products. Why? If consumers experienced shortages of essential products, they might have looked at new alternatives to get what they need. This situation led them to go to brand or manufacturer websites directly instead of transacting through intermediaries.

Brands with a strong direct-to-consumer (DTC) foundation can take advantage of this influx of visitors. In particular, Nielsen recommends that brands look at subscription options. Already, 40% of consumers worldwide had used online subscriptions, with another 36% likely to follow suit. With subscriptions, brands can help customers receive a steady supply of needed products while building loyalty and growing revenue.

Another advantage for brands is the opportunity to build direct connections and educate customers on your products. Shoppers who visit your brand website for the first time can get insight into the full breadth of your product portfolio. Through conversation, you can introduce them to newer product lines and expand their awareness of what you have to offer.
New Habits Are the New Normal
It's evident that people's buying habits are changing--and quickly. But those changes are here to stay. One study by Ernst & Young (EY) affirmed that 42% of customers believe that how they shop will fundamentally change going forward.

Trust is emerging as a big issue for shoppers, with 25% saying they'll willingly spend more with trusted brands. As a retailer, you can grow trust by providing opportunities for conversations in the online buying process. When you answer questions, give personalized buying advice, and show empathy, you can cultivate trust with digital customers. Also, if you are a trusted brand in one category, you can build trust in other categories through conversation.
The Human Element Matters in Digital Retail
We all knew that we were on the brink of a big shift in retail. But change was swifter and more disruptive than any of us could have envisioned. At first, the world felt like it had turned upside down. As a recent article in Forbes explained:

Millions of online customers changing their behavior at the same time to opt for more time saving and convenience puts a considerable strain on e-commerce and online retailers today. How they choose to react will define the future of e-commerce.

Now that we've recognized that change is here to stay, what's next? How will we define the futures of our brands?

According to anthropologist and digital analyst Brian Solis, retailers need to acknowledge the human element in online retail:

Retailers must invest in digital beyond bolting on new platforms/channels. It's an opportunity to deliver new value through native and intuitive experiences. Furthermore, it's a chance [to] get closer to the customer, in a time of need, to use digital to show them that they're more than a shopping cart or transaction, a customer ID, an email address, or a conversion percentage.

It's time to start seeing shoppers as people, not numbers. Although we may be buying more online, we still want a human touch when we need one. If we're confused about product options or delivery timelines, we want help. When we're weighing the cost of an item vs. the value it will bring to our lives, we want to reach out to someone for advice. We also want to deepen our relationships with brands we know and trust and learn more about what they have to offer.

In a physical retail location, seeking support or advice is straightforward. We simply need to find an associate. But online, it's a different story. Often, companies bury contact options or rely on chatbots as the first line of communication with customers. Chatbots are valuable for simple matters but aren't helpful for complex buying decisions.

We're bringing many strong emotions to our digital shopping experiences as well--including difficult ones, like frustration, fear, and confusion. But retailers can aim to cultivate positive feelings like appreciation, trust, and even joy.

One of the best ways to deliver a positive experience online is by offering opportunities for 1:1 conversation with customers. Some customers just need to be heard and valued. Others want detailed and personalized product advice. Bots can't support this range of encounters. Only humans can.

Adding conversation to your mix of online tools is going to bring value to customers. You'll demonstrate your commitment to seeing shoppers as people and show your human side. And that's going to win over more customers and boost your business.

Looking to learn more on keeping pace with digital transformation without losing sight of your customer needs? Follow our LinkedIn account to get all of our live-stream content, including our upcoming live-stream about D2C strategy and personalized customer engagement with OtterBox.