5 Ways to Boost Customer Satisfaction With Generative AI
5min read - iAdvize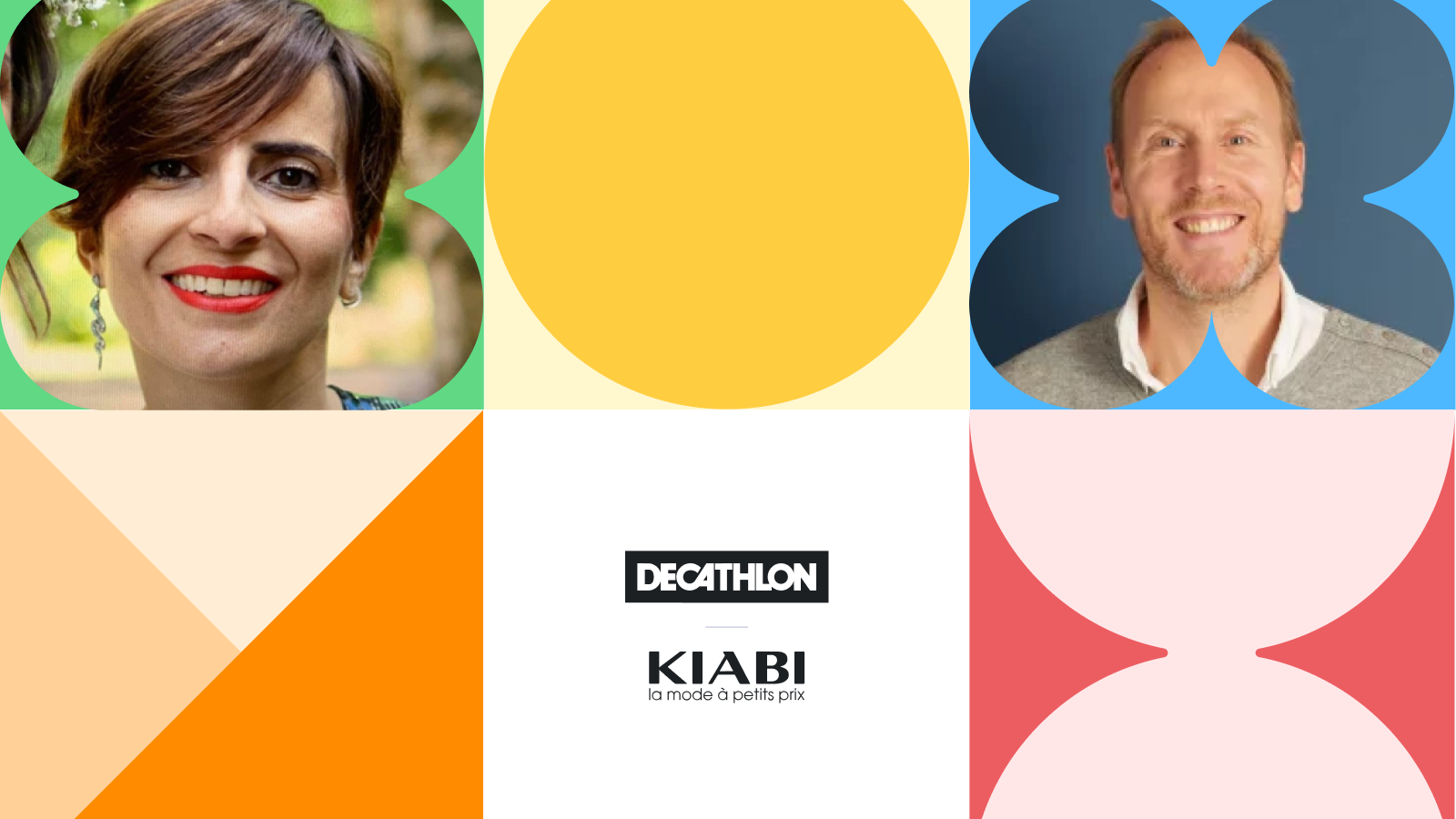 In an oversaturated, competitive e-commerce environment, brands often ask themselves: how can we enhance our online customer journey while keeping costs under control? Advances in AI technology and messaging channels offer new perspectives for customer service professionals, enabling them to enhance team productivity and improve customer satisfaction.
Leading brands such as Decathlon France and Kiabi are leveraging automation through AI and successfully implementing new communication channels, like live chat, WhatsApp, and Facebook Messenger, to offer their customers a seamless, personalized online shopping experience.
We interviewed Cécile Schelfout, Product Manager at Decathlon France, and Grégory Scalabre, Director of Customer Services and Contacts at Kiabi, on their approach to conversational channels and artificial intelligence technologies. Discover their expert insight and advice on achieving your customer satisfaction objectives and optimizing your e-commerce operations with AI.
1. Implement More Third-Party Messaging Channels
To stand out in the hyper-competitive digital landscape, brands must respond to consumers' needs and accompany them throughout their entire online customer journey. It's hard to ignore the power of third-party channels like Google's Business Messages to do just that. So, how do you successfully manage these different platforms to optimize their effectiveness?
Decathlon France has offered live chat for several years, but is now focusing on expanding its modes of contact to give customers a wider range of choices.
Either within its ecosystem (websites, applications) or outside it, the brand is looking to push the use of messaging channels beyond email and phone. The purpose? Multiply the probability of facilitating consumer contact with newer channel options. The brand is now present on WhatsApp and Facebook Messenger, and is testing Google's Business Messages, while their existing chatbot remains active on key pages of their website: contact, services, store, and certain product pages to enable customers to video chat or message with sports experts.
For Decathlon and Kiabi, the incorporation of new messaging channels doesn't mean scrapping others. Instead, it means heightening their accessibility through non-traditional channels. For Kiabi, this has bettered their customer satisfaction scores due to faster response times by their agents.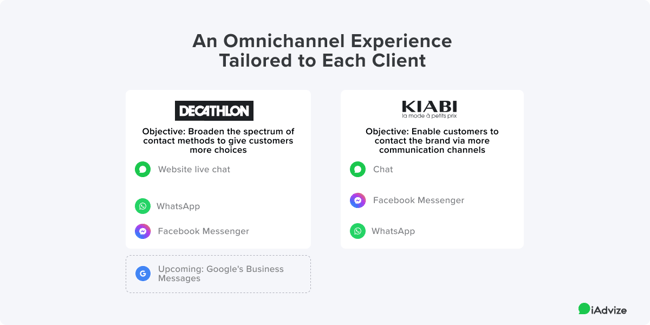 2. Leverage AI-Powered Automation to Optimize Customer Service Costs & Increase Efficiency
As AI capabilities continue rapidly advancing, so does the opportunity to improve customer experience and agent efficiency. And yet, automation remains a key issue for companies wishing to achieve their business objectives and increase their customer satisfaction.
Customer service teams can quickly get overwhelmed when faced with large surges of incoming requests. Chatbot technology has evolved to become the best solution to alleviating the volume of these queries for agents, while still providing high-quality responses.
At Decathlon, a chatbot is available on their website pages and on WhatsApp to quickly handle simple, recurring requests like:
Order tracking
Product availability (in-store, online)
Product compatibility
Technical product information
Store information
Eventually, chatbots like these will be available for use across all conversation channels, promoting better unity along the customer journey. And in addition to the time saved with automated responses, chatbots can also be used to escalate requests to the best type of respondent, an ideal scenario for a retailer like Decathlon.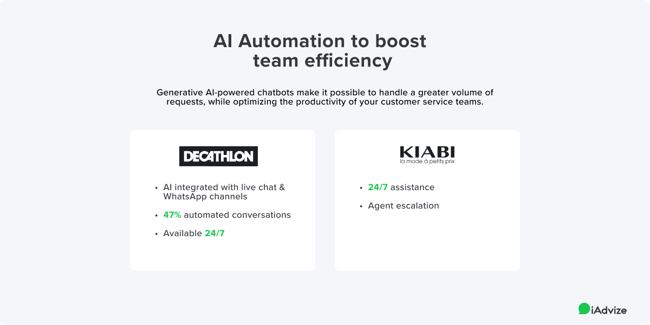 Humanized Automation
Automation has plenty of great benefits, but it's also the case that AI chatbots will encounter questions that require more nuance and empathy than they can provide on their own, meaning that they must be answered by a human respondent.
Cécile Schelfout, Product Manager at Decathlon France, believes that chatbots are best when working in tandem with humans because "they give humans superpowers." And beyond their 24/7 availability, they free up agents' time by handling a lot of the common questions they receive on a daily basis. Agents' roles are shifting to be more focused on supervision and improvement of AI-generated messages, rather than having to manually write each one themselves.
Similarly, Kiabi is now able to provide its online shoppers with an AI-powered chatbot that acts as a 'co-pilot' to help them streamline their buying journey and allow them to easily switch to talking with a human at any point.
"The goal isn't to run everything through the chatbot, but rather to offer the possibility to customers who appreciate this technology, and to provide answers when our advisors are offline."
Grégory Scalabre, Director of Customer Services and Contacts at Kiabi
3. Switch Your Customer Service From Call to Messaging
A customer service representative can handle up to six chat conversations simultaneously. The same can't be said for legacy phone calls. Giving consumers the option to switch from call to a messaging channel of their choice becomes a considerable time-saver in the long run. Top conversational brands understand this, and many are now focusing on greater call deflection by offering their customers call-to-messaging.
Decathlon decided to implement call-to-messaging after redesigning their Interactive Voice Service (IVS) strategy to meet several objectives, including:
Expanding possibilities
Facilitating contact
Promoting conversational channels
When 89% of users want to connect with companies via messaging, this new feature definitely satisfies their expectations. And even better, it enables customer service agents to boost their efficiency, and brands to reduce their call-related costs.
4. Lead Customer Service Team Adoption Efforts
How should customer service teams be managed? Should agents be assigned to only manage specific channels, or instead be multi-skilled and multi-tasking across every communication medium? How many agents are really necessary? These are some of the important questions brands need to answer in order to ensure they're delivering the best customer experience possible while optimizing their costs
"The satisfaction of our customers depends on the satisfaction and wellbeing of our employees."
Cécile Schelfout, Product Manager at Decathlon France
Team Adoption & Support
For Schelfout, the right automation tools are a small part of the equation, and are useless without human input and supervision. This is especially true in large organizations, where teams are highly eclectic in experience, age, and skills. It's essential to know how to successfully adapt to a system that supports your employees.
Greater Team Comfort
A pivot to focus on enhancing the customer experience is generally well received by customer service teams because messaging channels are much easier and more streamlined for agents to use. They offer numerous benefits, including:
Time savings
Better conversation quality
Improved customer satisfaction
In short, while a conversational transformation can seem daunting, the long-term benefits for customer service are undeniable.
5. Deploy Generative AI Bots for Customer Service Agents & Online Shoppers
The success of your customer service agents is also key to your business' success. Today's advances in generative AI can be useful tools to support agents and consumers alike. With a conversational platform, AI and natural language understanding (NLU) technologies can intervene at every stage of the customer journey, providing benefits like:
Greater consumer engagement with proactive AI targeting
Conversation facilitated by an AI-enabled chatbot
Bettering the agent experience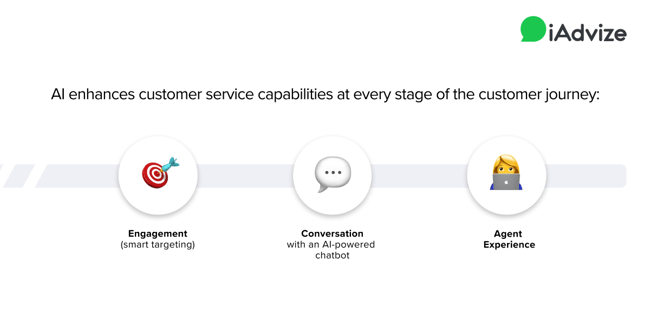 To meet the needs of their customers, companies must carefully evaluate and decide on the AI they implement, with the ultimate goal of making their generative AI accessible and reliable for both their consumers and agents who use it. This means making more tools and advancements available that'll enable AI to act as a 'co-pilot' for helping customer service teams respond to customer requests more effectively, and in turn improve their customer experience and ROI.
The Conversational Experience of Tomorrow
Advances in generative AI technology make it possible to engage customers with greater targeting and precision, offering a customer experience that's true to your brand's image and voice, and improving the agent experience.
"Be where and when the customer needs us. It feels like AI has just been discovered with ChatGPT. We need to find the right balance between automation and humans--to use automation for both the customer and employee, to empower the human, to give customers a choice."

Cécile Schelfout, Product Manager at Decathlon France

"The conversational experience has to involve people. At Kiabi, we're all for the human element, and it must remain present. Some ChatGPT results are impressive, but being a customer advisor is a profession, and the expertise and support of advisors will enable us to continue to differentiate ourselves through customer relations. What interests us in automation is the extra availability, but we want to prioritize authenticity."

Grégory Scalabre, Director of Customer Services and Contacts at Kiabi
AI automation offers numerous possibilities for boosting team performance and delivering a better customer experience. Generative AI adds a new dimension to these processes, enabling agents to become more efficient and online shoppers to gather relevant information quickly and easily. And still, humans remain the key players where AI is concerned, providing supervision and the human touch when necessary. Striking this balance between artificial and human intelligence is essential to increasing both sales and customer retention.
Discover e-commerce's best conversational platform powered by AI