5 Tips for Optimizing the ROI of Your Customer Experience
4min read - iAdvize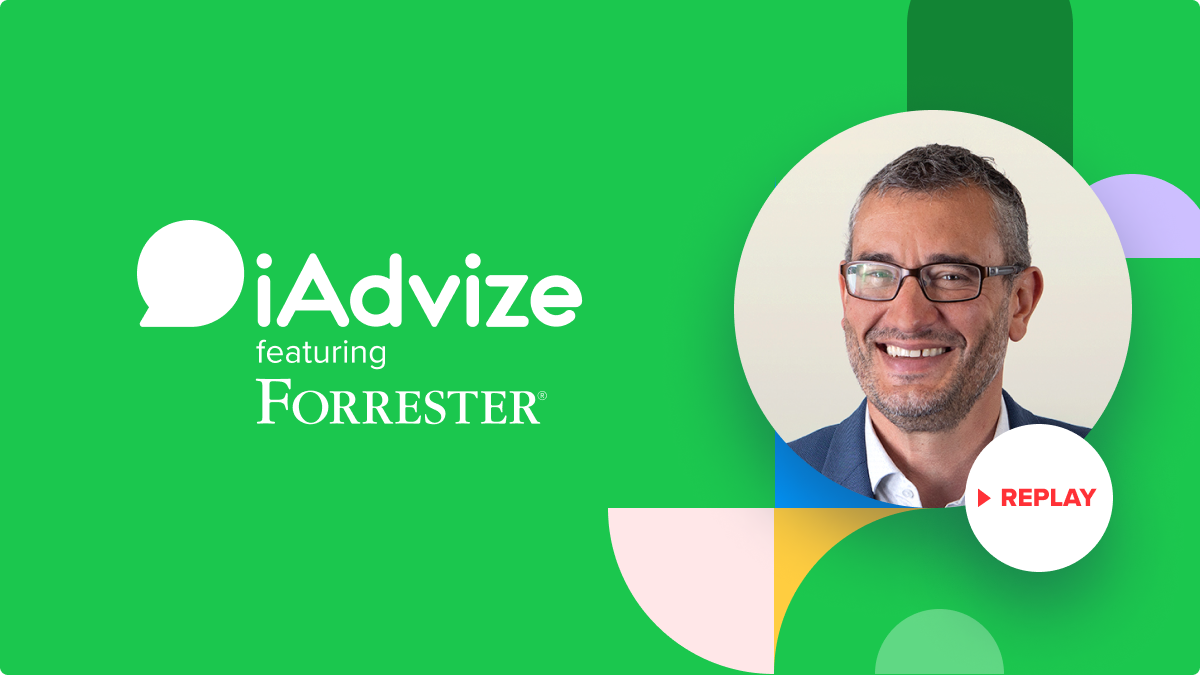 In the face of an economic downturn, how should you manage growth and optimize the ROI of the customer experience? With intense inflation and heightened competition in the digital space, decision makers are grasping for new strategies to generate revenue and reduce costs in the short term. With a conversational customer experience strategy, brands can increase their online sales and stand out in the online world.
Learn the main findings of this insight and more in our webinar featuring Forrester. Guest speaker Thomas Husson, VP & Principal Analyst at Forrester, and Melissa Magerer, Head of US Marketing at iAdvize, shared their tried and true advice on how to make your brand's investment in customer experience worthwhile.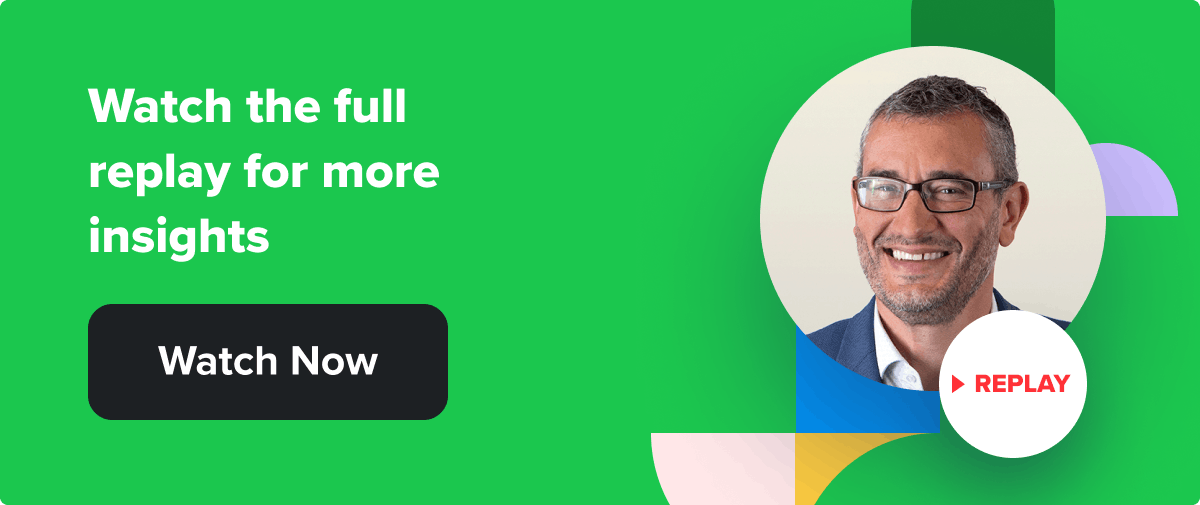 Tip #1: Take the Time to Understand Your Customers' Customer Journey
This may seem repetitive, but the starting point for any profitable customer experience strategy lies in your ability to understand your customers' preferences. An effective customer experience strategy adds value in a user-friendly way and leaves shoppers feeling satisfied at the end of the interaction. This is what ultimately determines if a consumer will keep coming back or not (i.e. what drives ROI).
Conversation is an invaluable asset for understanding consumer behavior and creating a customer journey that builds customer loyalty and advocacy. Providing conversational opportunities throughout the entire customer journey offers consumers a more personalized and intuitive experience.
A consumer's expectation for their online experience with a brand is largely subjective. As customer service becomes increasingly hybrid, brands must be ready to adapt as often as necessary to meet evolving user needs.
Tip #2: Prioritize Retention
It's difficult to know where to invest precious resources in an unstable economy. When panic sets in, companies tend to make the mistake of over-investing in acquisition and under-investing in retention. But ultimately, what determines ROI is customer loyalty. Returning customers sustain revenue growth, and subsequently lower the cost of acquisition.
The best strategy to accomplish customer retention is conversational marketing, because it strengthens brand loyalty while maximizing ROI. Consumers who have had even one positive customer experience with a brand are far more likely to return to that brand later on than ones who don't. Samsung observed this when they began to transition to a direct-to-consumer brand, which they largely did by launching their ePromoter program. By giving their online customers personalized shopping support staffed by independent, on-demand product enthusiasts, Samsung doubled its repurchase rate from customers who conversed with these product enthusiasts.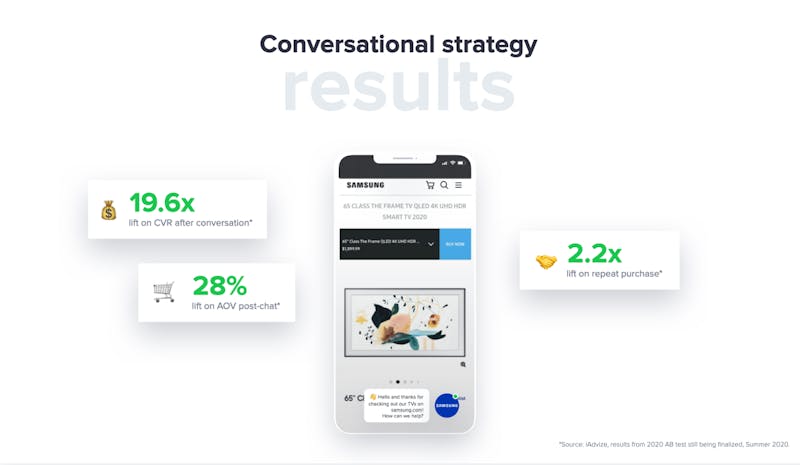 Tip #3: Be Proactive With Your Customer Relationships
Customers are much more likely to complete a purchase when they can talk it through with another person. Proactive messaging takes this a step further by triggering conversations at the moments AI identifies as important to your customers' purchasing decisions, before they're even aware of this themselves.
Major industry players, starting with Meta, agree that proactive customer service is the next big evolution, precisely because messaging is transforming the way brands communicate with their customers.

Melissa Magerer, Head of US Marketing at iAdvize
Tip #4: Find the Right Balance Between Human and AI
"This balance between human and artificial intelligence, or augmented intelligence, is key to delivering a quality and profitable customer experience. The idea we champion is that the value of a conversational strategy lies on this spectrum."
-- Melissa Magerer, Head of US Marketing at iAdvize
Artificial intelligence has become an integral part of brand-to-consumer interactions. Companies can use it to analyze their customers' behavior and build extensive customer profiles that target specific preferences. AI is a powerful tool for reducing the volume of online customer inquiries, but make sure there's a point when your shoppers are brought to other humans for purchasing and product support.
Where Should We Place the Cursor Between Human and Digital?
The human and AI balance is as simple as this:
Use

AI-powered chatbots to handle the generic

and easily automated questions you receive on your e-commerce website.
Re-route the more

complex, specific, and high-value questions to your human staff–customer service reps,

on-demand product enthusiasts, or

connected in-store salespeople–based on relevance.
Tip #5: Make Use of Third-Party Messaging Channels
We don't always take into account the consumer's need, their journey, and so we see that interaction rates with chatbots since 2018 haven't really exploded as much as messaging apps have.

Thomas Husson, VP & Principal Analyst at Forrester
Having an array of opportunities for communication is great, but if you aren't letting your consumers contact you on the channels they prefer, your conversational strategy will never truly thrive. When it comes to digital communication, brands typically make the mistake of trying to control the customer experience by limiting messaging to their websites and social platforms.
Including third-party messaging platforms in your communication channel options does require you to give up some control, but the audiences and engagement they will help you build are much more valuable in comparison. Between Q2 and Q3 of 2022, conversations over Facebook Messenger increased by 52%. Apple Messages for Business saw an even greater boost, where their conversation volume tripled over that same period.
In an increasingly competitive digital space, it's necessary for brands to extend their communication channels to as many touch points as possible–including social networks and third-party messaging apps like WhatsApp, Facebook Messenger, Apple Messages, and Google's Business Messages. Omnichannel is the new norm. What will set companies apart in the coming years is their ability to adopt omnichannel communication in an agile, seamless, easily accessible way.
The quality of your conversational strategy makes or breaks your company's growth. Learn how to differentiate your customer experience with the help of guest speaker Thomas Husson, VP & Principal Analyst at Forrester, in this on-demand replay.
Evaluate the State of Your Customer Experience
Don't know where to begin in enhancing your conversational strategy? Start by measuring your company's conversational maturity with our Conversational Maturity Index (CMI). The CMI is the result of more than 12 years of coaching the world's most innovative customer experience brands through conversational strategy development. Based on an audit using closed questions and qualitative analysis, it allows brands to score their conversational maturity and identify key customer experience issues they should be focusing on to boost ROI.
In just three months, Sideshow's conversational strategy produced impressive results:
60%

ticket reduction and

12,000 fewer

inbound tickets
+32% CSAT

for a

92% overall customer satisfaction rate
See how your company's customer experience measures up to your competitors by taking the Conversational Maturity Assessment now.