4 Powerful Truths About Customer Expectations in the Age of Digital
7min read - iAdvize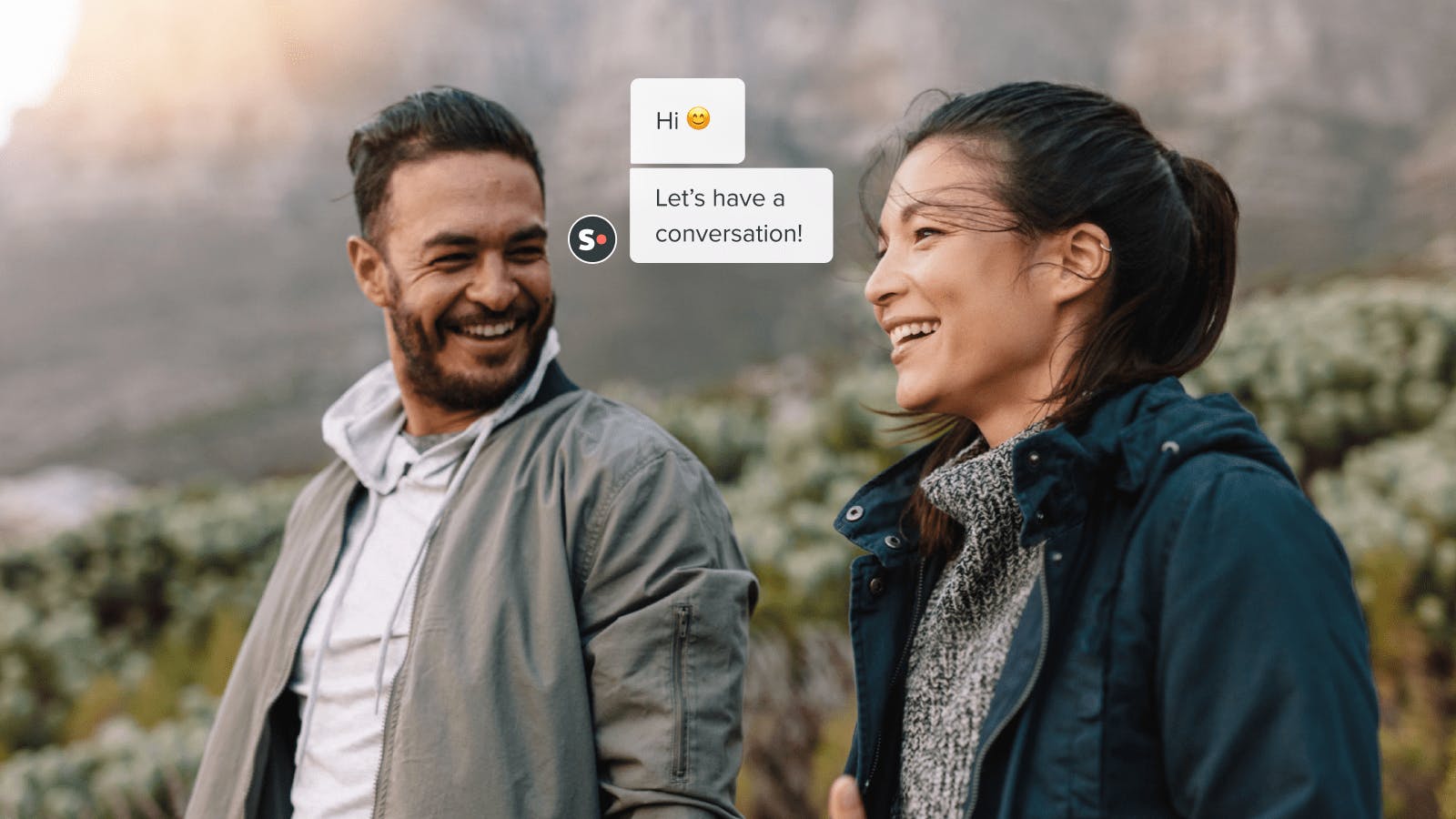 In the not-too-distant past, corporations felt like they were in control. They invested heavily in crafting just-right messages and brand images and delivering them through one-way methods, like television and print ads. Yes, they claimed to care about customers. And many did. But they took customers for granted too. Not many companies paid much mind to customer expectations for service quality or used customer insight to shape their businesses.

But consumers gained more power as they adopted new digital technologies. A few brands took notice and changed their ways, but many plodded along with business as usual.

And why not? Change is expensive and often painful. Their foundations and reputations didn't seem at risk. After all, they'd been the rock-solid, undisputed leaders for decades. A brand-centric website with basic online ordering functionality seemed like enough.

Unfortunately, the slow-movers faced an unwelcome awakening as many legacy retailers faltered. It became clear that customers no longer relied on brand name alone when making purchase decisions. Instead, consumers had a world of digital information at their fingertips and could research and buy products from any company--anywhere.

We live in a new retail reality. The long-standing idea of a linear path to purchase isn't valid in today's fast-paced environment. Instead, retailers need to embrace a new truth: Customers are in control.

When retailers accept this reality and adapt to it, we'll start to close the customer experience gap that's lingered for decades.

How can you shift your mindset? First, you need to understand the "nonstop" and "always-on" nature of your customers. We're all online, almost all the time these days. That behavior influences how we learn about brands and products, how we shop, and how we buy.

You also need to meet your customers where they are. That doesn't mean creating a website with dozens or hundreds of product pages and leaving shoppers alone. It means adding a human touch and truly personalizing every experience. And it means connecting through conversation.
Truth #1: Your Customers Are Researching and Shopping Online All the Time
Retail is a 24/7 business. And your customers are always online. They're researching potential purchases and sources at any time, every day. For brands, the way you connect with digital customers needs to change.

Accenture's nonstop customer model encapsulates these contemporary retail realities. In the past, customers' path to purchase was relatively predictable. Customers proceeded through identifiable stages: Awareness, Consideration, Evaluation, Purchase, and Use.

Thanks to digital options, today's customer journey is non-linear and continuous. Customers vary their routes to purchase and shift across channels with ease. Plus, customers expect to have control of their shopping experiences, both in-store and online.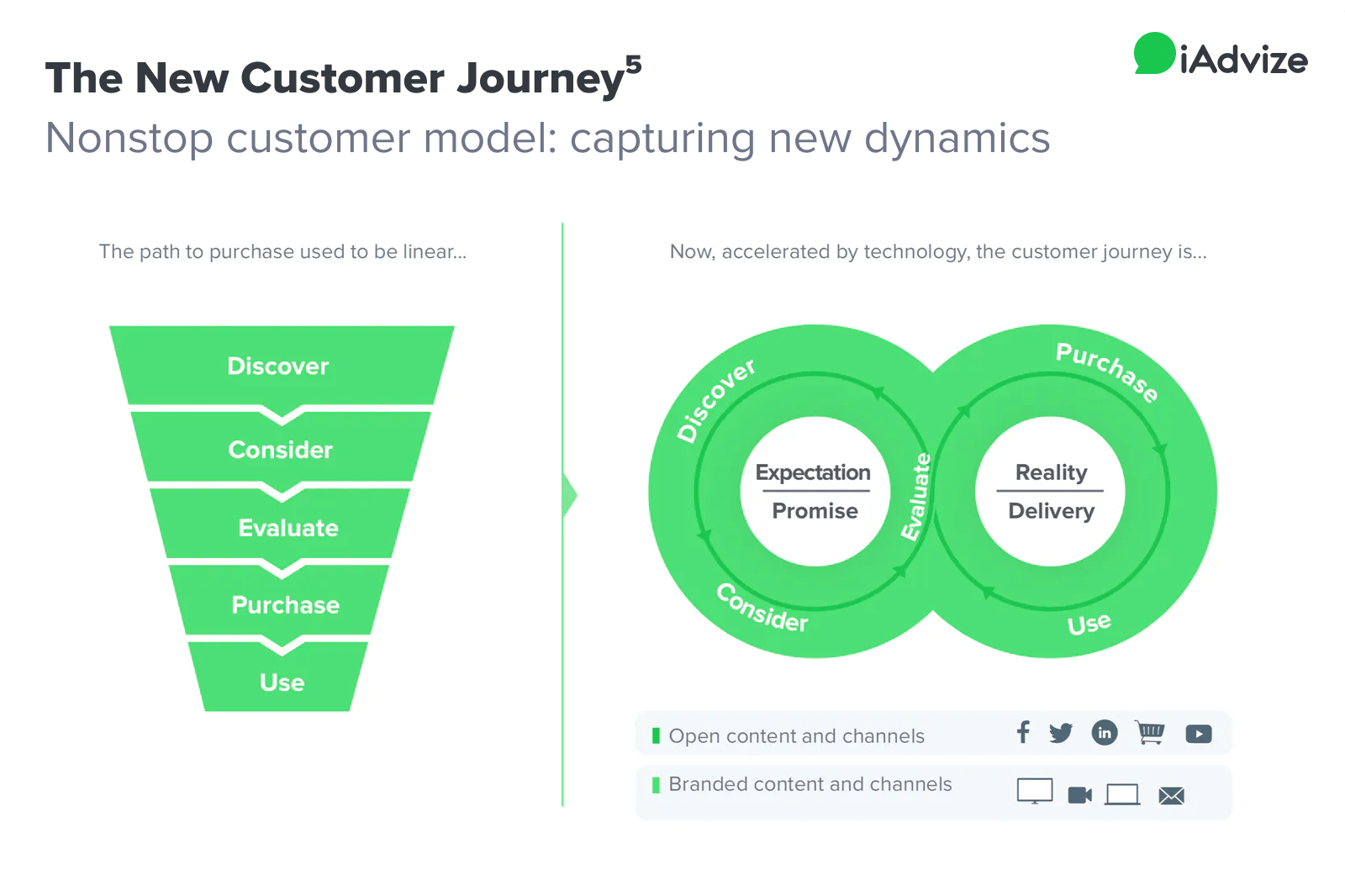 Certainly, the speed at which customers engage varies--and some customers do follow traditional paths. The brands that are excelling in the new era provide continuity across digital and offline channels to provide a singular, distinct experience for customers.

Importantly, brands need to expect that every customer is digital. Even those that rely predominantly on traditional channels are often influenced by digital information.

Accenture notes an estimated 90% of consumers have used at least one digital channel for shopping research. And the majority of customers say the brands they consider for purchase has grown substantially, thanks to the easy opportunity to conduct prospecting research online.

Underscoring this trend, research from Statista showed that half of all US in-store retail sales were digitally-influenced in 2018. That number will certainly keep rising in the 2020s: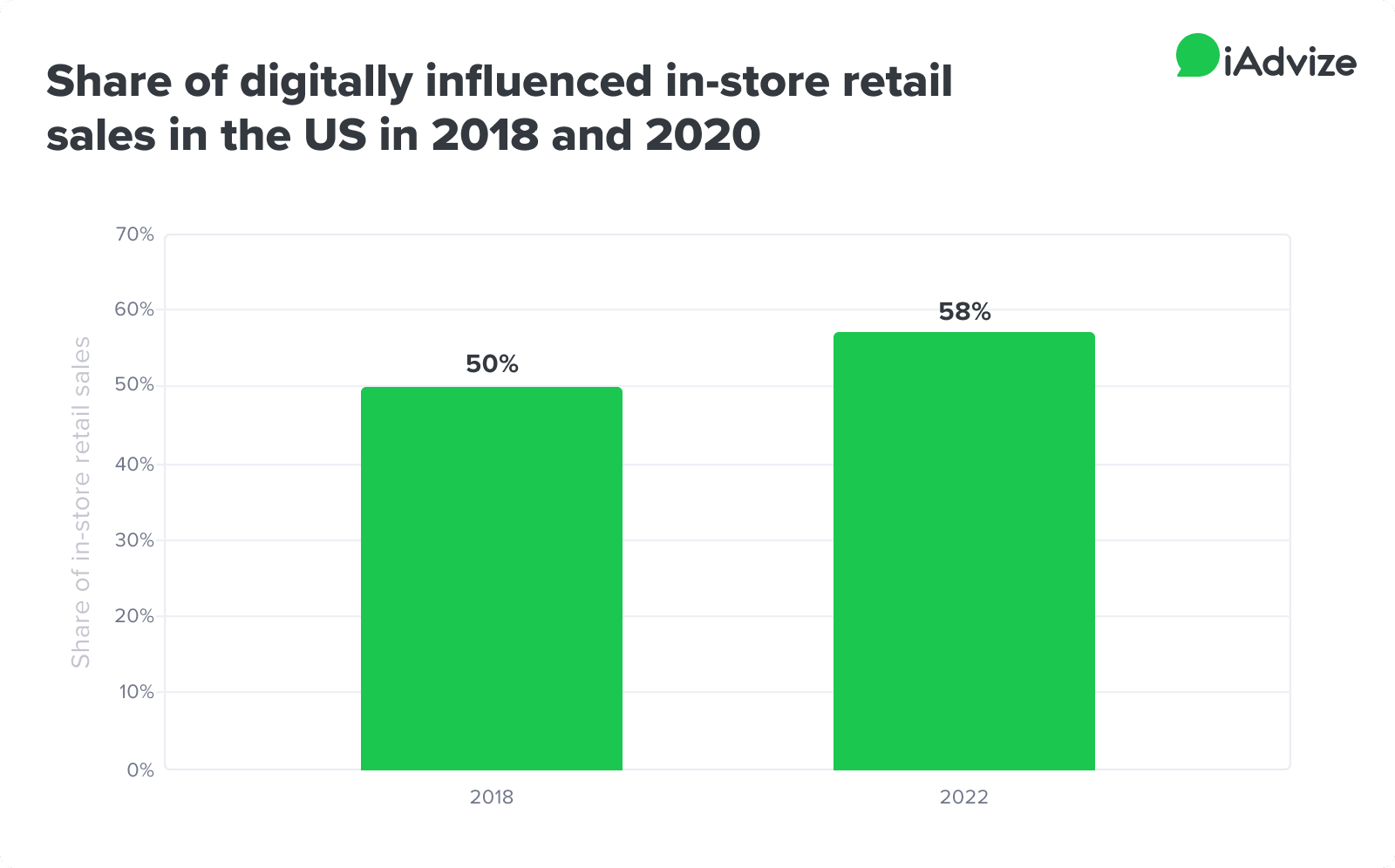 According to Accenture, digital adoption has had an adverse effect on customer loyalty. Customers have grown accustomed to getting information or service right away. If they don't, they're apt to look at new buying sources.

If customers encounter poor service, most will switch providers without hesitation. Also, many consumers engage in partial switching--in which they add new brands to their consideration set.

How can retailers address this reality? Brands must collect insight and engage with shoppers when on the website browsing--not after they leave. That way, brands open the door to the rich, personalized experiences that will impress customers and deliver them in real-time.

Another important Accenture finding: More than half of shoppers rely on others' opinions and experiences when making buying decisions.

So, taken together, what do all these trends mean for retailers? As Accenture says:

Striving for targeted digital experiences not simply scale. Companies need to stop chasing scale and, instead, work to improve how they interact with customers.
Truth #2: Mobile Use Creates "Always-On" Customers
Today, we all use our mobile devices constantly. Shopping on our smartphones offers us speed and convenience--and that's pushed retailers to accelerate.

Just how widespread is mobile use? Recent research reveals almost 70% of web traffic happens via a mobile device. Also, a study from BrightEdge finds that more than half of shoppers use mobile phones to find new brands and products. And 69% of shoppers say they're likely to buy via mobile if retailers are able to quickly address their questions or concerns

With mobile devices at our fingertips, we can all research and shop 24/7. And even if we're not shopping, we're likely to be online. Data from Pew Research shows that 28% of all US adults are online almost constantly, with over 80% online at least daily: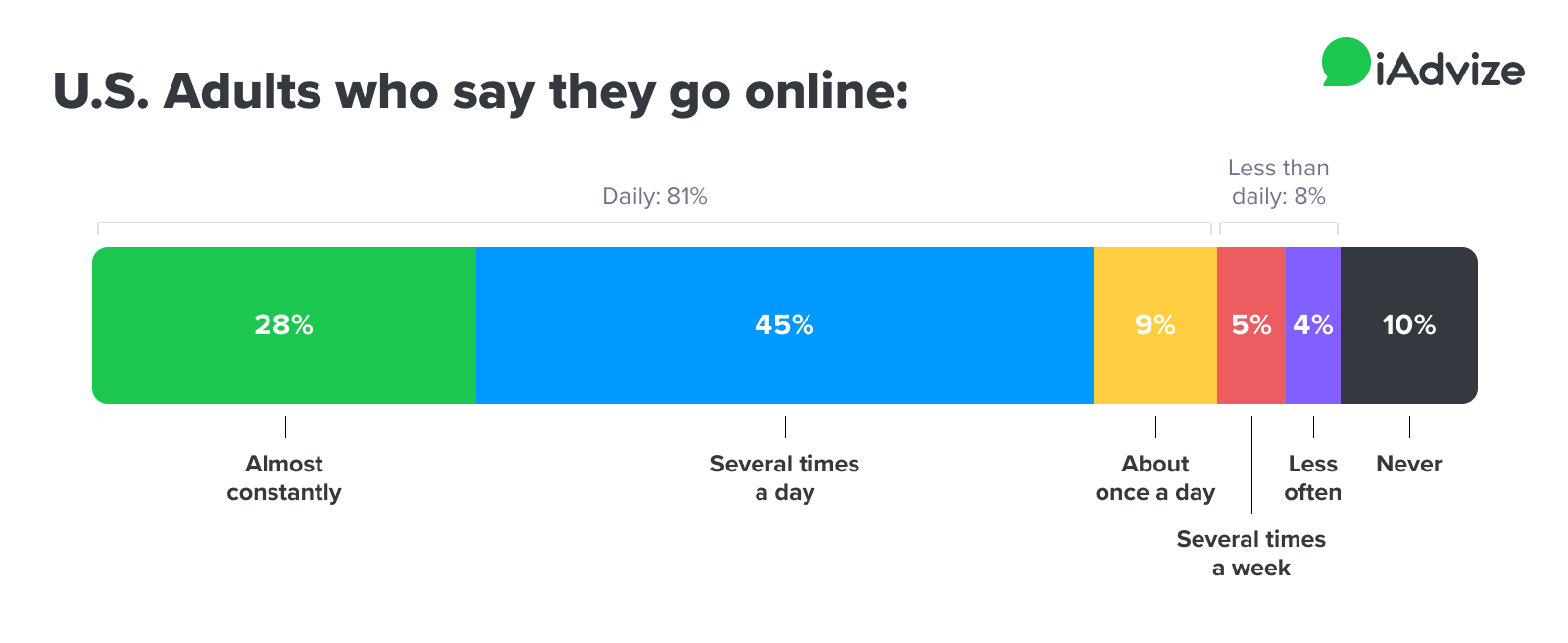 The amount of online time is only going to rise in the coming years. Why? Nearly half (48%) of people between the ages of 18 and 29 say they are online "almost constantly:"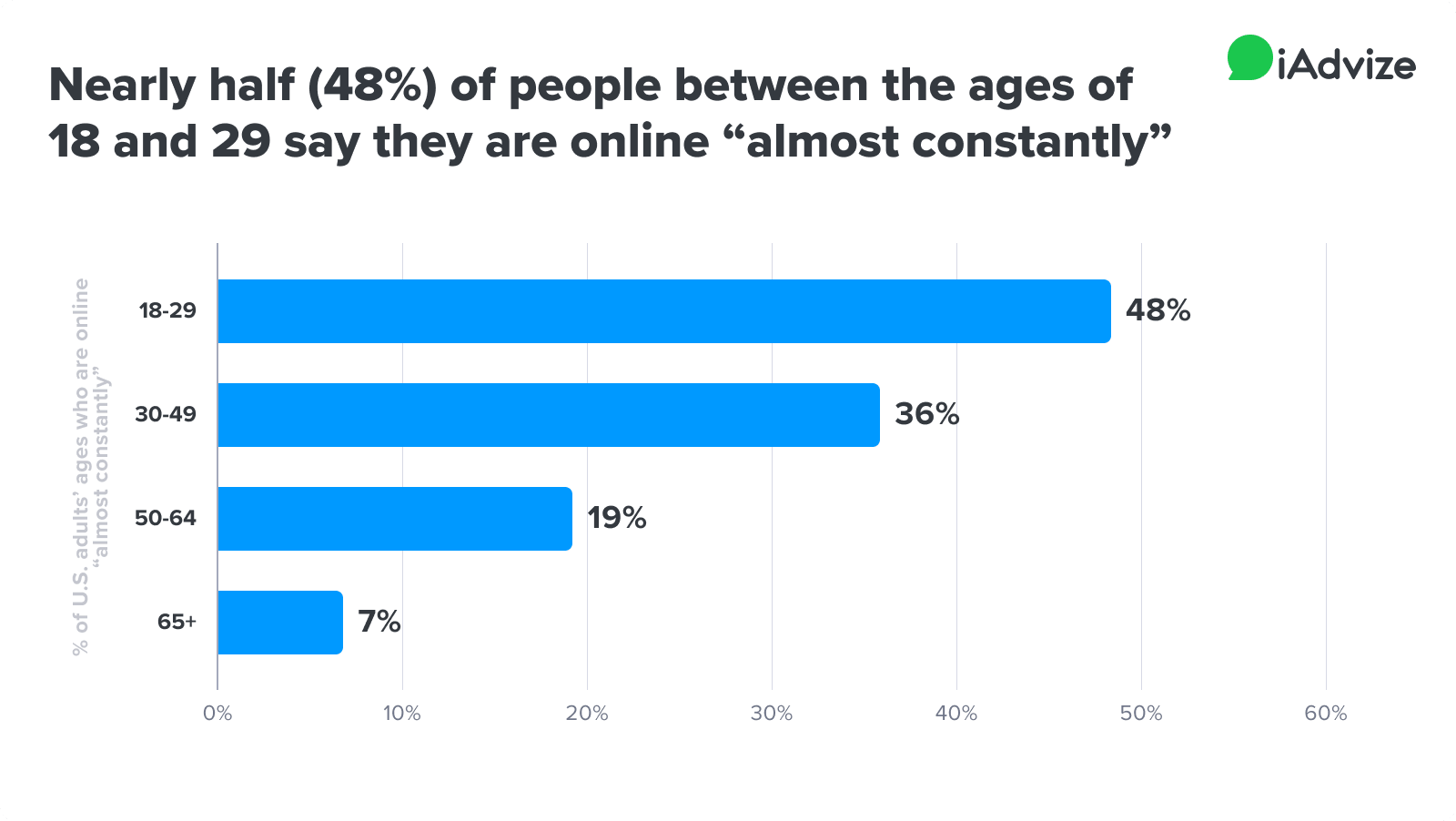 According to PricewaterhouseCoopers (PwC), trends like these exemplify the behaviors of today's "always-on customers." PwC asserts that brands must adapt to this new normal--which means changing how they relate to customers:

The next few years will see CEOs leading their organizations toward a new kind of interaction with customers, one that shifts the focus away from stand-alone transactions to a more sustainable "always on" relationship with customers.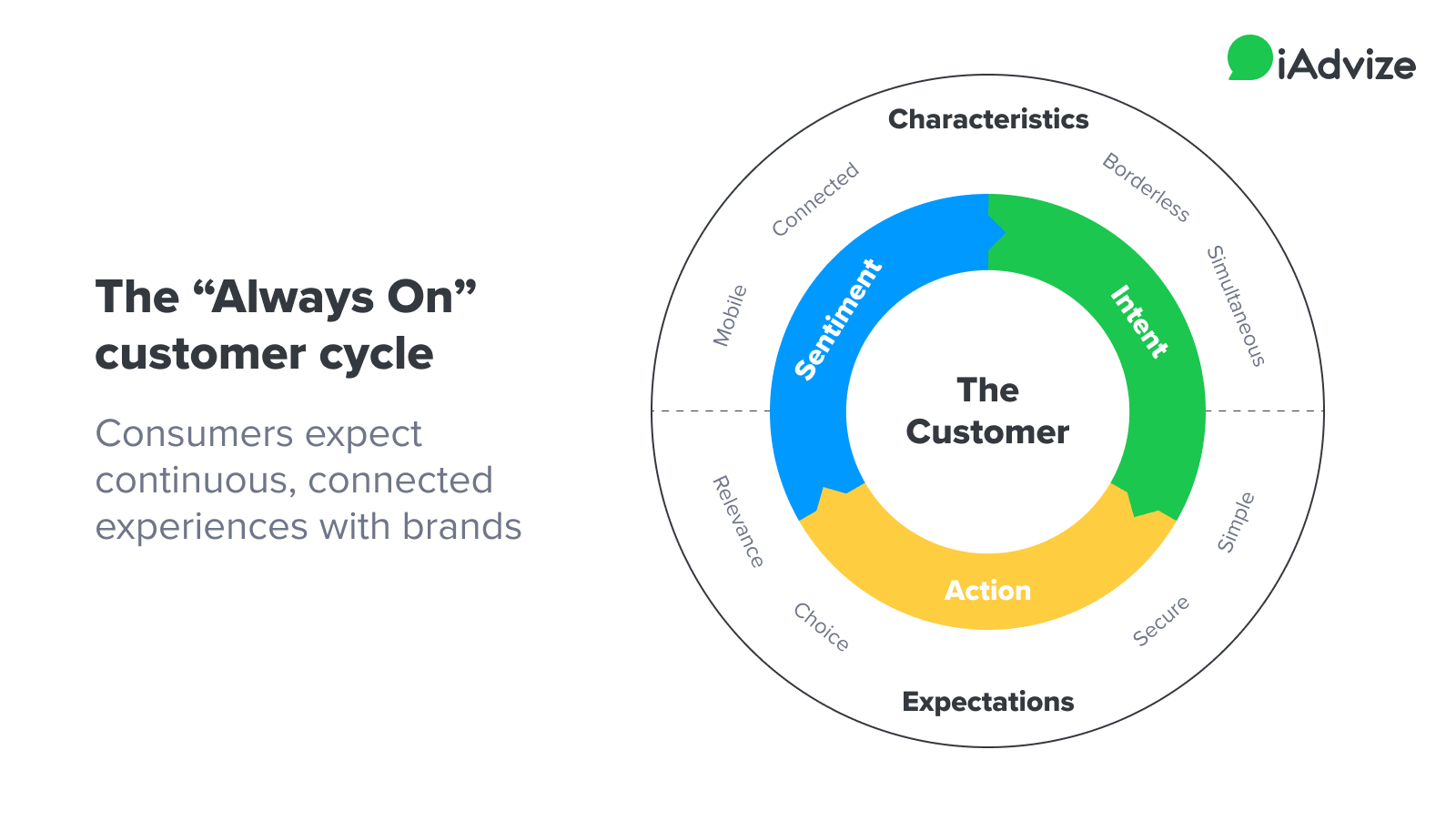 PwC affirms consumers no longer interact with brands in a linear and isolated fashion. Instead, customers expect connected experiences delivered in real-time. Customers also expect abundant choices, simplicity, relevance, and security. Also, customers expect you to know and remember them--and deliver highly-personalized, relevant experiences.

What does this mean? Your brands must embrace the reality you don't own how customers learn about or engage with your brand. Instead, PWC notes:

Today, customers interact with companies as a network of people, conversations and technologies across and adjacent to your enterprise.

Customers want consistent brand experiences--across physical and digital channels--24/7. For retailers, this means elevating customer centricity and diligently working to deliver on brand promises.

According to PwC, brands need to strive to understand customers and use this awareness to shape experiences. Companies need to listen and engage throughout the customer journey. Interaction is important, but it must be genuine. Today, customers expect honesty and transparency, along with personalized attention to their specific needs.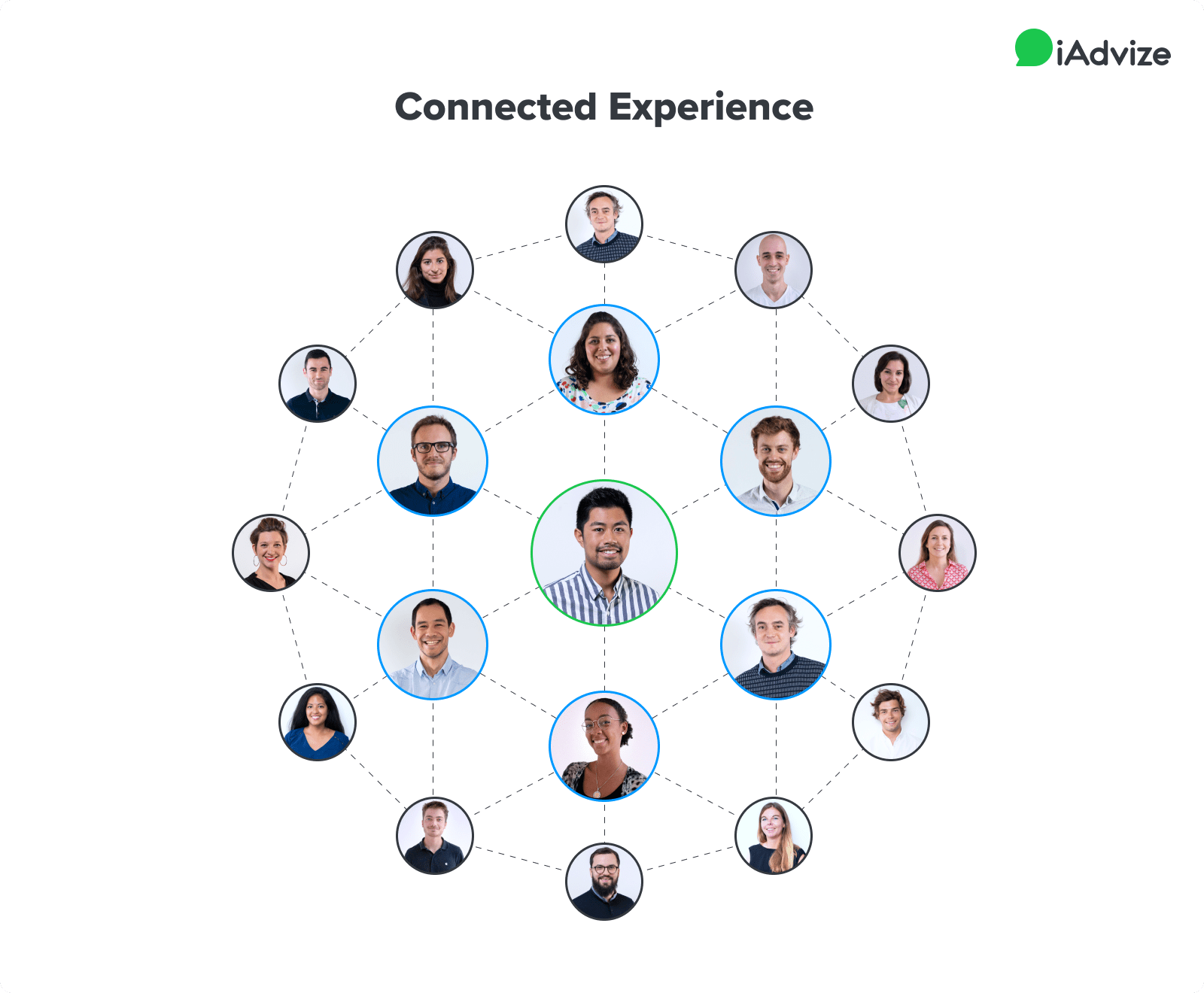 Truth #3: Retailers Must Rethink Customer Interactions in the Age of Digital
It's clear that today's customers are in the driver's seat. And retailers must let customers take the lead.

What should you do? First, embrace the truth that every customer is a digital customer. And evolve your digital presence to meet customers' desires for experience and human connection.

Instead of viewing your website as a tool to mass market to your audiences, you should evolve it into a space to build relationships. The old days of one-to-many marketing are behind us. And personalization techniques that aren't truly personal--like "buy it again" offers--don't help you grow relationships with customers. Today, you can analyze shopper behaviors in real-time and present relevant content and offers to guide them towards conversion.

Our research has found that it's not technology and information that makes an impression on digital customers--it's a human, personal touch. Technology is a powerful enabler, but personal connections matter:

Despite the knowledge bases and self-care tools made available to them, consumers still expect contact that is authentic and has a personal touch. The challenge for brands lies in using new technologies in a pertinent way, as a means of transforming customer experience rather than as an end in itself. Nothing beats a conversation with a professional adviser or a brand expert to obtain targeted and high quality advice; at the same time, the information can be personalized and contextualized through analytical tools.

Responsiveness is imperative. Over 80% of customers agree that immediate attention to sales-related queries is very important, according to Hubspot. What's immediate in the mind of today's customers? Ten minutes or less:

Improving interaction means connecting one-on-one to help understand customers' wants, needs, feelings, and concerns. You need to recognize that blasting one-way messages and offering promotions aren't going to nudge people down your funnel. Instead, focus on meeting your digital customers where they are in their shopping journey--at the moments they need you most.

Conversational technologies are the must-have tools retailers need to meet today's dynamic and savvy customers. With a conversation platform, you can connect 1:1 with each customer--and deliver this responsiveness at scale.

You can also tap into the passion of your loyal customers by engaging them as on-demand brand enthusiasts. Through this approach you can build out an expert network without adding to your customer support headcount.

With conversation, you can reach digital customers personally earlier in their relationship with you--and sustain the connection throughout the customer lifecycle. As a Harvard Business Review points out, we need to look at the customer journey through a new lens--as a continuous loop or a "virtuous circle." And we need to be present for our customers at each step of the way.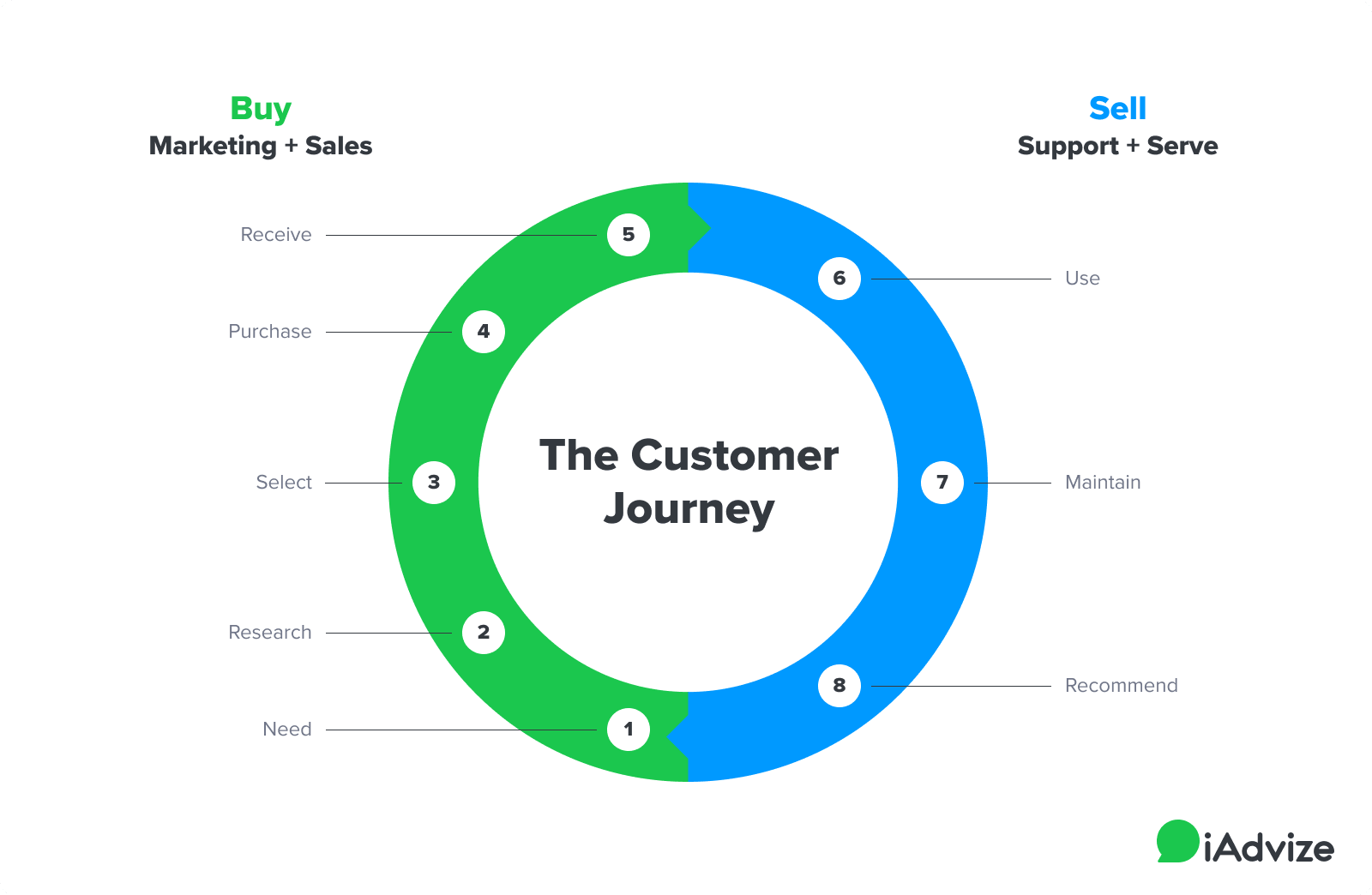 Truth #4: You Can Create a Virtuous Circle of Customer Experience
The last decade seemed to bring an overflow of bad news about the retail space. True, times were tough for some brands. But many retailers stayed strong and are finding themselves on the precipice of a new adventure.

We've all heard the bad news. It's likely kept us up at night at times. But let's all focus-together--on the positive potential that lies ahead. Instead of vicious cycles and downward spirals, let's know that we can create a cascade of meaningful change.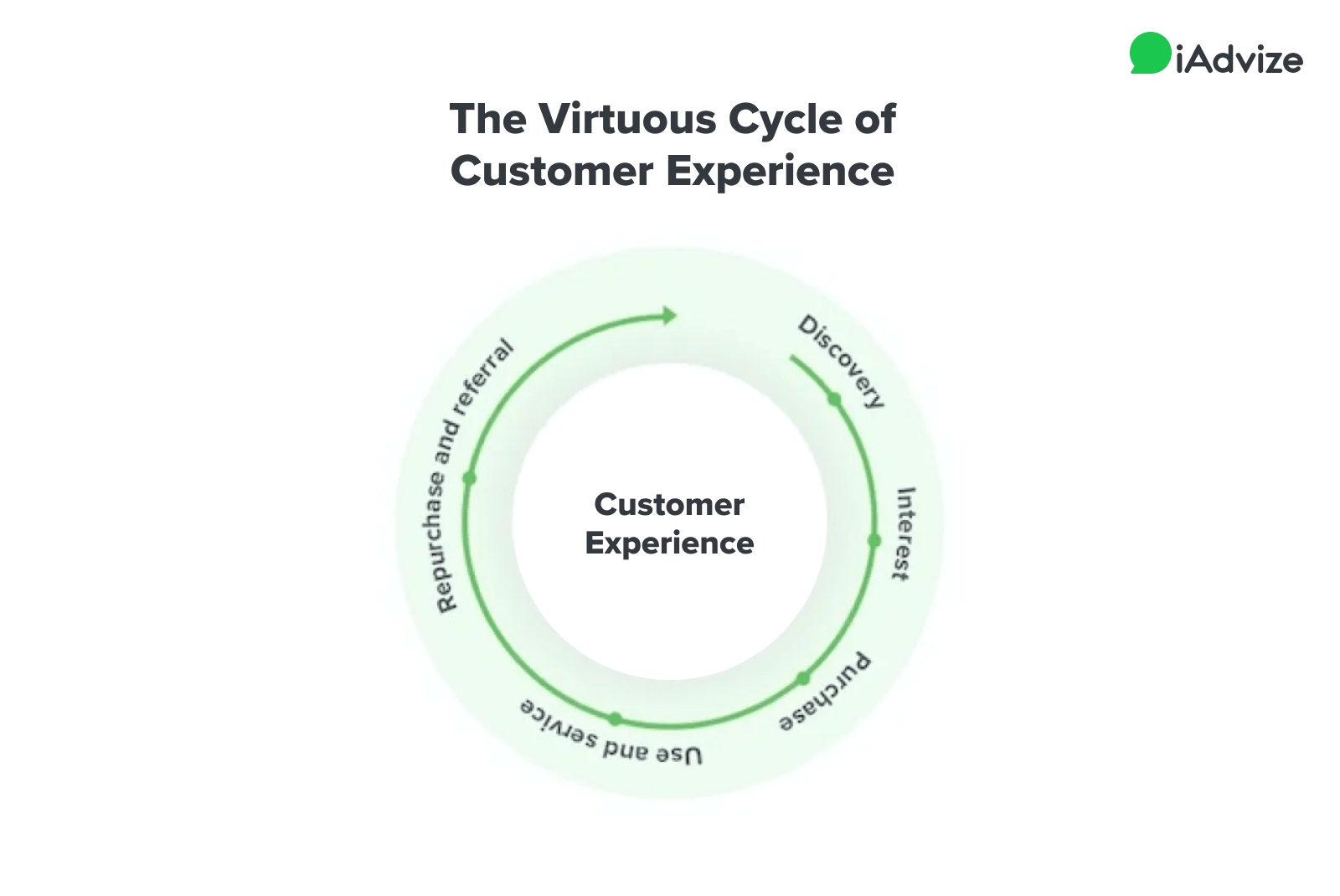 Forward movement starts with one good thing. One good thing inspires another--and another. A virtuous circle is born. In digital retail, that one good thing can be delivering the rich, authentic digital experiences that make customers feel seen and heard. Today, connection and conversation matters.

Even with all the dazzling technology that can speed up our shopping and buying journeys, customers are people--and they want to connect with people. In fact, PwC research has found that 75% around the world--and 82% in the US--agree with this statement:

I want to interact with a real person more as technology improves
As change touches all our lives, human connection is the bedrock on which we'll build our new future. That's as true in personal lives, our professional roles, and our experiences as consumers.
Are You Ready for the Next Chapter in Retail?
Digital retail grew steadily in the 2010s, but it didn't displace in-store buying. As a new decade gets underway, online shopping is surging. No one knows yet if this is a short-term trend or a new way of life for consumers.

Either way, shoppers are exploring new digital retail offerings--and likely buying more, and more often, online. Retailers are pivoting rapidly to respond, but need to care about building a robust digital foundation that can endure.

More than ever before, customers are seeking trust and reliability from retailers. They want to know that you care about them, their lives, and their loved ones. And they want you to be human--and to deliver on your promises.

Retailers need to respond with empathy and offer spaces for customers to feel valued and heard. And the best way to do that is through conversation. Your brand needs a conversational platform to meet these essential customer needs of today.

But a conversational platform isn't all about short-term wins. It's about reputation and relationships that stand the test of time. Every online conversation can be a memorable, brand-affirming moment that builds goodwill in the hearts of your customers.

A successful and lasting digital transformation is essential to optimize the customer experience. Tune in to our livestream with AB Tasty, a platform designed for delivering rich and personalized CX, to learn about the key elements to focus on to drive CVR and AOV for your company. AB Tasty's VP of Marketing, Gregory Batchelor, will share these market insights with us on July 21st at 11am EST.