21 Top CX Innovators to Watch in 2021
14min read - iAdvize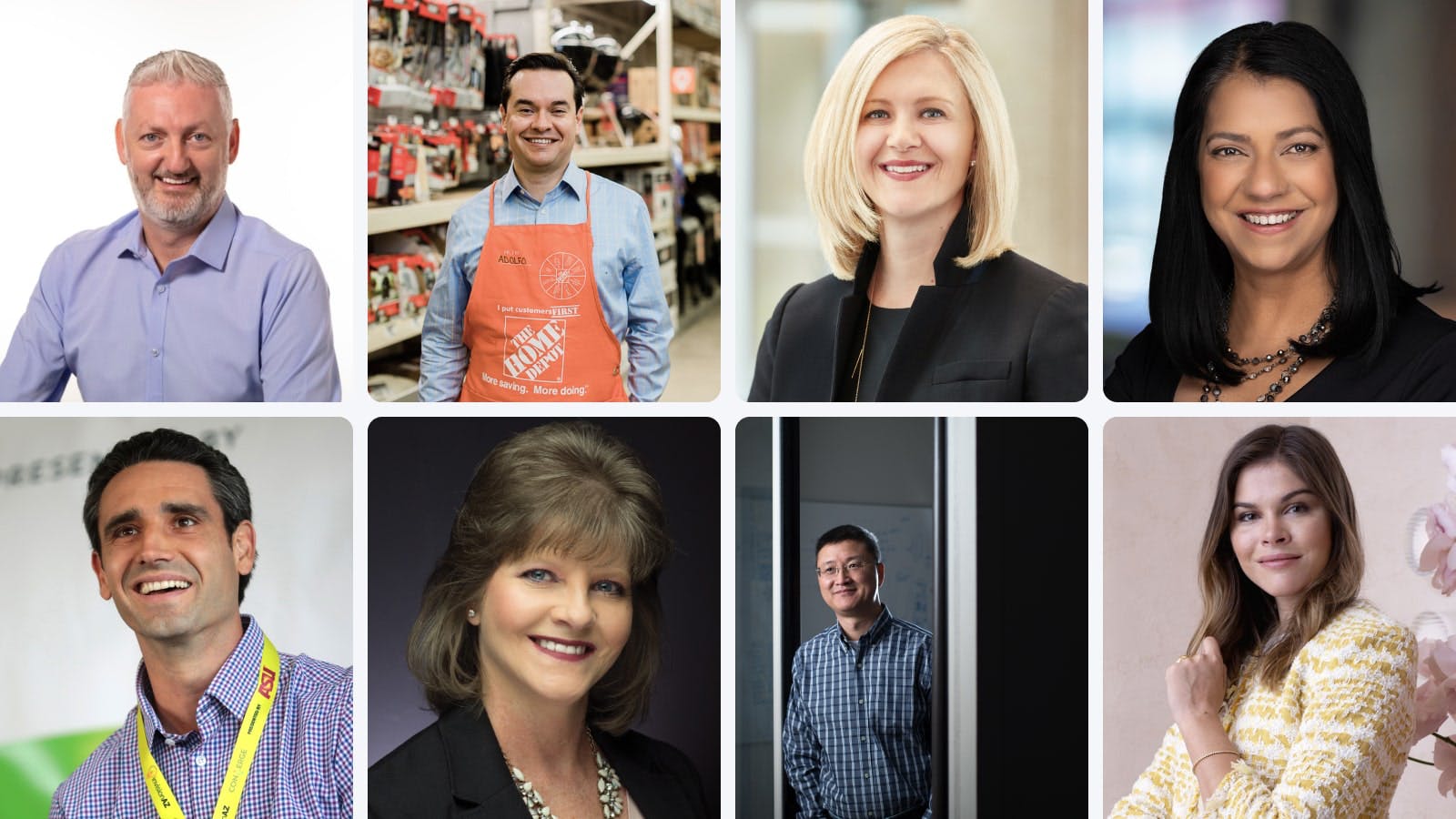 Now that 2020 is in the record books, we've all had a chance to reflect on a year unlike any other. For retailers, 2020 was a year full of strategic redirection and quick pivots to meet the demands of a pandemic-shrouded landscape. Many top brands rose to the challenge and addressed COVID-19 in innovative ways--from revamping digital commerce to finding ways to lend a helping hand in the pandemic's darkest days.
As we look ahead to the next chapter--and the promise of a post-pandemic era--we wanted to spotlight some of the brands leading the way during an unpredictable time. We also wanted to recognize some hard-working leaders at those companies who helped guide companies through the ups and downs no one could have predicted.
Here's our list of 21 of the top innovators and brands that stood out in 2020--and are poised to make their mark in 2021.
Chris Ahern, Chief Executive Officer at Zagg
Known for its mobile device accessories, Zagg wanted to use its know-how to protect people against COVID-19 risks. The company launched a line of devices that sanitize phones, keys, earbuds, and other small accessories with ultraviolet (UV) light. Small enough to carry in a device or backpack, the sanitizers made taking COVID precautions easy when on the go. The company also gained attention when screen protectors featuring a partner's antimicrobial technology were proven effective against the coronavirus in scientific testing.
Thanks to these customer-friendly innovations, Zagg weathered a tumultuous 2020. Although its retail partners shuttered their doors early in the year, Zagg saw its second-quarter ecommerce sales increase by 20% compared to the prior year and more than 70% over Q1. Direct-to-consumer sales also climbed.
Guiding Zagg through it all was CEO Chris Ahern. Although the year wasn't easy, Ahern helped keep Zagg on a steady path and position itself as a stronger company as it enters 2021.
Emilie Arel, President and Chief Commercial Officer at Casper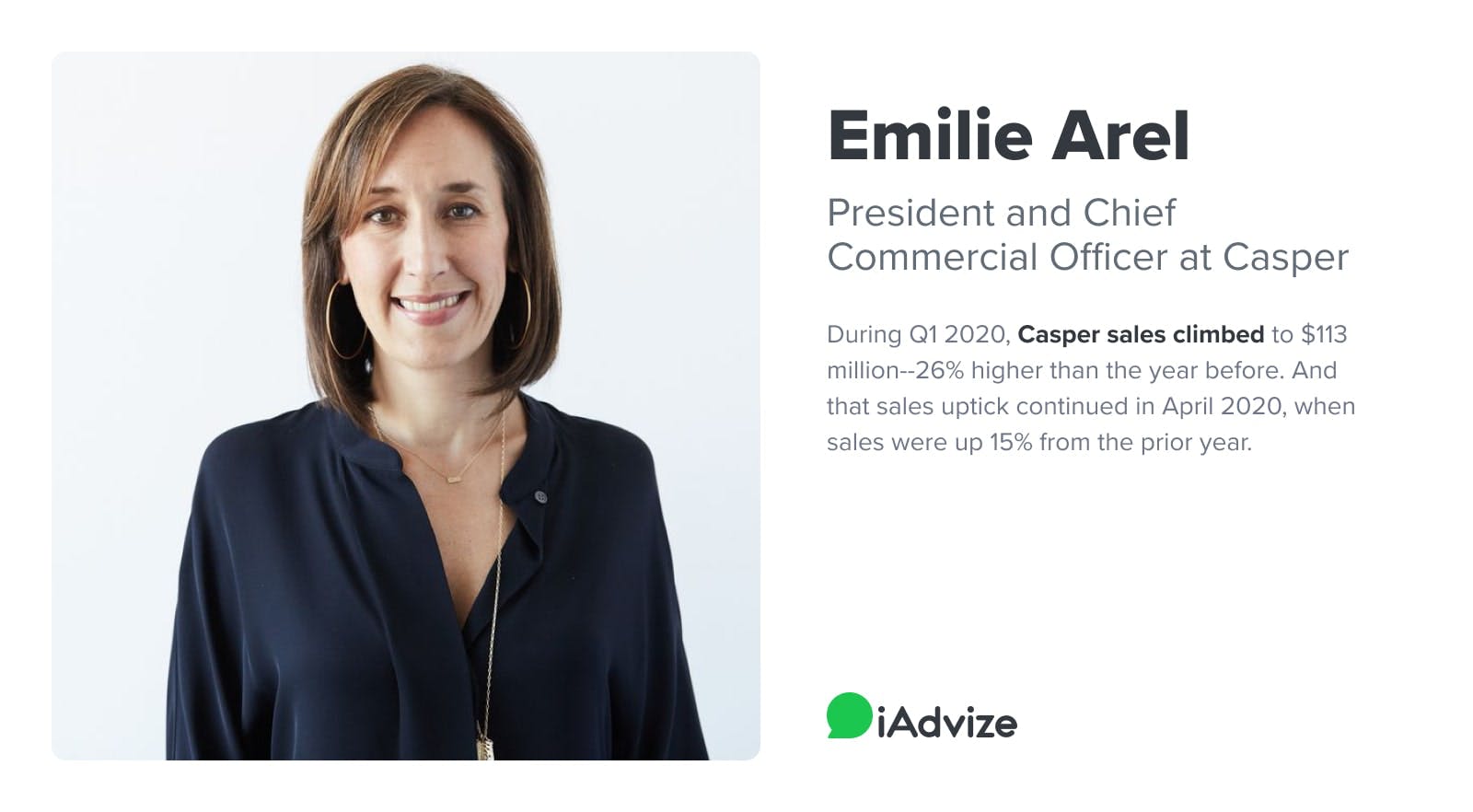 Without question, the pandemic drove many people to seek comfort and calm in their own homes, especially when trips out of the home were limited. That desire for a cozy home led many people to rethink their sleeping space--and online mattress sales surged.
One of the beneficiaries of this growth was Casper, a company that gained renowned for shipping mattresses directly to customers' homes in a small box. During Q12020, Casper sales climbed to $113 million--26% higher than the year before. And that sales uptick continued in April 2020, when sales were up 15% from the prior year.
What makes these numbers especially notable is that Casper stores and many of its retail partners had shut down. So ecommerce was the fuel behind the fast-track growth early in the year. Although supply chain issues slowed Casper's trajectory late in the year, North American sales still rose slightly.
Casper's leadership team got a boost in late 2019 with the addition of Emilie Arel, an experienced retail executive, to lead commercial and brand strategy. Arel's leadership helped Casper navigate the shifting tides of 2020 as they prepare for a strong 2021.
Ed Billmaier, Director of e-Commerce Customer Service at Samsung
Already a forerunner in the use of conversational technologies for online customer interactions, Samsung successfully navigated huge traffic spikes during COVID. Billmaier led efforts to implement Samsung's ePromoter program, which provided 24/7 conversational opportunities for customers. Samsung's promoters included customer service agents, retail store representatives, iAdvize advisors, and a remote team providing overnight and holiday coverage.
Always committed to continuous improvement, Billmaier's team uses voice of the customer (VoC) insights from conversations to drive digital experience improvements. By analyzing customer conversations, Samsung can prioritize website enhancements and seek out opportunities for innovation.
Thanks to its conversational ecommerce efforts, Samsung has seen sales increases, more conversions, and an increased Net Promoter Score (NPS). In fact, Samsung reported its highest revenues ever in Q3 2020. Sales climbed eight percent (8%) to around $59 billion, with smartphone sales up 51% over the prior quarter.
Learn more about Samsung's conversational program through this interview with Ed Billmaier from the iAdvize Conversation 2020 digital event.
Jason Brown, Vice President of Marketing at Foot Locker
Foot Locker gained attention for surpassing Q2 2020 earnings estimates, even during the peak of the stay-at-home and retail closures of the global pandemic. No doubt, shopper's focus on staying active during pandemic shutdowns played a role in Foot Locker's success. But the footwear giant galvanized its community of young sports enthusiasts to foster community and connection during an unprecedented time when many sports faced cancellations.
Launched in April 2020, the social media campaign, run by Foot Locker affiliate brands Champs and Eastbay, encouraged young athletes to post using the hashtag #NeverNotAnAthlete and #ChampsXEastbay. For each tagged post, the company would donate an amount between $1 and $25,000 to COVID relief. Schools could also use the hashtags to win store credit of up to $10,000 to fund athletic purchases.
Led by Champs and Eastbay VP, Jason Brown, the program brought inspiration to the brands' customer community during a disrupted time. 2021 sees Jason Brown moving into the role of VP of marketing for the Foot Locker brand, with more innovation on the horizon.
John Evons, Chief Technology Officer & Chief of Staff at KEEN Footwear
Another company that made a difference during the COVID-19 crisis was KEEN Footwear. Responding quickly to the pandemic, KEEN gave free pairs of shoes to frontline workers and converted a production line to create masks. The brand got its community of enthusiasts involved by allowing them to nominate someone who deserved a free pair of KEEN shoes. Nominees could be anyone--from healthcare professionals to grocery store workers to families struggling under the weight of the pandemic.
While KEEN's good works enhanced their reputation with customers during the COVID-19 era, it wasn't the first customer-centric innovation the company has pursued. In recent years, the footwear brand has emphasized creating a compelling direct-to-consumer (DTC) channel.
What's unique about KEEN's DTC approach is its emphasis on storytelling. Instead of focusing exclusively on facts and specs about its man shoe variants, KEEN opted for rich stories that helped shoppers understand real-world applications for different shoe styles. The brand also has worked to hyper-personalize its online story content to connect with visitors in a meaningful way.
Leading the charge for KEEN's DTC innovations was John Evons, Chief Technology Officer and Chief of Staff. KEEN's emphasis on DTC and community building is a solid foundation for 2021 and beyond.
Ernie Garcia III, Chairman and CEO at Carvana
Not many people would list used car shopping as one of their favorite activities, but Carvana's innovative online-only approach set out to change those perceptions. As the pandemic brought shopping outings to a halt for many, people who needed a car turned to Carvana.
Instead of rounds of dealer visits and test drives, shoppers can spend less than an hour comparison shopping on Carvana and make a purchase. Cars ship directly to customers' homes, so they never have to set foot in a dealer's showroom. As online car buying took off, Carvana saw its stock climb from $30 per share in March to over $200 in October--and nearly $300 as of this writing.
As co-founder of Carvana, CEO and Chairman Ernie Garcia III recognized the potential to transform the automotive business to cater to digitally-savvy customers. As the used car market boom continues, Carvana is poised to grow under Garcia's leadership.
Rick Gomez, Chief Marketing, Digital & Strategy Officer at Target
Target was one of the big winners of the pandemic--and their success is on track to continue its strong performance in 2021. In the initial weeks of panic buying followed by stay-at-home orders, Target's digital sales surged by 100% in March and 275% in April 2020. Although Target didn't need to shutter stores, it did reduce hours and introduce dedicated shopping times for vulnerable guests. The retailer also increased curbside pickup options and hired 80,000 new workers for its Shipt grocery delivery service.
Building on this success and rapid innovation, Target continued to thrive throughout 2020. Even during the holidays, when some stores anticipated less foot traffic due to the pandemic, Target delivered strong results. Online sales for December surged 102%, and in-store sales rose 4.2%. Target started cutting some prices in October to lure some customers to shop early and offered reserved shopping times in some markets to manage store traffic volumes.
Undoubtedly, staying in touch with customer concerns and sentiments was a key to Target's 2020 success, along with its commitment to digital innovation. As 2021 gets underway, leaders like Rick Gomez will guide Target through the next chapter.
John Jones, Vice President, Store Operations at Dick's Sporting Goods
When the pandemic forced store closures, Dick's Sporting Goods made a quick shift to curbside pickup. According to the New York Times, the first curbside operations were less than perfect. When customers arrived at the store, they'd see a sign to call and wait for delivery. The company shifted to email and text alerts for a more seamless experience.
But Dick's Sporting Goods realized that curbside wasn't enough for many shoppers who scaled back in-store shopping during the holiday season. By reviewing its curbside metrics, Dick's learned that most customers picked up orders the day they were placed, with many picking up in an hour or less. That led Dick's to realize that providing same-day delivery would be a win for its customers.
In December 2020, the retailer announced that it had teamed with Instacart, the grocery delivery and pick up service, to provide same-day delivery on orders during the seasonal surge. Although the partnership only covered select markets, Dick's plans to roll out Instacart delivery more broadly.
Dick's efforts resulted in 95% ecommerce growth in Q3, with nearly a quarter of its orders being placed online--up from 13% the year prior. Leaders like John Jones played key roles in the retailer's 2020 success and will bring new innovations in the year ahead.
Michael Jones, Chief Executive Officer Spoonflower
North Carolina's Spoonflower is a home decor and fabric retailer that features a global marketplace of creatives who custom-design fabrics and wallpapers. Because of their worldwide community, Spoonflower was acutely aware of the challenges caused by the COVID-19 pandemic even before it hit the U.S. in full force. The Spoonflower team saw how shortages of N95 masks affected pandemic response in Asia and Europe--so the company started a Mask Response Project.
Spoonflower donated masks and fabric to help fill the mask void. And the company saw demand for its materials grow as sewers everywhere made masks to sell or share. As of late April 2020, the Boston Globe reported that Spoonflower had sold 4,300 yards of fabric, equal to about 51,275 face masks.
CEO Michael Jones wholeheartedly supported these efforts and outreach and kept the Spoonflower community up-to-date on progress on the company website. No doubt, Spoonflower's commitment to creativity and caring earned them goodwill from its community of global makers and customers.
Megan Kohout, Vice President of eCommerce and Customer Analytics at Kendra Scott
Kendra Scott, leader of an eponymous home decor and jewelry brand, is no stranger to making the most out of difficult times. After facing sharp losses due to the late 2000's financial crisis, the company's founder decided to take a risk by opening her own store. The reason? She wanted to build direct relationships with customers instead of working solely through other retailers, as she's done in the past.
Although the business has grown rapidly, Scott leveraged her startup mentality during the 2020 pandemic crisis. The company knew it needed to be flexible and rethink how it related to customers. For example, although in-store associates needed to keep their distance from customers, they focused on building an emotional closeness when helping with product choices. Also, the company launched virtual jewelry try-on options and curbside pickup to cater to customers wanting a contact-free buying process.
Building close customer relationships has been part of Kendra Scott's corporate DNA, but today the brand uses analytics to get to know its customers even better. As VP of eCommerce and Customer Analytics, Megan Kohout is committed to using customer data to deliver more personalized experiences.
Stefanie Kruse Curley, Vice President, Digital Commerce and Omni-Channel at Walgreens
As a pharmacy chain, Walgreens has been on the frontlines of the COVID-19 pandemic since day one. The retailer has provided testing for ages three and up, with drive-through testing available at many locations. More recently, Walgreens has leveraged its nationwide presence to support vaccine administration--both in its stores and in long-term care facilities.
In addition to supporting customers' healthcare needs, Walgreens took advantage of its existing drive through infrastructure to support sales. The chain made in-demand items--such as cleaning supplies, over-the-counter medicines, and select groceries--available at drive-through windows.
During the early days of the pandemic, Walgreens saw its ecommerce sales rise by 26%, but retail sales shrank by 11%. That lead the brand--led by Stefanie Kruse Curley--to rethink its digital commerce approaches. Approaches like free shipping and delivery via a third-party partner that were in the pipeline for rollout became necessities as more customers shopped online. 2021 will see the brand building on those capabilities to increase sales while it supports the logistically-complex vaccine rollout.
Dan Marques, VP, Global Digital Marketing, Growth & Analytics at CROCS
Footwear brand CROCS adapted well to pandemic challenges and achieved record revenues in Q32020 as a result. A popular brand for healthcare professionals, CROCS saw orders spike during the harried early days of pandemic response.
During its busiest periods, the company received 150,000 daily bulk orders from hospitals and more than 650,000 daily order requests in the U.S. alone. Those massive order volumes--coupled with the company's "Free Pair for Healthcare" efforts that distributed 850,000+ pairs of shoes to front-line workers around the globe--all occurred in a 45-day time span.
At a time when some retailers were failing, CROCS was expanding its distribution footprint to adapt to its uptick in business. The retailer announced a new ecommerce distribution facility in Dayton, Ohio to meet demand surges. With that success behind them, CROCS looks ahead to a promising 2021, guided by leaders like Dan Marques, VP Global Digital Marketing, Growth, & Analytics.
Angela Minor, VP of Marketing at Michaels
As a leading craft retailer, Michaels benefitted from more people working on personal and creative projects at home. At the end of the second quarter of 2020, Michaels reported an 11% increase in net sales and a 350% jump in ecommerce sales.
Expanded omnichannel options helped fuel this growth. While many stores stayed open to allow in-person shopping, Michaels also offered curbside, ship-from-store, and in-app purchases. Also, the company partnered with UPS to provide same-day home delivery in select markets.
Another strategy was catering to families and children stuck at home with targeted blog content and social media posts. The company used video to show crafters how to create do-it-yourself (DIY) projects to keep them engaged during extended times at home--and to motivate more product sales.
One of the executives behind Michaels 2020 success is Angela Minor, VP of Marketing.
Steve Oblak, Chief Merchandising Officer and Head of North American Retail at Wayfair
When many people began to shelter-in-place at home, they contemplated ways to refresh their living quarters. People also adapted to new remote work and education scenarios that arose of the pandemic. It's no surprise that Wayfair saw its first-quarter sales climb 19%, with millions of new online customers shopping on the retailer's site for the first time.
As a legacy ecommerce brand, Wayfair had the infrastructure in place to capitalize on this influx of new business. Wayfair's good fortune continued with strong Q32020 results, reporting a 65% increase in sales growth, alongside 51% growth in active customers.
Unlike traditional retailers who have struggled to find their footing online, digital native Wayfair has earned attention for its innovative "clicks-to-bricks" approach. The retailer opened its first physical stores in 2019. Functioning like a design studio, Wayfair's brick-and-mortar space lets shoppers consult with design experts, create virtual room designs, buy items, and place delivery orders.
As the head of Wayfair's ecommerce presence, Steve Oblak has been a main driver of these customer-centric innovations for the digital retailer.
Allison Peterson, EVP and Chief Customer Officer at Best Buy
Like many retailers, Best Buy faced store closures in the early days of the COVID-19 pandemic. Although Best Buy could have stayed open in some areas as an essential retailer, the company voluntarily chose to close some stores. The reason? It recognized that customers and employees had concerns about their health and safety--and wanted to do the right thing.
With 25% of its business coming from online orders, Best Buy knew it had a solid foundation to support a surge in digital buying. In just 48 hours, Best Buy converted some of its storefronts into fulfillment centers ready to support curbside pickup and shipping to customers' homes.
Best Buy's efforts to cater to new digital norms paid off. As Forbes reported, Q22020 online sales jumped 242% over the prior year, with 44% of purchases picked up by customers. Today, stores have a streamlined pickup process with scheduled timeslots for added convenience
As Best Buy's Chief Customer Officer (CCO), Alison Peterson is one of the leaders responsible for meeting customers' fast-changing needs during the pandemic crisis.
Brynn Putnam, Founder & CEO, Mirror at Lululemon Mirror
In July 2020, athletic wear brand Lululemon made waves for acquiring fitness startup, Mirror. Founded in 2018 by Brynn Putnam, a former professional dancer, Mirror offers live at-home fitness classes via a unique smart mirrored display.
Although Lululemon faced some pandemic-induced sales declines, the brand's ecommerce sales and DTC revenue grew in the first quarter. The Mirror acquisition signals its commitment to delivering high-quality digital experiences.
Already, Lululemon had focused on upgrading its website and app to meet the expectations of today's digital consumers. Also, Lululemon had built intelligent sourcing capabilities and used artificial intelligence to accelerate the fulfillment of customers' online orders.
As the brainchild behind Mirror, which will operate as an independent company, Brynn Putnam will undoubtedly play a role in Lululemon's continued digital transformation.
Kiran Smith, Chief Marketing Officer at iRobot
Maker of floor-cleaning robots such as Roomba and Braava, iRobot benefitted from people spending more time in their homes. At the end of 2020, the company's stock had gained nearly 60%. One reason: Second-quarter sales soared to $280 million, far higher than the company's estimated $193 million.
Although sales leveled off for the rest of the year, iRobot launched an innovation to distinguish itself in the marketplace. With the brand's iRobot Genius Home Intelligence, customers can program their robots to clean when and where needed. Customers can also set up personalized cleaning zones and use voice commands to activate their robots at any time.
This focus on automation and personalized experiences proved that iRobot has an eye on the future in a competitive landscape. Under the leadership of Chief Marketing Officer Kiran Smith, iRobot will continue to make its mark as a trailblazer in home technology.
Adolfo Villagomez, Senior Vice President for eCommerce and CMO at Home Depot
One brand that had embraced the digital transformation before the pandemic hit was Home Depot. The home improvement giant earned accolades for its mobile app--including a #1 rating from Forrester--for its focus on delivering customer experience excellence.
Unlike rival apps that push promotions but do little else, Home Depot's is easy to navigate and full of relevant content. Designed to support people at every phase of their journey, the app supports product research and lets in-store shoppers scan barcodes to get additional information on products. Other features include an augmented reality function that enables customers to visualize products in their homes and a toolbox with a measurement converter.
As Senior Vice President for eCommerce and the brand's CMO, Adolfo Villagomez is a central figure in Home Depot's digital efforts. Near the end of 2020, Home Depot reported that third-quarter sales had surged 24% over the prior year--a sign that the brand's commitment to customer innovation was paying off.
Robert Wang, Founder and Chief Innovation Officer at Instant Brands
The homebound lifestyles of 2021 meant a less-rushed pace for many people--and that gave some people more time to experiment with home-cooked meals. At the start of 2021, this trend showed little sign of slowing down, with kitchen electronics sales setting records during the holiday shopping season.
Already widely known for its popular Instant Pot multicooker, Instant Brands decided to tackle a new product line in 2020. Mid-year saw the company launching its new Instant Pod, a 2-in-1 coffee and espresso maker. With the Instant Pod, the company aims to continue its success in redefining how people prepare foods and beverages at home with an eye towards convenience and taste.
As the inventor of the Instant Pot, Robert Wang's name is synonymous with creativity and innovation in the kitchen electronics industry. As Instant Brand's Chief Innovation Officer, Wang is focused on helping the company maintain its stature in 2021 and beyond.
Letitia Webster, SVP eCommerce, Omni Channel, Master Data Management at Tractor Supply
Named one of the "big retail winners from the COVID-19 outbreak" by Fortune, Tractor Supply is a legacy brick-and-mortar retailer that made a successful pivot to digital. Within days after the pandemic shut down stores, Tractor Supply leveraged its ecommerce infrastructure to capture a wave of online shoppers. The retailer already offered in-store order pickup but swiftly converted to curbside.
Another smart innovation the agribusiness retailer made was giving in-store associates advanced mobile devices to help speed up the buying process. Associates could check customers out anywhere to help them complete transactions instead of lingering in the store or waiting in lines. Building on this success, Tractor Supply announced that it's launching an exclusive mobile shopping app.
Letitia Webster, the company's SVP of eCommerce, Omni Channel, and Master Data Management, has been a driving force behind these innovations at Tractor Supply.
Emily Weiss, Founder & CEO at Glossier
Launching a new product in the market place is always complex--but even more so during a global pandemic. That reality didn't stop beauty brand Glossier from introducing a new hand cream product in 2020.
The hand cream formula spent two years in development, so it wasn't rushed to market. But it's availability proved to be fortuitous timing. With the COVID-19 outbreak motivating more frequent hand washing and use of drying hand sanitizers, Glossier customers were requesting a hand cream. Not only did the new product address these customer needs, but it brought benefits to healthcare workers as well. In fact, Glossier donated the first 10,000 units of the new cream to frontline healthcare professionals.
Glossier also tapped its community spirit by asking its social followers to share how they were building comfort and expressing care for others during challenging times. The innovator behind Glossier, Emily Weiss, is known for her fashion savvy and business acumen and ready to lead the beauty brand into 2021.
Prepared for the Next Normal
The coronavirus outbreak challenged every brand to focus on its strengths and build on them. For some brands, that meant focusing on technical or product innovations, while others leaned into their spirit of community and charity.
One lesson every brand learned is that a commitment to customers is a must for success. The pandemic has challenged us all to become more empathetic and compassionate. Brands that focused on customer needs and creating authentic, human interactions stood out in the chaos of the past months. That focus on customers and relationships is going to carry them forward into the emerging new chapter.