How to Profit from Adapting Your Live Commerce Strategy to Your Industry
6min read - iAdvize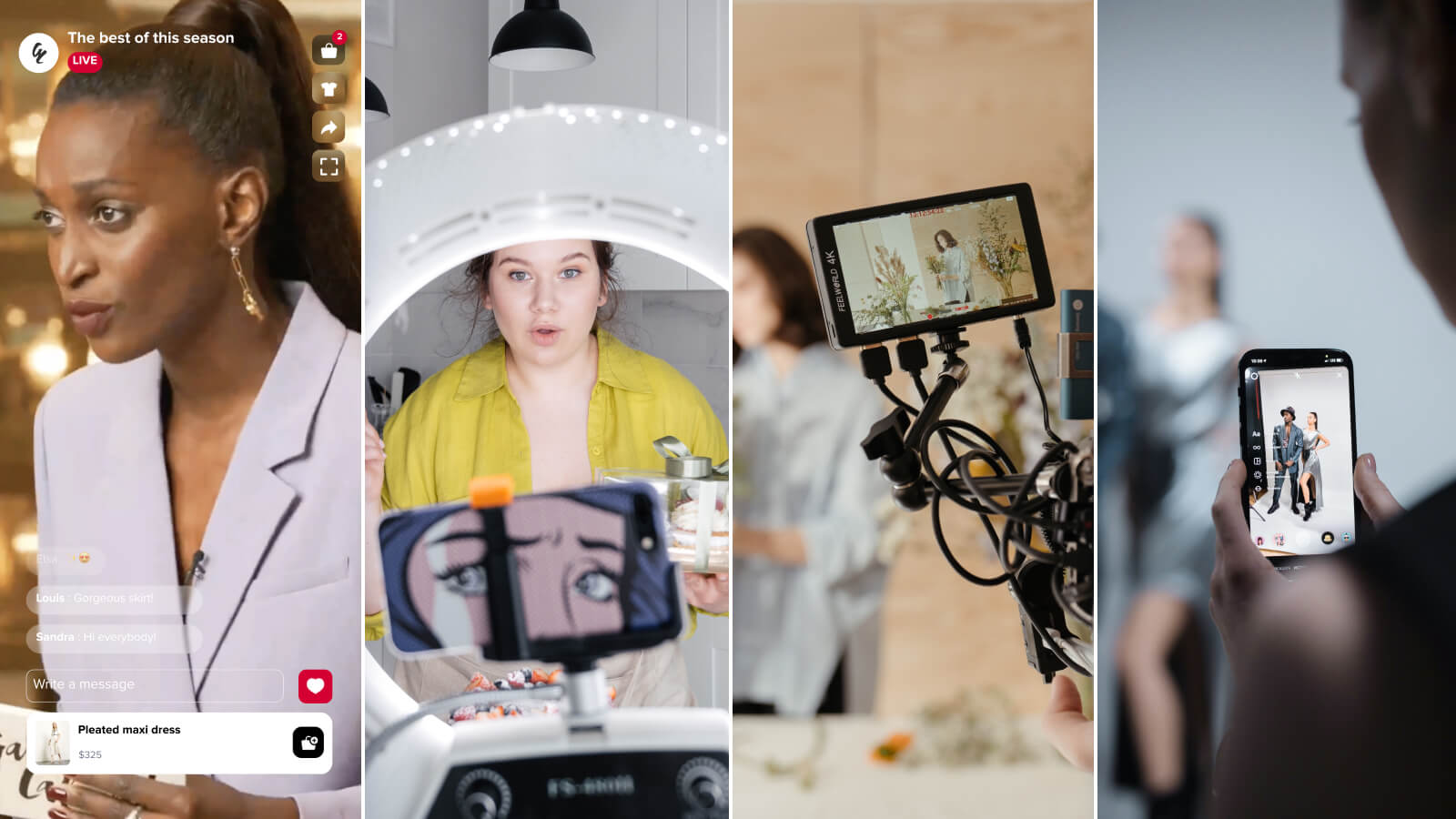 Live commerce, also known as live shopping, is an invaluable asset for your conversational strategy. This unique digital sales channel, which is already widely used in Asia, has created a buzz among American and European companies because of its innovative nature and impressive return on investment. In 2019 alone, live shopping generated $60 billion in global sales, according to Coresight.
With features like live speakers, integrated add-to-cart, and chat functionality, live shopping offers a digital experience that's about as close to the traditional in-store vibe as you can get. It allows you to lower purchase barriers by answering questions from your customers in real time, creating a more seamless and satisfying customer engagement.
That being said, many brands are reluctant to take the plunge because they aren't well-informed about the endless possibilities that live shopping offers to help them grow their brand, customer loyalty, and revenue. Here's a snapshot of how you might go about this based on recent industry trends:
Fashion and Accessories: One Industry Already Heavily Invested in Live Commerce
In the Fashion industry, live shopping sessions can be a major asset for your conversational strategy. Giving customers the opportunity to speak directly with the seller allows product questions, like how thick a piece of clothing is or whether it runs big or small, to be answered specific to the consumer as if they were in the store.
Organizing live events on your sales floor is an ideal way to remind viewers of the physical store experience, allowing them to imagine themselves there.
Using speakers who can advise viewers on additional products, like the perfect accessories to pair with an outfit, is essential for creating a similar experience to the one viewers would have in the store. When choosing a live shopping host, pairing a sales associate with an influencer combines product knowledge and trend insight. Having a spokesperson for your brand is a great way to increase event visibility and reinforce brand awareness.
Organizing a live event can also work well for announcing the release of a new collection or product(s) in stores. It'll create buzz and grab your audiences' attention. Sales also benefit from this kind of digital event, since they tend to engage customers who avoid high traffic times in-store because of crowds.
Sports: The Rise of Selling Sporting Goods Through Live Commerce
The sporting goods industry lends itself well to Live Commerce because sporting products often require technical advice. In-store customer service experts are in high demand, and hosting a live event is both efficient and saves time because all spectators benefit from the speaker's advice and real-time product demonstrations.
In terms of the subject matter to be covered during a live event, while there are some best practices to follow when planning, the sky's the limit! You could dedicate an event to a specific sport to attract a unique audience, especially when that sport is in season! For example, you could organize a live shopping show in the weeks leading up to the World Cup finals targeting soccer fans with messaging to gear up for the tournament, and in turn, likely seeing increased participation rates. Other possibilities include hosting a live event for big sales, seasonal product arrivals, or new product launches.
To make it more engaging and appealing to the consumer, you can also get creative with where you host your live shopping event. Like in our sporting goods example, you could host the show by:
Staging an event

where the sport is played, like a soccer field, weight room, or practice field
Staging an event on your

sales floor, surrounded by your top-of-the-line merchandise that you'll be selling live
One important point to mention about live commerce shows is that, in order to create a real event, you must combine product insight with staging. With that in mind, it's essential to have a staff member with expert knowledge of the featured products leading the conversation. Including a special guest—like a professional athlete, trainer, or sports influencer—will also go a long way to boosting attendance.
DIY: Creating Live Projects With Your Customers
Recently, we've seen the DIY industry use live stream shopping events in interesting ways. With both amateur and experienced consumers needing as much, if not more, advice as in other industries, a live shopping event is sure to delight your customers and provide them with an impactful and engaging experience.
Depending on the project in question, many product categories offer a wide variety of choices:
'How to'

sessions that teach participants step-by-step how to make everyday objects or complete DIY projects like installing wallpaper, making a lamp, refurbishing a chest of drawers, and more
Tutorials

on using a specific set of tools
And for your speakers, inviting influencers is a great idea, especially since there are so many out there who can highlight your products while discussing their favorite DIY projects with your audience. You could also include an artist in order to highlight creative products while attracting the attention of your viewers. Combining this with a staff member will create the perfect duo for making your event as practical as it is exciting!
Tourism and Travel: How to Help Your Customers Travel From the Comfort of Their Home with Live Commerce
At first glance, the tourism and travel sector might not quite seem like a candidate for the use of live shopping. To the contrary—who wouldn't like to tour their hotel before making a reservation? These days, we're still relying on photos when technology affords us a more immersive way.
There are different kinds of live events that could be organized with this in mind:
Visit places to stay (hotels, vacation rentals, etc.)
Presenting staff and answering frequent questions
Visiting the must-see attractions near the hotel
A presentation of local landmarks and sightseeing tours
It goes without saying that a staff member must be there in order to answer questions from the viewers. Nevertheless, having a guest tour guide or staff member from the destinations being suggested would be a real asset. Influencers are also well known for documenting their travels for their large following on social media, which could be a great asset for your brand.
For potential locations, you could hold the live event at a popular destination to both highlight that place and help viewers imagine themselves there more easily. Having the live event at one of your accommodations has its advantages as well. Renting a studio for the lighting and decor is also a promising possibility.
Automobiles: Using Live Commerce to Increase Efficiency
The automotive industry can also benefit from live commerce. Customers often seek advice as it's uncommon for someone to buy a car without first talking to a salesperson. Live events are a way to save time because products and services are presented to a large amount of people at once, while questions are answered individually. By including features like the option to make an appointment at the dealership, viewers become leads and your salespeople spend less time answering questions. This is also helpful for distributors because it allows you to compare different car parts and discuss their specifications.
In this case, a car dealership would be the most appropriate location because it would be easier to present the products and have viewers imagine themselves in the vehicle. A workshop or garage could also work, while keeping the jargon and symbols your audience is familiar with consistent.
The technical nature of cars requires a depth of product knowledge, so your employees would be your best ambassadors. Inviting key industry influencers from the automotive world could also be beneficial to turn your live commerce session into a more engaging experience.
Tech and Appliances: Live Commerce for Product Demonstrations
Electronics and household appliance retailers have much to gain from live shopping. In fact, live shows for product demos have been extremely successful, like the ones done by Philips and Unify Group. Demonstrating products using live events allows your audience to simultaneously learn about a product and how to use it. It also creates a seamless customer experience as viewers can order the products being shown live during the session! Imagine a live cooking show where the host is preparing a recipe and customers can purchase the ingredients and cooking equipment at each step, or a show that compares different appliances or audio devices.
In this case, the sales floor is a superb setting for presenting a product. For more specific live sessions, don't be afraid to adapt the surroundings: a kitchen for a cooking show, a studio or outdoor setting for a photography demo, etc. The options are endless!
The same goes for influencers. They help your staff keep live events entertaining. After choosing a topic, you should pick the type of influencer to invite so that their audience matches yours.
Banking and Insurance: A New Digital Relationship with Customers Using Live Commerce
The use of live commerce in banking and insurance is completely under utilized. The services offered by brands in this sector often require detailed explanations. Similar to the automotive industry, interest in using live commerce lies in the ability to connect with many participants, which optimizes your agents' time. The best way to manage these sessions is to provide moderators that can answer any questions that come up in the chat. FAQ sessions could also be useful to educate your audience on industry-related issues or to suggest investments. A live shopping session could also be set up alongside a trending topic, like cryptocurrency.
Given the complexity of the conditions and services offered by each industry, it's important to have your advisors ready to answer viewers' questions quickly. At the same time, guests like influencers could be very helpful for explaining trending topics and capturing the attention of your viewers.
Live shopping is promising technology that can't simply be reduced to telemarketing 2.0. This new means of communication bridges the phygital gap and allows brands to apply their creativity to an unprecedented, immersive, and interactive experience. The paths suggested in this article aren't comprehensive, but they are a great place to start. Live shopping is a unique tool to connect with your audience and collect customer feedback to determine what's working and what isn't. The possibilities are endless!