iAdvize Integrates Google Business Messages to Give Brands a Comprehensive Customer Messaging Suite
4min read - iAdvize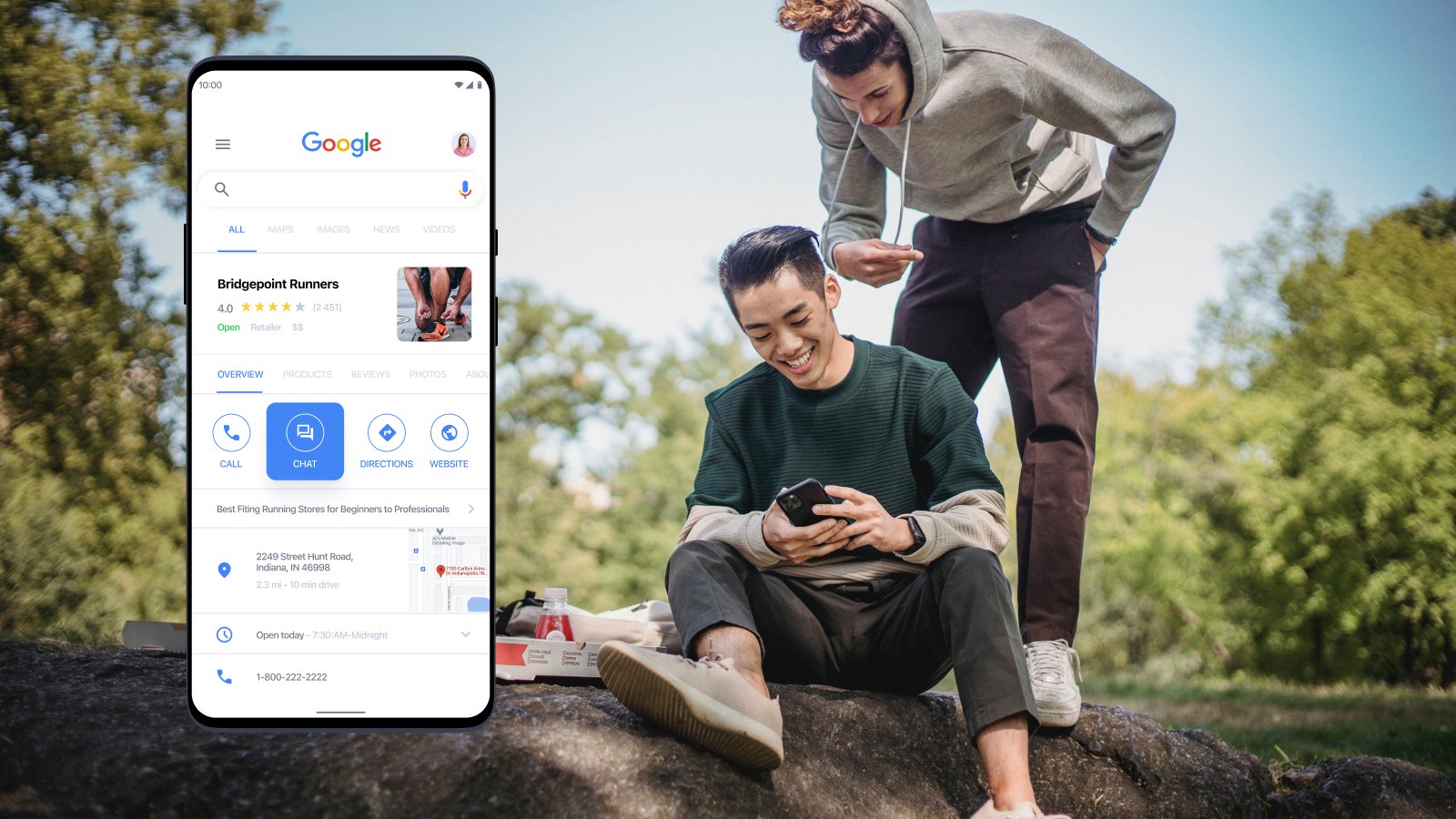 We're excited to announce that iAdvize is now part of Google's Business Messages program. Business Messages is a new avenue for facilitating conversation between online visitors and brands, and one step further in the creation of a truly omnichannel customer journey.
Google & iAdvize: A Shared Vision for the Future of Customer Relationships
Google designed Business Messages in 2020 as a messaging service to facilitate better business-to-consumer communication, right from the browser. Its purpose is to provide online users with a new instant messaging channel that's fit for the modern consumer–one who prefers and expects instant messaging capability over email or phone.
Since 2010, iAdvize's mission has been to make brands conversational–i.e. to reduce the gap that exists between consumer expectations when communicating with online brands and the reality of these interactions. It's at this intersection that brands must create conversational strategies that exceed customer expectations to keep them coming back.
Consumers don't have the time or patience to wait on hold just to get a simple question answered. Google has realized this too. Customers want the ability to message and converse with brands as easily and instantaneously as they do with their family and friends, and according to Google, this is particularly evident at four key points in the customer journey.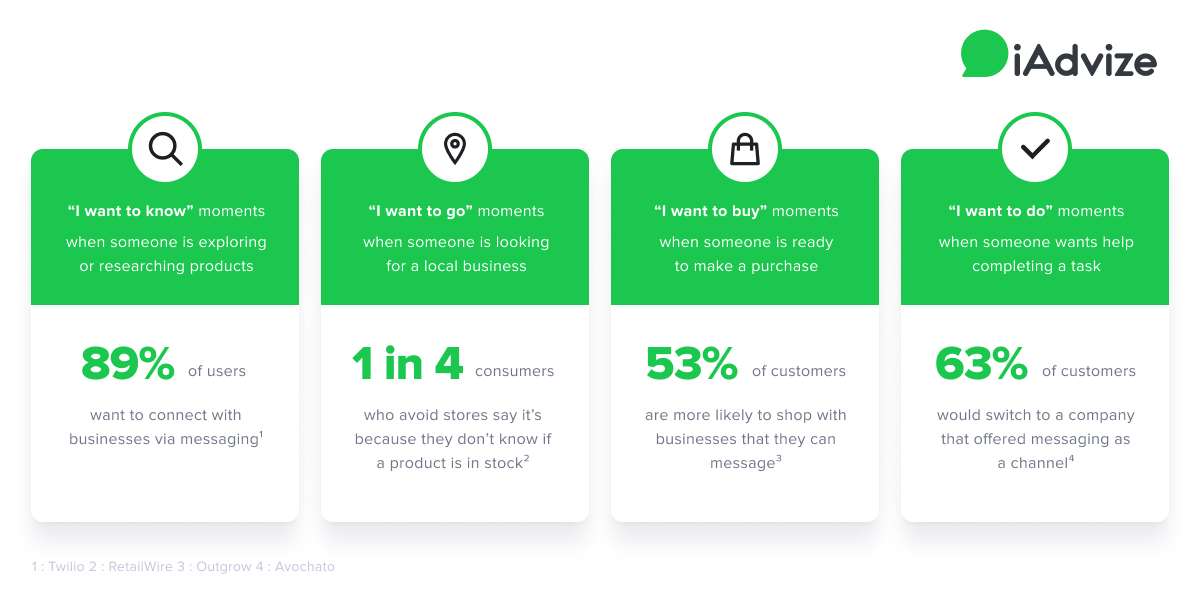 Messaging has become a way for companies to design their relationships with customers. 77% of consumers are more likely to make a purchase from a brand when they're reachable via messaging.
Google, the Essential First Step in Consumer Engagement
Google is so widely used nowadays that it needs no introduction. 70% of digital experiences begin with a search engine and 92% of these searches are done via Google.com–meaning the majority of consumers learn about a brand through Google.
In other words, online consumer engagement starts with a Google search.
The Google ecosystem is rich in search tools and ways for consumers to get in touch with businesses. But due to lingering effects of the health crisis, digital usage has skyrocketed and caused a subsequent push towards higher brand and consumer contact.
In 2022 alone, the volume of calls to retailers increased up to 20x the standard average.
As a result, call as a communication channel weighs heavily on call centers, driving up customer service costs and reducing customer satisfaction as callers are met with long wait times and inefficient routing systems.
Brands are in desperate need of solutions to this frustrating customer journey cycle—and instant messaging is the answer. The goal now will be to offer browsers better access to these messaging channels, which is largely accomplished through Google's chat button placement. Business Messages enables engaging experiences from the moment users perform a search, no matter where they are.
These possible contact points aren't limited to the search engine interface, and can be deployed throughout the entire ecosystem.
Creating a true 360° conversational experience is at the heart of the iAdvize mission. Having multiple contact entry points is the first critical step in supporting brands' conversational marketing, support, and commerce efforts.
Authentic conversation is the key to a successful customer experience. Business Messages is intuitive for both consumers and respondents, and offers users several features to simplify shopping while improving communication, like:
Automatically suggested answer buttons

Image carousels with photos and links to specific offers

Seamless bot-to-advisor transfers

Payment integrations

Secure log-in and authentication straight from the messaging channel
All of these contribute to better customer service productivity and a rich, seamless user experience.
Google's Business Messages, and its numerous capabilities, further enrich iAdvize's comprehensive suite of third-party messaging channels that brands can choose from to engage their customers at every step of the customer journey.
Omnichannel Within Brand Reach
70% of consumers prefer messaging to phone for contacting customer service. They also expect brands to know this and adapt their customer experience accordingly. Q Research Center found that 46% of teens nowadays say they are digitally connected at all times, compared to 24% in 2014-2015. Globally, internet users now spend 93% of their time on apps, including messaging apps. This means that consumers want to buy from companies who they can communicate with anywhere, at all times–especially outside of standard business hours and days.
To engage consumers, boost conversion, and build brand loyalty, it's essential for brands to develop an omnichannel conversational strategy so they aren't missing out on any conversational opportunities. Business Messages helps accomplish this by engaging prospects and enhancing the customer experience before shoppers even reach a retailer's website. Together with on-site live chat and other third-party messaging channels like Facebook Messenger, WhatsApp, and Apple Messages for Business, Google's Business Messages takes the conversational customer experience to the next level.
Google's Business Messages From the Consumer Point of View
For Internet users, Business Messages is a natural addition to Google's functionality.
And it's incredibly simple to use. As soon as a browser opens the Google search engine and searches for a product or service, the options that pop up will now include a "Chat" button that redirects to the instant messenger. Users can send messages directly to a company from their Google listing, and will receive a notification when the brand responds.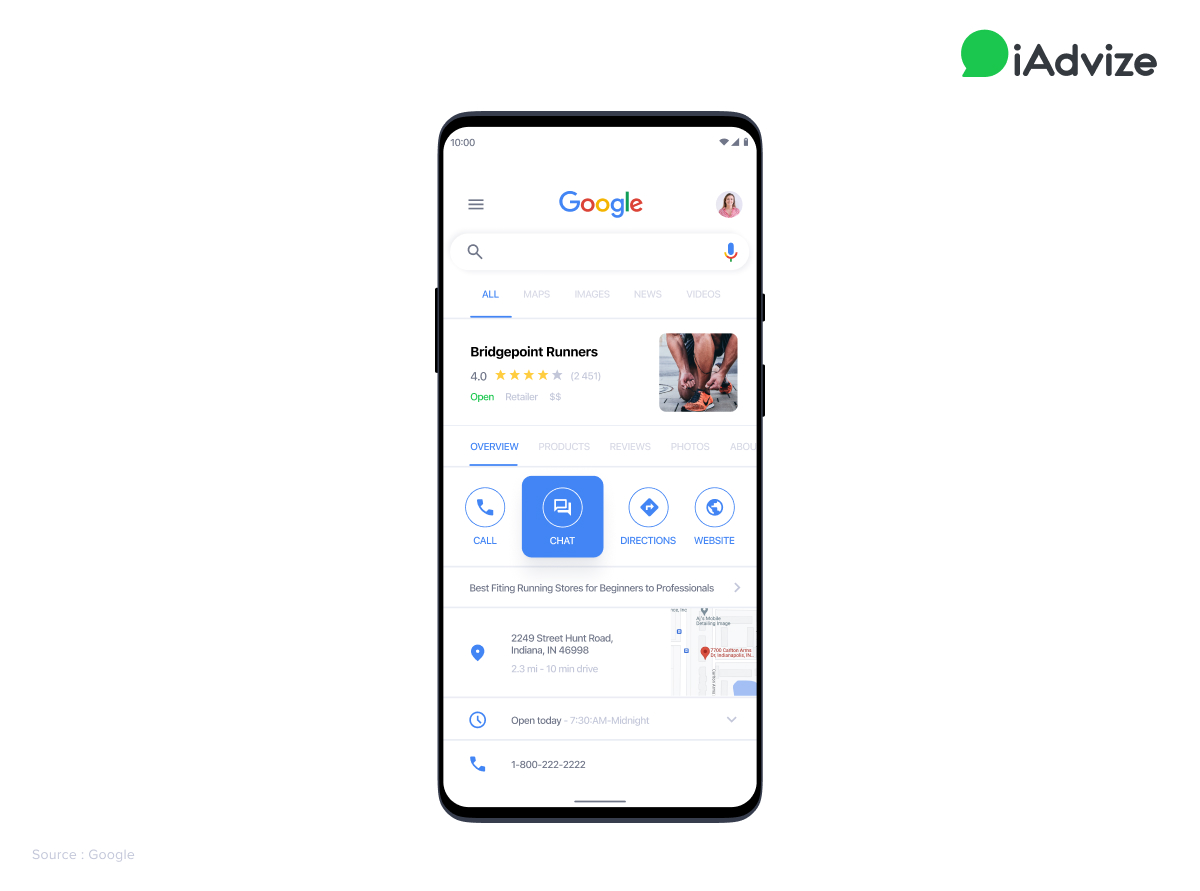 Integrate Google's Business Messages into Your Conversational Strategy
You have two options to get started with Google's Business Messages:
Activate the tool directly through the Google interface
To do this, follow these steps:
1. Sign up for Business Messages
2. Create or attach a brand and sponsor (i.e. advisor)
3. Deploy the sample code and configure your webhook
4. Test the message flow
5. Optimize the respondent strategy
6. Verify and launch
Integrate Business Messages via a 360° conversational platform
Business Messages gives users the option to integrate the messaging service with an existing solution, like the iAdvize 360° Conversational Platform.
The iAdvize platform allows users to effectively manage conversation flow across all messaging and communication channels (on-site or in-app live chat, third-party messaging apps, text, social networks, video chat, phone) through a single, unified interface. Leverage the power of conversational AI and human authenticity to provide a 360° conversational journey at scale.
Learn more about Google's Business Messages and iAdvize.