iAdvize Acquires Aploze to Expand its Conversational Commerce Offer With a Live Shopping Solution
2min read - iAdvize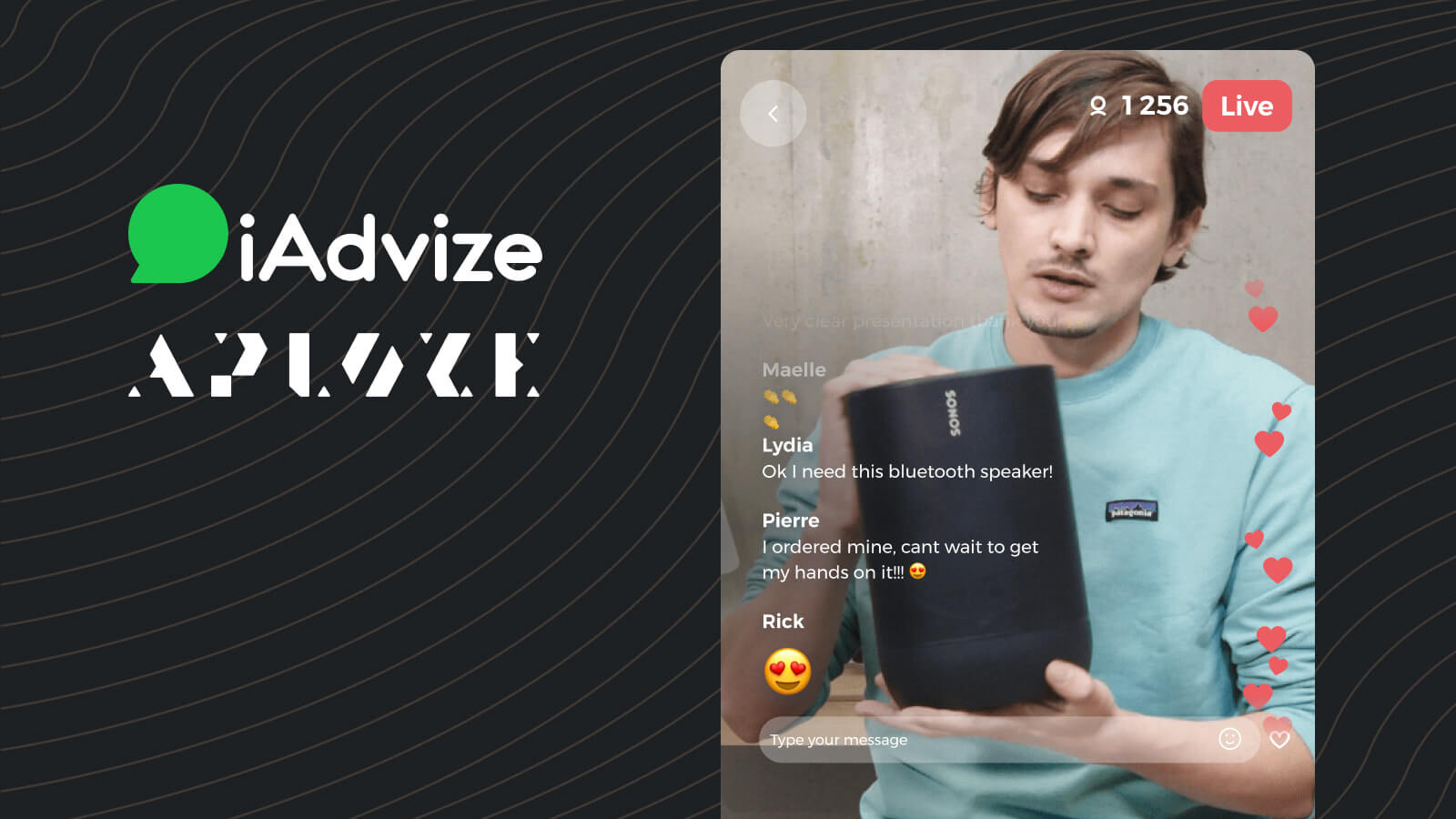 Aploze's live shopping technology enriches our Conversational Platform. This acquisition equips us to meet the challenges of digital transformation and conversational commerce for our clients.
A Global Market Estimated at $423 Billion
Boosted by the COVID-19 crisis, live shopping represents more than 10% of online sales in Asian countries such as China, where the market will reach 171 billion dollars in 2020 (source: McKinsey). Meanwhile, Western countries are still in the early stages of adoption.
Aploze's strategic vision of live shopping focuses on value generation for brands and premium experiences for users. Combined with exceptional UI and a market-leading toolset Aploze has quickly become a market leader within the EU. This focus on customer experience empowers players like Galeries Lafayette, Philips, and Marmiton to engage their community in a new and dynamic way. Additionally, this helps these players generate incremental sales.
Live Shopping at a Glance
Live shopping, also called live commerce or e-commerce livestream, is an online sales technique that enables users of social networks and platforms to buy products instantaneously during a live video event. These events are hosted by an influencer or a salesperson and are designed to provide a personable, but scalable, experience for shoppers. Building off the lessons of teleshopping, it's a fast sales channel that encourages spontaneous purchases. It relies on entertainment, interaction, and virality to accelerate consumer engagement with e-commerce platforms.
Live shopping appeals to Millennials and Gen Z who, have integrated messaging into their online shopping routine. In fact, 88% of European 18-to-34-year-olds are interested in this new form of online shopping (source: Forrester).
This partnership with Aploze is a major step in the realization of our vision, which is to make brands increasingly conversational in order to respond to new consumer habits. While the live commerce market has grown by 280% in China, there is room for brands to grow in Western markets. By leveraging Aploze's strong expertise and premium UX, we aim to maintain our position as the European leader in conversation by offering our clients an ever more authentic, hyper-personalized, and large-scale relationship with their customers.

Julien Hervouët, CEO and co-founder of iAdvize
The Aploze brand and platform will be retained as our official Live Shopping solution. The Aploze team joins ours and will even grow as the engineering team will grow three-fold to support the development of the Aploze by the iAdvize platform.
The acquisition creates an environment for the Aploze live shopping product to leverage iAdvzie's existing expertise in conversational commerce and messaging. The conversational experience has expanded beyond the livestream to engaging and converting prospects in a personalized manner and at scale - thanks to the ibbü community of on-demand experts and AI.
About Aploze
Founded in June 2020 in France, Aploze is a pioneer of Live Shopping in Europe. Its Live Shopping platform enables brands and retailers to create immersive and interactive digital experiences, strengthening their online presence, engaging their community, and generating additional sales. Aploze has about twenty clients including, Les Galeries Lafayette, Unify-TF1, Groupe Marie-Claire, Yann Couvreur, and Unilever.
Aploze's partnership with iAdvize was an obvious choice, as our visions are both similar and complementary. This is a unique opportunity that will grant our respective clients a global conversational and human experience to serve their business.

Benoit Cizeron, CEO and co-founder of Aploze
Ready to learn more about live shopping and how a conversation experience platform can help drive more conversions?