Conversational Maturity Index: Consumer Electronics Brands 2022 Rankings
7min read - iAdvize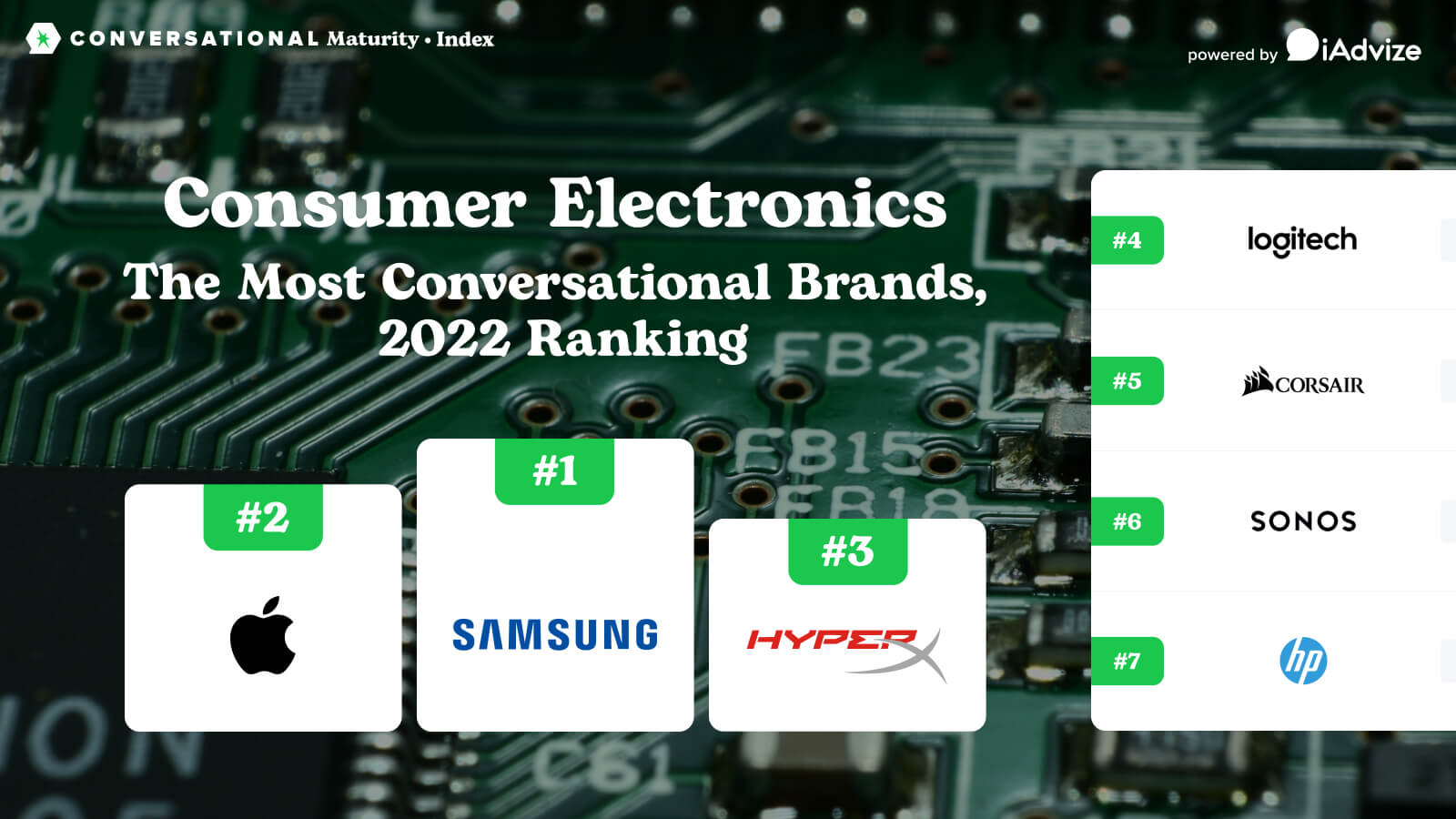 Today's brands know that building customer loyalty is about more than products and prices. Shoppers gravitate to brands that provide memorable and personalized experiences. Emphasizing humanity in the digital environment is more important than ever as we move into the "next normal."
As part of our mission to make brands conversational, iAdvize has developed a tool to help companies understand how to humanize the digital experience. Our Conversational Maturity Index (CMI) charts the conversational maturity of top brands in select industries. For the first CMI ranking, we're covering the consumer electronics sector.
While much of the consumer electronics sector has room to grow, we discovered a few trailblazers that are leading the way. The average CMI score for the industry was 29 (on a 100-point scale), but leaders achieved an average of 85.
Ready for a deep dive on CMI? We'll cover the pillars of conversational experience, along with brand rankings and lessons from today's consumer electronics standouts. You can also find your brand's CMI and benchmark yourself against top leaders with our CMI calculator.
The Pillars of Conversational Maturity
We evaluate conversational maturity using six pillars:
Empathy, Expertise, and Authenticity
Scalability
Personalized Engagement
Rich & User-Friendly Messaging
Omnichannel and Seamlessness
Business Drive
We've measured and scored the first five of these six dimensions for the consumer electronics industry. The sixth dimension, business drive, includes proprietary information gleaned from interviews with brands. In future CMI analyses, we expect to include more insights on business drive for the industries we study.
Empathy, Expertise, and Authenticity
One of the benefits of a conversational approach is the opportunity for genuine, human-to-human connections between shoppers and brand representatives. We've all had service experiences where we feel that our needs are recognized and valued by service professionals who have the knowledge to help us. Those interactions exemplify the qualities we measure in the "Empathy, Expertise, and Authenticity" dimension.
Ideally, brand representatives should show empathy by acknowledging and validating shoppers' feelings about their experience. Also, brand reps should have the expertise to answer shoppers' questions or refer them to the right resources. Agents should aim to create an authentic interaction that doesn't feel forced, scripted, or impersonal.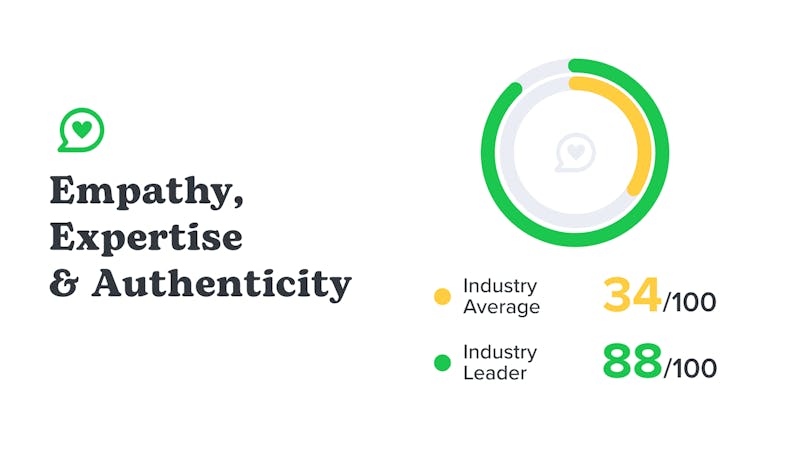 Scalability
Although many brands want to deliver expedient, personalized service, scalability can be a challenge. As digital service requests grow, brands may struggle to keep up--and that can diminish the customer experience instead of enhancing it. Deploying chatbots can be a quick way to scale but often leads to impersonal interactions instead of rich conversational experiences for customers.
Best-practice brands use a mix of bots and humans intelligently. Bots may be on the frontline gathering information from shoppers and handling simple requests. However, humans--both pre-sales experts and post-sales support professionals--are available to engage with shoppers. Also, leading brands use artificial intelligence (AI) to assess visitor behavior and understand when to send chat invitations. Brands that emulate these qualities perform well on the "Scalability" dimension of conversational maturity.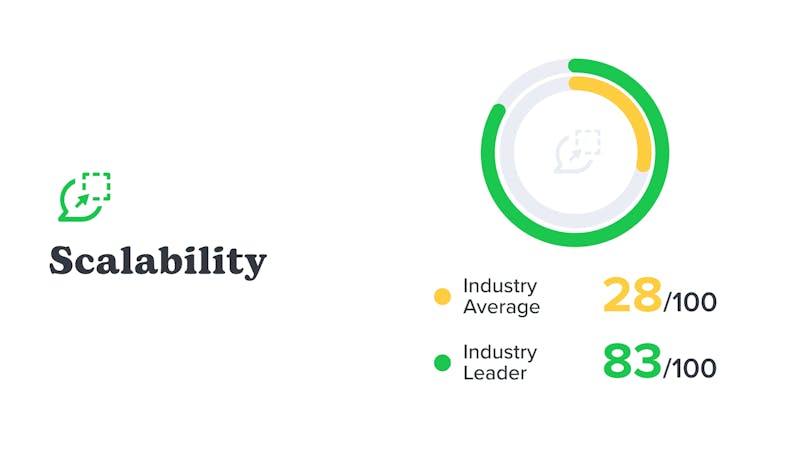 Personalized Engagement
Personalization has been a watchword in the CX space for several years. Initially, forays into personalization involved features like "recommended for you" product listings on e-commerce sites. In these instances, brands use purchase history and browsing interest to recommend related products that consumers might choose to purchase.
While valuable, these electronic-only attempts at personalization aren't genuinely personal. Forward-thinking brands use a human-centric approach to understand shoppers' true intents, needs, and questions while shopping online. Having human service agents readily available is the first step, but brands that excel in this dimension have agents that foster personal connections instead of delivering scripted responses.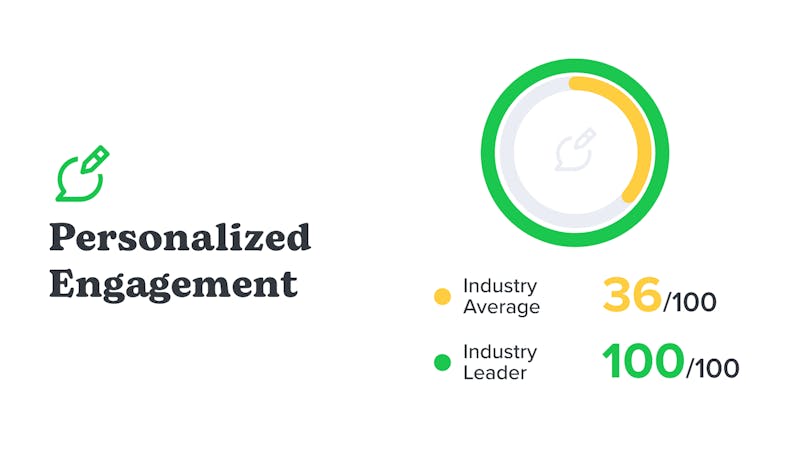 Rich & User-Friendly Messaging
In an online shopping environment, messaging should be integral to the digital experience. Ideally, messaging options should be easy to locate and use while blending seamlessly into the user interface (UI). The UI itself should be uncluttered, brand-relevant, and inviting.
Another essential feature is messaging that doesn't open as a separate window so that shoppers don't need to toggle between a conversation and webpages. This approach lets shoppers explore the site, view images, and gather data while simultaneously engaging in chat with a brand expert.
Brands who lead in this dimension offer a rich, multimedia experience that is far more engaging than a text-only messaging. Consumers have the opportunity to share emojis to express emotion and photos and documents to express emotions or convey information. The result: a messaging interaction that is personal, emotion-rich, and informative.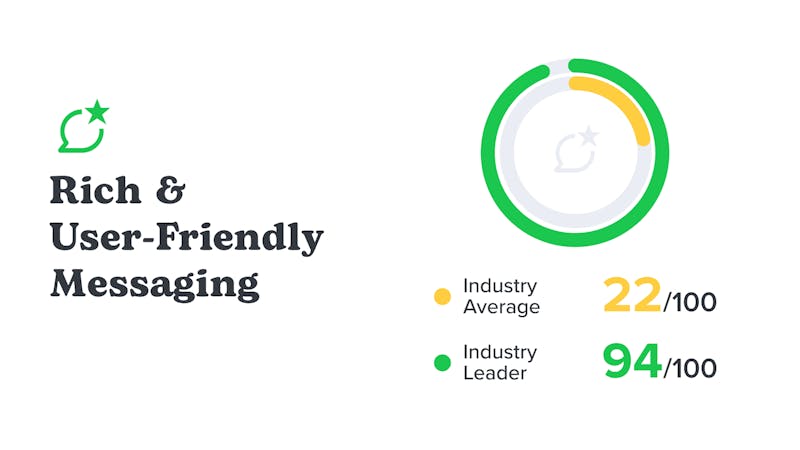 Omnichannel and Seamlessness
Shoppers have grown accustomed to shopping online, via apps and mobile devices, and in stores. This propensity for multi-channel shopping and channel switching throughout the buying journey is a well-known reality for brands today.
However, with the wide-spread adoption of messaging by consumers and brands, there are new standards for delivering seamless, omnichannel experiences. Today's leaders use an asynchronous messaging approach, which allows shoppers to initiate contact via messaging, then add to the conversation over time. Shoppers can sustain a single conversation during one site visit or provide an email to continue the conversation. The best-practice approach offers opportunities for shoppers to stay connected via messaging after exiting a brand's site.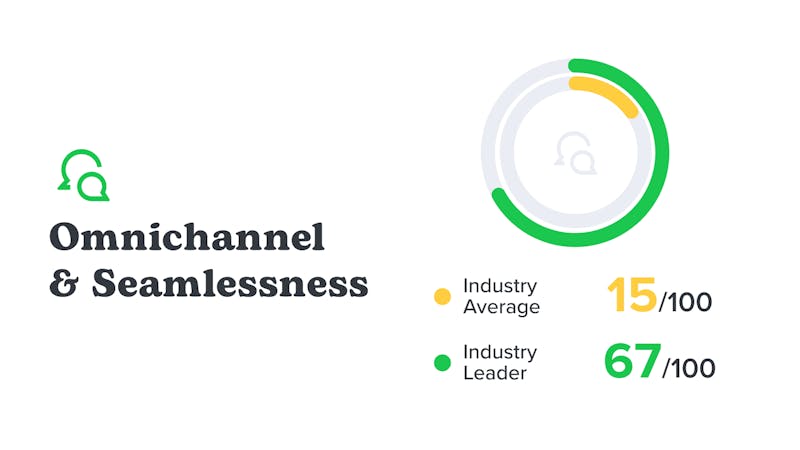 Industry Average: 15, Industry Leader: 67
Business Drive
The first five pillars of conversational maturity manifest in features and experiences delivered on a brand's external website or mobile app. However, business drive is the internal factor that underpins an organization's conversational efforts. An organization with a strong business drive has a commitment to conversational excellence hard-wired into its DNA. It's part of doing business.
Ultimately, proprietary factors make up business drive--and we can only uncover these insights through engaging one-on-one with companies. We ask companies questions about their culture and values. For example, we seek to learn if conversations with customers inform their business strategy and whether they have a chief experience officer who champions conversational initiatives.
As we evolve the CMI and engage with more companies on their CMI scores, we'll have more insights and metrics about business drive to share.
CMI Findings for Consumer Electronics, March 2022
Some Standouts, Opportunities for Many to Level Up
Our CMI research found that conversation has yet to take root as a standard practice in the consumer electronics industry. Notably, the gap between the industry average scores for each dimension and those for industry leaders is significant. For both the industry averages and the leader averages, personalized engagement achieved the highest scores, while omnichannel and seamlessness scores were the lowest.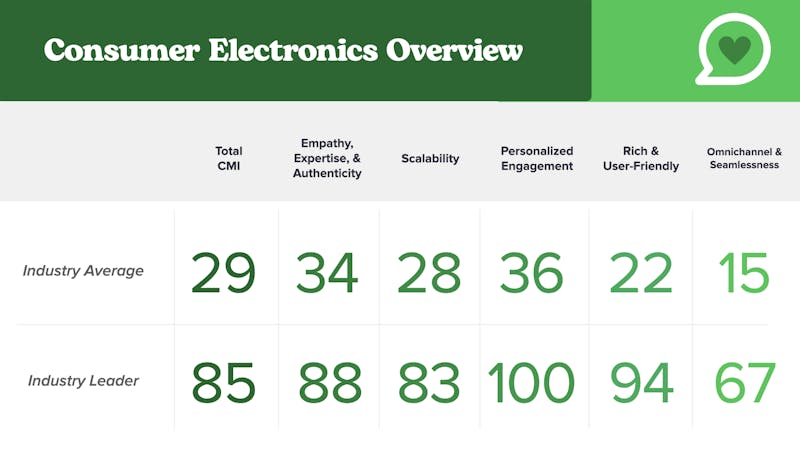 Consumer Electronics Overview: highest scores in personalized engagement and lowest in omnichannel and seamlessness.
Weakest Scores in Omnichannel and Seamlessness
At present, the weak point for the consumer electronics industry is in the omnichannel and seamless pillar. While the industry average was 15, this dimension also had the lowest scores for industry leaders, with an average of 67.
What is holding companies back? Most brands relied on one digital channel only. Few used any third-party channels, such as WhatsApp or Facebook Messenger, despite the popularity of these tools among consumers.
In addition, electronics brands rarely use asynchronous messaging in digital conversations. With asynchronous messaging, consumers can initiate a conversation even if brand representatives aren't immediately available to respond in real-time. Consumers have the option of entering an email to receive messages from agents after they've left the brand's website. If they stay on the brand's website, consumers can send follow-up messages and get responses when agents are available.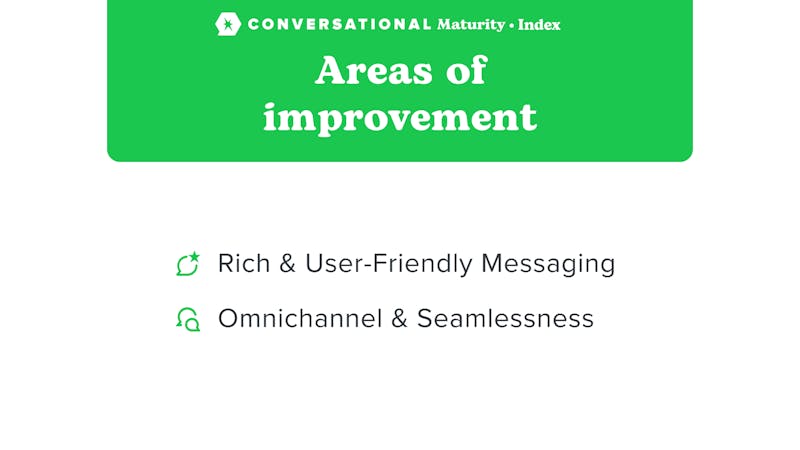 Leaders Have Dedicated Pre-Sales Respondents to Handle Complex Products
One innovation that sets conversational leaders apart from the rest is having dedicated pre-sales respondents. While post-sales support is common online, leaders don't limit chat to existing customers. Instead, they extend the opportunity to converse to cover the entire customer journey.
Before making a purchase, shoppers need personalized attention, education, and advice on complex products to guide buying decisions. In addition, pre-sales consumers are also looking for expertise, empathy, and authenticity from brands. Bots are simply not discerning enough to offer meaningful pre-sales advice or interact with empathy.
It's extremely difficult for agents to shift between providing support for existing customers and consultative advice to shoppers. Care and pre-sales require different knowledge bases and unique skill sets. While brands can train care reps on product features, those professionals may not have the same level of familiarity with products as pre-sales experts who are actual users of those products. By enlisting brand enthusiasts for pre-sales, companies give shoppers the authenticity they crave while allowing care teams to focus on post-sale issues.
Few Brands Have Found the Right Human-Technology Balance
Today's consumer electronic brands tend to have strong human respondents or a strong chatbot presence. It's rare to find brands that have a solid mix of both.
While human respondents typically deliver the highest-quality experiences, a human-only approach is expensive and hard to scale. Chatbots offer a more scalable, cost-effective approach but can't provide the same levels of empathy and personalization as humans do.
To advance conversational maturity, brands must find the right balance between humans and technology. Using AI chatbots to pre-qualify conversations and address straightforward issues is best practice, but the option for human support should be readily available to consumers.
A Few Innovators Provide a Mobile-First Conversational UX
Right now, few players in the consumer electronics space are offering a mobile-first conversational experience. The innovators leading the way typically provide the following experiences:
Advanced behavioral targeting empowers them to reach out proactively to consumers when a need is detected.
An uncluttered, mobile-responsive UX.
A messaging experience that blends into the user interface (UI) by avoiding separate windows and making it easy to minimize and maximize.
UX that mimics the experience of popular messaging apps like FB Messenger.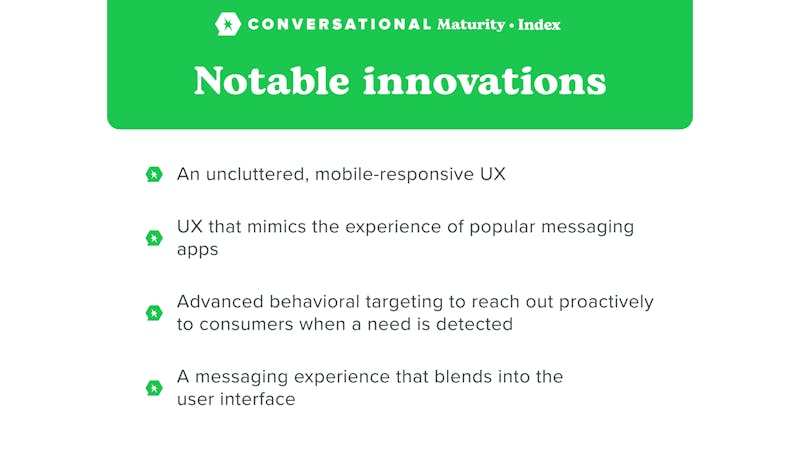 Best Practices from Industry Leaders
Samsung: Offering Conversational Opportunities Throughout the Customer Journey
Samsung has made digital conversation an integral feature of how they define themselves as a brand. Messaging is not just that "chat with us" button at the bottom right of their screen. Instead, the conversation is it is at the core of Samsung's digital engagement and eCommerce strategy.
One of the true conversational leaders in the consumer electronics space, Samsung offers chat across their website, 24/7. Samsung also allows conversation across devices, on their app, and on key channels -- including live chat and Facebook Messenger.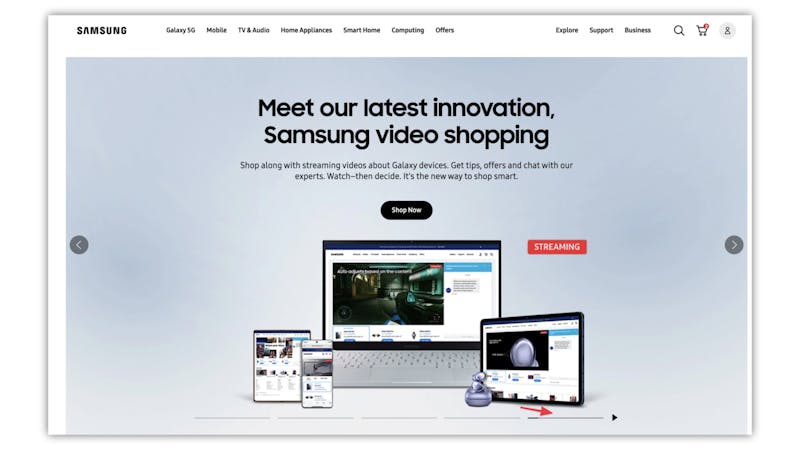 Apple: Strong Human-Technology Balance Supports Scalability
Apple is building on its reputation as a technology innovator with a commitment to service excellence with a robust online conversation offering. Of note, Apple's conversational approach features a combination of humans and bots working together to meet customer needs. As a result, Apple's conversational approach is both flexible and scalable to meet changing consumer demands.
When customers engage in chat, bots initiate the conversation. The bot's robust, built-in artificial intelligence (AI) helps it accurately identify user intent. While bots can answer some questions, it's easy for shoppers to ask to connect to a human and have a one-to-one conversation.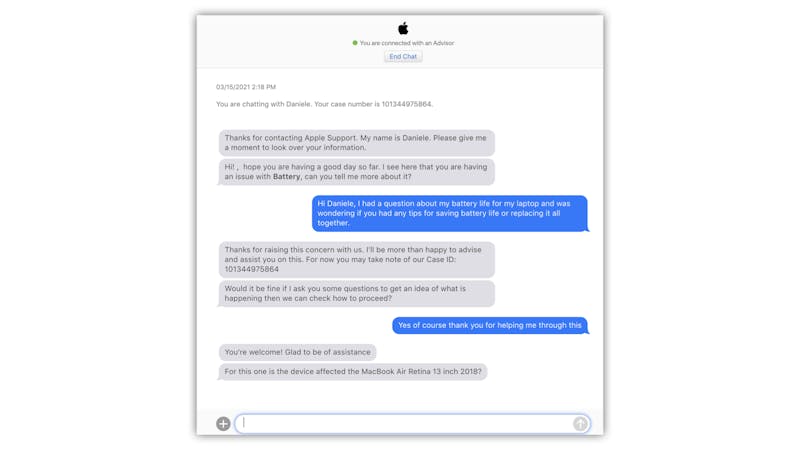 HyperX: Knowledgeable Gaming Experts Advise Pre-Sales Shoppers
Another standout in the consumer electronics space, HyperX has a knowledgeable cadre of pre-sales gaming experts to help shoppers. The live chat option prominently displays their philosophy "We're all gamers" to help shoppers feel connected to brand representatives--and to a larger community.
Every expert who responds to pre-sales inquiries is a gamer--so they can offer candid and empathetic responses. They provide genuine advice, share their own experiences, and don't push for the sale.
Also, HyperX's chat is easily accessible on both web and mobile. The webchat fits seamlessly into the UI and is easy to minimize and maximize. Another strong point: the HyperX chat lets shoppers share rich content, such as documents or photos, to enhance the conversational experience.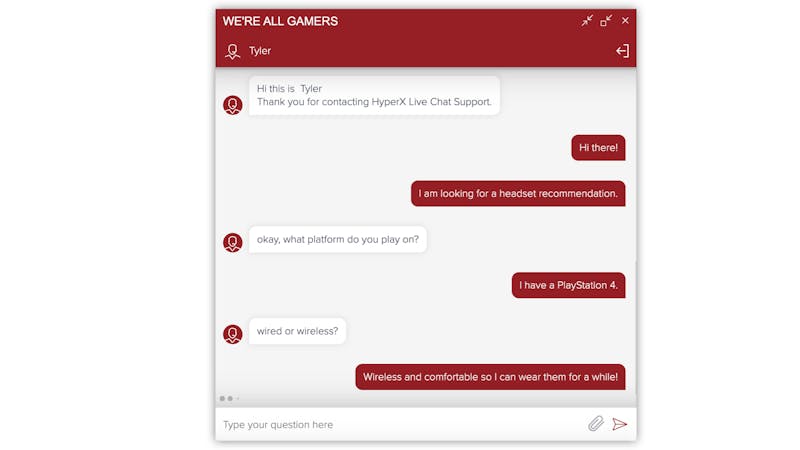 2022 Consumer Electronics Rankings