Chatbots: How can the automation of online conversations provide efficient solutions for maintaining customer service during times of crisis?
4min read - iAdvize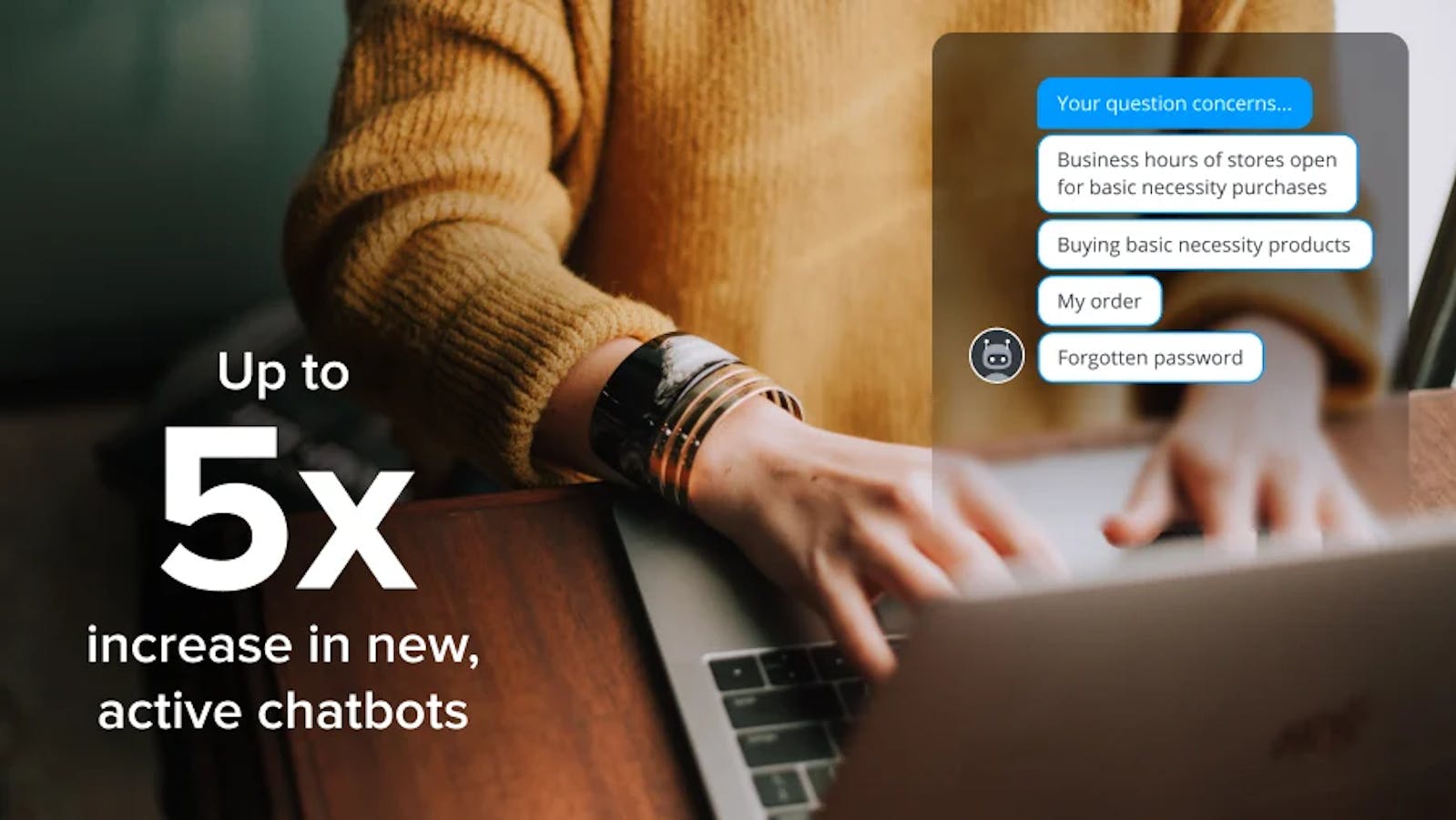 In early March 2020, Gartner published a report with recommendations geared toward CIOs to prepare their companies and their systems to brace for the impact and manage the consequences of COVID-19. Their advice: "Companies will confront waves of customer questions, orders and even cancellations. Act now to prepare content and capacity for self-service web, email, IVR systems, chatbots, smartphone apps, etc. to handle the most common questions or purchases, freeing customer service reps to handle more complex or unusual issues."* This strategy was deployed by brands & retailers on our platform, resulting in a sharp increase in the integration of bots to handle typical questions posed by their online consumers. Implications: continuity and maintenance of customer service during the intense period of strategic adapting and customer solicitation that was COVID-19.
1. Why are chatbots the popular option for brands?
Supporting customer service agents handling large volumes of inquiries
The need for customer reassurance was never more important than during the COVID pandemic. Customer service agents workloads are not designed to handle the recent volumes of questions rolling in by telephone, email, and over chat.

For many of our clients, the solution was the deployment of the iAdvize chatbot. This increases response efficiency by qualifying incoming questions autonomously, then automatically resolving the query or transferring the customer to an agent, depending on each brand's unique response strategy.

The infographic below shows the weekly evolution in the number of customers who created bots on our platform during the crisis. From March 9th 2020, chatbot adoption was consistently above the averages observed in January and February of the same year. Adoption peaked at the beginning of April, with a 3x increase in clients deploying a bot during the week of April 6th.
Now let's look at the evolution of the number of first-time active chatbots on our platform in March and April 2020: Global quarantines began mid-march in most countries around the world, triggering a clear acceleration. We registered up to 5 times more first-time active bots the week of March 16th, compared to an average week in January-February 2020.
Providing a 24/7 point-of-contact
Connected consumers want to ask their questions at any time of day and often, outside traditional business hours. Deploying a bot makes it possible to offer a single, permanent point of contact, which even replaces emails for some of our customers. Visitors ask their questions at any time and are immediately provided an automated answer. Or, via the platform's asynchronous chat functionality, a personalized notification will be delivered to the visitor's inbox as soon as an agent has dealt with their inquiry. On the agent side, the bot creates a virtual "queue", placing all incoming queries in order of arrival to mitigate activity anxiety.
Capitalizing on a flexible, multifaceted solution
Brands can opt for different automation strategies:
Completely automated online conversations: this solution allows you to deal with a very large volume of recurring questions. Need a business' hours of operation, or to know how long a delivery will take? Receiving a link to an article or even a reply card with the requested information could be exactly what they need.
Partially automated conversations: the chatbot can simply be deployed to qualify and transfer queries to the best responder. It can, in the process, collect customer or order identification data, saving valuable time for the customer service agent. Chatbots have the agility to combine automatic answers with live professional advisor transfer, in situation-dependent scenarios.
The idea, in both cases, is to let the bot take care of simple questions to free up human agents for questions requiring their expertise, optimizing team productivity, and customer response time.

The graph below shows the evolution of our clients' conversational strategies from the beginning of the epidemic: fully or partially automated conversations took off from mid-March 2020, covering more than half of the conversations on our platform by the week of April 20th. Conversations combining bot and human agents double over this period.
Delivering a tailored service
The best bot-human mix is one that perfectly matches the customer experience that the brand is looking to offer. It goes hand in hand with a precise targeting strategy, allowing them to offer this point of contact to a specific customer profile or audience. In times of crisis, the bot scenarios and conversational strategy must be updated very regularly. Therefore, a conversational platform with flexible and accessible bot-creation possibilities should be chosen. Each automation strategy is unique and evolving.
2. Customer case studies:
By deploying a chatbot, TUI Germany managed to handle 5x more questions responding to every query by chat.

The travel ban and the border closures of several countries across the world drastically impacted the travel and tourism sector, with Europe representing 50% of international tourism.

For our client TUI.com, the COVID-19 backlash caused an unprecedented wave of contacts from customers who had booked trips. It had become challenging to respond to every contact they received.
Travel's number one player worldwide found themselves faced with the challenge of providing responses to every customer.

Together, iAdvize and TUI.com decided to integrate a chatbot capable of handling the queries independently, by responding through messaging to the most important and most frequently asked questions, including:
1. Which trips are cancelled?
2. Am I able to change my trip without incurring a fee?
3. How can I contact you?
4. When can I book my next trip?

Once the scenario was defined, the chatbot was deployed in less than 24 hours on the brand's homepage. It allows travelers to receive answers to their questions 24 hours a day, 7 days a week, via a reply card or link with the necessary information.
Thanks to the "bot builder", TUI's teams have complete flexibility to regularly update the chatbot scenarios and the information provided automatically.
This dynamic resource makes it possible to obtain answers more quickly when compared to performing a search. It allows TUI.com to provide responses to all of their customers more efficiently, and to respond to their need for reassurance. Since chatbot deployment, there has been a 5x increase in questions handled on a daily basis.
A leader in children's fashion maximizes its capacity to handle queries thanks to an optimized chatbot + agent strategy
This brand has seen a very significant increase in eCommerce activity, following store closures in several European countries during COVID. In this unprecedented health crisis, its online customer service was very much in demand, particularly for recurring delivery issues. The brand used the iAdvize chatbot to qualify visitors' questions very precisely before transferring them to its online agents. Very quickly, it adjusted its conversational strategy to respond effectively and appropriately to visitors' information needs.
More precisely, the brand deployed a simple chatbot, comprised of 4 questions:
2 "branches" (or questions) corresponding to requests related to delivery times and COVID-19 ;
2 "branches" used for qualification, facilitating the collection of the necessary information before transferring the visitor to a professional agent, saving time.
In addition to the chatbot, the brand relied on the iAdvize asynchronous functionality, which allows the chat window to be presented on the site 24/7. Visitors ask their questions at any time and receive an e-mail notification when an advisor has answered them. Customer service agents are able to handle a maximum volume of conversations and better manage surges in requests. In an effort to stay agile and responsive to the changing customer needs, this brand employed a process where each time an agent manages a request on the platform, they categorize it with a strategy-specific "tag", tracking concerns of visitors in real-time in order to continuously adjust the brand's strategy.

Learn more about iAdvize's generative AI-powered tools for e-commerce!