Summer Release: Meet the First Trusted Generative AI for E-Commerce
5min read - iAdvize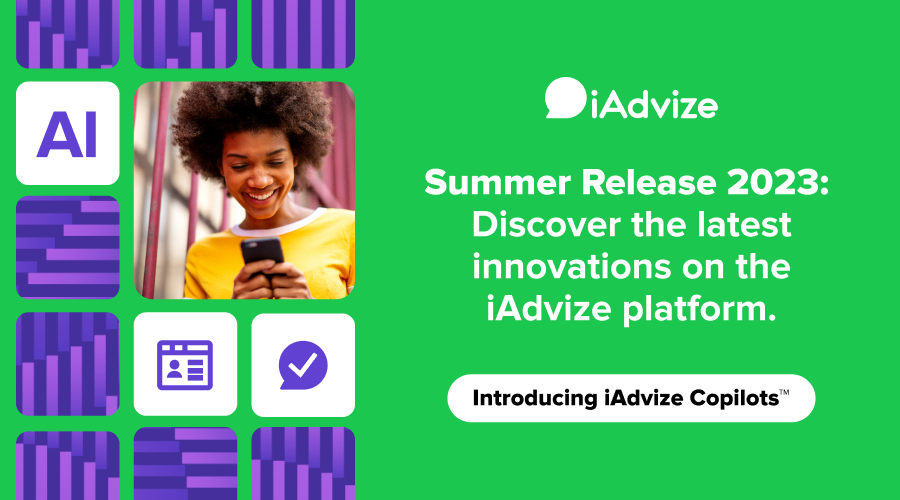 Summer is here, and with it, new innovations from iAdvize! In this edition, we're diving into the world of generative AI, a technology that will bring your customer experience to the next level. Discover the potential of generative AI to create lucrative business opportunities and catapult your e-commerce websites to unprecedented success.
The Importance of AI for E-Commerce & The Power of Conversational Commerce
With the democratization of large language models (LLMs), artificial intelligence has proven itself in content and image creation, becoming a valuable tool for both marketing and customer experience professionals.
With an average conversion rate of just 3% in 2022, the online shopping experience clearly lacks efficiency. This leads us to the conclusion that e-commerce must evolve in order to meet consumer expectations. At iAdvize, we're convinced that the solution to this challenge and optimizing the online buying journey is conversational commerce.
Why is conversational commerce the key to boosting conversion?
Consumers have embraced messaging in their daily lives—85% of them want to interact with a brand through messaging, just like they do with their loved ones.
Conversational assistance is a game-changer for e-commerce, and integrating it into the buying journey can increase your conversion rate by 10x while enhancing your site's customer experience.
E-commerce leaders are faced with the question of how to further increase the efficiency of conversational commerce to provide this experience at scale. How can you successfully deliver this solution to every customer in a cost-efficient way?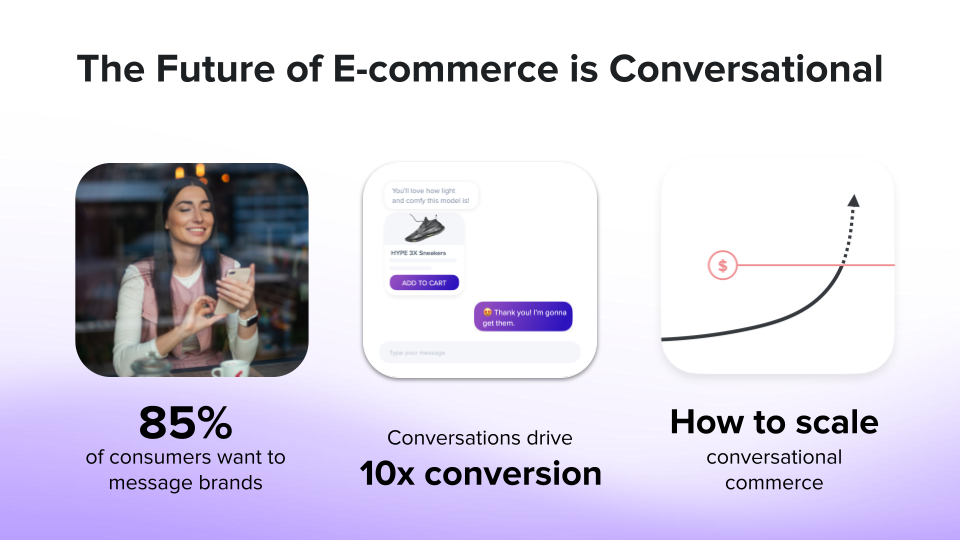 Challenges of Generative AI for the E-Commerce Customer Experience
By enhancing time and resource efficiency, generative AI has emerged as the perfect solution for improving the online shopping journey. However, the technology still faces limitations that are important to consider in order to harness its full potential.
iAdvize's Trusted Generative AI for E-Commerce Solution
To address these limitations, iAdvize launched the first trusted generative AI specifically designed for e-commerce. But what exactly makes an AI reliable and trusted? In short, it ensures you and your customers' data is protected. Trusted Generative AI for e-commerce helps you achieve your business goals while abiding by your rules. It solves the three main challenges that companies face when using generative AI solutions for the digital customer experience. Trusted Generative AI is:
Connected to your company's ecosystem to ensure all information is brand aligned and up-to-date, positively impacting the user experience as well as your customer service representatives across all messaging touchpoints.
Compliant with US and European regulations (GDPR, CCPA, etc.), hosted in Europe, 100% compatible with major accounts, and ensures strict data confidentiality protection.
Controlled entirely by you and your team, allowing you to provide the necessary analytical tools to continuously track and improve its impact.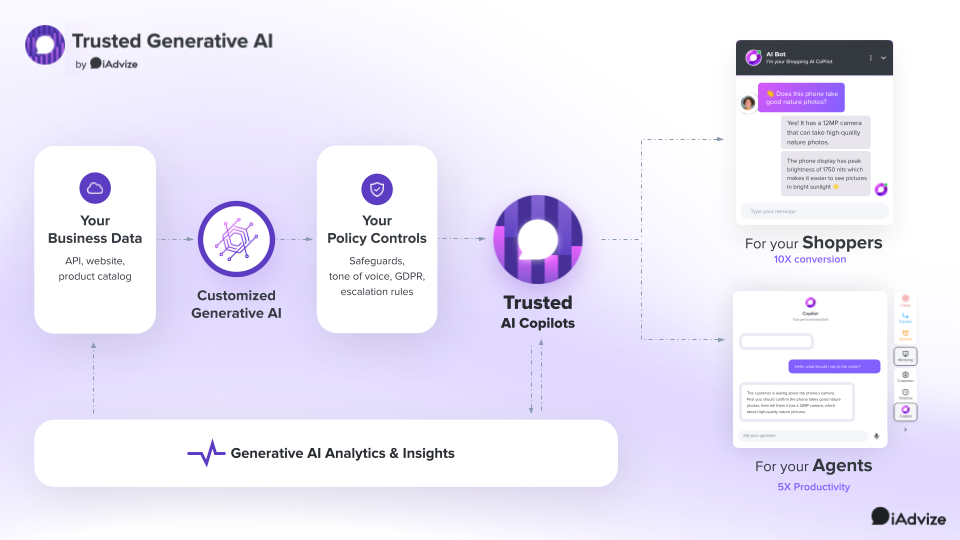 Trusted Generative AI: Reliable Technology Designed for Your E-Commerce Website
iAdvize's generative AI provides responses based solely on the information you grant it access to, such as your product catalog. This serves as its knowledge base, ensuring its reliability. As a result, the AI adapts to your company and products, saving your teams from having to conduct time-consuming research.
Through the iAdvize platform, a series of control processes can be activated to guide the AI's behavior, ensuring that its tone perfectly aligns with your brand image and that it only responds to questions related to your products. These safeguards also enable you to define when to escalate a request to a human agent.
This trusted generative AI is deployed in the form of iAdvize Copilots™, which assist:
Your customers directly, providing instant and reliable answers to their product-related questions at any time.
Your agents, acting as a personal assistant to boost their productivity and performance during interactions with visitors on your website.
You also have dedicated reporting to monitor the performance and impact of your conversational generative AI experience.
How iAdvize Uses Generative AI for Instant and Reliable Responses
Trusted Generative AI was designed to meet the needs of both your customers and your teams. iAdvize Copilots™ provide efficient assistance to support both in their day-to-day life by offering the right information at the right time. This in turn impacts your online sales and enhances your conversational commerce strategy.
The iAdvize Copilot™ for shoppers is designed to autonomously handle product-related questions. It excels at answering technical or usage-related inquiries by providing expert information and including additional details, effectively mimicking a qualified human agent. The generated responses are entirely based on your data, without any manual training, which really showcases the AI's ability to create effective and persuasive natural language responses.
What happens when it can't provide an answer?
When it encounters a question it can't answer, the AI transfers the interaction to an "augmented" human agent. This approach ensures that customers always have access to the information they need, maintaining high performance on 100% of interactions.
The human agent also benefits from the power of generative AI in the form of suggested responses, the ability to adjust response tone and length, and more. This reduces their response time and research burden, ultimately improving the agent experience.
Leading E-Commerce Business Boosts Conversion With iAdvize's Conversational Generative AI
This experience is already yielding impressive results for Cdiscount, a leading French e-commerce company that was one of the first to deploy iAdvize's Trusted Generative AI. Cdiscount implemented the technology to streamline their resolution of visitor inquiries about home appliances and TV-related products.
Their initial results were:
24% post-chat conversion rate
70% customer satisfaction score
40% of pre-sales questions handled autonomously by the AI
By delivering a level of performance equivalent to human assistance on 40% of their pre-sales questions, the AI has showcased its significant impact on ROI and ability to scale conversational support.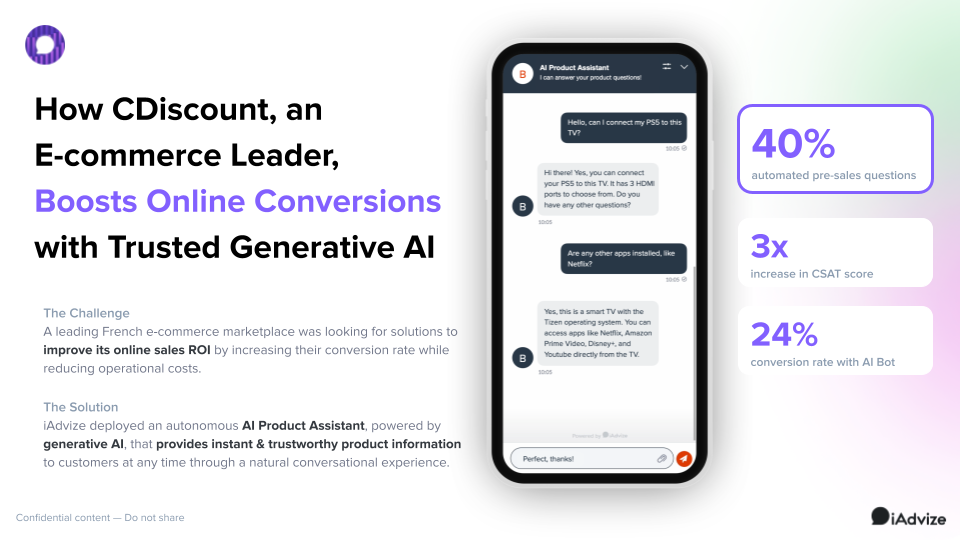 Generative AI is Transforming the Daily Lives of Customer Service Agents
Enhance Agent Efficiency & Performance With iAdvize Copilots

™
If iAdvize Copilot™ provides true convenience for buyers 24/7, it's equally effective in enhancing the productivity of customer service teams. Designed to boost your team's performance, this AI tool helps your agents become more efficient in their interactions with customers. It supports your agents by providing accurate and helpful information to guide their responses to customer questions, and will also offer its own response suggestions.
It allows your agents to:
Boost their writing speed and quality: The AI works as a built-in spell check and helps agents quickly rephrase and adjust the tone of their messages.
Shorten messages with a single click: This is a time-saver during conversations and improves the quality of each response.
Get smart response suggestions: The AI will detect and suggest a relevant response based on interaction context.
At every step, your agents remain in control and can choose whether to use or modify the AI's suggestions. These features prove to be a major cost-reduction asset and allow you to strike the right balance between efficiency and service quality.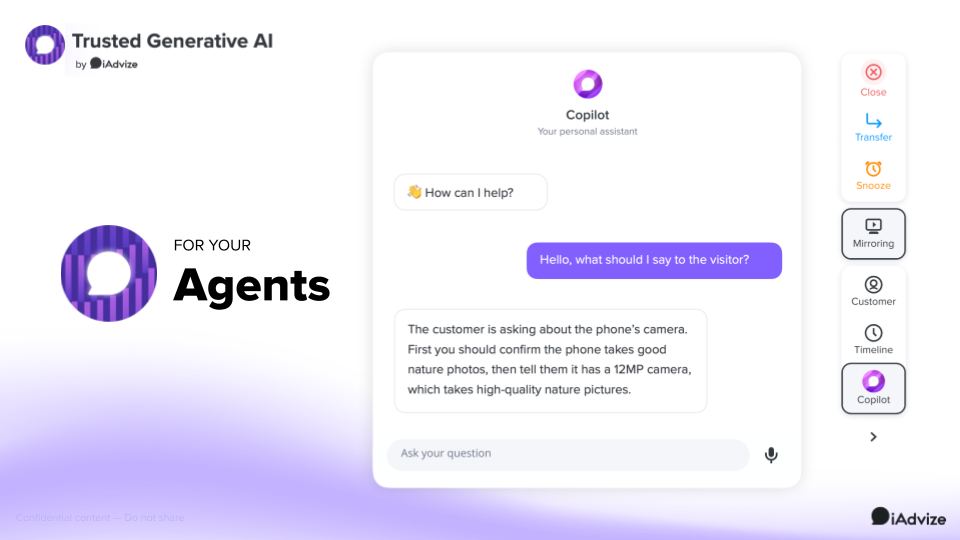 An Analytics Suite to Monitor & Improve Your Generative AI for E-Commerce Strategy
With our solution, you gain clear visibility on the impact of your generative AI-powered iAdvize Copilots™ to:
Your revenue
Your conversion rate
Your customer satisfaction score
And more!
The iAdvize platform provides you with a precise overview of the questions the AI couldn't answer, whether due to lack of knowledge or pre-defined policy controls. The goal is to quickly improve the experience by adding any missing product information as it comes up. You're also able to receive feedback on your generative AI and a view of its escalation rate to human agents.
Trusted Generative AI: The Future of E-Commerce
So, is generative AI just a trend or a real turning point in the digital space? Tech giants like Google and Amazon have already thrown their proverbial hats in the ring, signaling that these new technologies have become crucial to staying competitive in the e-commerce world. At iAdvize, we believe that the question is no longer whether or not to adopt generative AI, but how and how quickly.
Ready to level up your digital customer experience? Discover Trusted Generative AI for E-Commerce