Spring Release: Elevate Your CX With New Product Features
4min read - iAdvize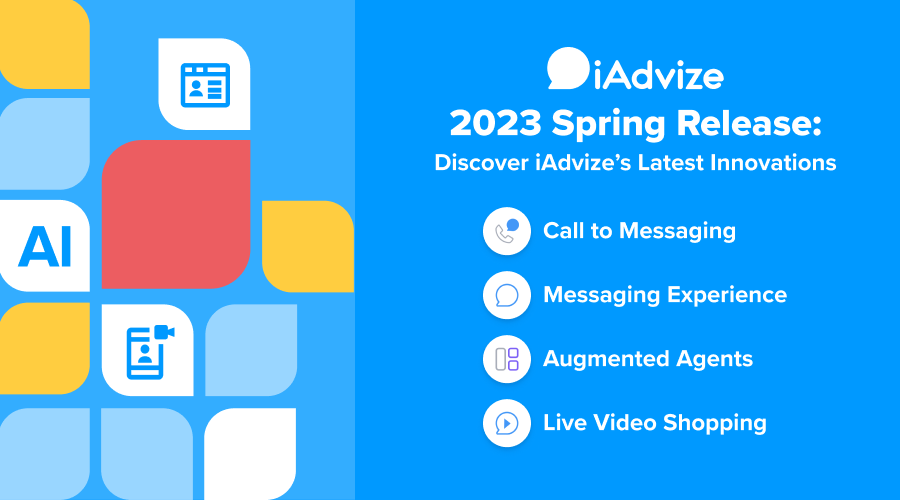 As we enter the spring season, we're excited to share our latest product innovations, which are designed to revitalize your customer relationships and enhance the productivity of your support teams. In this article, we'll dive into the four key areas our dedicated teams have been working on tirelessly over the past few months. From call-to-messaging to asynchronous messaging to ChatGPT applications and more, discover the newest features of our conversational platform that you won't want to live without!
Call-to-Messaging
Streamline the Phone Call Process With Live Chat
Call-to-Messaging is a Crucial Feature to Offer Your Consumers in 2023
Gone are the days spent waiting long minutes on hold with a company, just to inevitably be re-routed, unable to connect with an actual human representative, or hung up on altogether. Today, consumers have adopted messaging in their daily lives and expect that brands have done the same. Yet despite this, traditional communication channels, like phone, are still alive and well:
Phone and email are expensive channels for brands to maintain and, as a result, customer service advisors often find themselves overwhelmed by high call volumes. It's important that companies recognize this and work to prioritize cost-effective and agile solutions, like call-to-messaging.
An Effective Solution for Reducing Inbound Calls & Optimizing Your Online Customer Service
Call-to-messaging effectively reduces the volume of inbound calls to your contact center by diverting them to live chat and messaging channels. This way, you're shifting contact volume away from existing channels that people know well and use by default to a newer, less expensive alternative. It works by proactively offering customers who call your business the option to continue the conversation over messaging instead of via your IVR. Once they select to switch, they receive a text that redirects them to WhatsApp, live chat, Apple Messages, or a messaging channel of their choice. With messaging, you're able to leverage assisted self-service that has the right combination of human respondents and AI-powered bots to satisfy many of your incoming requests.
Best Western Hotels & Resorts France strives to place messaging at the heart of their customer relations strategy by using call-to-messaging to handle a much greater volume of online customer requests. Since its implementation, Best Western has seen a significant reduction in inbound call volume, with a 10% call deflection rate. Other brands experience similar success, sometimes seeing up to 20% fewer calls.
Intuitive Online Wait Times
Enhance Your Visitors' Digital Experience by Providing Wait Time Estimates
Website visitors often find themselves experiencing long wait times before getting a response from a customer service advisor. Now, our platform allows you provide customers with an intuitive estimate of their wait time before being connected to a customer service representative. This is updated in real time and occurs when a conversation is put on hold or transferred.
Appointment Booking
Automation has a lot to offer in the customer service efficiency department, but there are times when queries require more expertise and should be handled by a specialized advisor. It's also not always possible to obtain an answer on availability, and in those moments, it's important to provide the option to book an appointment for a later date. This is especially true in certain industries, like automotive, where making an appointment with a salesperson in store is the best way to ensure optimal customer support.
Schedule your appointments from the iAdvize platform.
Our new appointment scheduling feature allows you to connect iAdvize to an existing scheduling tool, like Calendly or an Outlook calendar, to help your customers benefit from this service. With it, you're able to:
Connect iAdvize to a

third-party scheduling tool

Offer visitors a

link to an online appointment scheduling calendar

during a conversation with a bot or human respondent

Allow visitors to

choose an appointment

by live chat, call, video chat, or with an in-store advisor

Provide visitors with a

confirmation email or text containing the appointment link

after they book their conversation
OpenAI Applications
Improve Your Customer Service Representatives' Performance With Conversational AI
Augmented Advisors
Optimizing customer service productivity is a central challenge and area of focus for any brand looking to reduce costs in the long term. Customer service representatives are increasingly becoming multitaskers, skilled in many different areas, and required to master a wide range of knowledge to adequately handle presale and post-sale interactions.
In tandem, artificial intelligence continues to advance, and natural language models like OpenAI's ChatGPT are transforming traditional customer support systems. Technologies like these are quickly being turned into extremely useful tools for optimizing a number of different professions. In terms of customer service, they enable agents to streamline the time they spend processing conversations, while enhancing the quality of those conversations. Some generative AI applications that the iAdvize platform has recently produced include:
Snoozed Conversations: Allows access to paused conversations from a tab on the iAdvize console without having to wait for the hold to expire to:
Reduce the average processing time of paused conversations

Increase agent productivity by enabling them to handle a higher volume of conversations per day with more efficient conversation management
Smart Summary: Quickly get the context of past conversations with an intelligent summary using the latest OpenAI capabilities to:
Reduce response time with a contextualized conversation in under 5 seconds
Custom Apps: You now have the ability to create a customized application for a range of problems. Create an app for context-based product recommendations and conversation analysis via our own AI engine and intent detection. Whatever you choose, the options are limitless! Benefits of this new feature could include boosted team productivity, conversion rates, and customer satisfaction with highly accurate and personalized product recommendations.
ℹ Snoozed Conversation is available now. Smart Summary is still in beta and will be available to all in April 2023. Custom Apps are available on the platform in private beta.

Live Commerce & Floating Player



Offer Even More Immersive Shopping Experiences With Video Commerce Advancements



One key strength of live shopping is how it helps you capitalize on high quality and engaging content that can be reused throughout the year to enhance other marketing campaigns–on your website, blog, or social media. One of the first major developments we came out with for live commerce was our Conversational Replay feature, which allows you to place a live chat button on all your replays to connect with video viewers long after a live event ends. Now, we've enriched the live shopping experience even further with a new innovation that enables companies to further engage site visitors.
Floating Player
Floating Player makes live video available on all pages of your e-commerce website. Doing so helps you passively attract audiences by intervening at key moments in their customer journey, while also increasing attendance at your actual events. This new widget comes with customization options from our back-office tool and allows you to define which website pages you'd like it to appear on throughout a live event. This feature is already proving its worth—brands who have implemented it are seeing an audience capture of up to 40%!
Many More Innovations To Come
Curious about what innovations we're working on in the coming months? We've got some exciting new features lined up for the iAdvize platform, including more OpenAI integrations. Generative AI is a game-changer for bot performance and will be just one of the many topics we'll tackle to help you perfect your conversational strategy. Stay tuned for more in our upcoming Summer Release!
Discover these new features on the iAdvize Conversational Platform!