How Do In-Store Associates Engage with Shoppers Online?
8min read - iAdvize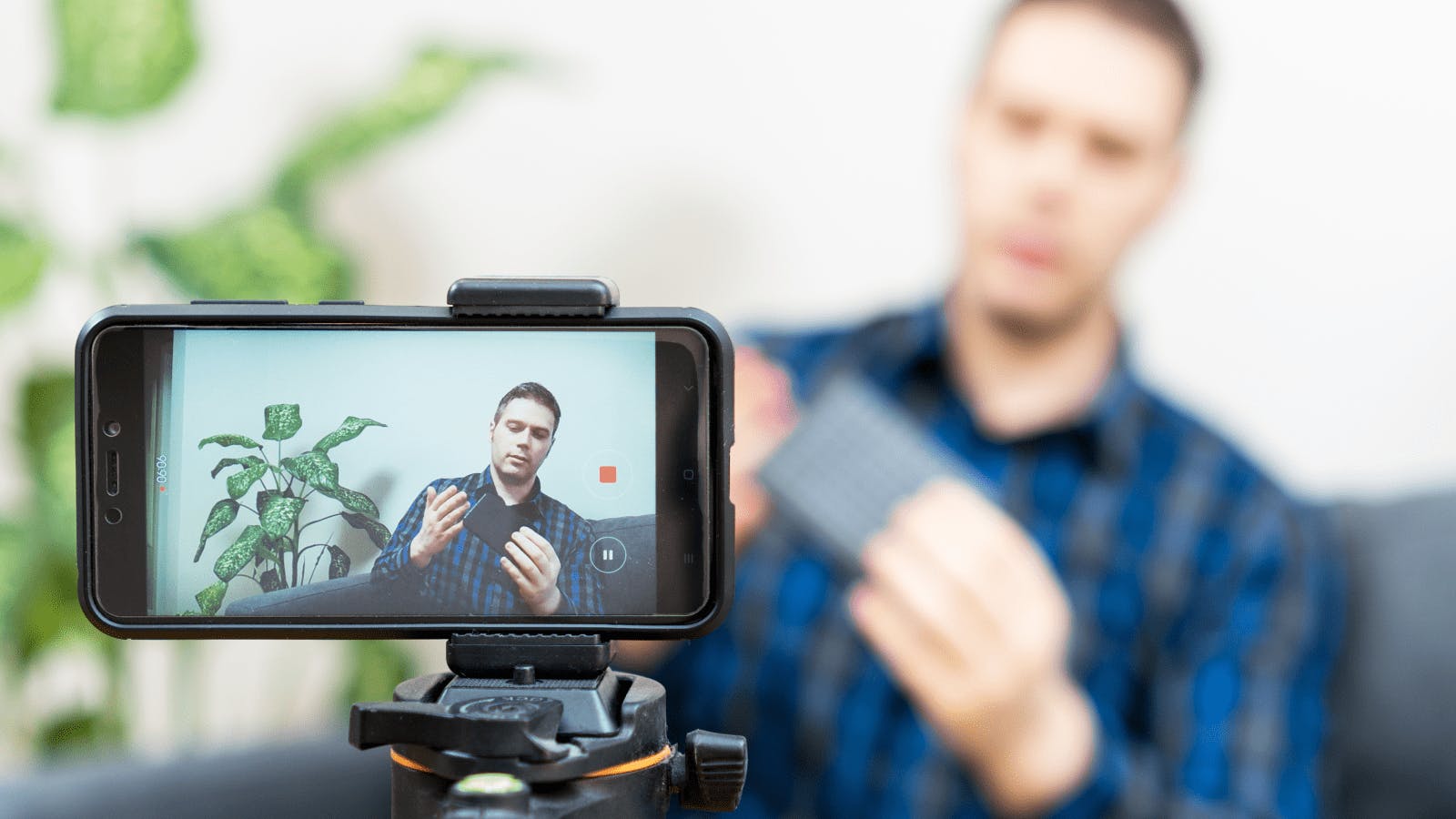 Before COVID, retailers were well aware that people often used more than one channel during shopping. In fact, the Harvard Business Review (HBR) profiled a study of 46,000 shoppers in which 73% said they used multiple channels, while just 7% said they shopped online-only and 20% identified as store-only shoppers.
That research occurred in 2017 and was a signal of the road ahead in retail. Heeding that trend, many brands took initial steps to address channel switching, with tactics like apps that helped shoppers locate products in stores.
But then COVID-19 happened.
The upheaval of pandemic restrictions forced retailers to rethink how they engaged with customers almost overnight. Brands had to consider how they could deliver high-quality, omnichannel experiences. A few were already ahead of the curve, but most had to play catch-up.
In retail, one emerging trend is using in-store associates to connect with digital customers. This approach makes sense since your brick-and-mortar team members likely have more expansive product knowledge and sales know-how than their customer support colleagues.
Some brands had forged ahead down this path before COVID, and some adapted during store shutdowns. Soon, consumers will expect every brand to have an option for real-time digital service from product experts.
Does leveraging in-store associates to fulfill this need make sense for your brand? You can learn from fellow retailers' first forays into bridging the gap between physical stores and digital retail.
Digital Shoppers Want a Personal Touch
The pandemic compelled us all to rethink how we acquire the goods and services we need and compelled brands to respond to changing consumer behaviors. One thing was evident: People shifted to more digital channels.
For many people the experience of shopping primarily digitally was eye-opening. Many shoppers sourced necessities like groceries or personal care items that they'd previously only bought in stores. And some people explored new digital venues, such as direct-to-consumer (DTC) merchants and brand websites, while others experimented with curbside pick-up or live chat.
Although some people resumed some in-store buying as restrictions lifted, shoppers had recognized the convenience of digital buying and the broad selection of online products. It's no surprise that Accenture COVID-19 Consumer Pulse Research research found that shoppers planned to continue using some of the digital channels they had relied on during the pandemic.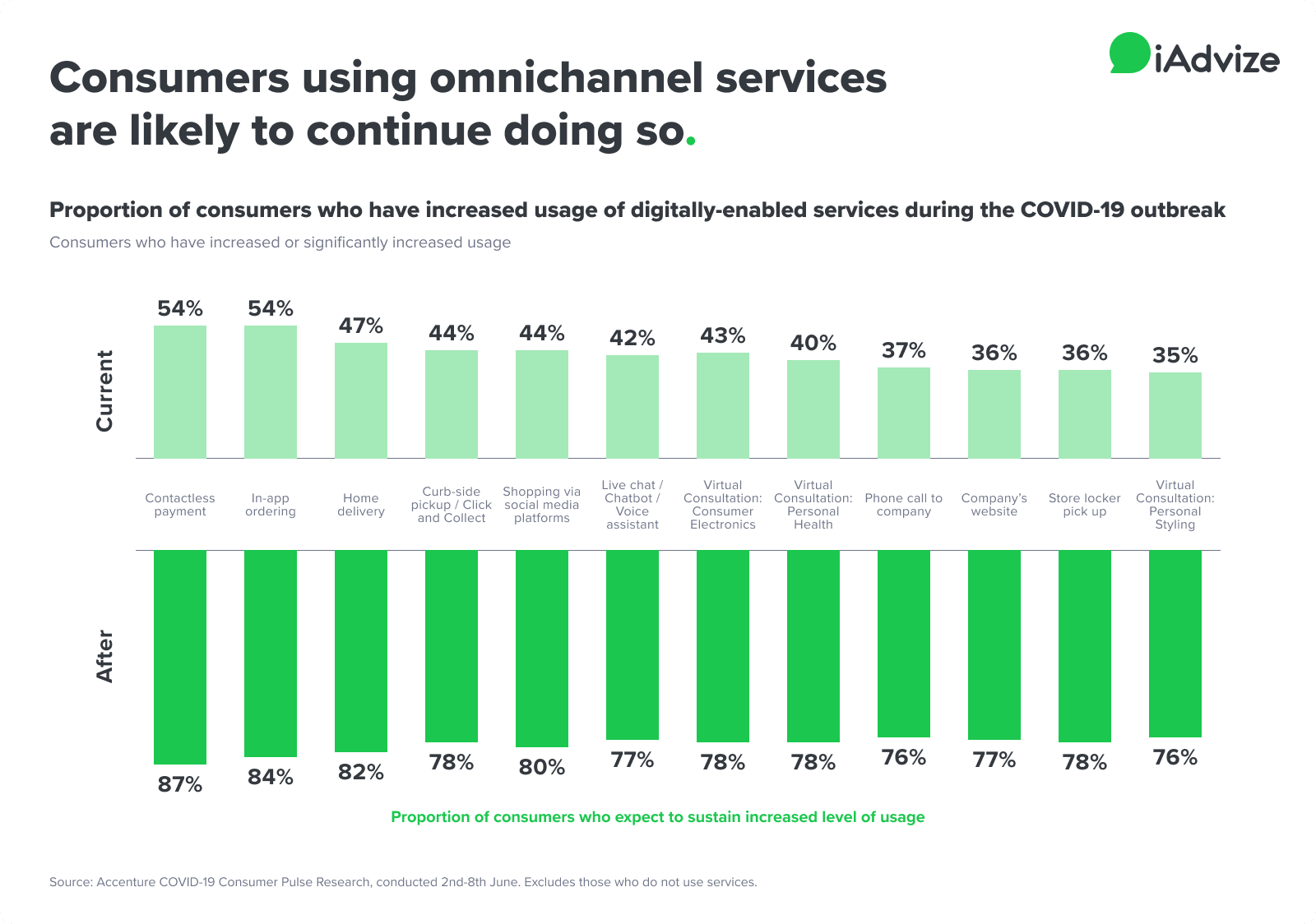 Of note, 77% of consumers said they'd continue to seek personalized assistance through live chat, chatbots, or voice assistants. In addition, more than three-quarters of consumers affirmed that they'd desire virtual consultations for consumer electronics purchases and personal styling.
These findings indicate a clear desire for personal, 1:1 service going forward. To meet these consumer expectations, brands should consider if deploying in-store agents to engage shoppers online is a smart strategy.
Using Store Associates to Foster Local, Personal Relationships with Digital Shoppers
Before COVID-19 hit, Saks Fifth Avenue had made waves in retail by launching a tool to let shoppers connect with in-store associates on its website. When you visit the Saks website, you'll see a chat icon in the lower-left corner. Click on it for two options: Customer Service or Connect with a Stylist.
When you choose the latter, a site uses geolocation technology to find your nearest store and present you with style advisors. You'll see headshots and first names of advisors and can search for stylists you already know. Also, as the Wall Street Journal reports, you can learn more about stylists: "An associate's profile page on the Saks website features a photo and an 'about me' section, with a list of 'specialties,' like women's apparel or men's accessories."
Through this feature, you may be able to connect to someone you know if you have used a Saks personal stylist before. If not, initiating a chat, email, or a booked appointment can be the first step to building a relationship with a personal stylist.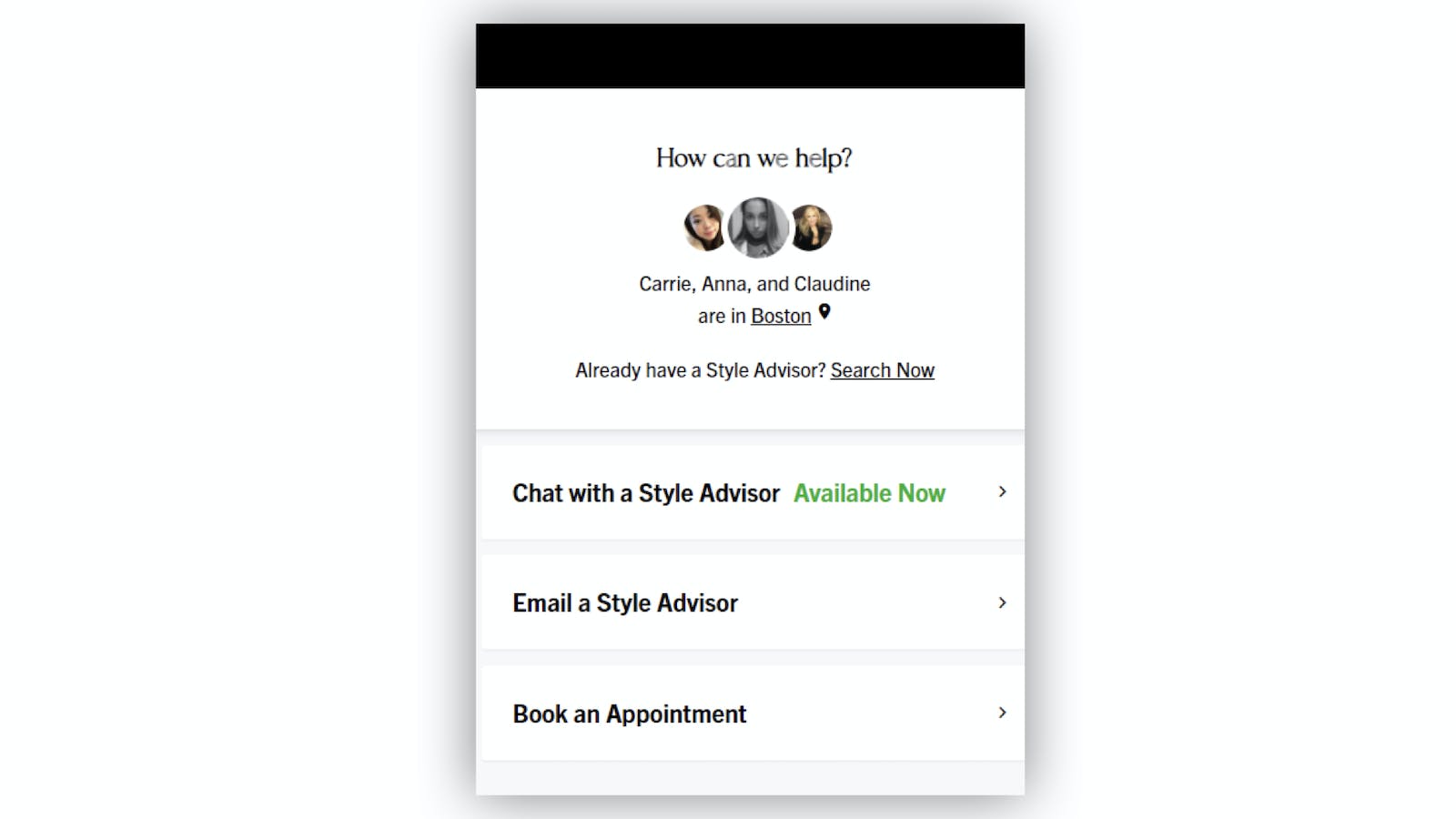 If a stylist is available right away, you may be able to initiate a live chat. However, Saks does advise associates to focus on the needs of in-store customers instead of engaging in online chat and leaving shoppers unattended. That means the chat option may not always be available. In those instances, you can opt to send an email or schedule an appointment.
Through your connection with the style advisor, you can provide details on what you're seeking, along with your budget. In response, the stylist can provide links to products on the Saks site or create a custom "lookbook" with suggestions. They can also provide detailed notes and suggestions to help guide you towards buying the right product.
By using sales associates to reach local customers, Saks is helping shoppers feel connected to their nearest store location. In the luxury space, foot traffic leads to more sales, but web visits are less likely to convert. This strategy for luxury retailers can help bridge the gap between online and in-store and increase sales. While there's clear benefit to the Saks approach, the lack of 24/7 availability and limitations on on-demand 1:1 chat are opportunities to improve.
Deploying Store Personnel to Adapt to the COVID-19 Crisis
For many retailers, business-as-usual shifted suddenly when the COVID-19 threat escalated. Non-essential retailers had to shutter their doors, and those selling food and other necessities had to put stringent safety protocols in place. In some instances, retailers faced the prospect of letting go or furloughing in-store team members.
As brick-and-mortar sales plummeted, many retailers saw surges in digital shopping. Not only were shoppers turning online, but they also were buying products they'd usually buy in-store and grappling with new shipping, bundling, and promotional considerations. Plus, shoppers felt the innate uncertainty of the pandemic and the loss of social connection. Together, these factors signaled a need to revamp their digital processes to provide a more supported and human experience.
As McKinsey & Company notes, some brands answered the call by using in-store associates to support online shoppers: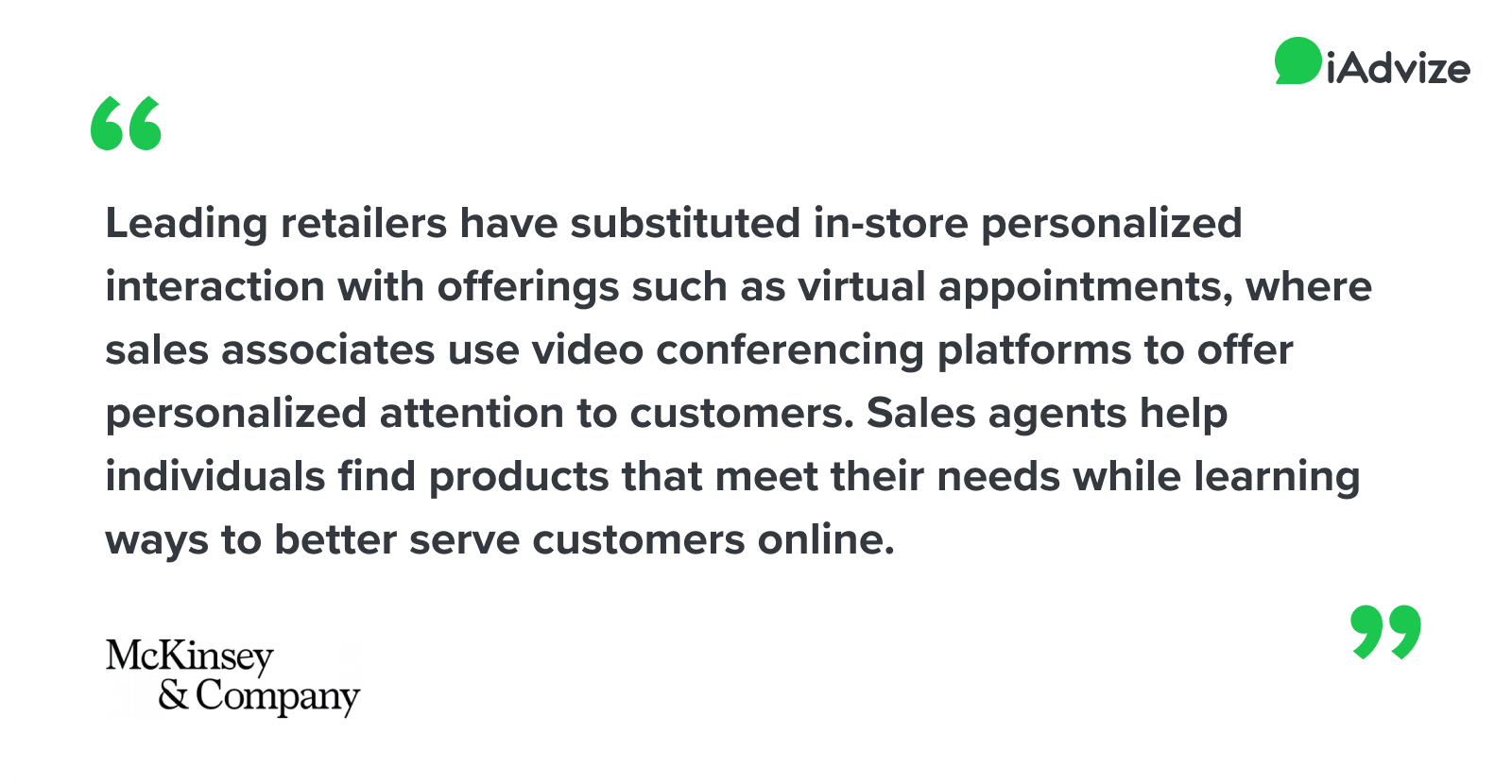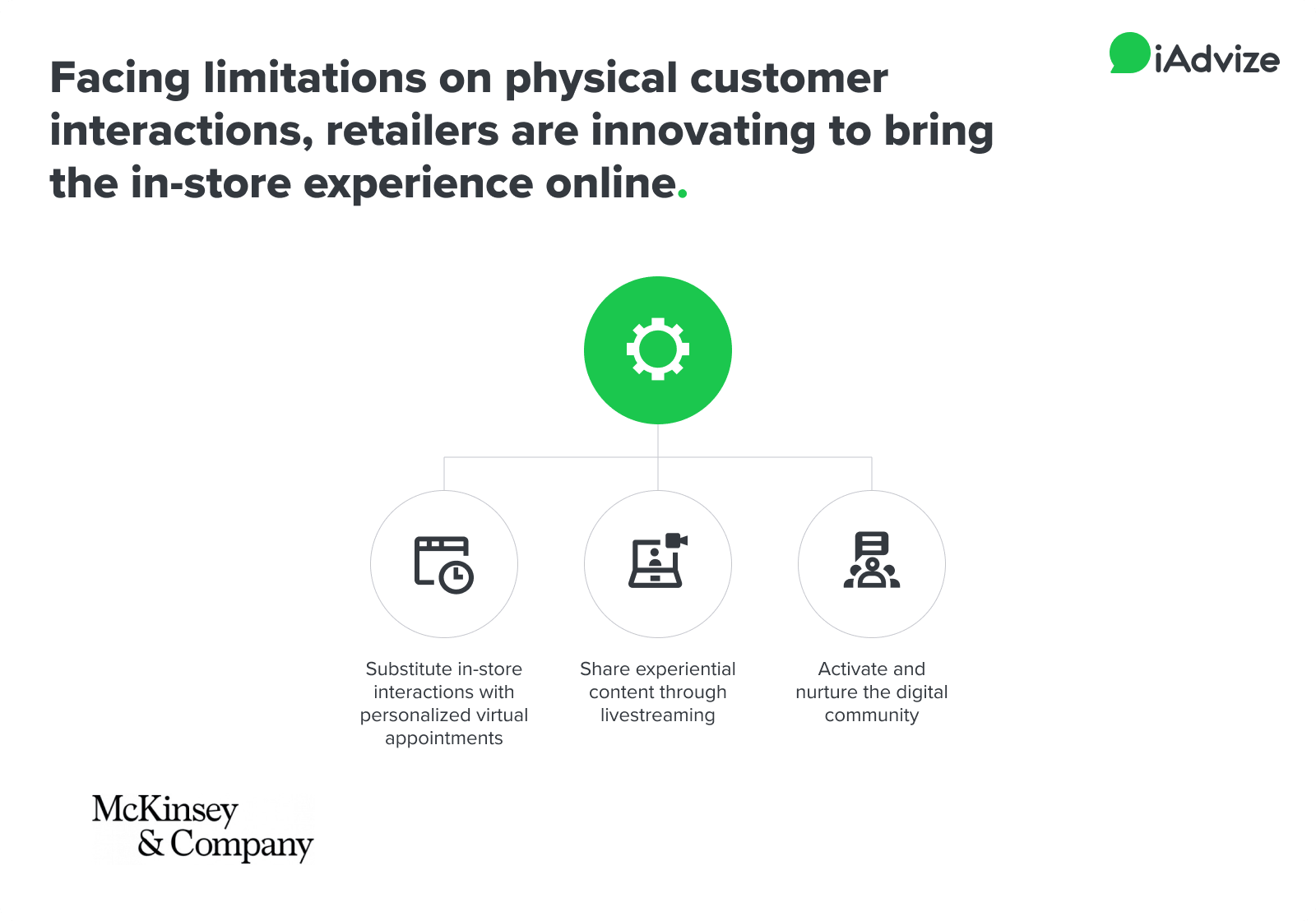 Messaging Empowers Store Associates to Connect with Customers in the COVID-19 Era and Beyond
COVID-19 forced retailers to pivot quickly to help shoppers engage through digital channels. Since many stores had to close or reduce capacity, shoppers couldn't rely on in-person interactions for assistance. Instead, messaging took center stage as the go-to means to gain live support.
At the height of the pandemic, messaging became the #1 conduit for customer interactions for several brands. Messaging was scalable and accessible by employees who could work remotely from their homes. Plus, brands could deploy on-demand experts to extend outreach opportunities beyond usual business hours and make messaging available to shoppers 24/7.
Forward-thinking brands recognized that they needed to merge physical and digital experiences by deploying omnichannel communications stories. One sporting goods brand shifted 400+ in-person sales associates to serve as online product advisors. Since the brand had already been using in-store personnel to advise online customers since 2016, this change was seamless and helped the brand adapt immediately to pandemic-related store closures.
The brand was able to add 415 agents to its conversational platform in just four days while allowing all agents to work remotely via desktop or mobile applications. Thanks to this rapid action, the brand saw average order volume grow 61% despite a 23% drop in web visits.
Other brands executed a similar strategy on a smaller scale. One digital bank redeployed brick-and-mortar customer advisors to online chat to answer customer questions and offer reassurance during shutdowns. Through this shift, the bank handled a surge of online contacts with a first response time of under one minute.
Now that brands like these know the potential of engaging in-store shoppers to serve online shoppers, more will follow suit. If you're one of them, learning from omnichannel trailblazers can light the way.
Fnac Darty: A Study in Messaging and Omnichannel Success
One long-term iAdvize client, Fnac Darty maintains a strong commitment to omnichannel excellence that helped the brand respond swiftly to COVID-19. As the second-largest largest eCommerce retailer in France, Fnac Darty manages more than 10 million inbound contacts each year. One-quarter of the brand's customer contacts occur via messaging, making it the second most-used channel after phone support.
From the start, Fnac Darty focused on delivering a premium pre-sales experience through messaging. With 700+ stores and a desire to provide seamless experiences, Fnac Darty knew it needed to create reliable, robust processes to bridge the gap between physical and digital retail. No matter which channels they use at different steps of the customer journey, the company aims to offer consistency, empathy, and personalized support.
Through messaging, shoppers have easy access to help to get answers to questions they couldn't find themselves. To make brand interaction accessible to shoppers' preferred channels, Fnac Darty provides chat opportunities through its website, social media, and WhatsApp.
During the brand's COVID-19 response, this strong omnichannel foundation empowered Fnac Darty to shift priorities while continuing to deliver top-tier customer service. The brand used a mix of respondents, including chatbots for simple queries, independent experts, and in-store sales professionals to handle a spike in online queries.
With this approach, Fnac Darty leveraged in-store sales professionals to keep them actively engaged during shutdowns and social distancing. The results were impressive, with some sales experts achieving conversion rates exceeding 20%. Customers benefited from high quality of service and personalized interactions during a stressful passage when emotions were running high.
Fnac Darty has gained other business benefits through its messaging deployment:
Higher Net Promoter Score (NPS): Scores for messaging average 10 to 30 points higher than NPS ratings for phone or email.
Fewer Inbound Emails: The brand's inbound email inquiries are three times less than they were before the implementation of messaging.
Fast First Response Time: With messaging, respondents typically engage with shoppers in under 30 seconds.
Improved Productivity: Agents and experts can handle four messaging conversations simultaneously to ensure that customers receive prompt, personalized service.
As an added benefit, messaging has improved the quality of work experiences for Fnac Darty's associates. Because the brand uses a mix of social channels and WhatsApp, associates can present themselves and brand and product experts and gain recognition for their unique expertise. Also, because messaging is written communication, and often at a slower pace than phone calls, agents can engage with colleagues for problem-solving assistance. As a result, Fnac Darty has fostered a more collaborative work environment, with measurable declines in absenteeism and turnover.
Fnac Darty's 2020 year-end results affirmed the value of its focus on omnichannel and messaging:
Revenues reached 7,491 million ($9,028 USD) in 2020, up 1.9% in 2019.
Strong digital momentum with 55% growth in online sales, representing 29% of total revenues
A 30% increase in click-and-collect order processed, which validates the relevance of the brand's omnichannel model
Results like these are common among brands that emphasize developing best-in-class omnichannel strategies.
Why Brands Must Embrace the Omnichannel Wave
The drive toward omnichannel means that brands need to follow the lead of trailblazers like Fnac Darty, with messaging as a focal point. Although omnichannel has been undergoing evolution, those that have made it a priority have reaped rewards for their efforts. As research from the Aberdeen Group provides, a brand with best-in-class omnichannel strategies sees higher customer retention and first contact resolution rates, along with improved agent utilization and decreased contact handling time: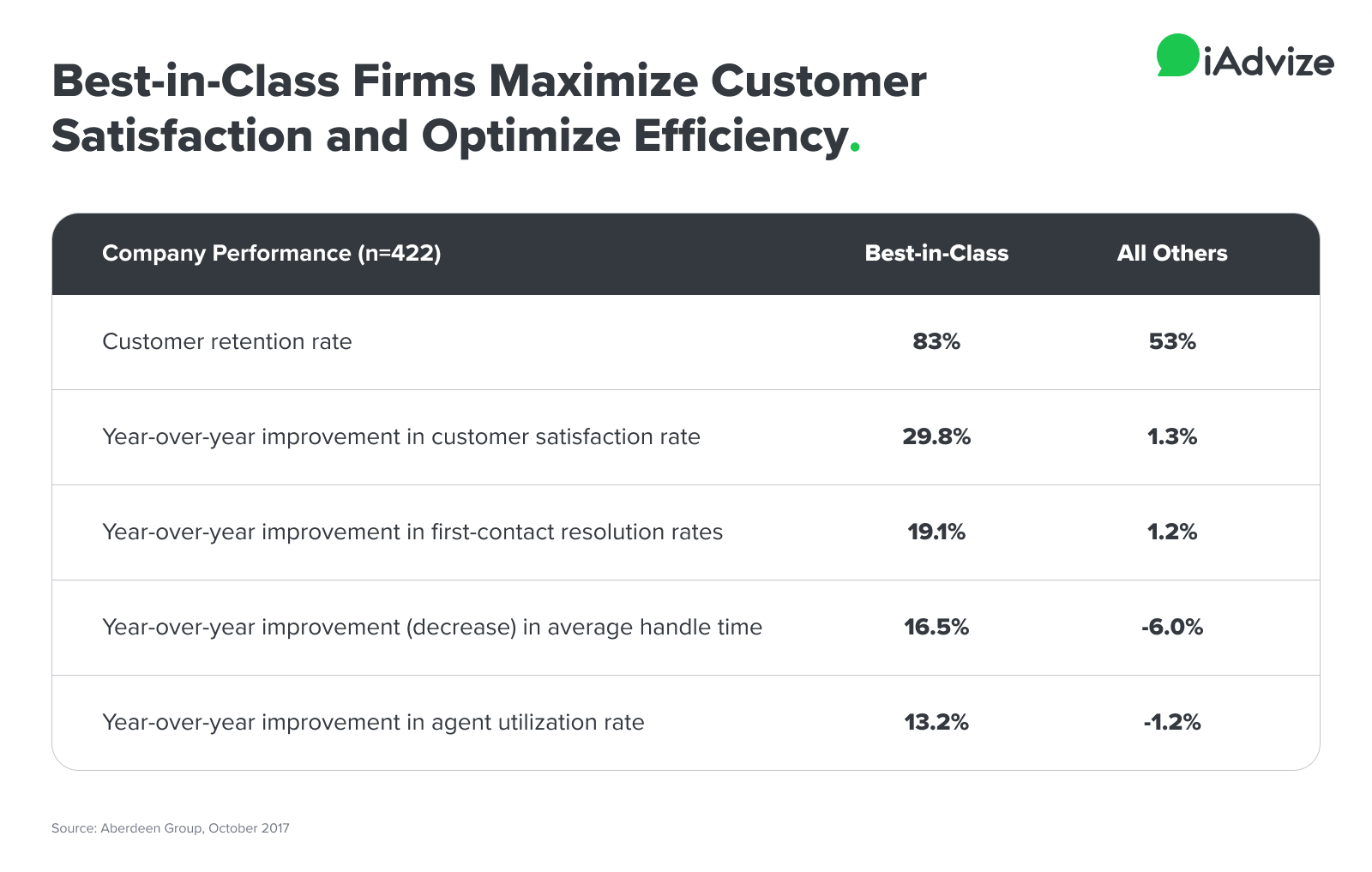 Research published in the Harvard Business Review reveals other omnichannel benefits. When customers have the option to engage through digital channels while shopping in a store, they spend 13% more. And after that first omnichannel experience, shoppers are more likely to be loyal and promote the brand. As HBR explains, "Within six months after an omnichannel shopping experience, these customers had logged 23% more repeat shopping trips to the retailer's stores and were more likely to recommend the brand to family and friends than those who used a single channel".
It's clear that omnichannel is the new reality in retail and critical for success. The only question is how your brand is going to address it.
Bridging the Gap Between Physical and Digital Retail
We all knew that omnichannel was the wave of the future, but COVID-19 pushed omnichannel priorities forward.
Today, brands need to address the rise of what Italian research and development center NET Lab calls "Everywhere Shoppers," or people who connect with brands through any device, at any time, using all available touchpoints: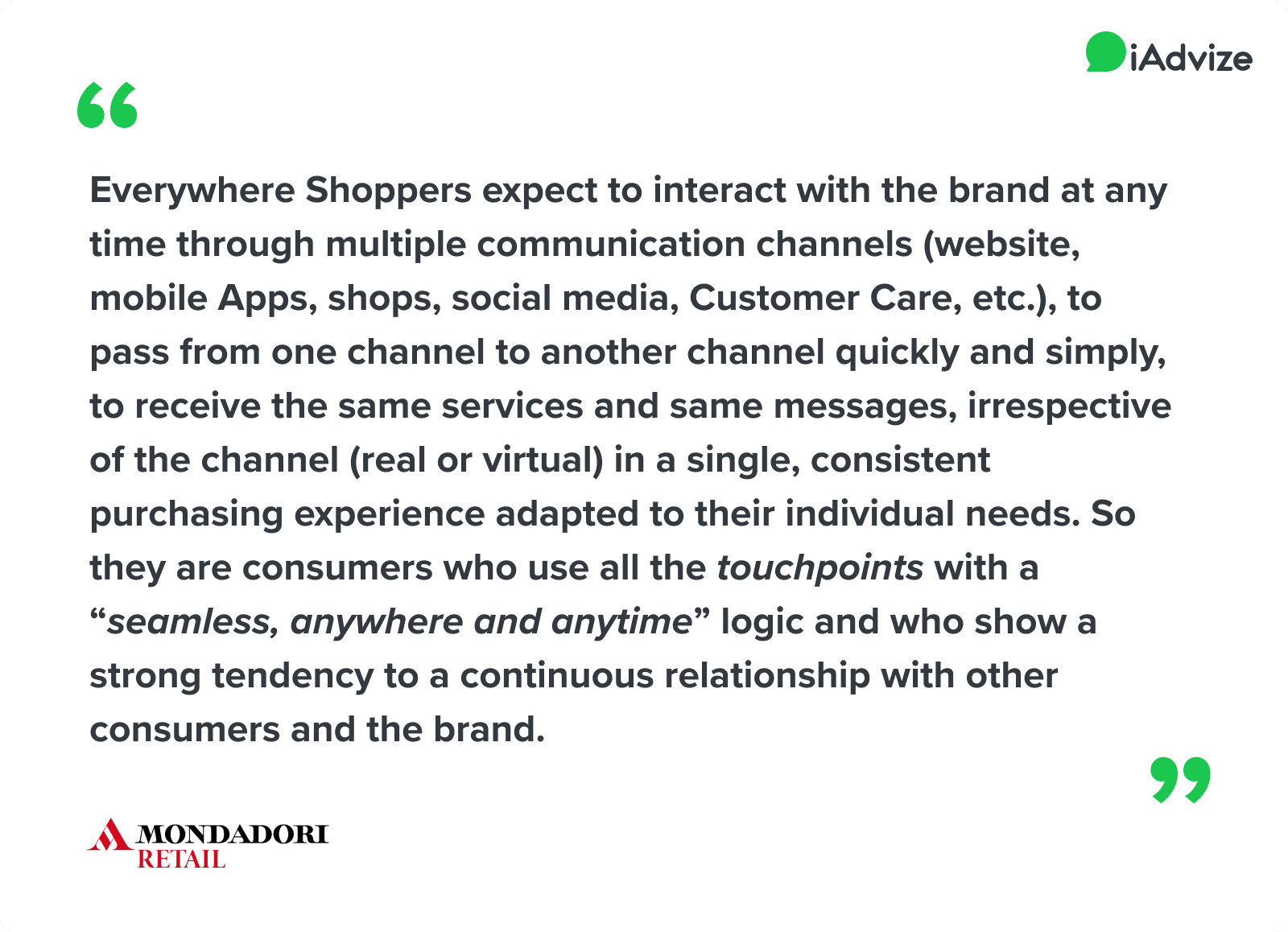 We're all becoming "everywhere shoppers." Everyone wants seamless, personal experiences no matter when, where, and how we shop. We expect consistent treatment, empathy, and humanity every time they engage with any brand or business.
Also, we want store associates to understand a retailer's entire product portfolio, even items offered exclusively online. According to a Forrester study, 45% of shoppers also anticipate that store personnel will know about online-only products.
What does this mean for your brand? You must embrace the reality that omnichannel is here to stay and provide multiple ways for shoppers to connect to you digitally. Make sure that you include options for live interaction through chat and messaging in the mix. That may mean empowering some in-store associates to do double-duty as online advisors. You can always supplement your in-house team with a pool of on-demand brand experts who can cover peak periods and provide after-hours support.
In the next era of retail, the learnings from the pandemic will shape how we engage and interact with customers. Speed, convenience, and selection will always be advantages of digital shopping, but we all now know a human, personal touch matters too. Brands that can link their physical and digital domains to deliver truly connected and consistent experiences will stand out from the pack.
Your brand can be one of those leaders by creating an omnichannel strategy that lets shoppers connect with you anytime, anywhere, via any device through messaging.