How to Promote Self-Service
8min read - iAdvize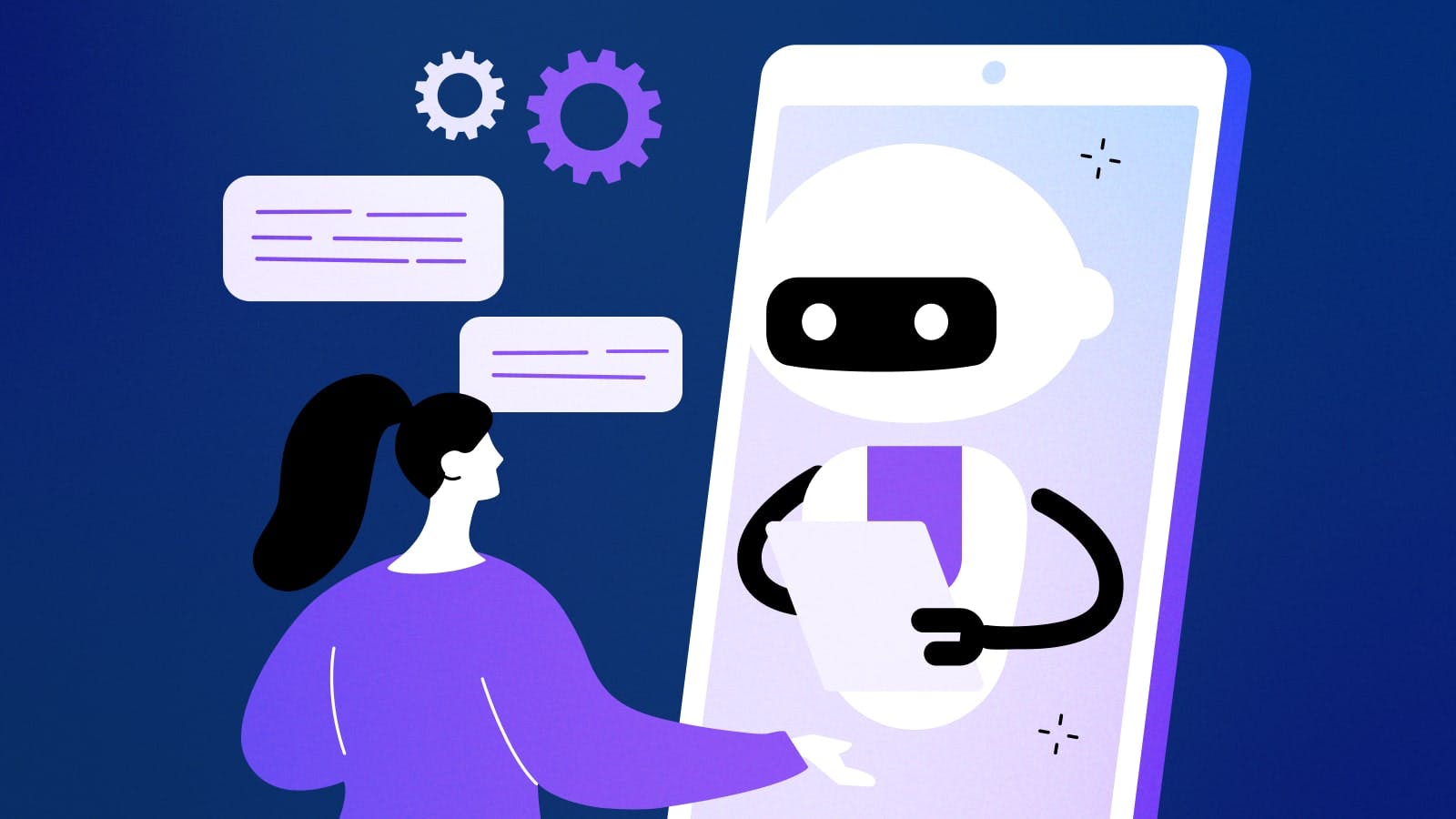 The innate value of online self-service in retail is clear. When people can find information and complete the tasks they need quickly, they'll have better experiences. Plus, brands don't have to pay for expensive live customer service contacts.
It's no surprise to learn that retail industry statistics consistently reveal a strong consumer preference for self-service:
90% of consumers expect a brand to offer a self-service support portal (Microsoft)
73% of consumers say they prefer self-service (SOTI)
59% of consumers affirm that self-service affects their loyalty (Salesforce)
CEOs are getting the message. According to research from Gartner, 65% of CEOs said they had seen an increase in self-service, with 79% projecting continued growth.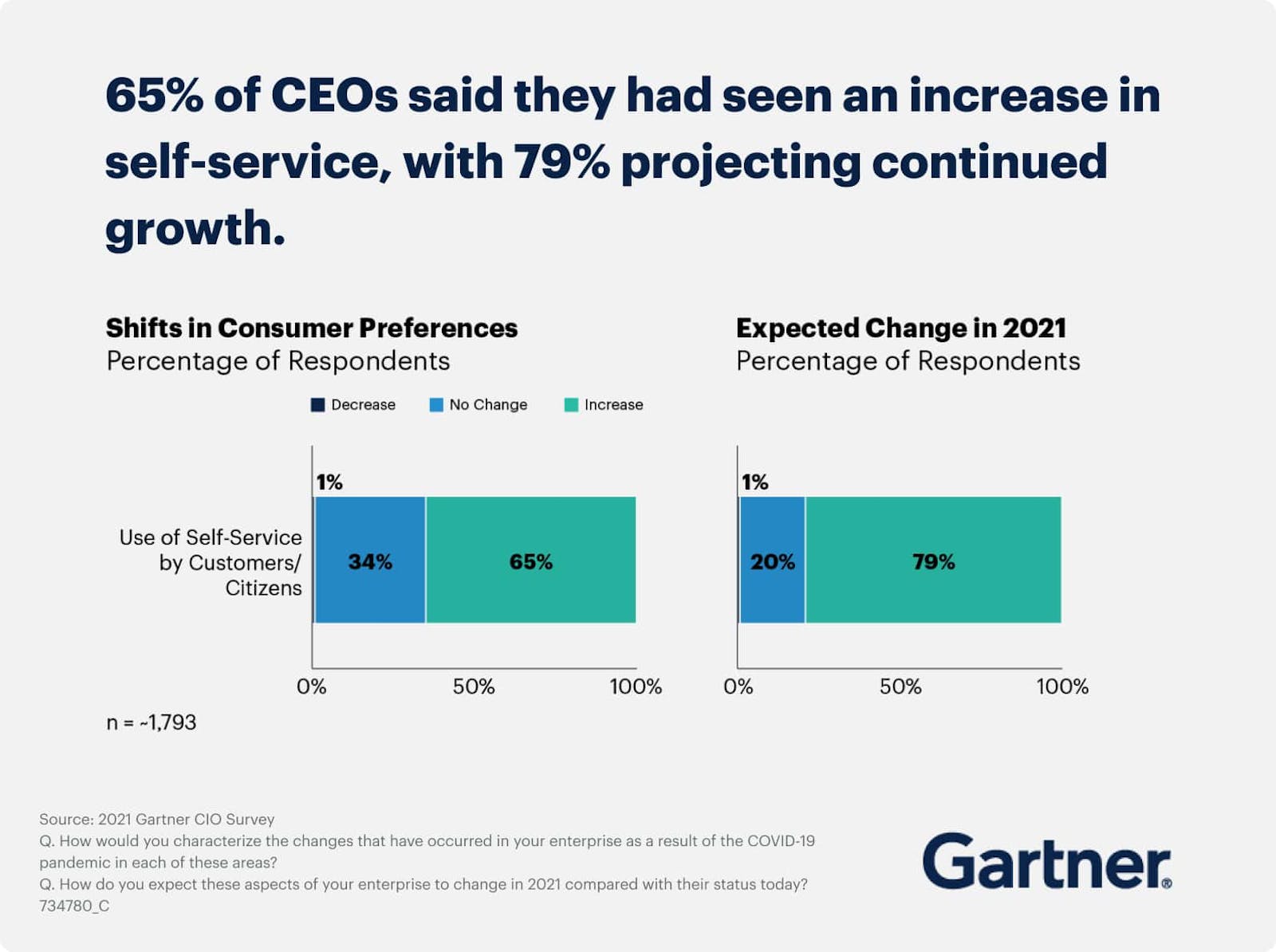 Chances are, your company provides some online self-service options for customers. These offerings may include frequently asked questions (FAQs) or user communities. Both are a great start to a robust self-service approach.
But today's innovators recognize that leaving customers on their own to find their way isn't always ideal.
Some people attempt to self-serve, then reach out for support. When they do, brand representatives can use this interaction as an opportunity to show people how they can self-serve in the future. That way, customers gain the independence they desire while brands can prevent the expense of future support contacts.
What do you need to do to implement top-of-the-line self-service? Start by understanding the current digital landscape and the state of self-service today. Then, understand how you can turn your service organization into a hub of collaboration and learning that actively coaches consumers on how to meet their self-service goals.
Self-Service is Growing — But Contact Volumes Aren't Dropping
Online self-service was already on the rise, but 2020 was a breakthrough year for all things digital. Back in 2016, Forrester reported that consumers preferred web self-service to other channels and viewed web chat as a "low friction" way to connect with brand representatives.
2020 brought "enormous increases in self-service and digital interactions," according to Forrester. In the US, more adults conducted transactions online for the first time:
14% of US adults banked online for the first time
21% purchased groceries online for the first time
17% ordered from a restaurant online for the first time
Companies responded by investing more in asynchronous technologies like chatbots and messaging, but contact center volumes didn't drop. The reason? Consumers have gained digital confidence but still needed personalized, human support to address more complex needs.
Going forward, Forrester predicts that customer service professionals will play an even more critical role in meeting brands' customer experience goals. They'll become brand assets whose people skills and expertise provide value-added insights to customers. Still, companies must continue to invest in digital self-service to help people resolve questions in the most simple and efficient way possible.
Today's brands need to avoid viewing self-service and live service as two discrete issue resolution paths. Instead, the two are innately interdependent — and people often use both during their digital shopping journeys.
Striking a Balance Between Self-Service and Live Service
Gartner has similar observations about the state of self-service. Recent years have seen brands investing more in self-service in hopes of displacing more costly live services. However, while 56% of corporate leaders say they've added new channels or features, they're finding that people are still reaching out for live support.
The challenge, says Gartner, is that companies don't always have a clear strategy to evolve digital self-service.
In fact, Gartner has found that the more service channels a company offers, the more contacts people make to support centers. Consumers have grown comfortable with channel switching, and 70% use self-service at some point. Yet only 9% can fully resolve issues using self-service alone.
The good news is that channel switching doesn't usually diminish customer loyalty. The bad news? Even if it's only one step in a multi-channel shopping journey, a live service interaction costs 80 to 100 times more than a self-service fix. And costs climb even more as people use more live channels.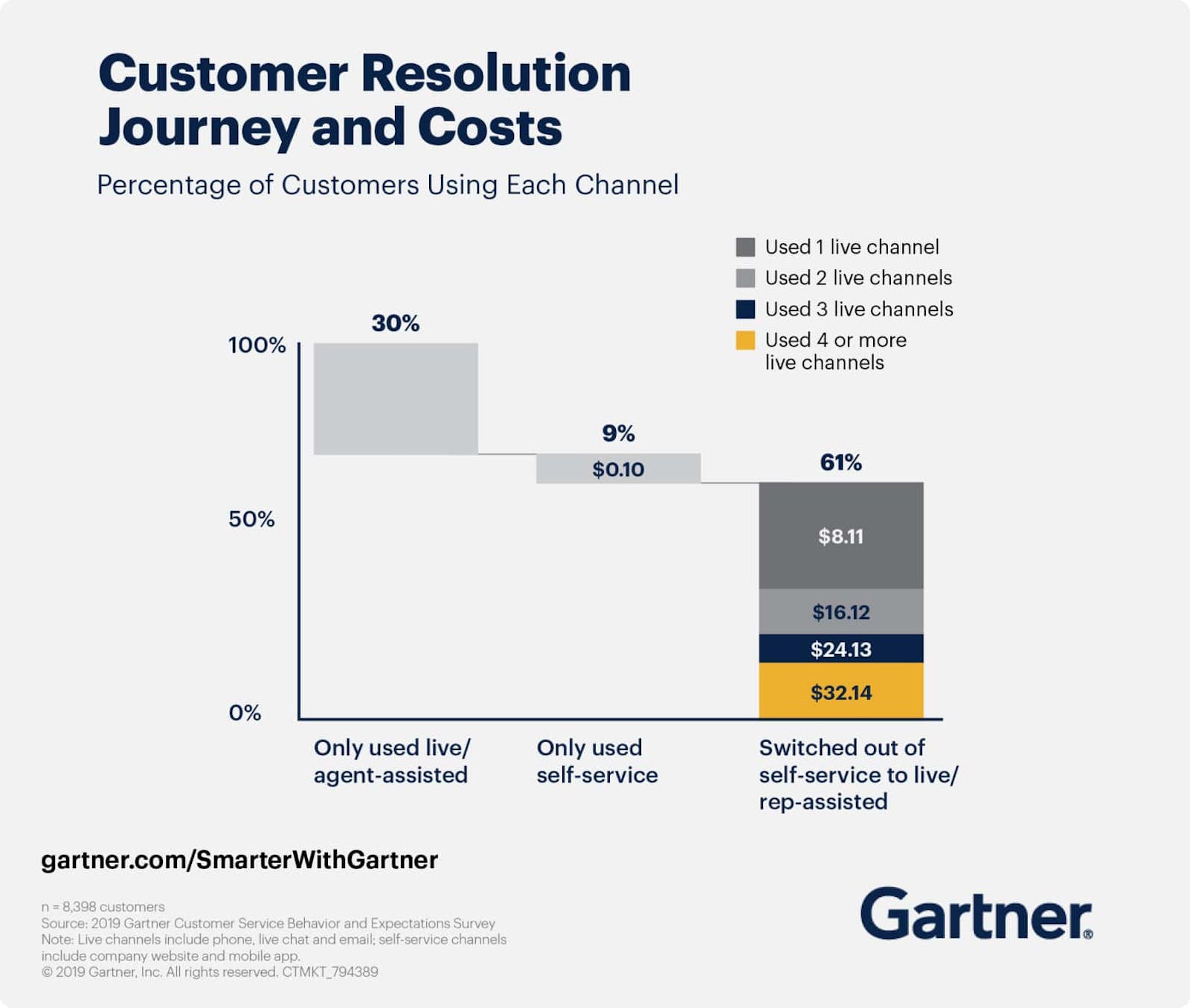 Notably, service leaders assert that 40% of the issues that come into a contact center could be resolved via self-service. That means nearly half of all support contacts are an unnecessary waste of time and resources.
What's the solution? It's not simply adding more self-service channels and hoping people will figure out how to use them. Instead, you need to recognize that consumers have different intents and may use varied channels to fulfill those needs. You must trust that people want to solve issues in the most efficient way possible and guide people to the right channels.
Understanding Intents and Channel Choices
Today's your customer's journeys often resemble intricate spider webs, with people jumping from channel to channel to find the information they need. The paths customers take aren't linear and predictable. And try as you might, you'll never control all the sources people visit when making purchase decisions or addressing support issues.
In truth, according to Gartner research, people consult 1.7 company-owned channels along with 2.1 non-company-owned channels during a typical resolution journey.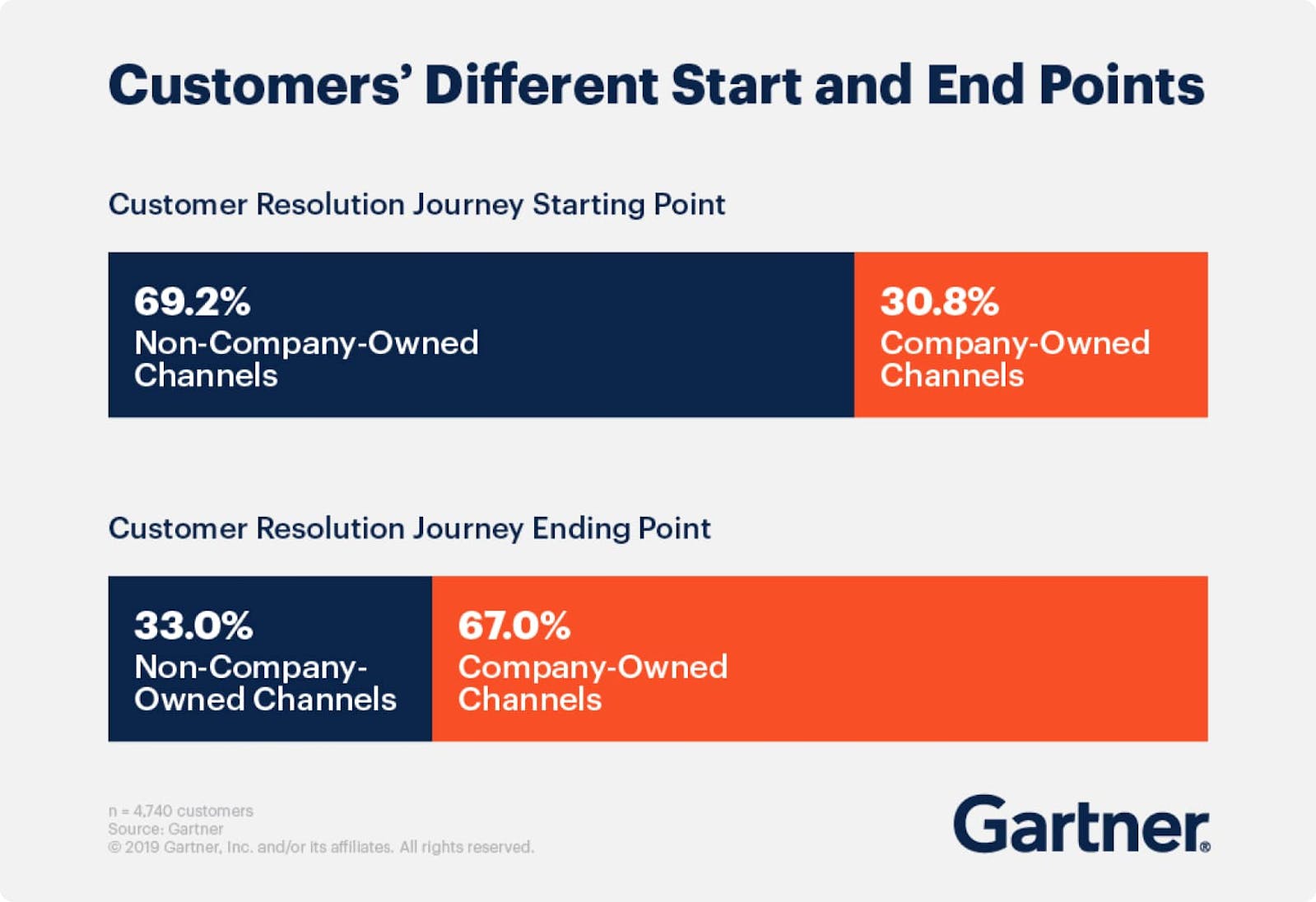 Even so, your brand is still ultimately responsible for the complete journey and customer experience. Your primary goal is helping customers achieve what they set out to accomplish, whether that's making a purchase, gathering information, or resolving problems.
Often, service leaders have a tunnel-vision view of why people seek out service. They presume people are attempting to resolve the issue and that each company-owned channel is equally capable of addressing that need. However, achieving next-generation service excellence demands a mindset shift. Instead of focusing on channels, you need to focus on intent.
As Gartner explains, consumers have six primary intents, which they call "resolution jobs."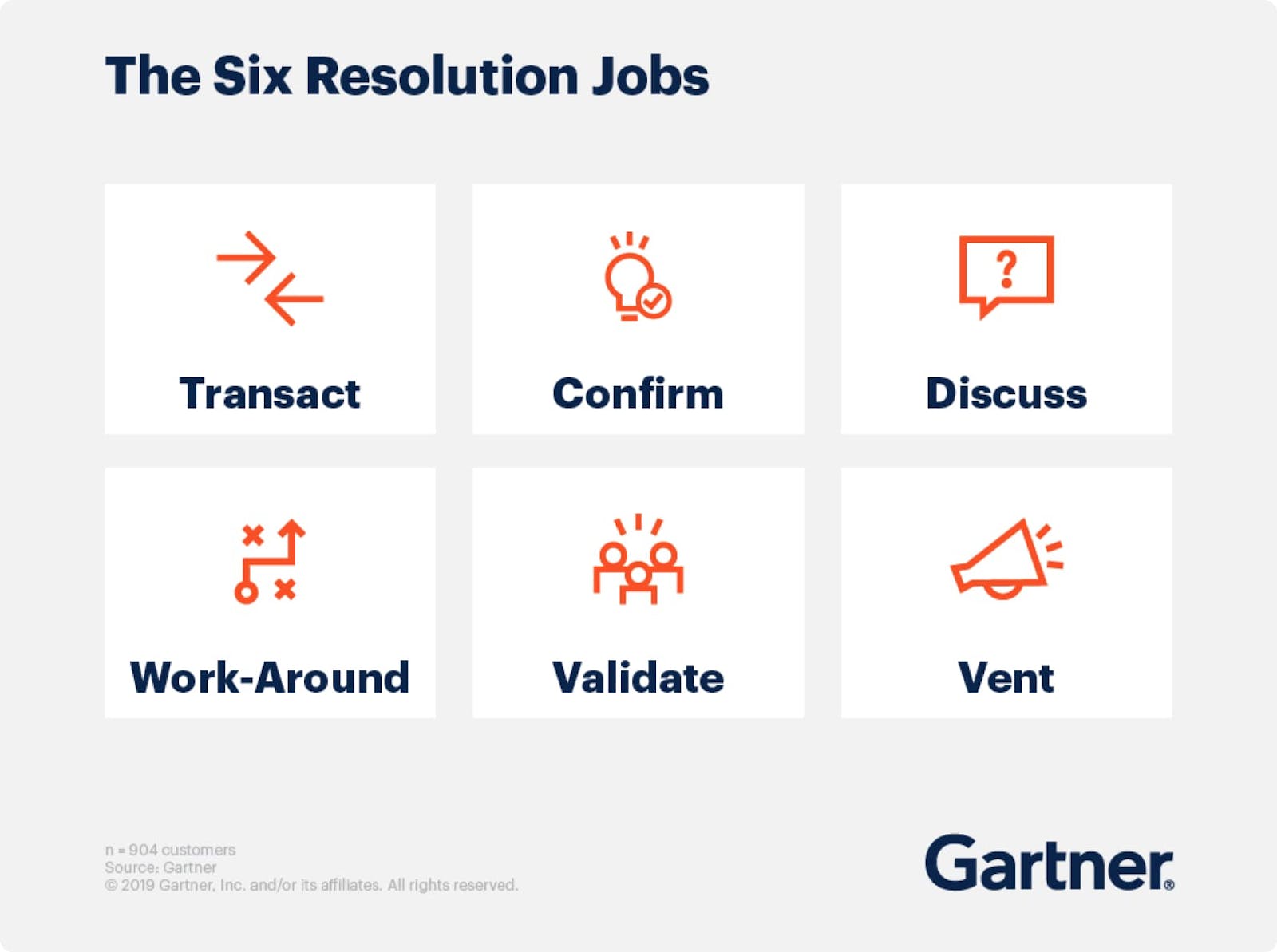 Some may involve reaching out directly to a brand, while others may deliberately avoid company contact: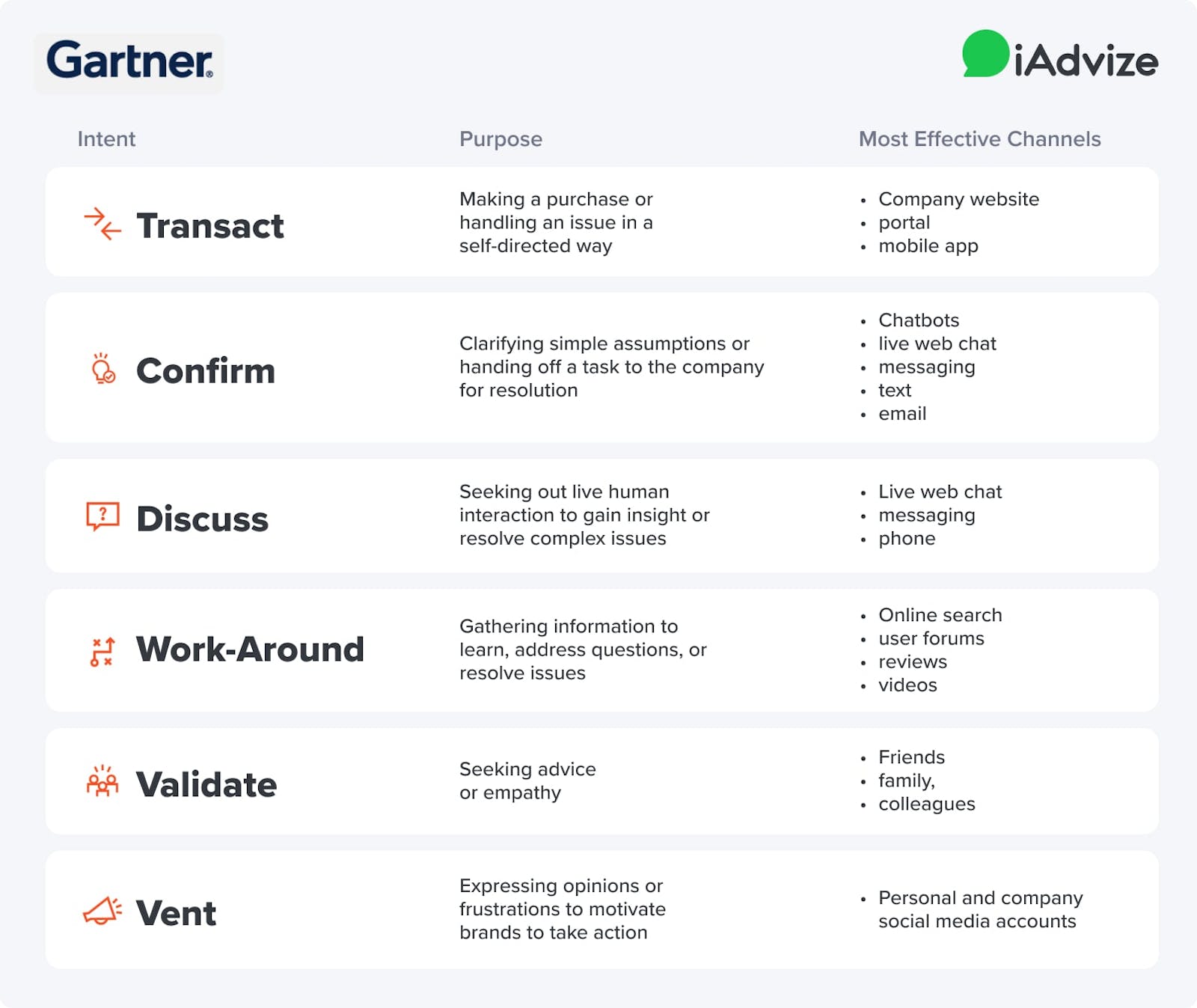 Service Representatives Become Self-Service Coaches
It's all too easy for people to choose the wrong channel and visit multiple channels — and that can lead to mounting frustration. If people do reach out for live support, service professionals can act as coaches to promote self-care. With that approach, brands can turn a costly service contact into a value-added experience for their customers.
Imagine someone needs to report a lost credit card that they hadn't noticed was missing until they discover suspicious transactions. They may feel embarrassed or worried about the issue and prefer not to engage with a person directly.
Let's say they visit the bank website first and search but can't get an answer. Next, they try a chat option but get routed to a chatbot who points them to unhelpful FAQ pages. As a last resort, they call customer service. While the service representative may be empathetic and address the issue quickly, the customer may still have strong negative feelings about the experience. The customer may respond by badmouthing the bank to friends and family or venting on social media.
What's a better way to handle this situation? Instead of simply resolving the issue at hand, the representative could have coached the customer on how to self-serve if similar problems arise in the future.
Perhaps the customer could log into the account dashboard or use the bank's mobile app to deactivate the card and report the transactions. That way, the customer can achieve the desired privacy and still safeguard their finances and credit. Instead of complaining, the customer praises the proactive service to others and posts a positive endorsement on the company's social media page.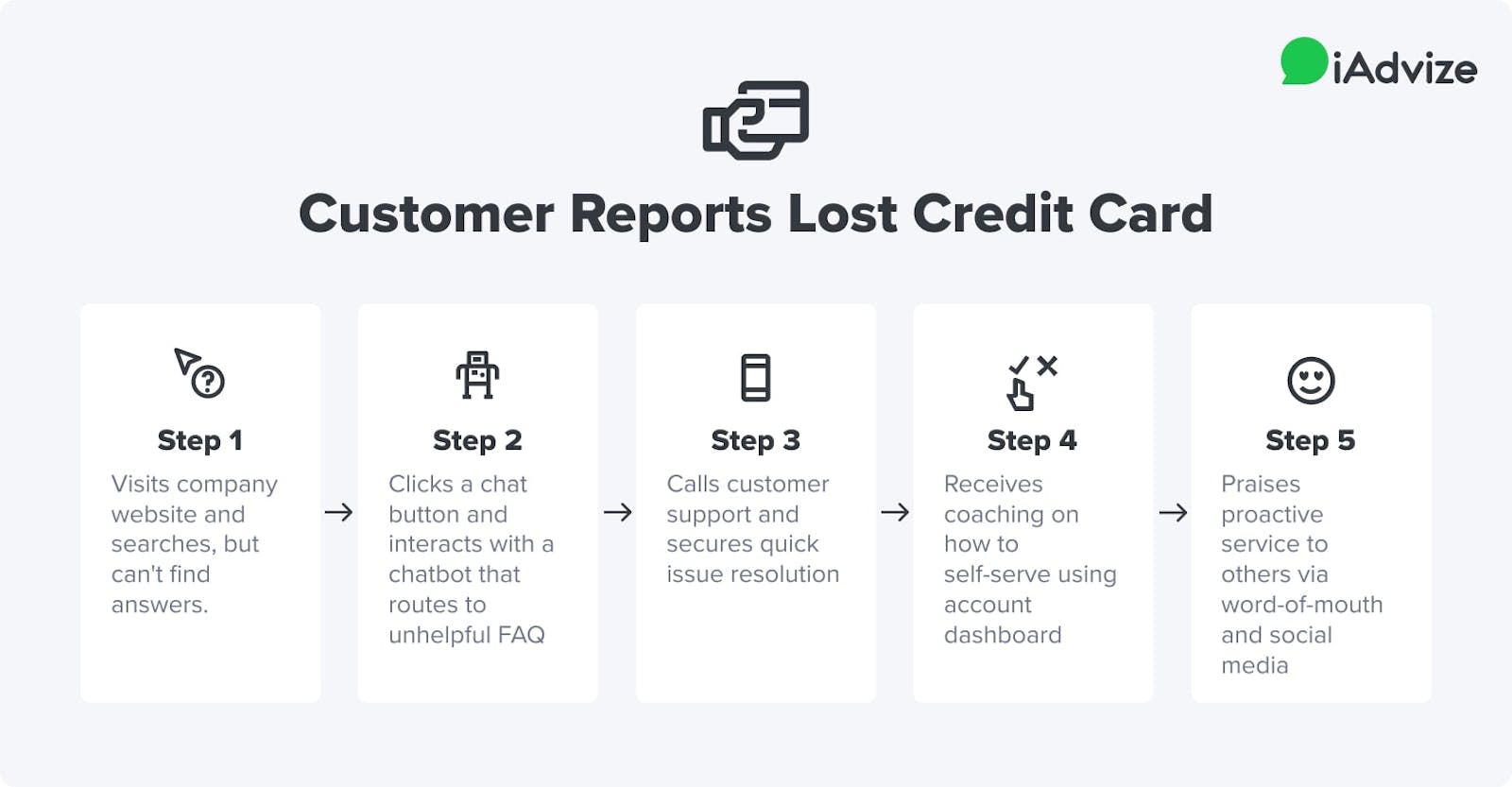 Service Organizations Become Profit Centers
By using live service contacts to provide guidance on self-service, brands can achieve a win-win. They'll make the most out of a high-cost service interaction and deflect some future contacts, which saves money. At the same time, customers will gain the know-how they need to resolve issues independently and avoid unwanted outreach.
Over time, your support center will grow to become an instrumental asset in fulfilling your customer experience strategy. Instead of viewing it as a cost center, you'll understand that customer support truly is a profit center.
In fact, Gartner predicts that "by 2025, 40% of customer service organizations will become profit centers by becoming de facto leaders in digital customer engagement."
Over the next few years, Gartner expects to see even more customers shift away from calls to more expedient messaging-based resolution channels, including SMS, Facebook Messenger, WhatsApp, and others. More than 80% of brands are likely to abandon native apps as consumer preference for messaging proliferates.
Focusing on Value Enhancement During Service Interactions
Digital consumers can research, self-serve, solve problems, and transact at increasingly fast speeds. They appreciate retailers that deliver the expediency and convenience they prefer and quickly seek out other options after a bad experience. How can you achieve the increased service levels customers expect?
Convenience is a critical success factor, with 61% of people likely to stick with a brand after a low-effort experience. That probability drops to 37% for higher-effort interactions. But convenience alone isn't enough, as almost 40% of consumers are inclined to defect even after a high-quality experience.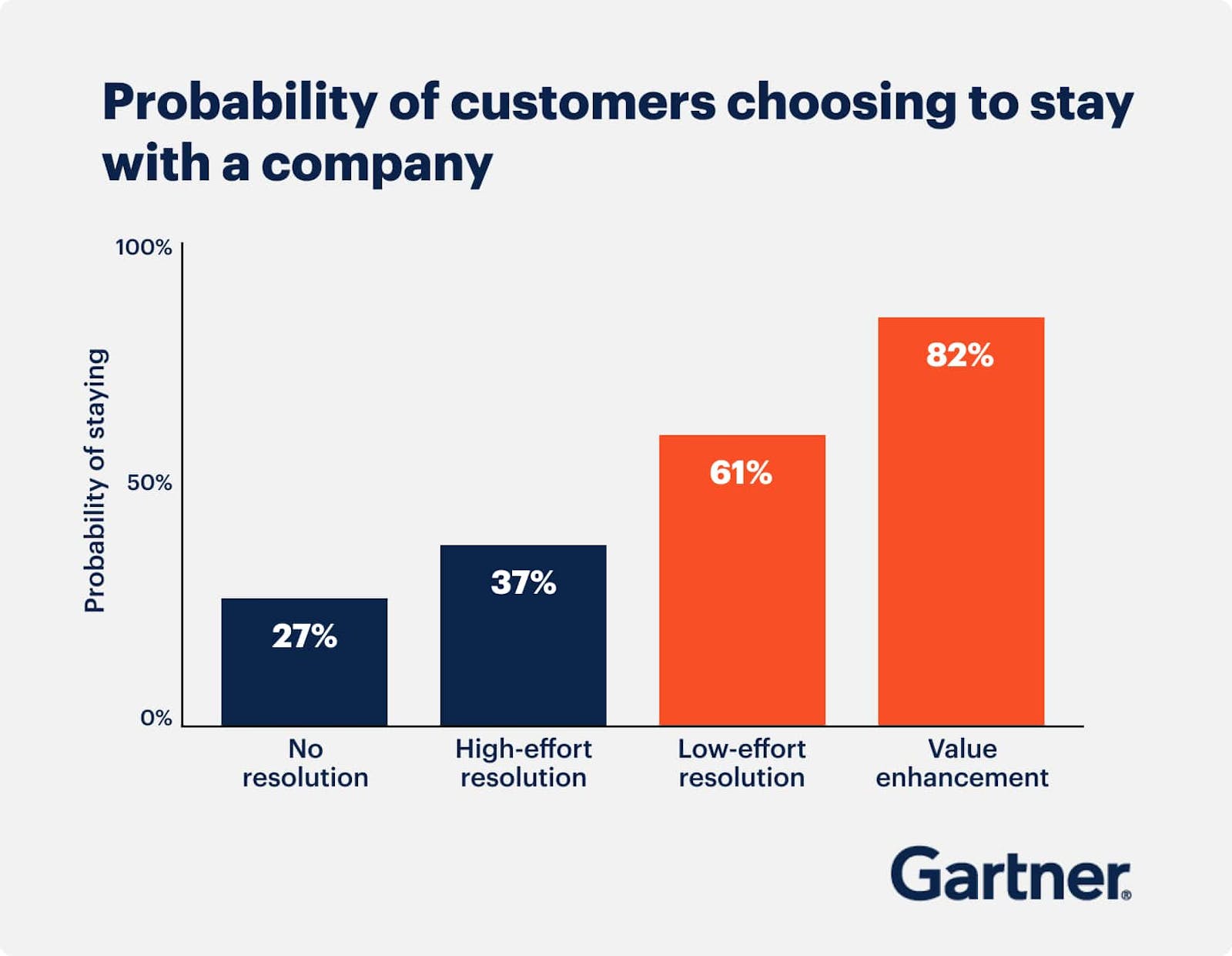 The answer, says Gartner, is value enhancement -- which means impacting the customers' perception of the brand or offering. For brand representatives, that means going beyond handling the issue at hand to provide added value to customers during a service encounter. These actions can include educating customers on how to get the most out of products and services, which can mean coaching them on self-service opportunities.
Brands that focus on value enhancement increase the potential of a customer staying loyal to 82%. As an added benefit, most of those customers are likely to increase wallet share (85%) and share positive sentiment about the brand with others (97%).
Brands that have a conversational platform in place already hold the key to value enhancement in their hands. Every interaction with shoppers and customers contains powerful insights on needs and intents. By analyzing those conversations and understanding which responses from brand ambassadors worked, brands can provide insights to other agents.
Advanced artificial intelligence (AI) can create a climate of continuous learning and give frontline representatives access to the answers they need to support customers.
Deploying Augmented Intelligence to Support Self-Service
Most brands are familiar with earlier generations of chatbots that are best suited to handle only basic requests.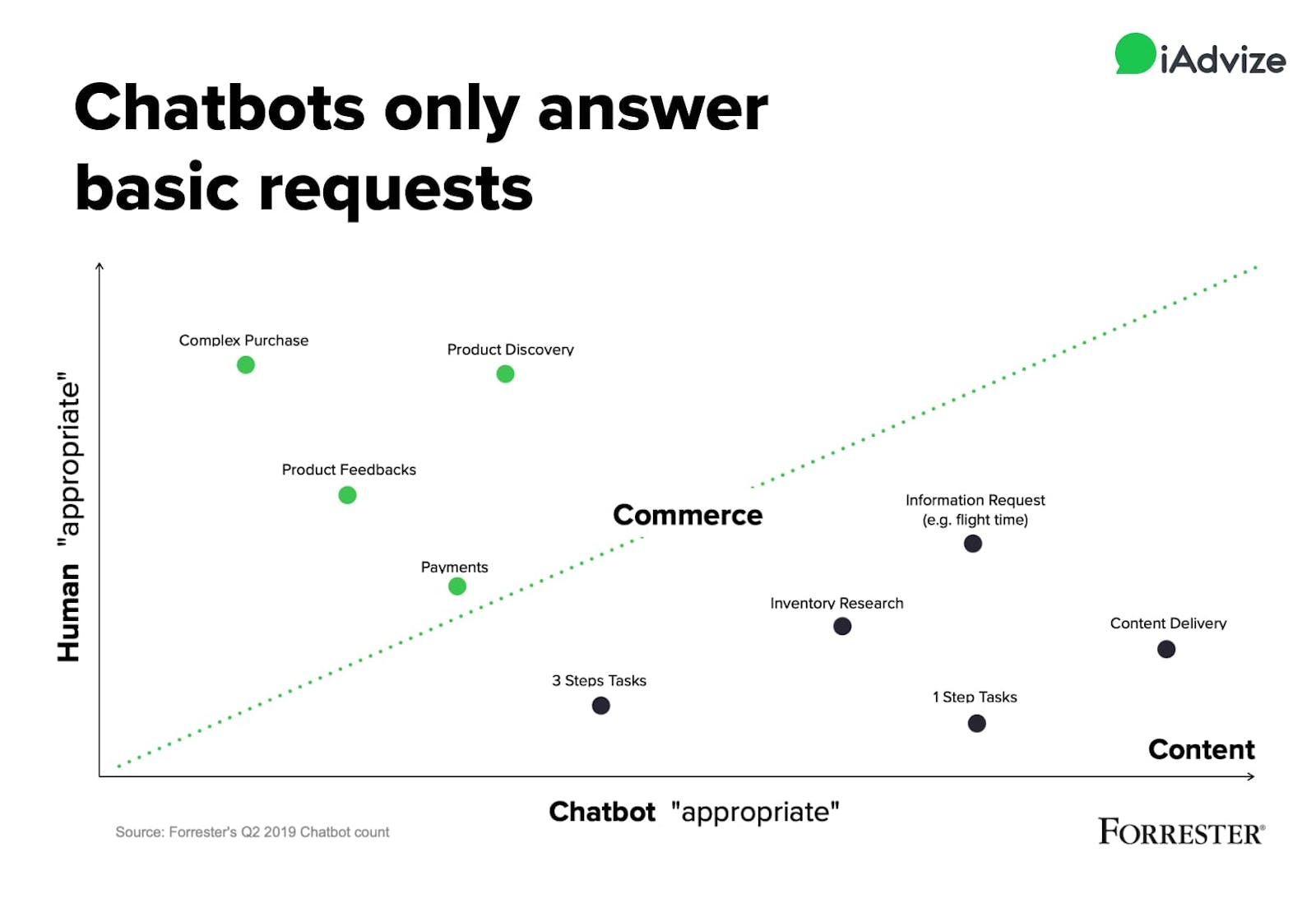 It's likely you employ a rules-based chatbot to handle simple interactions or a conversational chatbot that learns through engaging with your customers to handle complex queries on your site today. You may even use both. Undoubtedly you have human service professionals who handle the most complicated and sensitive customer issues on your site.
A new breed of chatbot has emerged that uses a blend of natural language processing (NLP), machine learning (ML), and coaching from brand advisors. This novel approach capitalizes on the speed and automation AI offers while allowing human insight and judgment to guide the bot's evolution.
We call this powerful combination of human and AI augmented intelligence.
Organizations that have adopted augmented intelligence can process more customer requests while improving customer satisfaction:

How Does Augmented Intelligence Connect to Self-Service?
iAdvize's augmented intelligence has the 20+ billion customer and shopper conversations we've collected over the past decade as its foundation. Those interactions provide a rich learning source for our AI.

But we all know that people are far better at interpreting the nuances of human communication.
While bots can assess phrasing and use it to build a library of customer and shopper intents, only humans can know the true meanings and emotions behind the words. That's why more than 100,000 human experts review input from bots to confirm intents and can suggest intents based on real-world customer interactions.

Our augmented intelligence is continually learning through automated analysis and human coaching and can better understand customer intents. That way, it can provide more meaningful information to people who are attempting to self-serve or offer a conversational opportunity if human intervention is necessary.
But the power of augmented intelligence doesn't stop there. Our technology also analyzes conversations between brand agents and customers to understand which exchanges were most successful. When the AI detects a conversation similar to those in its library, it can present superstar interactions that address customer needs. Then, agents can know exact phrasing and critical concepts to navigate the current scenario.
Consider our lost credit card scenario from above. Instead of merely working through the steps of canceling a card and flagging spurious transactions, the service rep can ask thoughtful questions that make the individual feel valued and heard. Your agents can provide value-enhanced interactions that keep customers loyal and motivate referrals and positive word-of-mouth.
Becoming a Next-Generation Service Leader
With augmented intelligence, you turn your service organization into a hub of collaboration and learning where every interaction increases understanding of customers. This approach will make you a next-generation service leader.
Gartner predicts that more service organizations will step away from hierarchical staffing models to form teams that collaborate to address customer needs. Just 10% of organizations will have made the shift by 2025, and your service team can be one of them with augmented intelligence.
Your Customers Want More Self-Service. You Can Deliver.
Often, customers prefer to shop or resolve questions without human intervention. Self-service options empower them to do just that.
But today's digital customers face a tsunami of digital information and need to learn new interfaces and navigation structures each time they interact with a brand. Sometimes, even the most digitally savvy customers need personalized guidance to fulfill their online intents. And some customers want the empathy and validation that only a human touch can provide.
Brands can support the drive towards more self-service by viewing live support interactions as coaching opportunities. When your service professionals instruct customers on how to self-serve, everyone wins. Customers can accomplish what they need to do more quickly. And you can deflect some higher-cost live interactions in the future.
Augmented intelligence is the way forward. With its powerful combination of machine learning and human insight, augmented intelligence empowers each customer interaction to be more meaningful and valuable while supporting customers' self-service goals.