Fall Release: Trusted Generative AI Enhanced-FAQs, Reporting, Product Recommendations
4min read - Julia Lackey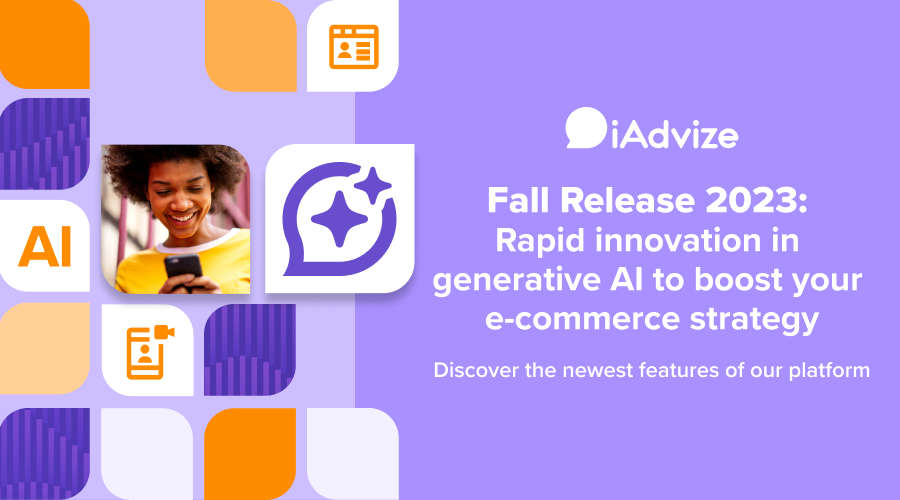 The sun might be setting earlier these days, but at iAdvize, innovation never sleeps. For our fall product feature updates, we're excited to share the latest results from our recent Trusted Generative AI launches.
Over the summer, we introduced you to our iAdvize Copilot™ for Shoppers and Agents. Now, we're taking this a step further with three new use cases that will transform the customer experience for your online shoppers and customer service agents:
A generative AI shopping assistant capable of answering FAQs
Chatbot performance analysis tools enhanced by AI
Automated product recommendations with generative AI
Generative AI Adoption is A Competitive Advantage
The e-commerce sector is constantly evolving, and to remain competitive, being an early adopter of cutting-edge technologies is crucial. Generative artificial intelligence is emerging as a significant innovation in this field. At iAdvize, our vision is to offer a trustworthy generative AI capable of meeting the compliance and reliability challenges inherent in e-commerce.
[Webinar Replay] American Consumers on Generative AI in E-Commerce



As generative AI continues to transform the online shopping experience, learn what consumers really think about its role in their digital buying journey.
Conversational Commerce Reimagined
The average e-commerce conversion rate in 2022 was just 3%, and as we moved forward, consumers increasingly expect a more efficient and personalized shopping experience. This is where conversational commerce comes in. 2023 consumers have widely adopted messaging as their preferred method of interacting with brands—they're looking for simplicity, authenticity, and instant connection.
With a proven 10x boost in conversion rates, AI-enhanced conversational assistance has become a major asset for the e-commerce customer experience. And now that advanced generative AI is available, conversational commerce at scale is possible for the first time.
The Limitations of Using AI in the E-Commerce Customer Experience
Generative AI is at the heart of this revolution, but it comes with its challenges. It must be reliable, compliant with data laws and regulations, and capable of integrating seamlessly into the ecosystem of each company who uses it. At iAdvize, we've met these challenges by creating the first Trusted Generative AI for E-Commerce.
What do we mean by 'trustworthy generative AI'? To put it simply, it refers to technology designed with the top priority being its security and reliability for enterprise use. It adheres to the confidentiality of both your company and your consumer data, and ultimately addresses three main challenges:
Data compliance: It respects all data laws and regulations, including the CCPA, GDPR, and ISO 27001.
Integration into existing brand ecosystems: It

connects to your tech stack, ensuring that the information is consistent with your brand

and always up-to-date.
Complete control: Equipped with the necessary reporting and analysis tools, the brand is able to maintain total control over the AI, continuously tracking and improving its business impact.
Over 70 brands have already or are in the process of deploying Trusted Generative AI as part of our beta program, and they include a wide range of industries, like fashion, automotive, consumer electronics, tourism, telecomm, sports, energy, home improvement. Generative AI today allows e-commerce companies to meet the challenges of boosting sales, improving the customer experience, increasing team productivity, and optimizing overall ROI.
The Benefits of Generative AI for E-Commerce
Among these 70 brands is Vanden Borre, the Belgian market leader. They deployed iAdvize's generative AI solution across all product pages to assist visitors in their purchasing journey 24/7, in all languages, and are seeing impressive results.
Complementary to its existing NLU chatbot, which informs customers about order tracking and store location information, the integration of generative AI allows agents to focus on more complex customer requests, a mix that has seen excellent pre-sales performance:
Doubled conversion compared to previous-generation chatbots (NLU)
80% customer satisfaction rate, 23 points higher than previous-generation chatbots (NLU)
48% of the brand's conversations are now handled autonomously by the bot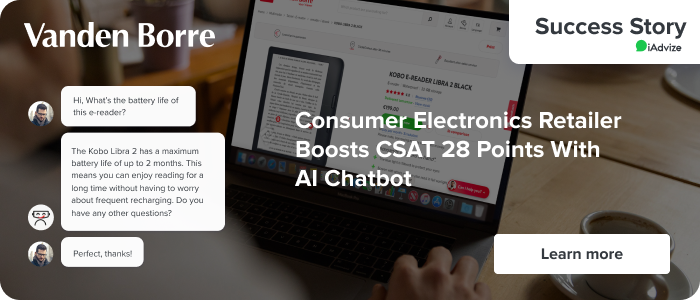 Latest Innovations on the iAdvize Conversational Platform
Let's dive into the newest AI features on our conversational platform. From managing frequently asked questions to in-depth data analysis, the contributions of generative AI are endless.
FAQs: Automating Frequently Asked Questions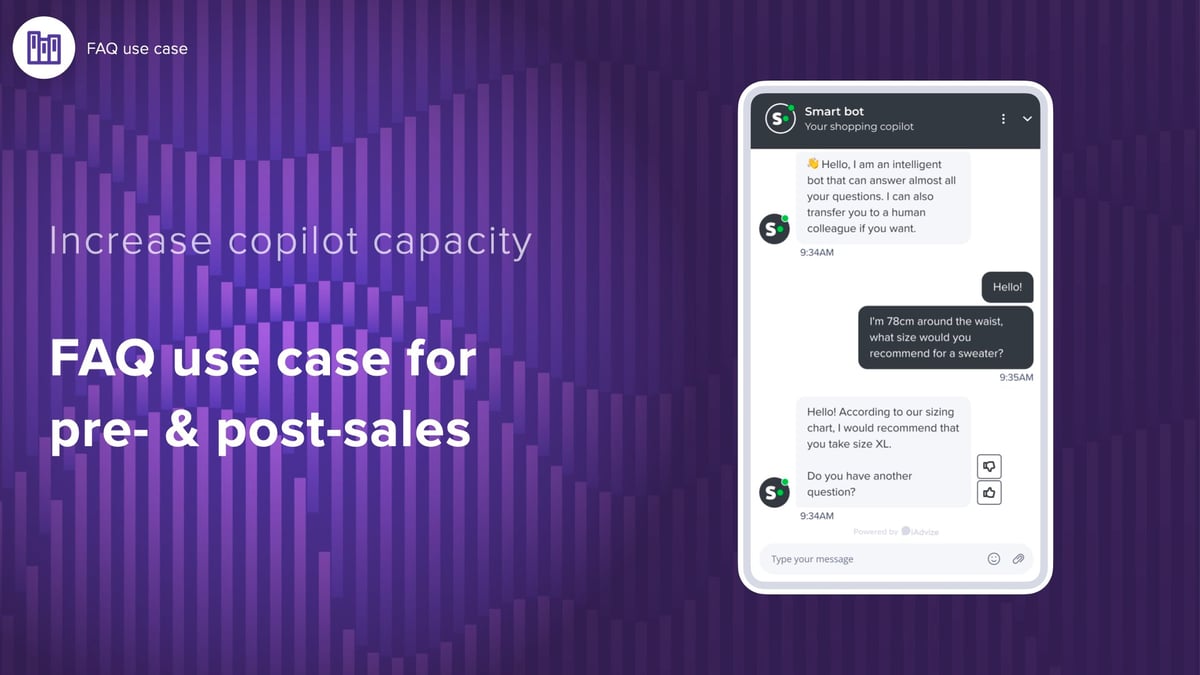 Beyond product-related questions, iAdvize's generative AI can answer a wide range of frequently asked questions, improving the performance of your e-commerce site from pre- to post-sales.
The iAdvize AI is only fed the specific data that each company chooses, which allows for a secure experience. This connection is easily made via an API, drawing from various sources such as the company's product catalog, knowledge base, and FAQs.
With our FAQ feature, the generative AI can respond to frequently asked questions unrelated to your products, such as delivery conditions, returns, or payment methods.
Augmented Analytics Reporting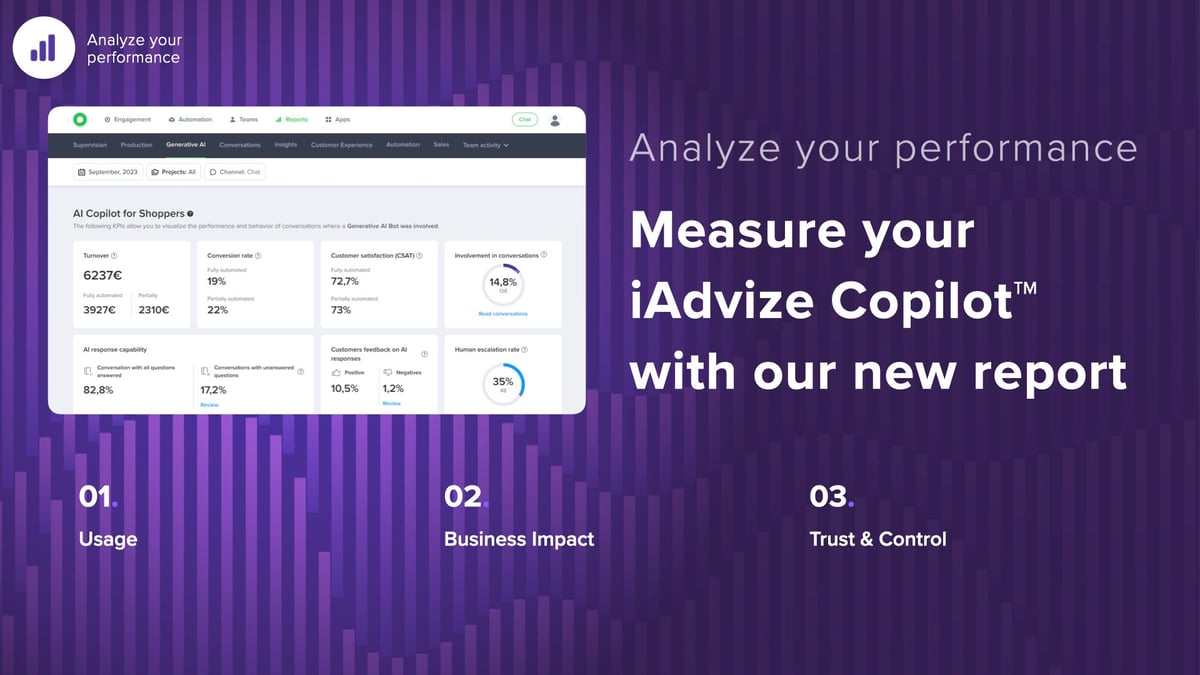 Our analytics reporting suite is also now powered by generative AI. Accessible from the iAdvize console, this means that companies receive comprehensive and intuitive performance reports that track all key KPIs. It includes information like:
Usage data, like the proportion of conversations being autonomously handled by AI
Business impact, including conversion rates and customer satisfaction scores
Mechanism to monitor and control the quality of your AI and its responses, allowing for continuous improvement
Automated Product Recommendations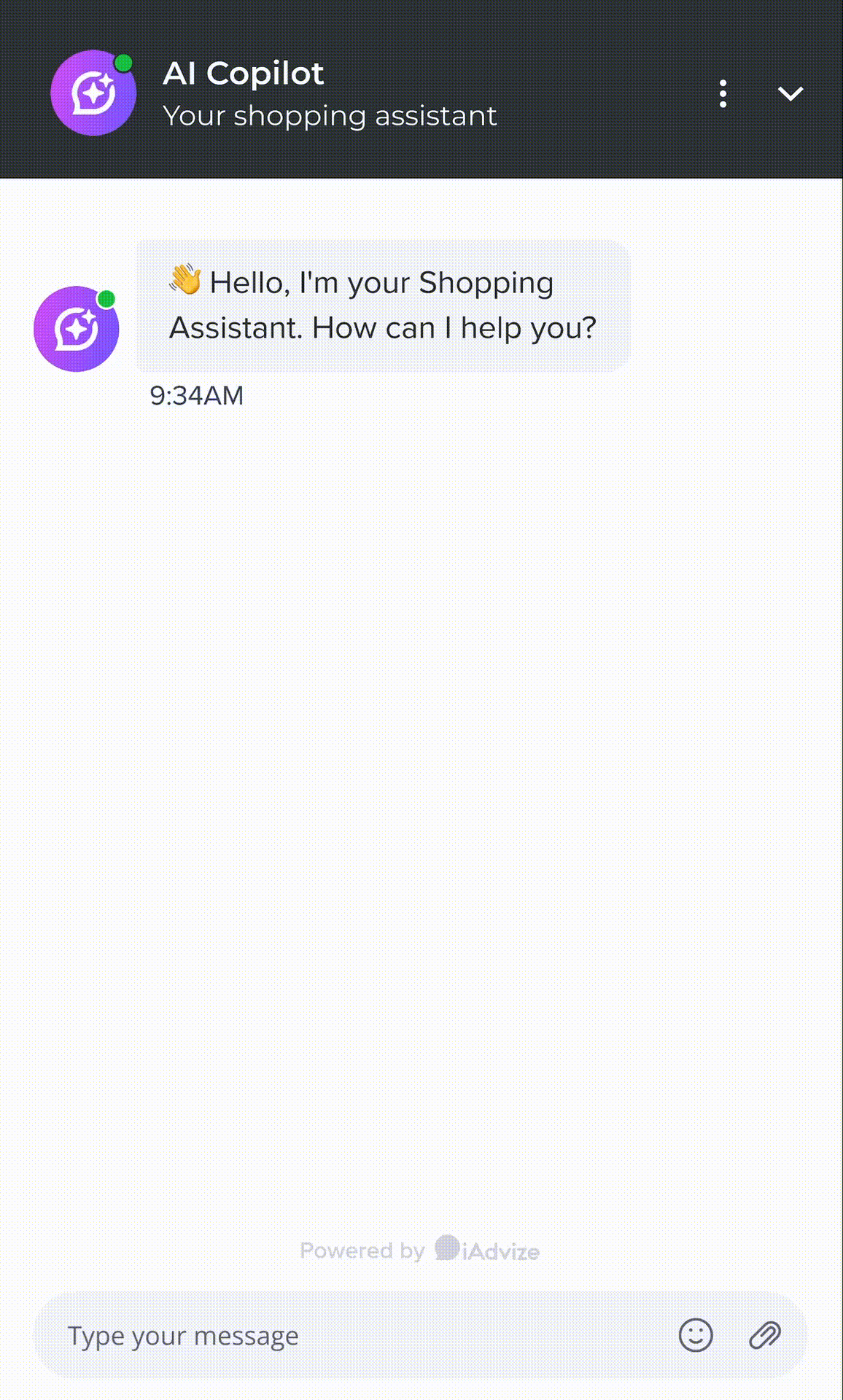 iAdvize CopilotTM will soon be able to assist customers in searching for and recommending products thanks to our soon-to-be-released feature 'Product Recommendations'. The iAdvize CopilotTM for Shoppers is already capable of providing e-commerce site visitors with extremely detailed information about the products in your catalog. And soon, our generative AI will be able to suggest products tailored to customer needs and preferences.
According to a survey we conducted with Ipsos, 74% of Americans want generative AI to help them get detailed information on the products they're interested in—an indicator that this solution has immense potential to stimulate online commerce going forward.
The Future of E-Commerce is Conversational
There's no doubt that generative AI is a revolution that's transforming the online shopping experience. Thanks to new features like automated FAQs, augmented analytics reporting, and product recommendations, the conversational experience is getting more effective and easy to navigate by the day.
Our product vision is that these AI copilots powered by a trustworthy generative AI will transform the online shopping journey. Soon, website visitors will be able to interact with their AI shopping assistant at any time through a proactive and personalized experience, from anywhere on a company's website—no longer will there be a need to fill out forms or juggle filters. Instead, customers will be able to express their needs naturally during conversations with a mix of AI and human support, accessing information directly without disrupting their user experience.
With an average global rate of 70%, cart abandonment continues to be a major challenge for e-commerce. By transforming this step of the online customer journey into a conversational experience, AI shopping assistants can make purchasing decisions easier for consumers by:
Offering discounts to shoppers when it detects hesitation over price
Creating personalized carts, encouraging the decision to purchase