Experiential Stores for an Experience Economy
7min read - iAdvize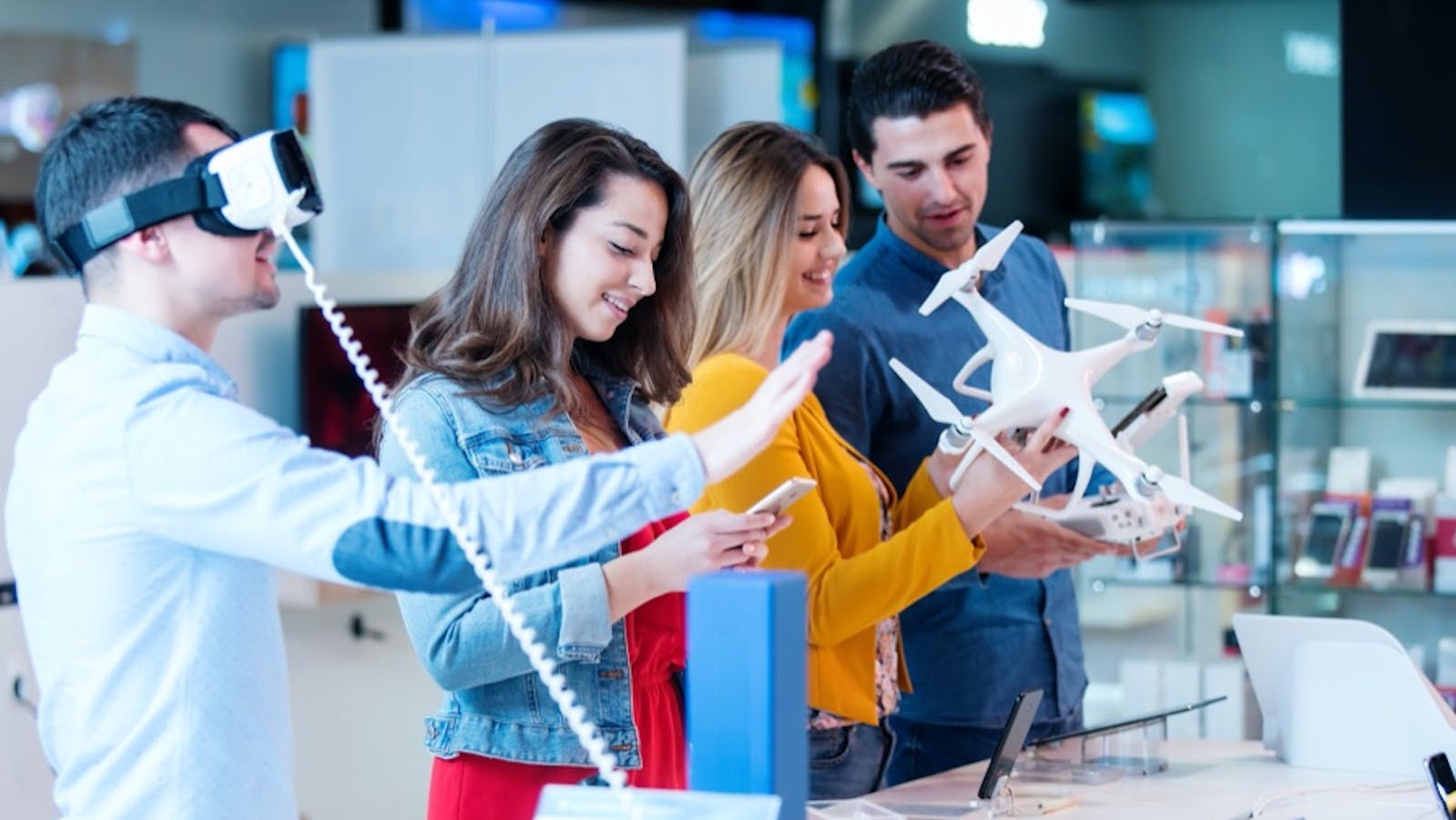 Are we living in the middle of an economic revolution? Some people think so. The rise of the "experience economy" is a major shift–just like the agricultural and industrial revolutions of years gone by. But what is the experience economy exactly? And what does it mean for retailers?

Simply put, many of today's shoppers are more likely to spend money on experiences over things. And that trend is going to continue in the years ahead. Although the millennials are leading the charge, other generations are following this trend. AMcKinsey study found that US consumer spending has shifted rapidly in recent years. Today's shoppers devote, on average, 4x more money to experiences over goods.

What are people buying? We're spending more on tickets to movies, concerts, and amusement parks, travel and accommodations, and dining out, to name a few areas. Yes, we care more about having good experiences. But there's another motivation behind our purchase behaviors, and it's driven by social media.

Many of us feel "FOMO" or a "fear of missing out" when we see posts about events on social media. According to one report, 56% of social media users experience FOMO. And that stat is even higher for millennials–with nearly 70% saying they experience FOMO, according to another study.
4 Experiential Stores Bringing the "Wow Factor"
You likely have heard the term "experiential retail." But what does that mean, exactly?

First, experiential stores focus on creating a memorable and immersive experience for customers. They aim to portray their brand and culture while showing customers what makes them unique. Typically, experiential stores are highly-curated and focused on consumer's need to share their experiences. Often, they'll include opportunities for visitors to take photos to encourage social sharing.

Also, experiential retailers often focus on events and in-store services. They may offer everything from product demonstrations to celebrations to multi-day courses led by experts.

Ultimately, these stores aim to elevate consumer experiences with the brand. Instead of focusing on purchases as the end goal, they aim to cultivate positive sentiments. Even if consumers don't buy a thing, they'll walk away with good memories and warm feelings about the brand.


Nike Live: A Futuristic, Technology-Centric Concept
First launched in Los Angeles, Nike's experiential store concept is transforming retail, according to Forbes magazine. Industry watchers say the concept may not only change how we shop for athletic gear–but how we shop for everything.
What's so amazing about what Nike is doing? The brand has made smart use of technology to improve the in-store shopping experiences. In its L.A. store, Nike uses data on area shoppers to create a curated product selection. Nike aficionados, who sign up for the brand's free NikePlus app, can use it to browse products and place orders. Also, the store analyzes NikePlus data to curate products fine-tuned to local member preferences

Through the app, shoppers can reserve items that they can try on or buy in the Nike experiential stores. And shoppers can also place orders through the app and collect it at the curb. In it's New York flagship shop, Nike has dedicated an area called its "speed shop" to customers who need this convenience. According to Business Insider, The brand deliberately modified its successful L.A. concept to cater to the unique needs of New Yorkers.

While shopping at a store, people can use the app to scan product labels to check for availability of other colors or sizes. To motivate frequent visits, users can scan a code at an in-store vending machine to get special rewards or products.

Nike is also using geofencing technology to recognize shoppers as they approach the store. The brand can identify customers and set aside products in their size–even before customers haven't requested any items. According to the brand, this approach is motivating more conversions.

But the Nike experience isn't all about technology. Customers can speak to an in-house store athlete for shoe advice or schedule a one-on-one consult. Also, NikePlus members have access to an exclusive top floor where they can get personalized advice from brand experts.

REI: A Gateway to Outdoor Adventure

Instead of founding their flagship experiential store in a major city, outdoor retailer REI went to the mountains. The brand chose North Conway, New Hampshire, a four-season resort area because of its reputation as a launchpad for outdoor adventure. Each year North Conway attracts millions of visitors who want to hike or ski in the surrounding White Mountains.

At REI's North Conway store, shoppers can try out many products, take classes, or sign up for exclusive clinics and tours. The store also offers equipment rentals, along with areas for people to gather. With its intentional floor plan, REI aims to build community and encourage more people to explore the outdoors.

With its new experiential store, REI is taking on the role of an outfitter. The brand is aiming to provide customers with deep knowledge of the local area, opportunities for excursions, and all the gear they need. Ultimately, their goal is to engage more people in outdoor recreation, which is good for their brand and good for the community.

Nordstrom: A Merchandise Free Store

Nordstrom has earned a strong reputation as a customer experience (CX) leader. But the brand's unique merchandise-free store is turning heads in the retail industry.

How can Nordstrom have a store with products? As Retail Dive explains, Nordstrom focuses exclusively on services in its merchandise-free showrooms. At the brand's experimental store location in California, people can pick up online orders and get style advice. They can also bring in garments for tailoring or alterations.

Customers can schedule time with stylists in advance. They can opt to focus on specific needs–such as buying a special occasion dress–or get an overall style consultation. During a first appointment, stylists use inspiration boards to curate looks for customers. Then, stylists request clothing to match the customer's style profile from a nearby Nordstrom store. At a second try-on appointment, customers arrive to find personal dressing rooms stocked with choices in their size and style.

With this approach, Nordstrom aims to bring some of its exclusive services into customers' neighborhoods. The retailer knows that these services are some of its key differentiators in the fiercely competitive retail marketplace. Its local store experiment aims to attract new brand enthusiasts.
Sephora: A Mix of Human and Computer Interaction
Beauty brand Sephora has earned stature as an experiential retail innovator. Since 2015, the brand has focused on making shopping for beauty products fun and engaging. First, it launched its "TIP"–or "teach, inspire, play"–store concept, which had a heavy technology focus. More recently, the brand expanded on the TIP concept to create its technology-powered Sephora Studio stores.

At Sephora Studio stores, customers can use self-guided tools like Virtual Artists, which lets them try on different looks. Also, customers can try the brands' Color IQ tool, which scans shopper's faces to find the just-right foundation match.

But the brand also staffs its experiential stores with knowledgeable associates to answer customer questions. After all, a customer may find the right color profile or foundation and still need advice on which products to buy. Associates can also offer personalized consultations to help build brand loyalty.

Sephora knows that buying beauty products is a very personal decision. And it also knows that technology can never substitute for personalized interaction. As its footprint grows, the brand plans to seek out more sites that can cater to the experiential store model to give its customers the best in human and technology interactions.
What Can Digital Retailers Learn from Experiential Stores?
Many retail industry watchers see experiential stores as a reaction to forecasted decreases in brick-and-mortar shopping. With the rise of digital retail, more people will forgo in-store shopping for online purchases. And retailers know that today's customers increasingly expect convenience and personalization no matter how they shop.

Without question, today's experiential stores are capitalizing on consumer's shift to buying more experiences than things. While sales are always important, building goodwill and cultivating good memories bring a brand value.

Plus, brands know that some people will visit just to take a photo and share it on social media. Experiential stores cater to that need too. In fact, Nike commissioned colorful Los Angeles storefront mural to become an iconic backdrop for Instagram photos.

Online retailers can replicate the premise of experiential stores by creating websites that customers want to visit. One way to do this is to position yourself as a helpful brand that truly delivers personalized experiences.

How? A conversational platform is essential. With conversational technology, you can pinpoint shoppers who are moving towards a purchase and offer them guidance. They can connect to a brand ambassador who can listen to their needs and provide expert advice.

With this approach, you're emulating the in-store practices that Nike, REI, Nordstrom, and Sephora use in their experiential sites. Each of those retailers knows that human, one-on-one advice is the core of a great experience. With conversation, you're giving customers that same quality of experience online.

Statistics show that your sales and customer happiness will go up with a conversational approach. But even if customers don't buy, you're still sending a positive message. You'll show that you genuinely care about customers as people and are willing to spend time to understand their individual needs. Those positive impressions can cultivate long-term customer trust and loyalty.


Smart Retailers Are Embracing the "Experience Economy"
Let's all agree: The experience economy is here to stay. Sure, you'll never lose focus on promoting and selling products. But more retailers are starting to understand that creating memorable experiences is the path to success.

Why do we gravitate towards experiences? According to psychological researchers from Cornell University have found that:

Experiential purchases, such as vacations, concerts, and meals out, tend to bring consumers more enduring happiness than material purchases, such as high-end clothing, jewelry, and electronic gadgets.

And our love of social media is fueling a drive for more experiences. Data from Harris shows that many people–especially in younger age groups–share their experiences through social networks.

Your brand may not be in a position to open an attention-generating experiential store. Or, you may not have a physical presence at all. Every brand with a website can adopt experiential concepts on their websites.

First, you should note that all the experiential store concepts we discussed have one thing in common. They all focus on creating human connections with customers. Technology has its role, but every experiential innovator knows that no technology can replace a human touch. Personalized guidance and answers are critical for customers to make informed, confident buying decisions.

You can offer the same human connection with your digital customers. A conversational platform empowers you to create the 1:1 experiences customers crave. You can reach shoppers approaching the point-of-purchase and allow them to seek expert support from a community of brand ambassadors. Best of all, you can offer conversation at scale without adding tasks to your internal support teams.

The truth is, the thinking behind the experience economy isn't new. Economists first revealed the concept over two decades ago in the Harvard Business Review. Today's retailers are catching on and finding ways to rely on technology and people to create remarkable experiences.

In the coming years, retailers will start to see the gap widen between the forerunners and the laggards. Customer-savvy brands will embrace customer's "experiences over things" mindset. Those brands will look for creative ways to foster memorable experiences at every touchpoint–whether in physical stores or online.

You can get ahead of the curve with a conversational strategy. By giving customers a human-to-human connection, you can make shopping online personal –instead of anonymous. And that will set you apart as an experiential leader.

Want to learn more about delivering an experiential store customer experience online? Check out our post on How Conversation Can Transform Your E-Shop into a Destination.