Customer Experience: A Look Back & Trend Predictions for 2023
5min read - iAdvize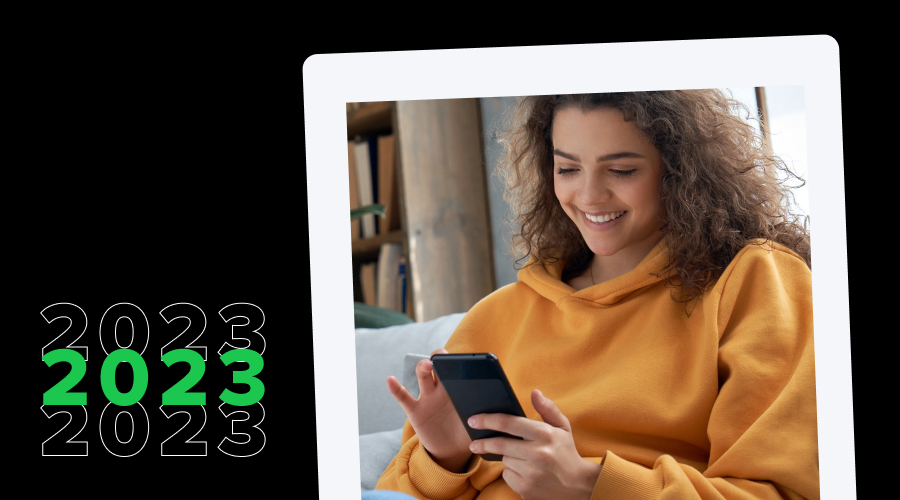 In 2022, over 2,000 brands and their customers exchanged 350 million messages on the iAdvize Conversational Platform. Each of these conversations holds invaluable context for what consumers are looking for in a shopping experience and are a reflection of the trends that drive changing patterns and consumer behavior in e-commerce and digital customer experience. What can we learn from the conversations we've facilitated in the past year? And can we use these insights to predict how online shopping preferences will evolve in 2023? We collected the data, analyzed what we found, and the results are in. Read on to see what we discovered!
Here's the big picture highlights:
Shifting to mobile-first approaches
The rising popularity of third-party messaging apps
Video becoming the top preferred content style
Conversational AI's increasing importance in CX processes
The Shift to Mobile-First Approaches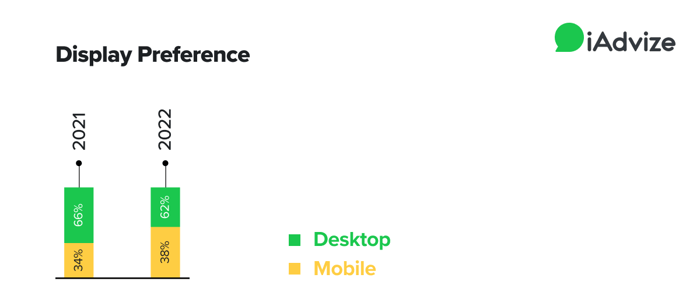 One of the most striking trends we've noticed arise in the past few years is the preference for mobile over desktop. As we all know, digitalization exploded because of the pandemic, giving us the final push towards constant connectivity and the complete integration of online tools into our daily lives. Over 5 billion people use the internet, and 5.32 billion do so over mobile. Because today's consumers are so dialed in at all times and across every possible communication channel, it makes sense that they've begun to prefer using the most accessible technological device they have at their disposal for consumer spending—their cell phone.
The data from our conversational platform showed that the amount of mobile conversations between companies and their customers (through live chat or messaging apps) increased by 4 percentage points, from 34% to 38%. In January 2022, mobile commerce represented nearly two-thirds (65.7%) of all global e-commerce sales. Asia-Pacific's numbers far exceed this, with mobile sales representing 8 out of 10 of all digital sales!
These observations bring up an important implication for brands and retailers. They must offer an impeccable shopping experience over mobile and third-party messaging apps, or risk missing out on many potential conversion opportunities.
Trend to Watch: In-app Online Shopping
The volume of conversations through our third-party messaging suite tripled in 2022 compared to the previous year. Being available to connect with shoppers on every possible communication channel is what's going to differentiate businesses going forward. And integrating premium, personalized in-app messaging will accelerate your brand's ability to build quality customer relationships at scale while boosting customer loyalty.
The Popularity of Third-Party Messaging Apps is Exploding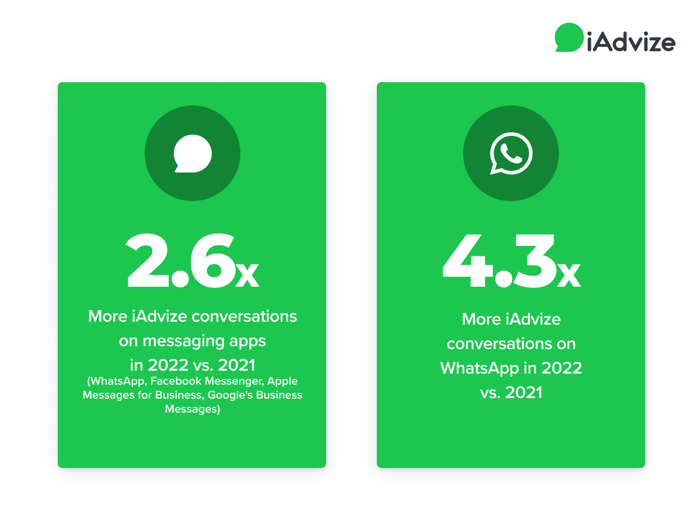 The rise of mobile commerce has subsequently sparked a rise in the use of third-party messaging channels like WhatsApp, Apple Messages for Business, Google's Business Messages, Facebook Messenger, and SMS. Conversations on these channels grew 160% (2.6x) in 2022. Offering quality customer experiences held entirely through these third-party channels has become a must-have for brands, both for pre-sale engagement, like buying advice, and post-purchase support, like an order status check.
Using these channels at different stages of the customer journey has multiple advantages, including:
Developing proximity, loyalty, and personalization of your customer relationships by meeting consumers where they are, on the messaging apps they're already using daily.
Offering seamless, flexible digital shopping experiences at your customers' fingertips so that location or timing is less of a barrier to online shopping.

Using these channels in tandem with a conversational platform to

scale these flexible, accessible customer experiences through the automation that

conversational AI chatbots provide

.
Between 2021 and 2022, WhatsApp messaging (which has over two billion unique monthly users) has solidified its popularity. The volume of conversations between brands and their customers on WhatsApp quadrupled in 2022 compared to 2021. Other third-party channels like Apple Messages for Business (AMB) have followed a similar path. These will become an expected element of your customer experience in 2023, meaning they'll also be critical to your conversational strategy. Let your customers choose between all of these contact channels to adapt to evolving consumer preferences while boosting loyalty and conversions.
Trends to Watch: Google's Business Messages & Outbound Messaging
70% of online experiences start with a Google search

. Imagine having the ability to engage your customers before they even arrive on your website, right from their search results page or Google Maps. This is possible by

integrating Google's Business Messages

into your suite of communication channels.

Outbound Messages is the newest WhatsApp Business feature

that enhances your capacity for

proactive customer service

. Companies can use it for things like sending order confirmations or package tracking information from the

moment a customer has given consent

.
Video is Now the Top Preferred Content Style
At the crossroads of major digital trends (TikTok, social media influencers, social commerce, etc.), to say that video is now the most preferred medium for consumers is an understatement, especially for younger generations. According to a recent Sandvine study, video traffic now represents 68% of the total volume on mobile worldwide.
The latest Wyzowl study confirms this and highlights video's impact on marketing campaigns in some interesting ways:
Consumers watched an average of

17 hours of video content per week

in 2022

96% of consumers have watched a video

to get an explanation of or to learn more about a product or service

89% of consumers claim that

a video convinced them to buy a product or service

91% of consumers say that they want to see

more videos from brands in 2023
These new consumer habits have extended to the communication formats offered by the most innovative brands. The use of video conversations (video chat) jumped by 120% (2.2x) on our platform in 2022. And unsurprisingly, video chat also generates high customer satisfaction–77% CSAT on average in 2022–because it's the best medium to humanize the digital user experience.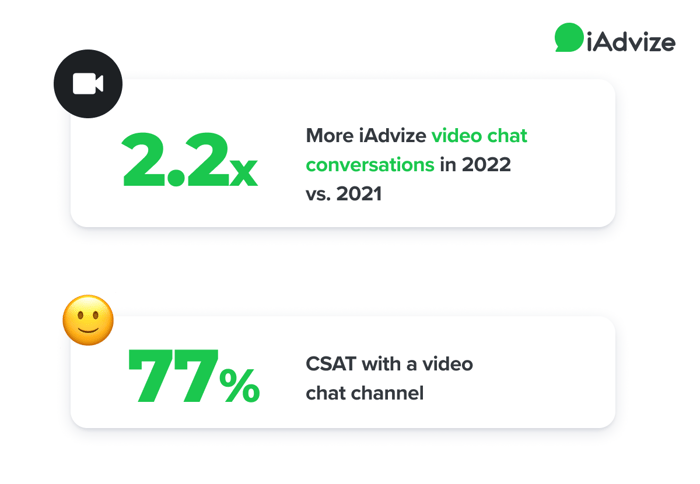 Trends to Watch: Connected Sellers & Live Shopping
First appearing on our conversational platform in 2021, the phenomenon of

connected in-store salespeople

,

where a brand equips their

in-store sales staff with tablets and smartphones to answer incoming online customer inquiries

, is quickly becoming prominent among retailers with brick-and-mortar storefronts. This streamlines the purchasing process and

allows potential customers to get real-time advice and recommendations from specialists

that can show them the products they're interested in.

Decathlon, a leading global sporting goods retailer, deployed over 400 salespeople to connect with online customers from their physical stores.

Video has unparalleled potential to

enrich the digital experience

and, in a livestream format, to

engage consumers

. This helps explain the

massive success that live shopping

has seen in recent years. Brands are using live shopping events to provide their customers with a

fully immersive, interactive online shopping experience

. In 2023, this trend is predicted to continue increasing in popularity because of its capacity for boosting digital interaction.
Automated Conversations Powered by Conversational AI Chatbots are Becoming Increasingly Important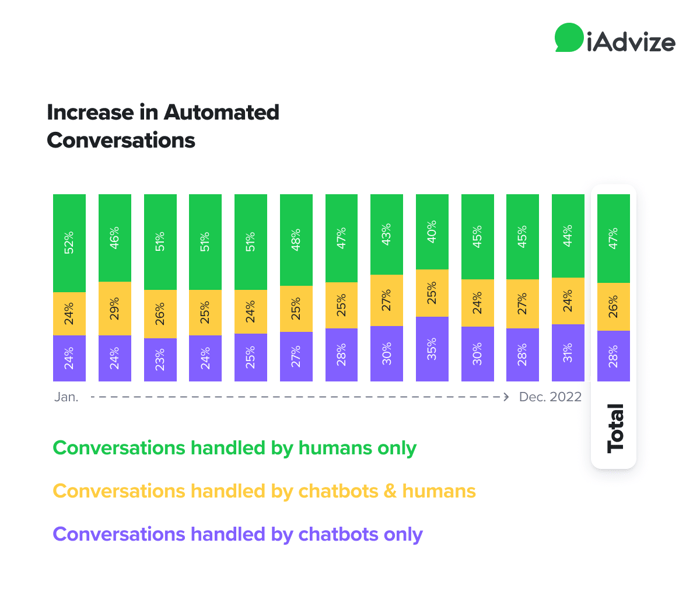 AI technology took a massive leap forward in recent years, a trend that will undoubtedly continue in 2023. Improvements in intent detection and natural language processing (NLP) technologies are beginning to produce impressive breakthroughs, like ChatGPT. 2022 saw the democratization of AI-powered tools and their introduction to our daily lives. Our conversational platform showed a similar progression, where customer satisfaction jumped when conversations were a mix of AI automation and human respondents.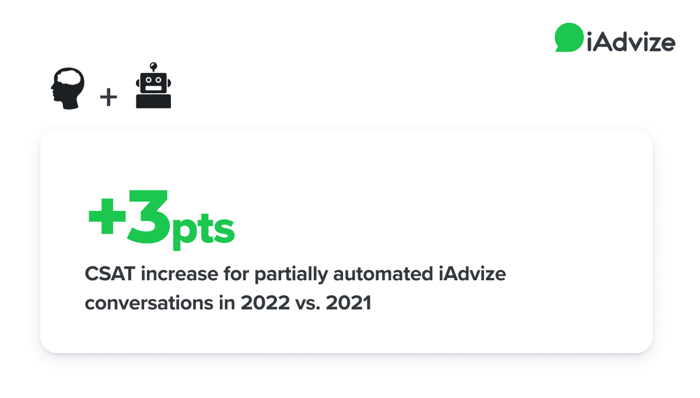 Augmented intelligence allows AI-powered chatbots to detect visitors' intentions in order to handle their requests autonomously or transfer them to a human advisor based on user need. Advances in AI make it possible to deliver conversational experiences at scale without sacrificing customer satisfaction. 2022's numbers confirm that the right balance of conversational AI and human intervention can deliver a customer experience tailored to the needs of every consumer.
Trend to Watch: Natural Language AIs, Like ChatGPT
Developed by OpenAI, ChatGPT is a natural language AI model capable of generating impressively human-like text responses to any question or prompt. Thanks to the availability of APIs, the tech community is quickly taking ownership of the tool's capabilities and converting them into relevant applications. In the month that ChatGPT first launched, our conversational platform developed two new ChatGPT applications for our Conversational Desk, making the lives of customer service representatives easier and boosting their productivity. As this technology continues to advance, AI models will surely become a staple piece of many operations, including customer service.
Let's Recap
2022 became the year of the smartphone, with a massive shift to mobile-first approaches.

Consumers want the opportunity to connect with their favorite brands on any device, at any moment, and from any messaging channel they choose.

The popularity of video content is off the charts, and as a result, is on track to be the biggest customer experience differentiator in 2023.

The advancement of AI-powered tools has started to transform the landscape of customer service operations and enhance its effectiveness.