Conversational Tools for Retailers in 2022
8min read - iAdvize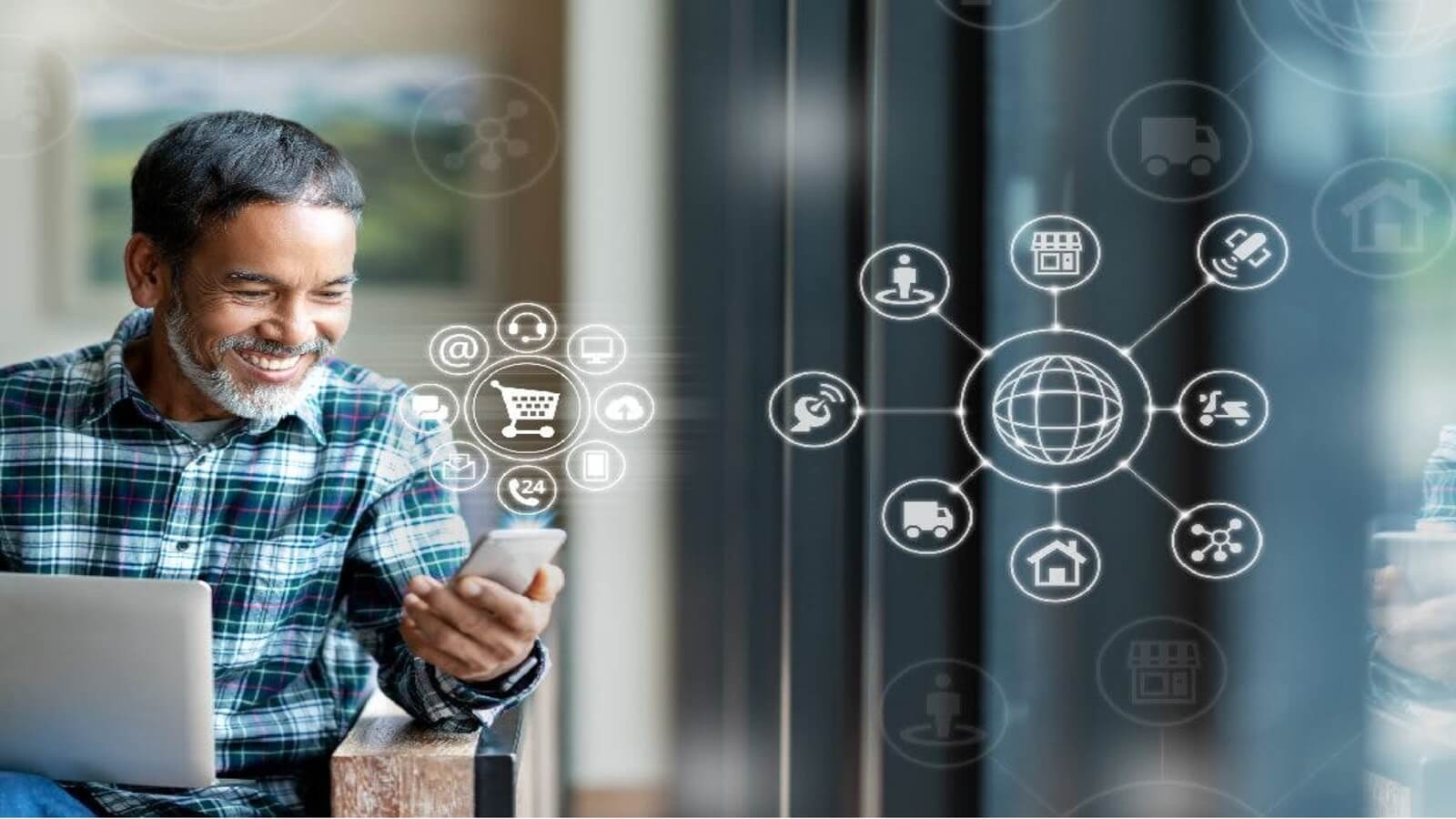 Every retailer knows that customer experience is crucial. It's no surprise that our recent research found that 66% of brands say improving CX is a top business priority. Yet we also found that 41% of retailers aren't confident in their current digital CX approach. What's a retailer to do? Defining the right mix of conversational tools is a must.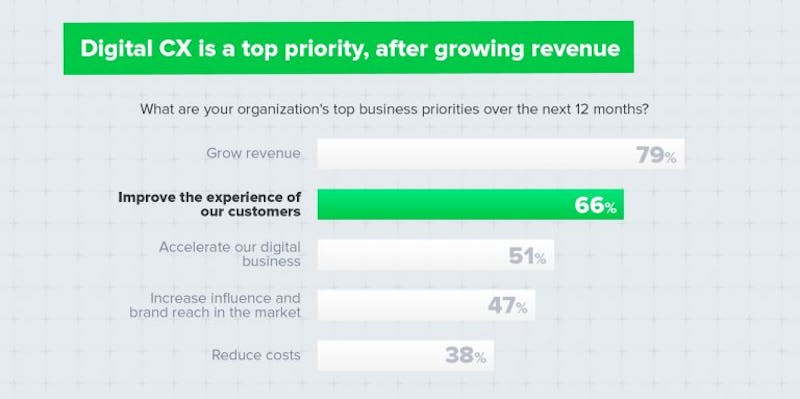 Why does conversation matter? Today's retail environment is relentlessly competitive. And more retailers are embracing CX as a differentiator. Those customer-savvy brands recognize that they must deliver exceptional experiences throughout the customer journey.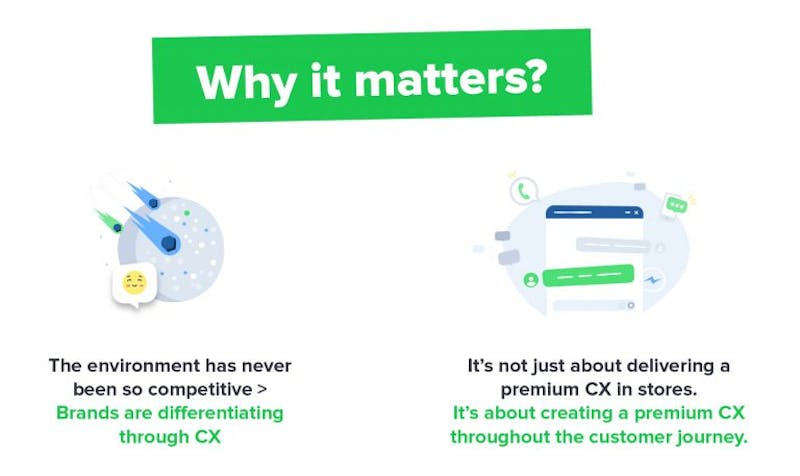 Customers need and expect to have options for personalized support at every touchpoint–whether browsing in a physical store or shopping online. And customers need communication on their terms and on their timeline, even if that means after hours for you.

With conversational tools, brands can meet customers' needs for immediate answers and authentic advice. But there is no one-size-fits-all way to deploy conversational solutions. What works for another business may not work for you.

Smart brands learn how and when their customers prefer to communicate. With that insight, they can design a right-fit approach. Often, brands rely on a mix of internal customer service reps (CSRs), on-demand brand experts, and AI-powered chatbots.

Before you take the next steps in your CX journey, you should explore successful conversational approaches. In this post, we'll cover real-world stories about how six retailers are using online conversations to win customers.

Each of these iAdvize customers has a distinct service approach and conversational strategy. You can follow their lead and use a conversational platform to reach online shoppers and grow sales.
Servicing Customers with Help from Chatbots
Coffee is the world's most popular beverage. Each year, people around the world consume more than 450 billion cups of coffee.

In the U.S. alone, people drink 400 million cups of coffee every day. And many of us have developed a taste for specialty espresso drinks. But we all know stopping at a local coffee bar is an expensive habit. iAdvize customer Nespresso offers quality espresso machines and coffee products to help people make their favorite hot beverages at home.

Nespresso (a Nestle brand) knows that competition for coffee-lovers is intense. But the company also understands that people who purchase its machines will return to buy coffee pods and accessories.

That's why Nespresso turned to conversation to help stand out in a crowded marketplace.

Instead of overloading its internal support team with customer queries, Nespresso opted for a multi-faceted approach. The company deployed chatbots to handle simple issues and to gather information for in-house customer care. But the company wanted to do more to meet customers' needs for proactive communication.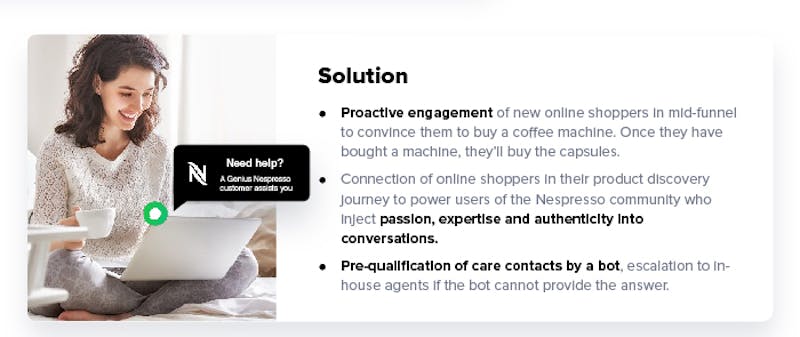 The company turned to our conversational platform to reach mid and bottom-of-funnel shoppers. By relying on brand enthusiasts with a passion for coffee, the brand has been able to reach more site visitors nearing the point of purchase. Each one-on-one conversation supports the brand's positioning as a premium provider for people who truly love coffee.

Thanks to its multi-faceted approach, Nespresso expanded its ability to offer personalized support to shoppers. But the company has also reduced the number of contacts to routed its customer support team. Chatbots can handle routine tasks and route more complex service inquires to in-house support professionals. And brand experts can converse with customers and provide pre-sales advice.
Achieving 24/7 Customer Service with Internal Reps and On-Demand Brand Advocates
In recent years, research shows that the global health and wellness industry has topped $4.7 trillion, with growth approaching 13% per year. Many retailers are scrambling to grab a foothold in this fast-growing market.

Winning over health-conscious shoppers isn't always easy. Health and wellness industry customers are often very detail-oriented shoppers. And that is even truer when people are looking for natural and organic products.

How can health and wellness retailers give customers the personalized attention they need? One forward-thinking retailer, Onatera, turned to conversation as a differentiator. In less than a decade since launch, the company experienced dramatic growth. It had become a renowned online distributor of more than 8,000 products from over 300 brands.

Onatera knew that its expansive product set was a draw. But the company also understood that comparing product options could grow confusing and frustrating for customers. As a result, Onatera took a unique approach to serving customers.

Onatera's service team included a mix of professionals. In-house CSRs are accessible during business hours. And experts in biology, naturopathy, and phytotherapy available for support contacts and emails.

However, Onatera also saw that it was missing opportunities to connect with online shoppers. It had no way to address customer queries after-hours or on weekends. How could it cover these gaps? An on-demand conversational approach was the answer for this iAdvize customer.

With iAdvize, Onatera now has a community of experts available 24/7 via instant messaging. These experts include professionals and students in pharmacy and naturopathy, along with natural living enthusiasts. Plus, the company now knows that most customer questions come in on Sundays and between 7:00 and 9:00 PM on weekdays. Instead of missing customers during these times, Onatera has brand experts ready to answer every question.



Onatera's results show the power of adding independent experts to serve customers. More than one-third of shoppers who have a conversation make a purchase. Customer satisfaction after a conversation has reached 97%. And turnover increased when experts are available 24/7.
Connecting with Humans Across Multiple Message Apps
When shopping for automotive parts, people need individualized support. Buying the wrong part can be a hassle–or lead to a major expense. And auto parts are often a mystery to people who don't deal with car repairs often. Even automotive enthusiasts rely on expert guidance when making buying decisions.

That's why one iAdvize customer, Mecatechnic, a distributor with more than 80,000 parts, embraced the value of online conversation. And the brand knew it needed parts experts available 24/7. The reason? Mechatechnic saw it was missing opportunities to connect with customers during evenings and weekends when its in-house team wasn't accessible.

As a first step, the brand instituted live chat on its website. But quickly, the company saw that chat wasn't enough to channel every potential online customer. To expand its reach, Mecatechnic partnered with iAdvize to deploy on-demand experts with specific knowledge of parts for top-name vehicle brands. And it extended its outreach even more by offering chat options through Facebook Messenger and by adding WhatsApp in one market.

With this expansive approach, Mecatechnic now provides advice to customers 24/7. Not only do customers turn to the brand for parts advice, but they seek out technical advice on car repairs too. Mechatechnic has elevated itself from a distributor to a trusted source of automotive insight.


Empowering Employees to Deliver Real-Time Expertise
Sports enthusiasts value equipment that improves their performance. That's true for every sport, but clearly true in the world of cycling. After all, cyclists need to outfit themselves and their bikes to get results.

With the vast array of bikes, gear, and accessories available, shopping can feel overwhelming. That's why one iAdvize customer, Alltricks wanted to provide technical advice to shoppers. The company has a team of internal experts who have in-depth knowledge of all things cycling. These experts offer shoppers insight on the company's 21,000+ products from 500 brands.

Because they are passionate experts, Alltricks' employees had the know-how but needed technology to reach customers.

The solution was a click-to-chat option embedded throughout the company website.

How does this conversational approach work? Behavioral targeting technology identifies shoppers who visit a product page they've viewed before or click through more than five product pages. Those shoppers receive an invitation to chat with support. With this approach, visitors with a purchase intent or support need can find a path to real-time, 1:1 expert consultation.

To date, Alltricks has found that more than 60% of customers who opt to chat need technical advice. And nearly a quarter of those who chat makes a purchase. With its conversational solution, Alltricks has seen a 122% increase in order value. Plus, more than 90% of shoppers who chat say they feel satisfied with the advice they receive.
Responding to Seasonal Demands
Some retailers find that they can handle a routine volume of customer contacts. But shopper questions spike during the busy end-of-year gift-giving season. That was the case with iAdvize customer Le Petit Ballon, an online wine subscription brand.
Like many retailers, the wine distributor saw an influx of shoppers and an uptick in question during the holiday season. The company wanted to provide high service levels to shoppers without overburdening its in-house support team. Also, the brand aimed to provide online service during weekends and evenings.

To meet these goals, the retailer implemented a conversational platform. The company launched a campaign to recruit brand experts from its pool of existing customers. After reviewing applicants, the retailer selected experts who understood its products and could enthusiastically endorse the brand's unique premise.

During regular business hours, the brand had on-demand experts and service professionals work in tandem. That way, experts could refer questions they couldn't handle to in-house CSRs. After hours, experts took over all customer communications. With this approach, the brand achieved a 33% conversion rate during peak traffic times.

On average, brand experts spent 10 minutes chatting with each customer. This attention to excellent service ensured good experiences for everyone–even those who didn't convert.


Supporting Each Step in the Customer Journey with a Human + AI Approach
We all know that the customer journey is a continuum. Our customers may research before they buy, make a purchase, make returns, and seek support. At each step, their needs for support, information, and conversation can vary.

Consider the approach taken by The Kooples, an iAdvize customer. A high-end fashion retailer, The Kooples offers an online eShop and boutiques for in-store shopping. The company caters to fashion-forward shoppers seeking attire for weddings and other events.

With its powerful human + ai conversational approach, The Kooples delivers exceptional service at each touch point. Here's how it works. Let's say a shopper visits the site to find a dress for a friend's upcoming wedding. Although she finds a dress style she likes, she also feels unsure about exactly what to purchase. She also wants a coordinating purse.

With a few clicks, she can connect with an on-demand fashion enthusiast for advice. The shopper considers alternatives and returns the next day to finalize her purchase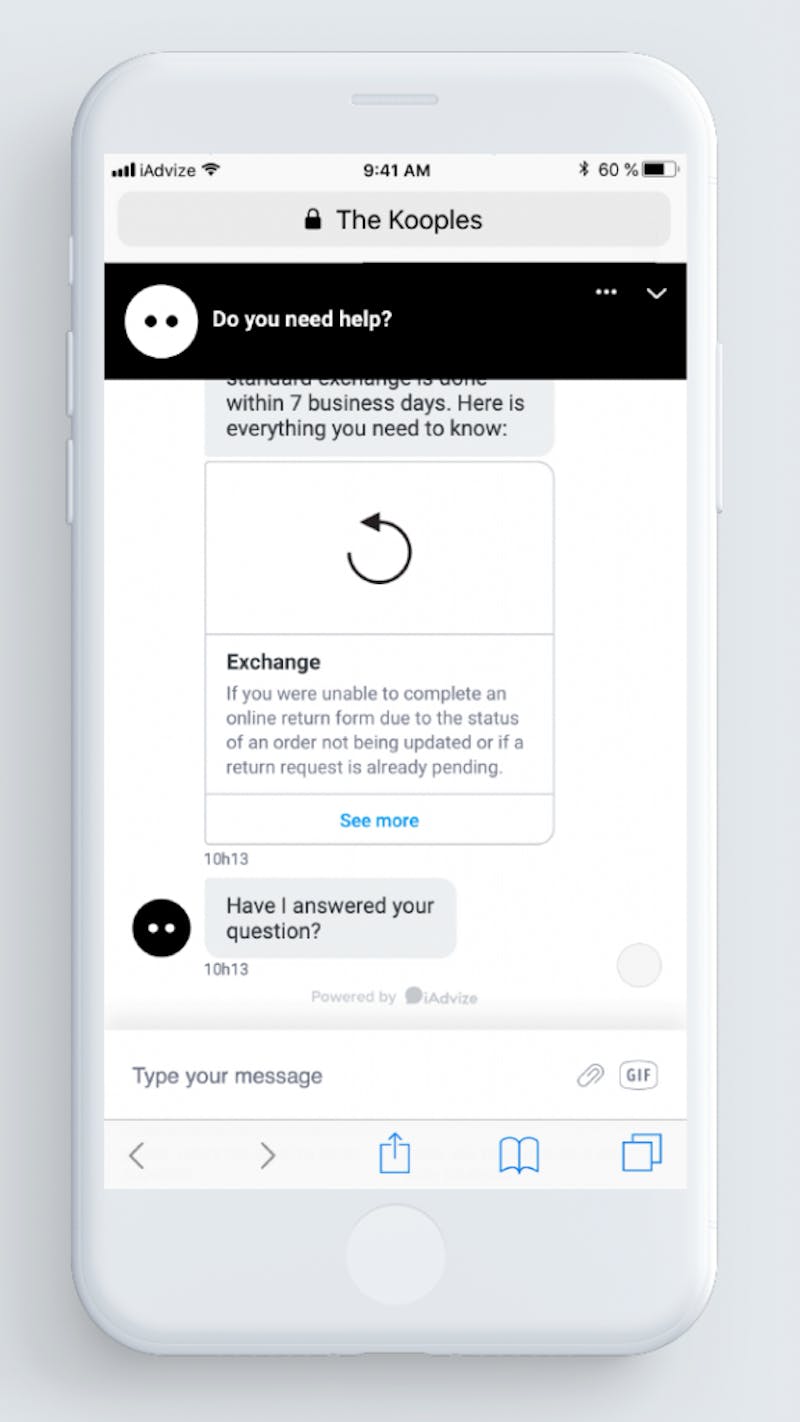 But that doesn't solve all her problems. She still needs a purse. And she needs it right away! Fortunately, she's able to connect with an in-house support rep via messaging without delay. He researches product availability and helps her locate a purse at a nearby boutique.
Choose the Ideal Conversational Tools for Your Brand
A conversational platform is no longer a nice-to-have option for online retailers. In the years ahead, conversation will emerge as a necessity for every brand that wants to stay competitive.

Why? While they may do some research and due diligence–especially before a larger purchase–buying anything is an emotional decision. As theHarvard Business Review explains, we make purchases to fulfill emotional motivators, such as:
Standing out from the crowd
Feeling confident about the future
Experiencing well-being
Feeling a sense of freedom, thrill, or belonging
Protecting the environment
However, the most recent chapter in the evolution of retail has de-personalized the shopping experience for many people. As more people have embraced online shopping, they've met a dizzying array of product options, floods of data, and slick technology. A sense of information overwhelm is common.

Plus, some advertising approaches that are intended to feel personalized end up feeling creepy. And chatbots–while immensely useful in some applications–are often more frustrating that efficient. All these realities add up to a less-than-ideal online shopping experience for many people.

It's time to put human beings back at the center of the digital experience. And conversation is the way to make that goal a reality.

How can your brand enter into the new era of conversation? There's no one answer to that question. Truly, the answer depends on your business objectives and service framework.

One thing is certain: Giving shoppers opportunities for in-the-moment, 1:1 conversation is key. You have to meet shoppers where they are in their purchase journey. You have to connect shoppers to people who listen and care about helping them make buying decisions. And you must offer shoppers options to self-serve and get live support when they want it.

For most brands, a mix of internal support, on-demand brand experts, and chatbots is the right solution. Fortunately, some innovative brands have forged ahead with conversational platforms and can provide models of success.