Conversational Maturity Index: Sporting Goods Brands 2022 Rankings
4min read - iAdvize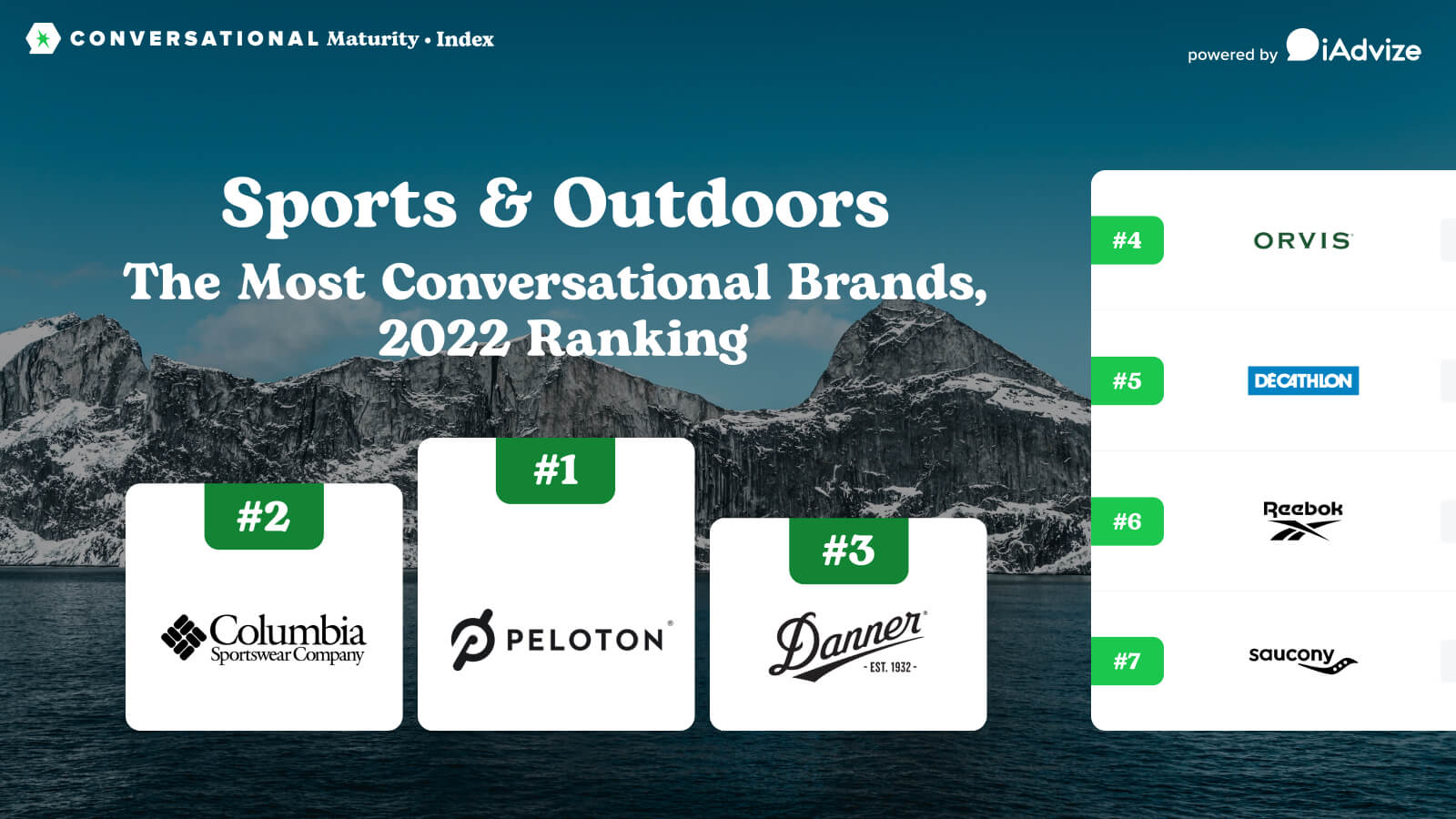 Being conversational is no easy feat. Brands must be aware of multiple factors that go into an exemplary conversational platform, including AI chatbots, in store associates, and outside experts. All of these moving parts all come together to create a scalable approach to top-notch CX.
Sticking to our roots of humanizing conversation, iAdvize created a unique assessment known as the Conversational Maturity Index(CMI). The CMI uses a quick online simulation to generate a score based on six pillars to evaluate how conversational brands are in relation to their industry.
This month, we took a look at sporting goods and compiled a ranking for the most conversational brands in the industry.
Sporting Goods Brands 2022 Ranking
Our CMI research found the most conversational brand in the industry. Industry leaders stood out in offering rich messaging experiences that left shoppers feeling like they received authentic, personalized advice. Their conversational approaches allowed for a true human connection.

Industry Standouts
Peloton
Peloton's chat is unmistakably clear from the second you land on their homepage. It matches site interface and brand identity, and connects shoppers with a human respondent after using chatbot identification to narrow down the topic. Respondents provide personalized advice and are able to give quality recommendations.There is even any option to attach emojis, gifs, documents, and pictures!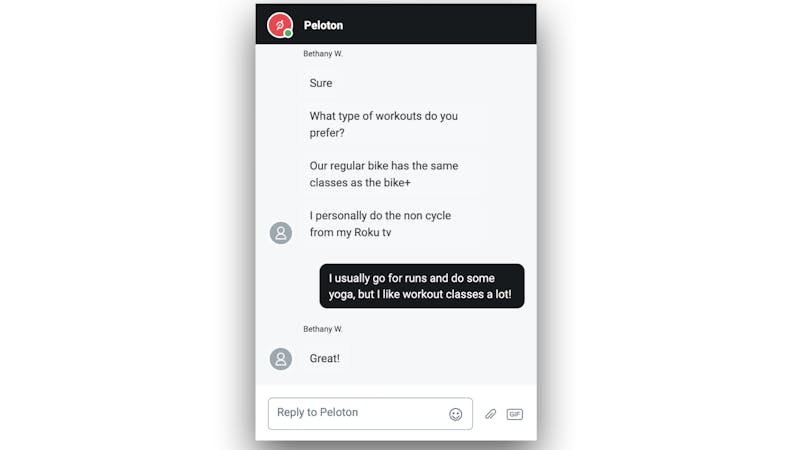 Columbia Sportswear
The chat on Columbia's site is unique in that their virtual assistant is named "AVIA '' and this assistant is able to quickly direct users to the help they need. Human respondents come into the chat almost instantly, in this case Graysin, who is able to give advice for a rainwear recommendation. The chat is easy to expand and minimize, and allows shoppers to change pages on the site easily and stay connected.
Danner
Danner allows chatters to see who they're talking with at the top of the chat box, and instantly rate the respondent with a thumbs up or thumbs down. Respondents give tailored results and ask the right questions when it matters most. They don't waste time and make sure all questions are answered to the fullest extent.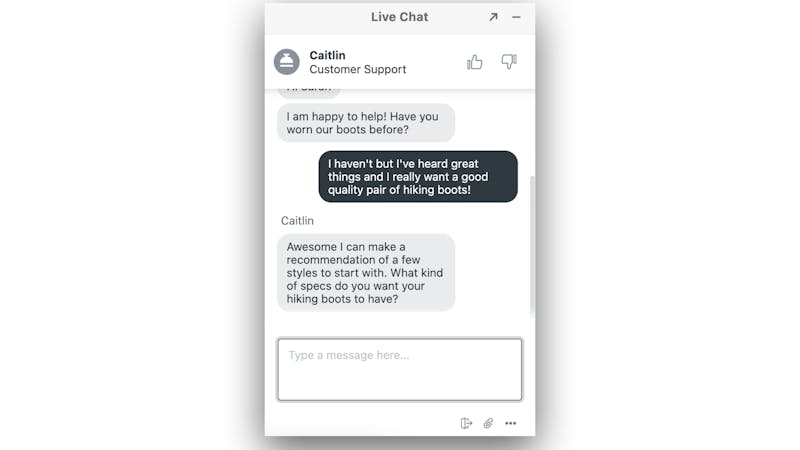 Key Findings for Sporting Goods
High Marks for Empathetic, Authentic, & Visually Appealing Messaging
The highest scores for sporting goods brands were found to be Empathy, Expertise, & Authenticity and Rich & User-Friendly Messaging. Chat respondents were able to relate to the needs of customers and provide advice that was specifically tailored to each situation. Leaders generally offered messaging options that were easily located and matched brand identities. Chat options were easy to locate and had options to send emojis, photos, and documents.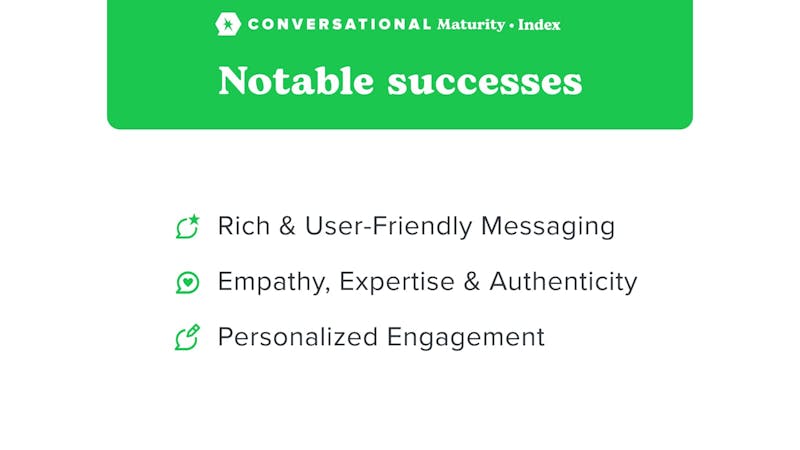 Scalable, Omnichannel Approaches Have Room to Grow
The lowest scores for sporting goods brands were in the Scalability and Omnichannel & Seamlessness pillars. Brands in the industry need to ensure they are using asynchronous messaging approaches, allowing customers to start a conversation with messaging and add to it overtime. To stay ahead, brands should add the option to stay connected with messaging even after leaving the site as well as finding the right mix of AI chatbots and human respondents to optimize scalability.
How Conversational Maturity Index Research is Conducted
This CMI is powered by insights from more than 2,000 retail brands and 10 years of experience in the CX industry. It has become essential for retail brands to provide online consumers with the kind of authentic, seamless conversational experience they have everyday through messaging. The assessment helps retailers to analyze their conversational strategy and find out how they can improve to better meet customer needs.
For this fourth industry analysis on sporting goods brands, we examined leaders using the CMI framework of 80 discrete-value questions based on the six pillars. We analyzed 23 top brands and retailers based on revenue, reputation, and market presence. We visited each website to perform assessments of conversational features using our standard question sets.
To dive deeper into conversational capabilities, we utilized available chat or messaging features on websites. We would engage with a customer-facing representative to gain information on a specific product and ask both general and specific questions to evaluate the experience.
With this information, we would then assign scores using our standard question set and calculate scores for each pillar, each brand overall, as well as industry averages.
A Framework Built on Six Pillars
The CMI examines the current experience of a brand or retailer measured against six critical pillars of an ideal CX for today's consumer. Those pillars include:
Expertise, Empathy & Authenticity
Scalability
Personalized Engagement
Rich & User-Friendly Messaging
Omnichannel & Seamlessness
Business Drive
Expertise, Empathy & Authenticity
An exceptional conversational approach can provide genuine, humanized connections between shoppers and brand representatives. There's nothing more memorable about a digital experience than when a chat respondent recognises needs and priorities 1:1 conversations that flow easily and invoke emotion. Those interactions represent what is measured in the "Empathy, Expertise, and Authenticity" dimension.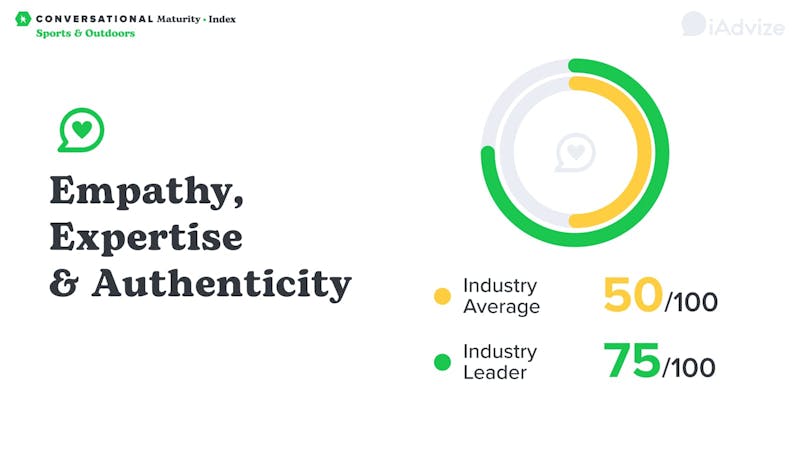 Scalability
Scalability can be challenging when it comes to delivering personalized conversations. Using chatbots to keep up with rising demands is a simple fix, but it can often lead to impersonal conversational experiences. Leading retailers use a mix of bots and humans intelligently and perform well on the "Scalability" dimension of conversational maturity.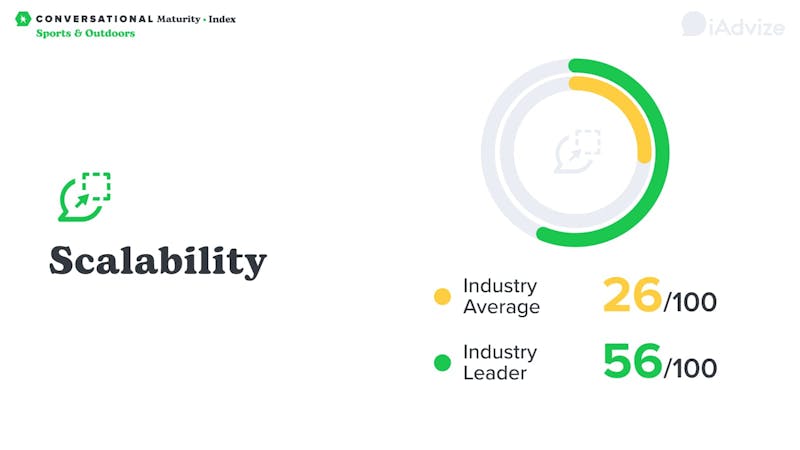 Personalized Engagement
Purchase history and browsing interest might seem like an obvious way to recommend products for customers, but these methods aren't necessarily personal. Forward-thinking retailers have human agents who foster personal connections to understand shoppers' true intents, needs, and questions while shopping online. These are the factors taken into account when looking at the "Personalized Engagement" pillar.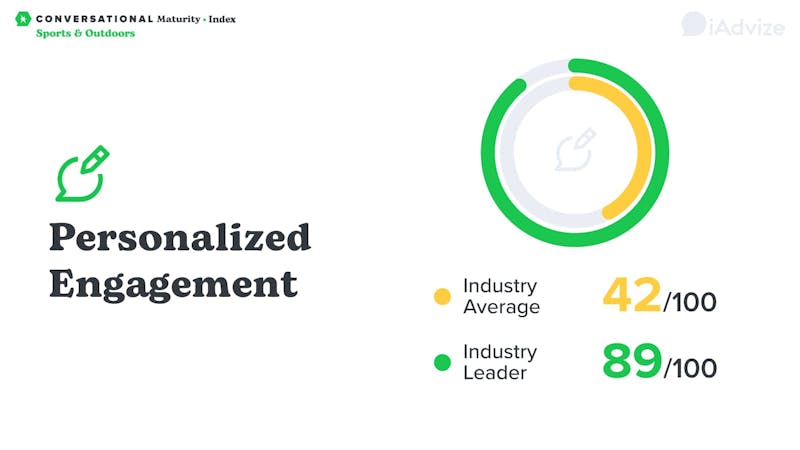 Rich & User-Friendly Messaging
In an online shopping environment, messaging should be integral to the digital experience. Ideally, messaging options should be easy to locate and use while blending seamlessly into the user interface (UI) which should match the branding and be uncluttered. Messaging should also open on that same shopping page, preventing the need for customers to switch back and forth between tabs. Retailers who lead in this dimension offer a rich, engaging multimedia experience that allows for consumers to even share emojis, photos, and documents.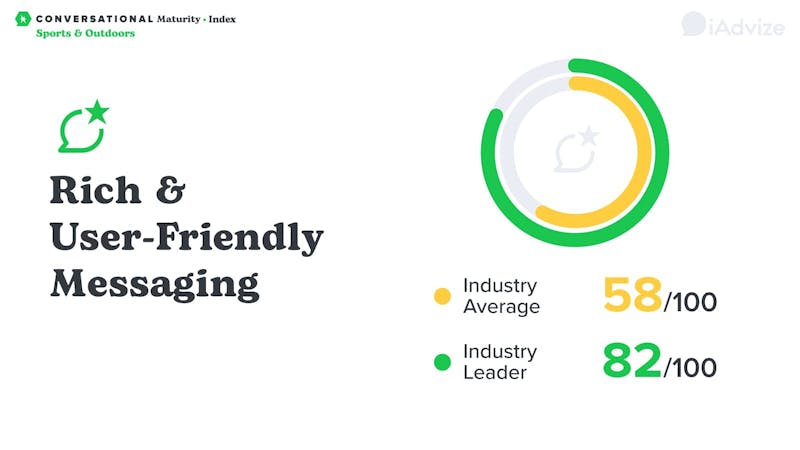 Omnichannel & Seamlessness
As online shopping becomes increasingly popular, brands and retailers need to offer support in various ways. Leaders use asynchronous messaging approaches, allowing customers to start a conversation with messaging and add to it overtime. They offer the ability for shoppers to have a complete conversation, or stay connected with messaging even after leaving the site. This signifies a job well done in the "Omnichannel & Seamlessness" category.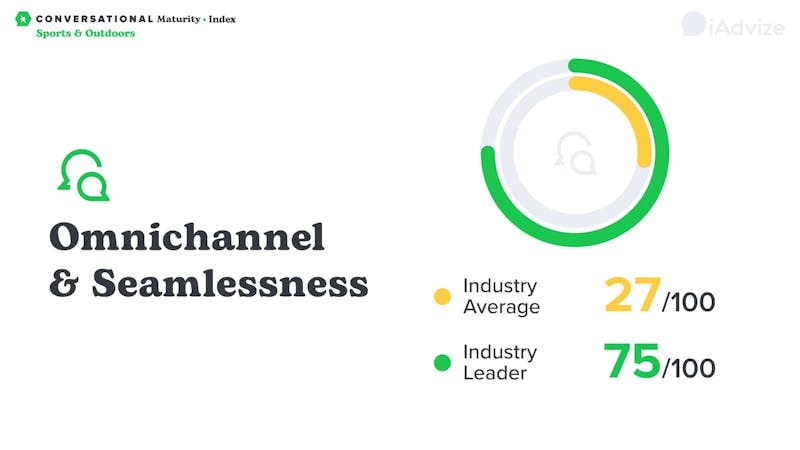 Business Drive
The first five pillars of conversational maturity are found in features and experiences delivered on a brand's external website or mobile app. Business drive, however, is the internal factor that underpins an organization's conversational efforts and thus can only be uncovered through close examination of a company's culture and values.
As the CMI and engage with more companies on their CMI scores, we'll have more insights and metrics about business drive to share.
How Sporting Goods Brands Compare
Our last Conversational Maturity Index industry assessment was conducted on the consumer electronics sector. We found that the most conversational retailers in consumer electronics excelled crafting authentic, relatable experiences, something shared by sporting goods brands. Both industries were able to make customers feel secure and supported throughout the buying journey.
Brands in the sporting goods industry and retailers in consumer electronics both shared the lowest score in the Scalability pillar and the highest score in Rich & User-Friendly Messaging.
About the iAdvize Conversational Maturity Index
Launched in March 2021, the iAdvize Conversational Maturity Index (CMI) is a resource for brands to evaluate their digital strategy and benchmark against other companies in their industries. iAdvize independently analyzes well-known companies in select industries to report on the state of conversational maturity. In addition, brands can complete an online self-survey to understand the current state of their conversational initiatives.