Conversational Maturity Index: Home Furnishing 2022 Ranking
11min read - iAdvize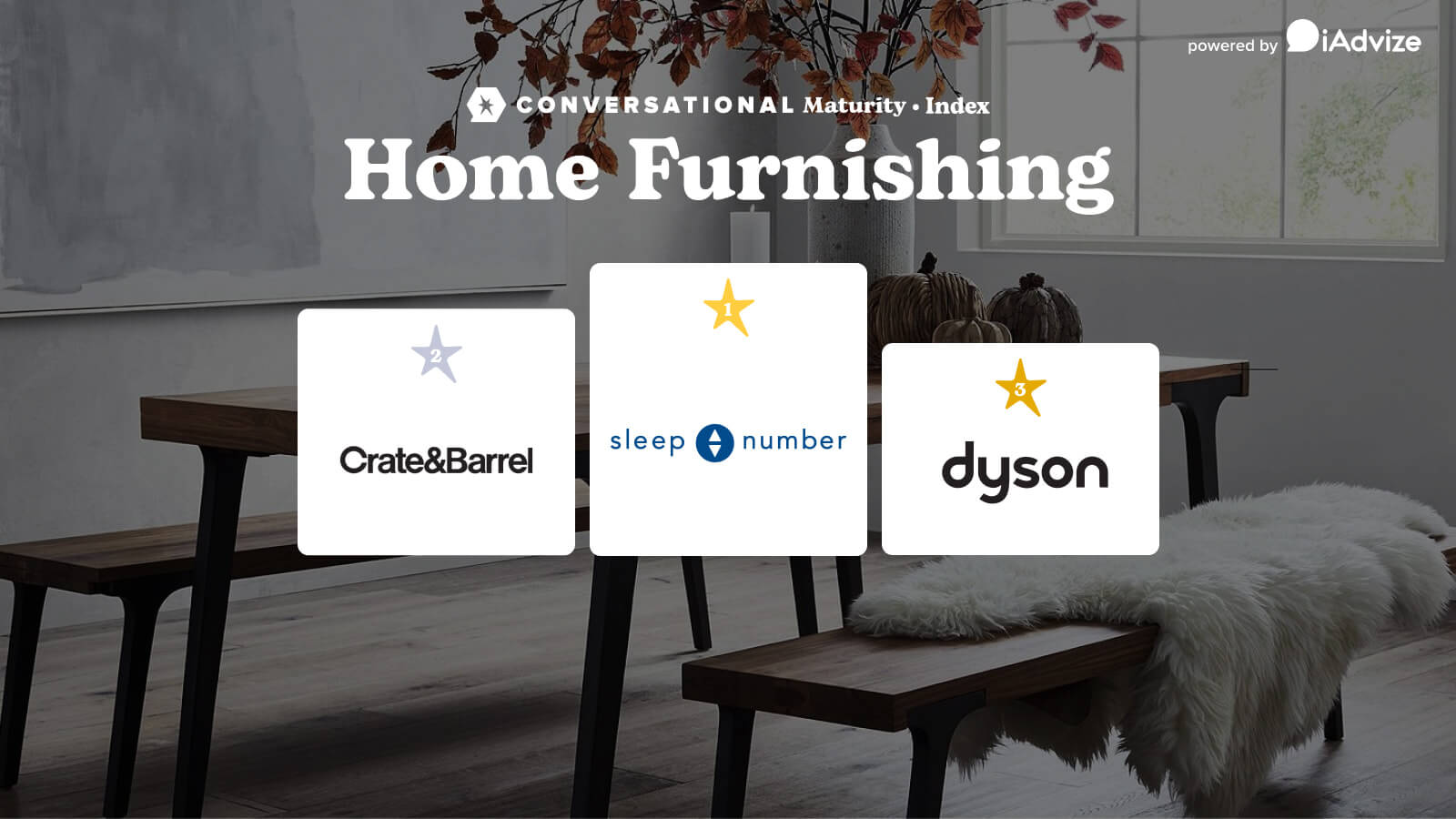 How do the top brands and retailers differentiate themselves from the competition? Is it pricing? Flexibility? Product offerings? While all these play an integral part in the buyer's decision-making process, one factor remains at the heart of it all. It all comes down to the customer experience.
Market leaders in every industry understand that one above and beyond experience can resonate with a shopper for years to come. 73% of US consumers say a positive experience influences them to buy from a brand. You get their loyalty and trust by connecting with them on an emotional and human level.
Yet, the same way a positive experience can stick in a shopper's mind, an insufferable experience will forever keep them away. 64% of people say they have stopped doing business with a brand after a poor experience. The majority of shoppers will recommend a product or service after a stellar experience. The same ones will also tear down your business with reviews and word of mouth.
How do you stay ahead of the competition in this always-evolving eCommerce environment? In layman's terms, the winners will offer rich, human-centric experiences that leave them yearning for more.
The most straightforward way to achieve a desirable shopping experience is being conversational. We are currently in the experience economy, an economy that goes beyond the product offering. 75% of shoppers today would like to have more human interactions with companies. Shoppers today want an experience that is human and personalized, or as we call it, a conversational experience.
Companies need to provide a 1:1 human experience that shoppers crave, ensuring that all questions and concerns have answers. Customers want a stress-free experience that is immersive and interactive, which leaves them blown away.
But still, the question remains. What are the conversational qualities businesses should invest in to provide a mature CX?
At iAdvize, we identified six key pillars required for a successful conversational strategy:
Expertise, Empathy & Authenticity
Scalability
Personalized Engagement
Rich & User-Friendly Messaging
Omnichannel & Seamlessness
Business Drive
Based on an evaluation of each pillar, we developed a unique assessment tool, the Conversational Maturity Index (CMI). The CMI uses a rapid online chat experience assessment to generate a score that identifies how conversational a company is, relative to others within the same industry. In other words, looking at the maturity of a company's conversational strategy.
This month, we utilized the CMI to examine the most conversational companies in the home furnishing industry.
Home Furnishing Companies 2022 Ranking
CMI research revealed that home furnishing companies share a common practice of connecting with shoppers on a personal level. Home furnishing companies prioritize building genuine relationships with their customers, offering real-time expert advice that is compassionate and trustworthy. The advisors are persistent and passionate, offering their expertise at every turn. They connect with shoppers on a human and emotional level, leveraging those personal connections throughout the customer journey. The top CMI scores in the industry were Sleep Number, Crate & Barrel, and Dyson. Below are summaries of their distinct conversational strategies.

Industry Standouts
Sleep Number - Accessible Experts That Provide Stress-Free Experiences
Sleep Number's mission is to improve the lives of shoppers by offering personalized sleep experiences. This mission aligns throughout the company, and it starts with their sleep experts. They offer 24/7 customer service to guarantee that shoppers are not left stranded without a helping hand. At the beginning of the conversation, the chat requests the shopper to express their inquiry. After about 10 seconds, they immediately get a response from an expert who is ready to help them at each step of their buying journey.
I told Geralyn about my problem and, within seconds, she had a solution. The best part about this exchange was that she did not send a link as a recommendation. She went into the trenches going through every detail of why she recommended the 360 mattress series. Geralyn did not have canned responses ready to go. Her answers were knowledgeable and well-articulated, providing me with the appropriate information. As a result, I was able to make a confident purchasing decision.
Furthermore, she suggested not one but many mattresses after, asking what surface features are most important to me. She was enthusiastic when suggesting the mattresses going through all the specifics of each one and how it would benefit my sleep. Geralyn was not any ordinary chat respondent. She was a passionate sleep expert who cared about finding the right sleep experience that I desired.
The best part of this conversation was at no point did I question whether I was talking to a human in real-time. There were no questions left unanswered. The experience was out of this world, and it felt like I was having a casual conversation with a friend.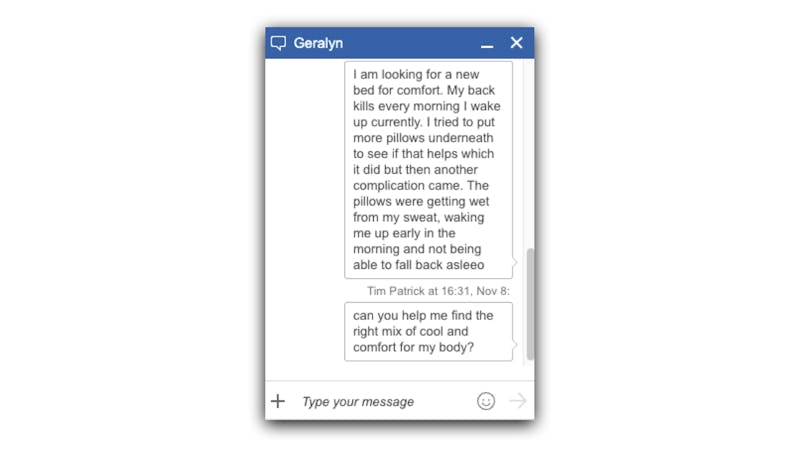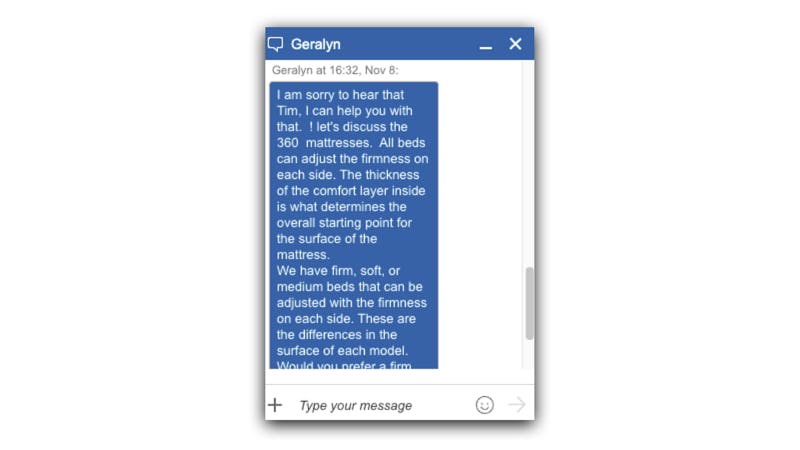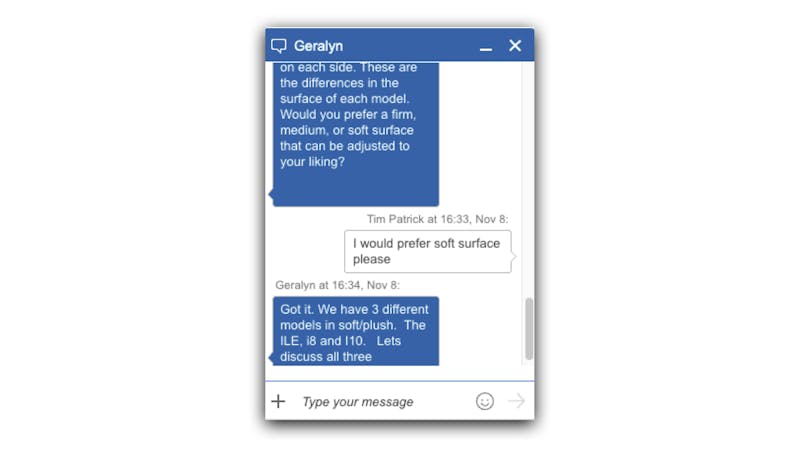 Crate & Barrel - Passionate Designers Who Treat Shoppers Like Family
A good practice for customer service reps is to treat your shoppers like family. Well, Crate & Barrel epitomizes this and then some. Instantly I connected with one of their expert designers. I was looking for help during the holiday season, finding new Christmas decorations. I told my personal designer, Chrishawna, the exact items I was searching for, and her feedback didn't disappoint.
Frankly, the question I asked was broad and could have used some clarification. Most agents would have been a little turned off by my inquiry and would have sent me to the Holiday shopping page. Chrishawna is not like most agents. She asked me to explain precisely what I was searching for, to narrow down her search options. I felt obligated to give her more information about what I desired because of her open dialogue and friendliness.
She went down the list of what decorations, starting with ornaments asking what colors I prefer. It may not seem like a big deal, and it is simple. However, the majority of experts would have done the bare minimum. Instead, Chrishawna was authentic and emphatic, trying to build a relationship with me. When I told her my favorite color was green, she even brought up how it is also her husband's preferred color.
Candidly, that was the first time I had someone bring up their family member with me over chat. She was comfortable enough to have a conversation with me as if I was a childhood friend. I was provided many options for ornaments, all of which were chosen carefully to please my liking. Chrishawna was warm and kind-hearted, representing Crate & Barrel flawlessly. My shopping experience was stress-free, and the advice I got was honest and personable.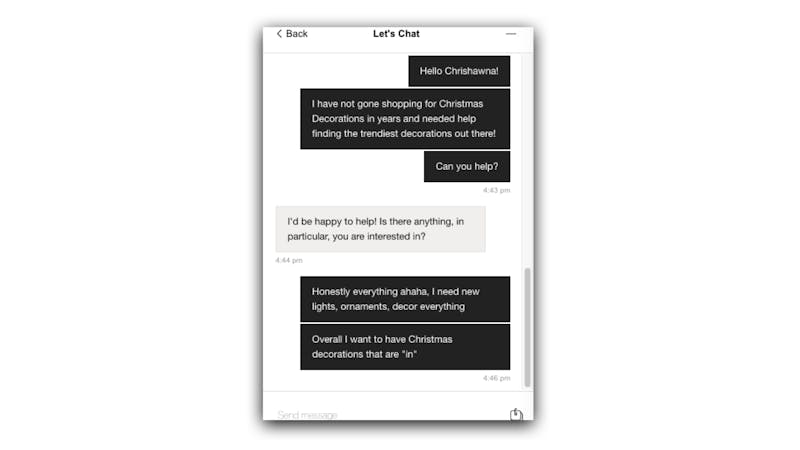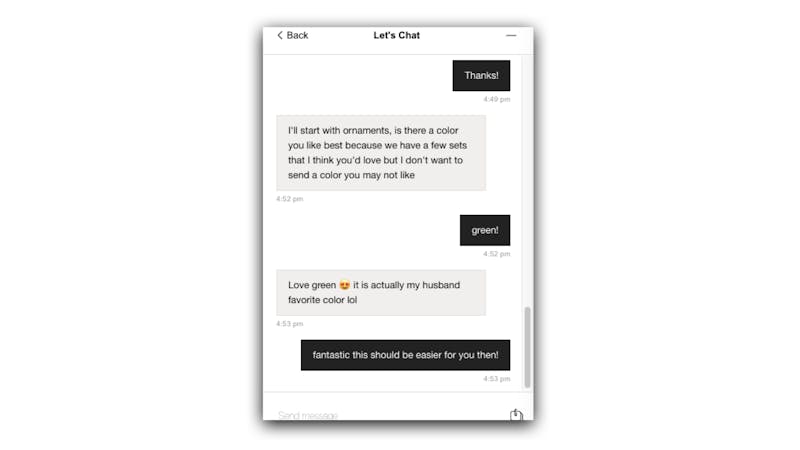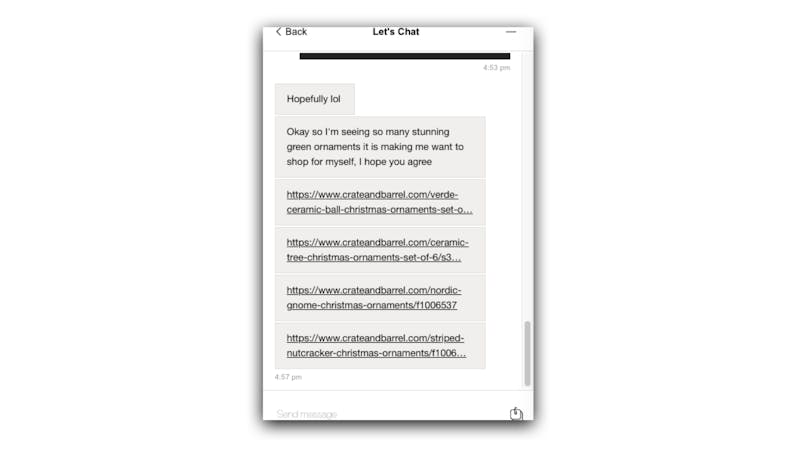 Dyson- The Perfect Mix of Bots and Humans
Dyson is unique, bringing the best of both worlds with bots and human respondents. The Dyson Digital Assistant starts the conversation with shoppers asking, what exactly they are looking to find. The bot is tree-based and not AI but is proactive in providing the relevant information at the right time to shoppers. If they cannot find a solution to your problem, they send you to a suitable expert for your shopping needs.
I described my problem to Johnna and mentioned that I work with dogs daily, leaving my house covered in hair. Johnna listened intently to my complication and sent me a vacuum that she believed would fix my headache. I viewed the vacuum she proposed to me, but I was still worried about whether the features would alleviate my dilemma. Johnna understood my drawback, set to remove this uneasiness.
She indicated that the Dyson Outsize Absolute + had an attachment that would be great for picking up pet hair. I was still hesitant about the vacuum and asked more about the attachment. She did not get frustrated that I asked for further information. Instead, she went in-depth into what the functionalities of each component were.
I was skeptical about the conversation at first, but Johnna removed any apprehension I had. Overall the chat was phenomenal, having the perfect balance of bots and engaging experts. The experience was pleasant and insightful, leaving me upbeat with my selection.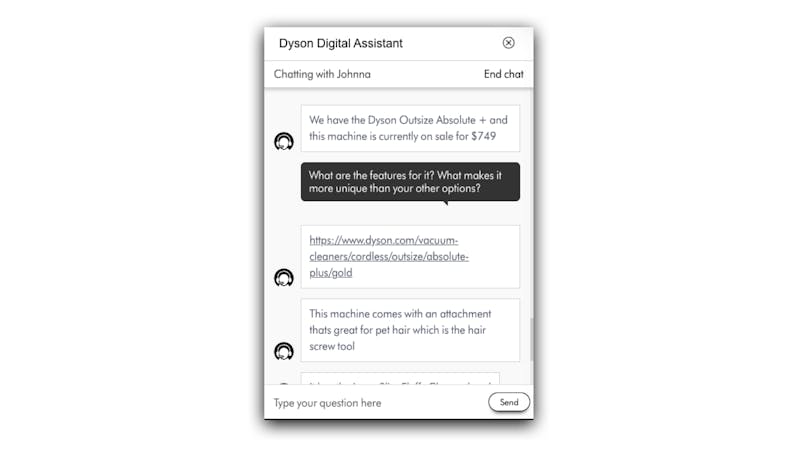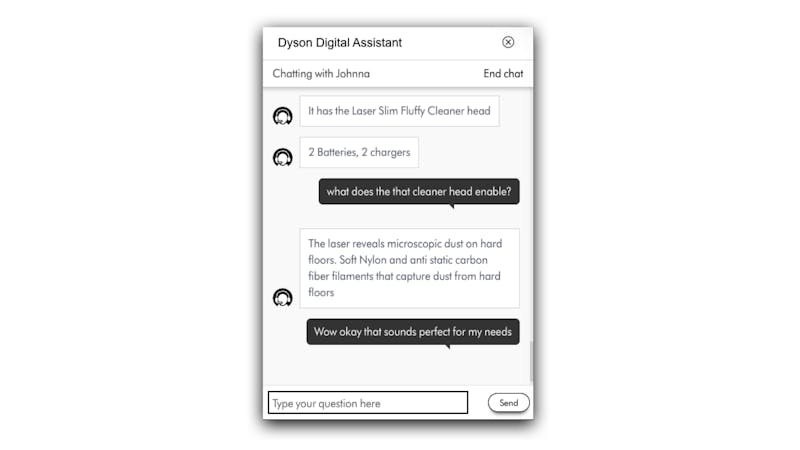 Key Findings for Home Furnishing
Work To Be Done on Scalability and Omnicannality Pillars
The home furnishing industry needs serious revamping within its scalability and omnicannality pillars. The industry needs to modernize its messaging system and add asynchronous messaging. Asynchronous messaging is an innovative practice that enables customers to start a conversation and add to it over time. This feature is delightful as it allows shoppers to add to a discussion over time. Shoppers no longer fear that they will lose expert advice from earlier in the thread.
Another aspect that requires improvement is scalability. Today having real-time experts is not enough. With so many conversations happening, it is crucial to show appreciation for your customer's patience. Conversational AI chatbots alongside humans optimize scalability. This combination ensures support for customers and that the needs of shoppers are understood. Shoppers want to know that their problem is being taken care of and not getting lost in a rabbit hole. That is why brands and retailers add conversational AI to help customers in line until an expert is available. This mix of chatbots and humans provides customers with the reassurance that assistance will be there shortly.
Having a chat should eliminate the stresses that we once had calling customer service lines. Without implementing both chatbots and human respondents, you will never see your full potential. As a business, you are not taking advantage of the resources available to you. Sooner or later, your shoppers will get the hint that your business is not changing with the times. Other companies will take their digital CX to the next level. The enhanced CX will result in them stealing customers from competitors and the only person you can blame for this is yourself. Treat your customers like humans and not a number.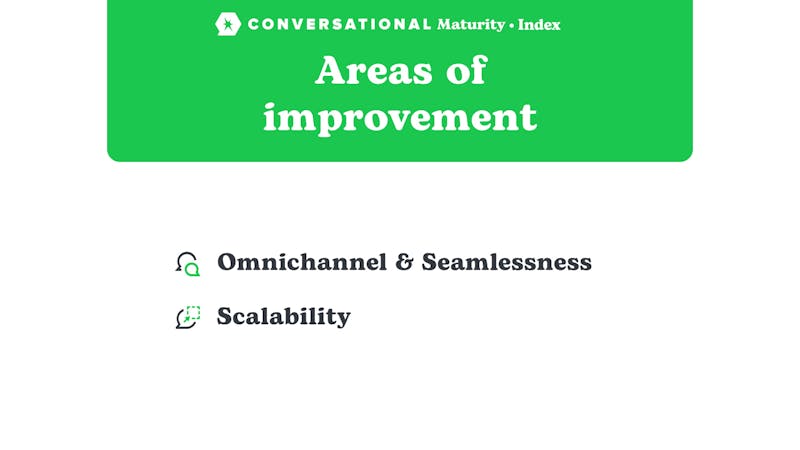 Thoughtful Experts Who Give Their Shoppers Peace Of Mind
One thing is for sure. The home furnishing industry does not mess around with human respondents that satisfy customer needs. They legitimately have an interest in helping shoppers with their purchasing decision. Experts are patient and supportive, well informed on all home furnishing products and services. The respondents not only offered advice but told shoppers their personal experiences with products as well. They go through every aspect of the product, elaborating on why they felt it would be the right choice for the shopper.
The messaging interface itself is organized well and easy to find. It's part of the UI (user interface) on the majority of companies' eCommerce sites. The chat was not difficult to find, hidden in the weeds of the contact us page. It was easy to engage and fire it up.
The engagement is personalized and available consistently across key product and care pages. There is a common theme of having the conversation box accessible on both the desktop and mobile. This option enables shoppers to have freedom when choosing how to access expert advice.
The chat experience for most home furnishing companies is consistent and stress-free. Shoppers leave the chat having their questions answered, feeling positive about their purchase. The strengths in these pillars are what make the home furnishing industry one of the most conversational.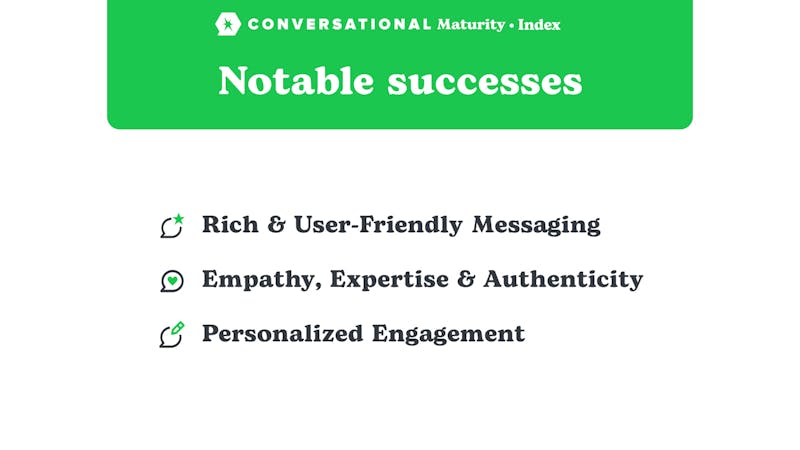 How Conversational Maturity Index Research is Conducted
This CMI is powered by insights from more than 2,000 retail brands and 10 years of experience in the Customer Experience (CX) industry. It has become essential for retail brands to provide online consumers with the kind of authentic, seamless conversational experience they have every day through messaging. The assessment helps retailers to analyze their conversational strategy and find out how they can improve to better meet customer needs.
For the tenth industry analysis on the home furnishing industry, we examined leaders using the CMI framework of 80 discrete-value questions based on the six pillars. We analyzed 23 of the top brands and retailers based on revenue, reputation, and market presence. We visited each website to perform assessments of conversational features using our standard question sets.
To dive deeper into conversational capabilities, we utilized available chat or messaging features on websites. We would engage with a customer-facing representative to gain information on a specific product and ask both general and specific questions to evaluate the experience.
With this information, we would then assign scores using our standard question set and calculate scores for each pillar, each brand overall, as well as industry averages.
A Framework Built on Six Pillars
The CMI examines the current experience of a brand or retailer measured against six critical pillars of an ideal CX for today's consumer. Those pillars include:
Expertise, Empathy & Authenticity
Scalability
Personalized Engagement
Rich & User-Friendly Messaging
Omnichannel & Seamlessness
Business Drive
Expertise, Empathy & Authenticity
An exceptional conversational approach can provide genuine, humanized connections between shoppers and brand representatives. There's nothing more memorable about a digital experience than when a chat respondent recognizes needs and priorities 1:1 conversations that flow easily and invoke emotion. Those interactions represent what is measured in the "Empathy, Expertise, and Authenticity" dimension.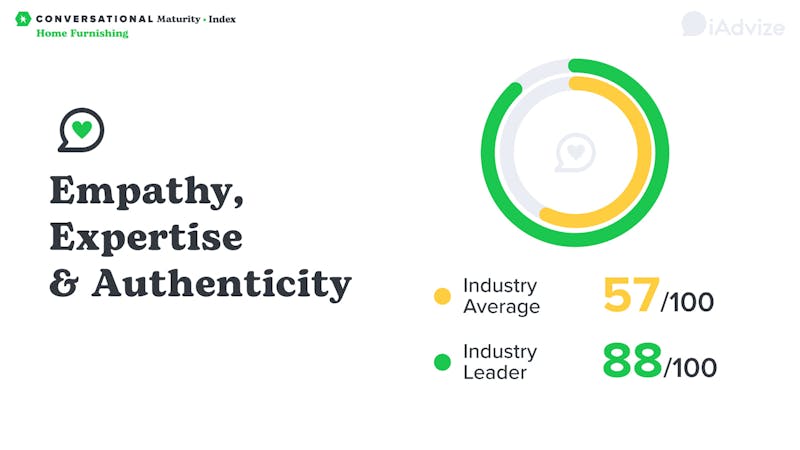 Scalability
Scalability can be challenging when it comes to delivering personalized conversations. Using chatbots to keep up with rising demands is a simple fix, but it can often lead to impersonal conversational experiences. Leading retailers use a mix of bots and humans intelligently and perform well on the "Scalability" dimension of conversational maturity.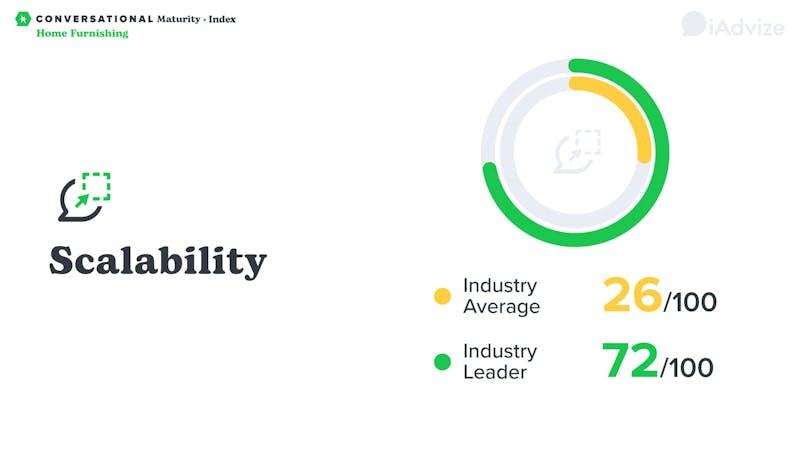 Personalized Engagement
Purchase history and browsing interest might seem like an obvious way to recommend products for customers, but these methods aren't necessarily personal. Forward-thinking retailers have human agents who foster personal connections to understand shoppers' true intents, needs, and questions while shopping online. These are the factors taken into account when looking at the "Personalized Engagement" pillar.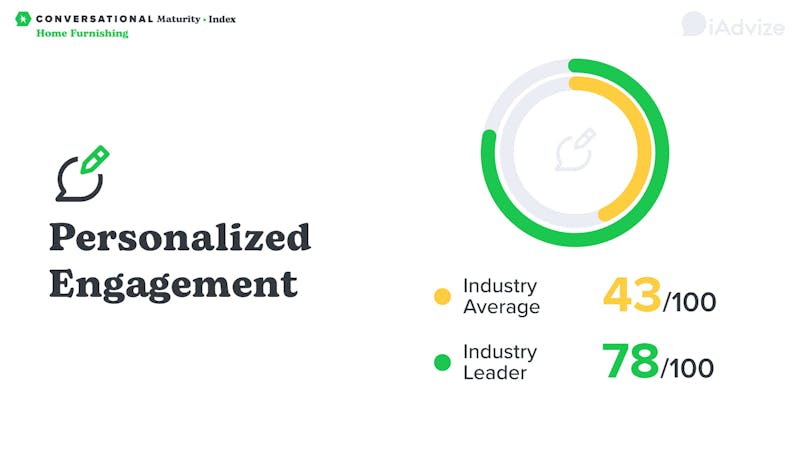 Rich & User-Friendly Messaging
In an online shopping environment, messaging should be integral to the digital experience. Ideally, messaging options should be easy to locate and use while blending seamlessly into the user interface (UI) which should match the branding and be uncluttered. Messaging should also open on that same shopping page, preventing the need for customers to switch back and forth between tabs. Retailers who lead in this dimension offer a rich, engaging multimedia experience that allows consumers to even share emojis, photos, and documents.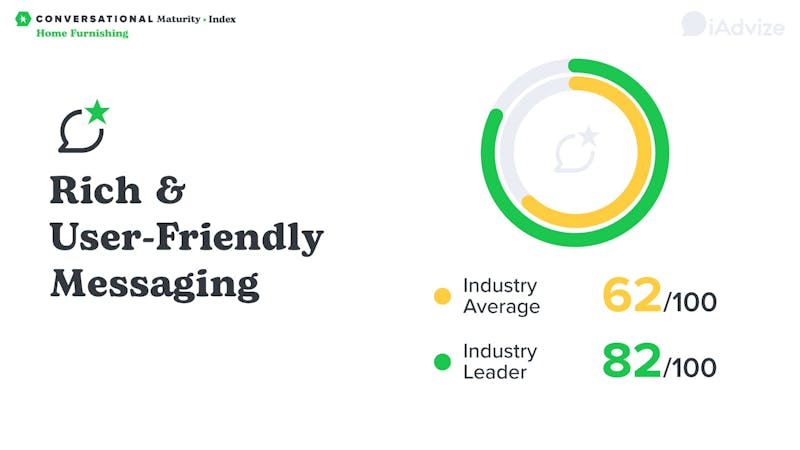 Omnichannel & Seamlessness
As online shopping becomes increasingly popular, brands and retailers need to offer support in various ways. Leaders use asynchronous messaging approaches, allowing customers to start a conversation with messaging and add to it overtime. They offer the ability for shoppers to have a complete conversation or stay connected with messaging even after leaving the site. This signifies a job well done in the "Omnichannel & Seamlessness" category.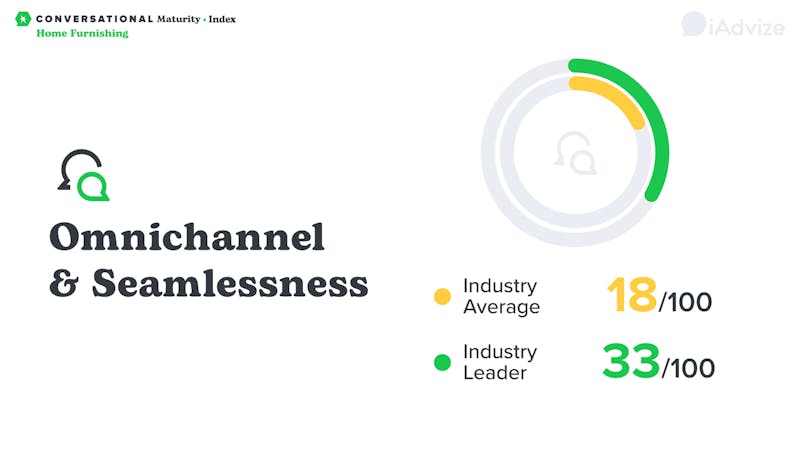 Business Drive
The first five pillars of conversational maturity are found in features and experiences delivered on a brand's external website or mobile app. Business drive, however, is the internal factor that underpins an organization's conversational efforts and thus can only be uncovered through close examination of a company's culture and values.
More insights and metrics about the business drive will be shared as the CMI and engagement with more companies on their scores happen.
Home Furnishing, A Leader In Conversational Strategy
Our previous CMI assessments reviewed the following industries.
The home furnishing industry overall scored well on our CMI assessment, ranking second with an average score of 41. The only sector that scored higher was beauty. They are the gold standard, consistently delivering on customers' expectations.
Home furnishing companies had the second-highest score in the Expertise, Empathy, & Authenticity pillar, which should come as no surprise. Customers receive hyper-personalized advice for their DIY home projects from home furnishing experts. These types of conversations need respondents who are masters in their craft. They understand all obstacles that their customers may face, steering them in the right direction.
Experts were well versed in the home furnishing space, forming bonds with customers after a 15-minute conversation. By resonating with shoppers over their DIY projects, companies can build a relationship with them. Customers receive information that helps them make well-educated purchases. As a result, they feel a connection to your brand. This connection usually correlates with an increase in brand loyalty from shoppers.
The digital world has accelerated customer shopping expectations. More companies than ever are prioritizing a clean CX top to bottom to accommodate. You need good-natured experts who not only know the ins and outs of their product offerings. But, they can also have a genuine conversation with customers. The home furnishing industry understands this. They focus on providing a true 1:1 personal connection for shoppers.
The digital world has accelerated customer shopping expectations. More companies than ever are prioritizing a clean CX top to bottom to accommodate. You need good-natured experts who not only know the ins and outs of their product offerings. But, they can also have a genuine conversation with customers. The home furnishing industry understands this. They focus on providing a true 1:1 personal connection for shoppers.
Shoppers today don't just go to a website, find a product and click add to cart. They research what features are part of the product and how it will make their life easier. In short, they will have questions. Companies that want to keep customers for the long term recognize this. They make pre-sales interactions a focal point in their conversational strategy. They need experts who embrace being conversational.
Customers that come to your site want a straightforward buying experience. They need readily available experts to cater to their needs at every step in their journey. The companies that will succeed in today's digital world will be the ones that focus on experts who honestly care about your shopping experience.
Shoppers want experts who will treat them like a close friend, offering them insights to help make a wise purchasing decision. The successful experts for the home furnishing industry take these values to heart. They ensure that your dream DIY projects are quick and painless, with no hiccups. The experts provide shoppers with a stress-free shopping experience leaving them yearning for more.
What Industry is Next?
With the holiday season approaching shoppers are scrambling around the web to find the perfect presents. But with a variety of gifts on everyone's wish list, it's hard to find one store that checks all the boxes. Only if there was a type of store that could tackle this all. Next up on our CMI assessment is the most conversational large retailers.
About the iAdvize Conversational Maturity Index
Launched in March 2021, the iAdvize Conversational Maturity Index (CMI) is a resource for brands to evaluate their digital strategy and benchmark against other companies in their industries. iAdvize independently analyzes well-known companies in select industries to report on the state of conversational maturity. In addition, brands can complete an online self-survey to understand the current state of their conversational initiatives.