Conversational Maturity Index: Spare Parts and Repair Companies 2022 Ranking
7min read - iAdvize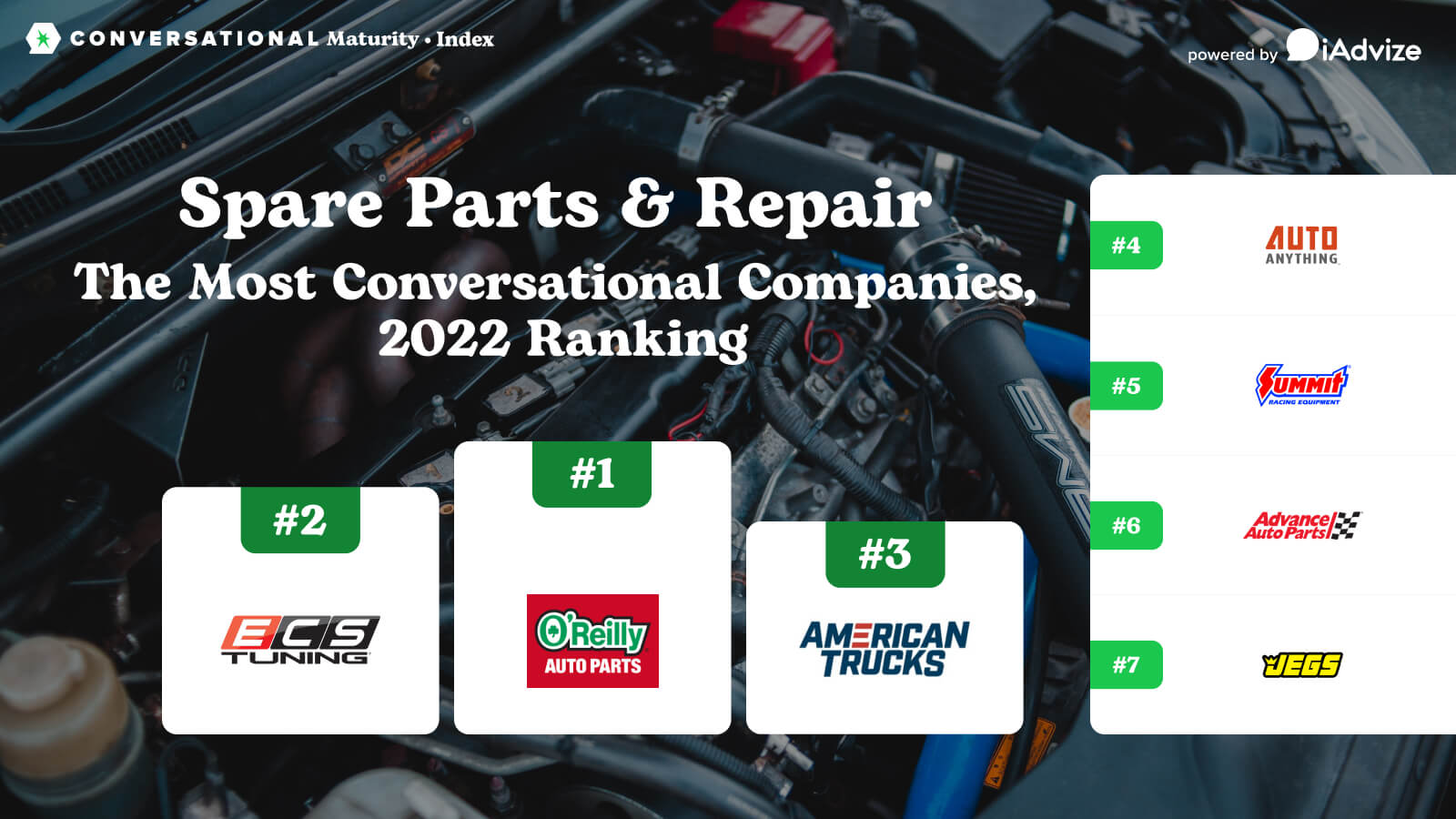 What makes a company conversational? Is it the use of rich, user-friendly messaging? Or, is being conversational about having authentic, readily available real-time expert respondents?
We are in the thick of the experience economy, an economy based on consumer experiences, personal connections, and humanity. Shoppers today want to be treated as humans, not just as numbers in a chat queue. Thus, it is vital for companies to understand the importance of being 'conversational'.
At iAdvize, we identified six key pillars required for a successful conversational strategy:
Expertise, Empathy & Authenticity
Scalability
Personalized Engagement
Rich & User-Friendly Messaging
Omnichannel & Seamlessness
Business Drive
Based on an evaluation of each pillar, we developed a unique assessment tool, the Conversational Maturity Index (CMI). The CMI uses a rapid online chat experience assessment to generate a score that identifies how conversational a company is, relative to others within the same industry. In other words, looking at the maturity of a company's conversational strategy.
This month, we utilized the CMI to examine the most conversational companies in the spare parts and repair industry.
Spare Parts and Repair 2022 Ranking
Our CMI research revealed that the most conversational spare parts and repair companies share a common method of online client interaction. They prioritize rich and easy-to-use messaging and authentic, real-time expert advice. The top CMI scorers in the industry were O'Reilly Auto Parts, ECS Tuning, and American Trucks. Below is a summary of their conversational approaches.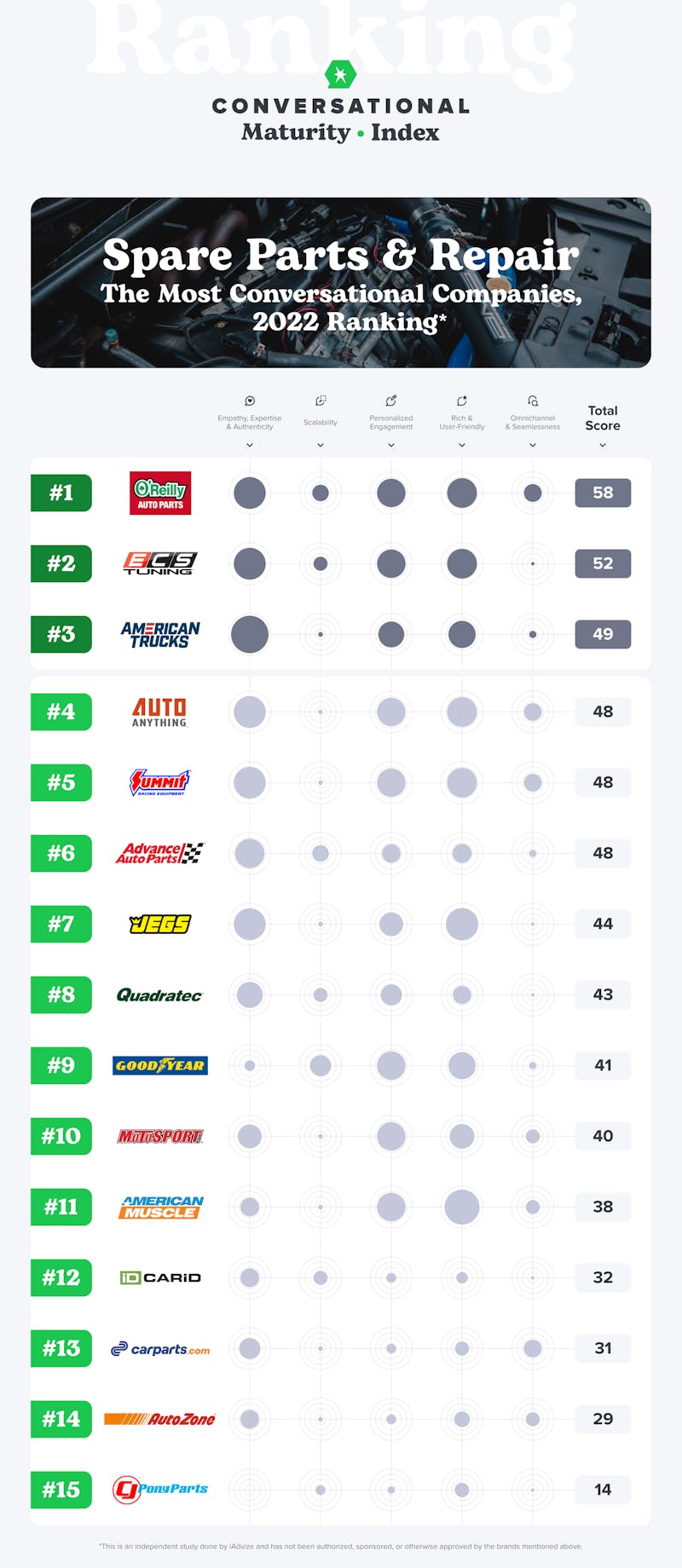 Industry Standouts
O'Reilly Auto Parts
The chat function on the O'Reilly Auto Parts e-commerce site initially presents shoppers with a tree-based "Chat Assistant" bot. After a matter of seconds of talking with the "Chat Assistant", the shopper then connects with an expert. The expert brings human knowledge and experience into the now personalized conversation. O'Reilly Auto Parts experts are well versed in the different sectors of the spare parts and repair industry. They are patient and provide the information necessary to ensure a satisfying customer shopping experience.
Another crucial element of O'Reilly Auto Parts' chat is its asynchronous messaging. Messaging that connects different conversations over time within their e-commerce site. This enables a seamless experience, giving customers one continuous conversation across their entire journey. In contrast, many others in the industry interact with customers using fragmented individual conversations that can be difficult to follow. O'Reilly Auto Parts offers their customers great support and a stress-free experience.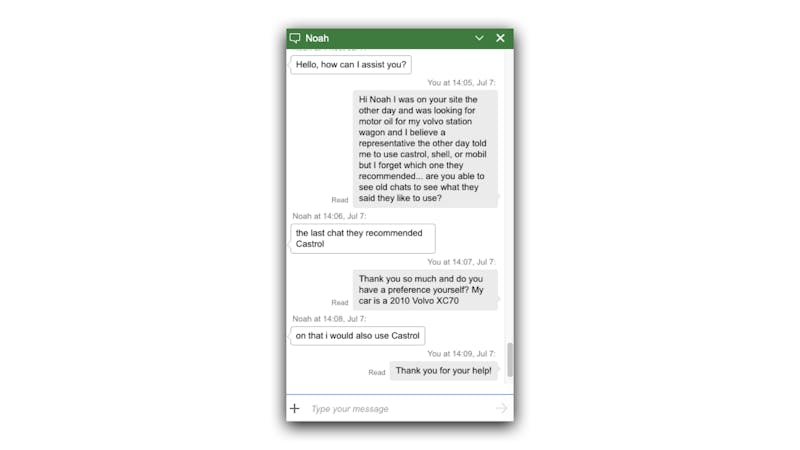 ECS Tuning
ECS Tuning's chat blends well into their site interface and brand identity. The chat's colors match the company's look, the chat is quick, and the site lets a customer know whenever the live chat is available. What makes ECS Tuning so conversational on the Conversational Maturity Index scale? It all comes down to the first pillar – the expertise, empathy, and authenticity of their experts. Once on the site, a customer provides the details of the automotive product they need. Immediately, ECS Tuning connects them with the right expert to assist with their inquiry. The expert then guides the customer through their shopping experience. ECS Tuning recognizes the importance of that human connection over chat. They place an emphasis on the quality of their customers' conversations with their experts.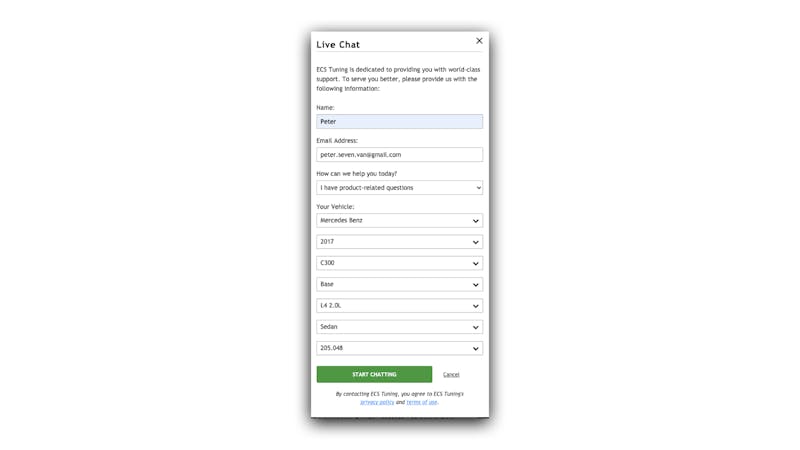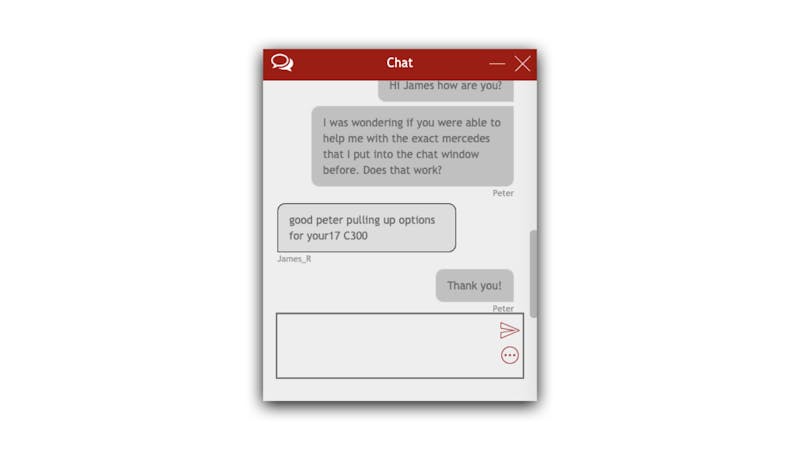 American Trucks
The chat on American Trucks' site is easy to find as it appears in two places on their landing page. To reach a human respondent, customers click on either a large 'chat' rectangle at the top center of the page or a circle in the bottom right corner. Both the chat respondent's name and photo appear within the conversation box, providing a welcoming personal touch. Customers are initially asked a few identifying questions. They are then quickly connected with the right expert for their inquiry. This connection gives American Trucks' customers the opportunity to communicate with real people in the industry who are authentic and empathetic. American Trucks' experts show a genuine interest in helping each customer find the perfect product for their needs.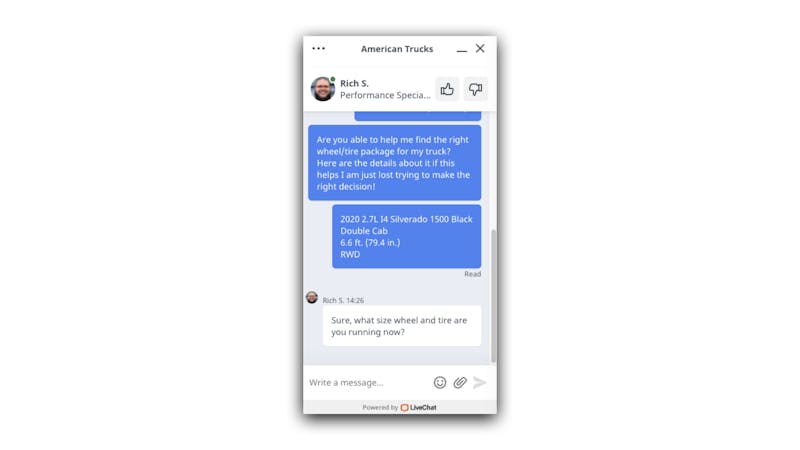 Key Findings for Spare Parts and Repair
Authentic Expert Advice for Stress-Free Messaging
The spare parts and repair industry ranked higher than any other industry on the pillars of Empathy, Expertise, & Authenticity, and Rich & User-Friendly Messaging. They set the bar for the Empathy, Expertise, & Authenticity pillar by giving their customers an experience that leaves them confident with their purchasing decision.
The conversation box used by most companies within the industry blends well into the user interface (UI) of each site (desktop and mobile). It reflects the look and feel of each company's identity with regard to color, images, and fonts. It is a simple process to engage with an expert, as chat options are not hidden or difficult to find. Chat respondents share personal experiences, relatable advice, and recommendations for customers. They can readily adapt to any question or situation, giving customers a genuine human experience.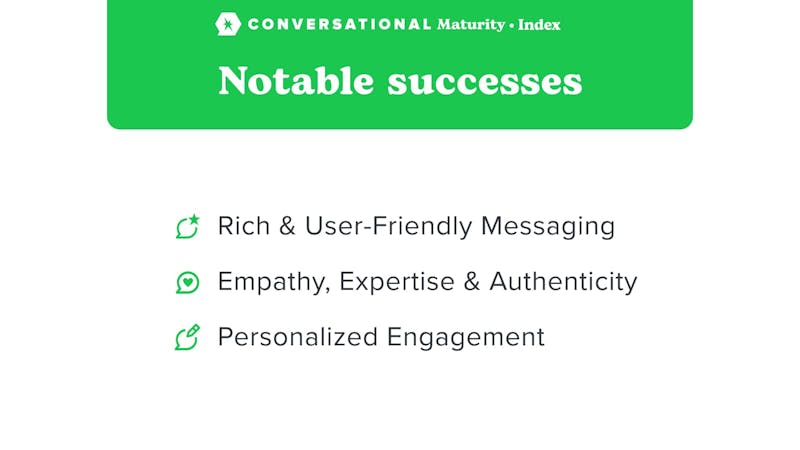 Scalable, Omnichannel Components Still Need Some Work
The lowest scores for spare parts and repair companies were in the Scalability and Omnichannel & Seamlessness pillars. The industry has room to grow in terms of ensuring the use of asynchronous messaging approaches (O'Reilly Auto Parts is one of the very few that leverages this approach). This message retention system is vital for allowing customers to start a messaging conversation that they can add to over time, without fear of losing expert advice that is given early in the thread.
Typical best practices involving these pillars include adding the option to stay connected with messaging even after leaving the site, leaving messages for experts outside of chat hours, and finding the right mix of AI chatbots and human respondents to optimize scalability. The synergistic mix of AI and the human touch allows customers to experience the best shopping journey possible. Always-on consumers expect 24/7 availability from their favorite brands. If answers are not immediate, they will turn to other companies. The implementation of AI chatbots, respondents, and asynchronous messaging gives companies the ability to perfect their scalability and provide all their customers the experience they deserve.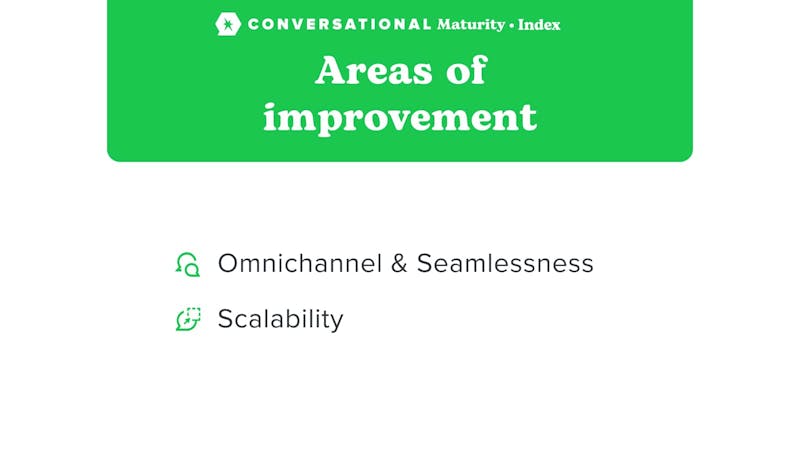 How Conversational Maturity Index Research is Conducted
This CMI is powered by insights from more than 2,000 retail brands and 10 years of experience in the Customer Experience (CX) industry. It has become essential for retail brands to provide online consumers with the kind of authentic, seamless conversational experience they have every day through messaging. The assessment helps retailers to analyze their conversational strategy and find out how they can improve to better meet customer needs.
For this sixth industry analysis on the spare parts and repair industry, we examined leaders using the CMI framework of 80 discrete-value questions based on the six pillars. We analyzed 15 of the top brands and retailers based on revenue, reputation, and market presence. We visited each website to perform assessments of conversational features using our standard question sets.
To dive deeper into conversational capabilities, we utilized available chat or messaging features on websites. We would engage with a customer-facing representative to gain information on a specific product and ask both general and specific questions to evaluate the experience.
With this information, we would then assign scores using our standard question set and calculate scores for each pillar, each brand overall, as well as industry averages.
A Framework Built on Six Pillars
The CMI examines the current experience of a brand or retailer measured against six critical pillars of an ideal CX for today's consumer. Those pillars include:
Expertise, Empathy & Authenticity
Scalability
Personalized Engagement
Rich & User-Friendly Messaging
Omnichannel & Seamlessness
Business Drive
Expertise, Empathy & Authenticity
An exceptional conversational approach can provide genuine, humanized connections between shoppers and brand representatives. There's nothing more memorable about a digital experience than when a chat respondent recognizes needs and priorities 1:1 conversations that flow easily and invoke emotion. Those interactions represent what is measured in the "Empathy, Expertise, and Authenticity" dimension.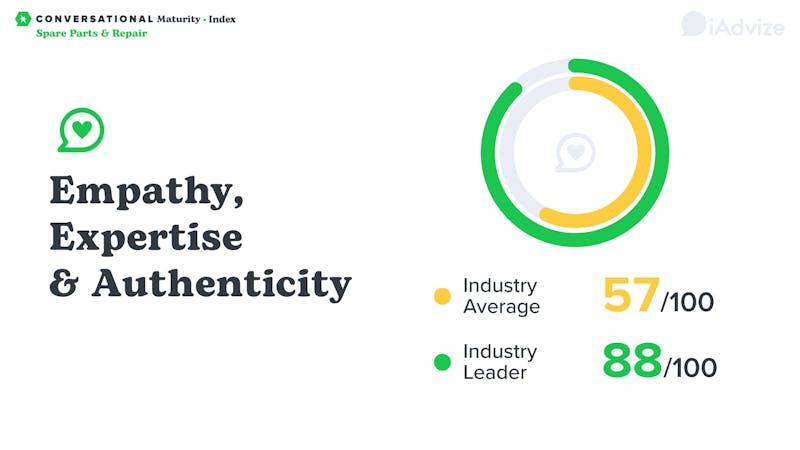 Scalability
Scalability can be challenging when it comes to delivering personalized conversations. Using chatbots to keep up with rising demands is a simple fix, but it can often lead to impersonal conversational experiences. Leading retailers use a mix of bots and humans intelligently and perform well on the "Scalability" dimension of conversational maturity.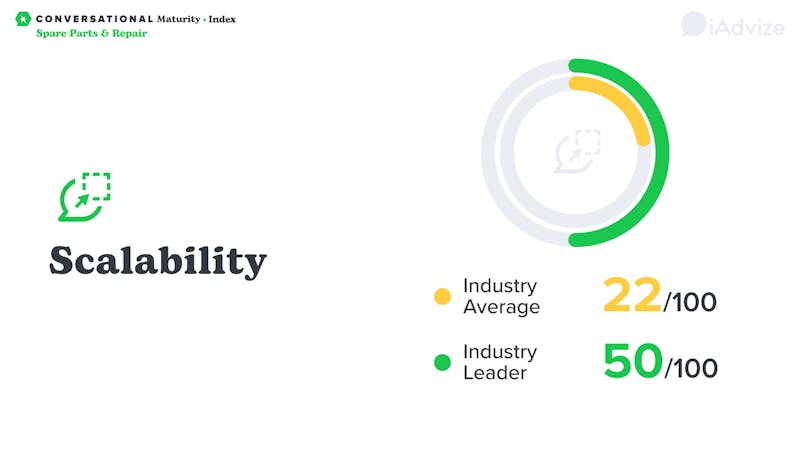 Personalized Engagement
Purchase history and browsing interest might seem like an obvious way to recommend products for customers, but these methods aren't necessarily personal. Forward-thinking retailers have human agents who foster personal connections to understand shoppers' true intents, needs, and questions while shopping online. These are the factors taken into account when looking at the "Personalized Engagement" pillar.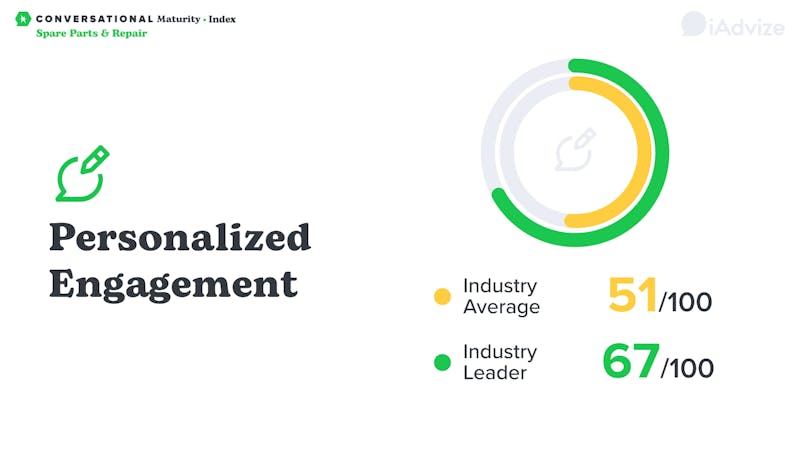 Rich & User-Friendly Messaging
In an online shopping environment, messaging should be integral to the digital experience. Ideally, messaging options should be easy to locate and use while blending seamlessly into the user interface (UI) which should match the branding and be uncluttered. Messaging should also open on that same shopping page, preventing the need for customers to switch back and forth between tabs. Retailers who lead in this dimension offer a rich, engaging multimedia experience that allows for consumers to even share emojis, photos, and documents.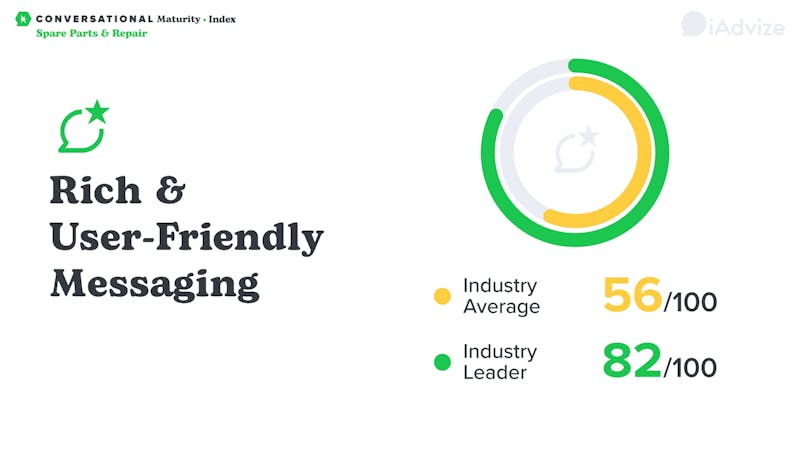 Omnichannel & Seamlessness
As online shopping becomes increasingly popular, brands and retailers need to offer support in various ways. Leaders use asynchronous messaging approaches, allowing customers to start a conversation with messaging and add to it overtime. They offer the ability for shoppers to have a complete conversation, or stay connected with messaging even after leaving the site. This signifies a job well done in the "Omnichannel & Seamlessness" category.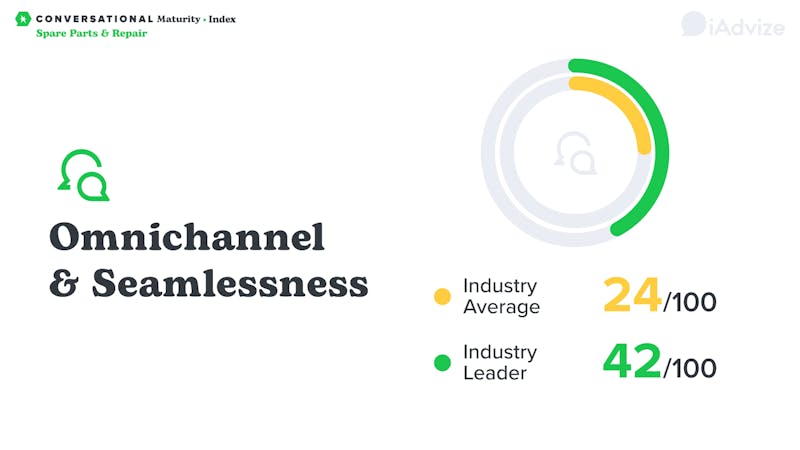 Business Drive
The first five pillars of conversational maturity are found in features and experiences delivered on a brand's external website or mobile app. Business drive, however, is the internal factor that underpins an organization's conversational efforts and thus can only be uncovered through close examination of a company's culture and values.
As the CMI and engage with more companies on their CMI scores, we'll have more insights and metrics about business drive to share.
How Spare Parts and Repair, Compares
Our previous CMI assessment reviewed the hardware industry. We found that the most conversational brands in hardware excelled in crafting authentic, personable experiences, something shared by spare parts and repair companies. By employing a strategy of pre-sales recommendations and buying process assistance, both industries make customers feel informed and confident in their purchases.
Companies in both the hardware and in the spare parts and repair industries score lowest in the Scalability pillar, as the use of conversational AI Chatbots was rare within either sector. Both industries scored highest in the Expertise, Empathy, & Authenticity and Rich & User-Friendly Messaging pillars.
Out of all the industries we have analyzed using the CMI industry assessment, Spare Parts and Repair was the most conversational, averaging a score of 41. Other industries that we assessed include hardware, sporting goods and outdoors, and consumer electronics.
What Industry is Next?
As we approach the dog days of summer, more people will begin to go back to their sunny day hobbies! That is why the next industry up on our CMI assessment is the pet and garden industry.
About the iAdvize Conversational Maturity Index
Launched in March 2021, the iAdvize Conversational Maturity Index (CMI) is a resource for brands to evaluate their digital strategy and benchmark against other companies in their industries. iAdvize independently analyzes well-known companies in select industries to report on the state of conversational maturity. In addition, brands can complete an online self-survey to understand the current state of their conversational initiatives.