15 Top CX Influencers to Follow
7min read - iAdvize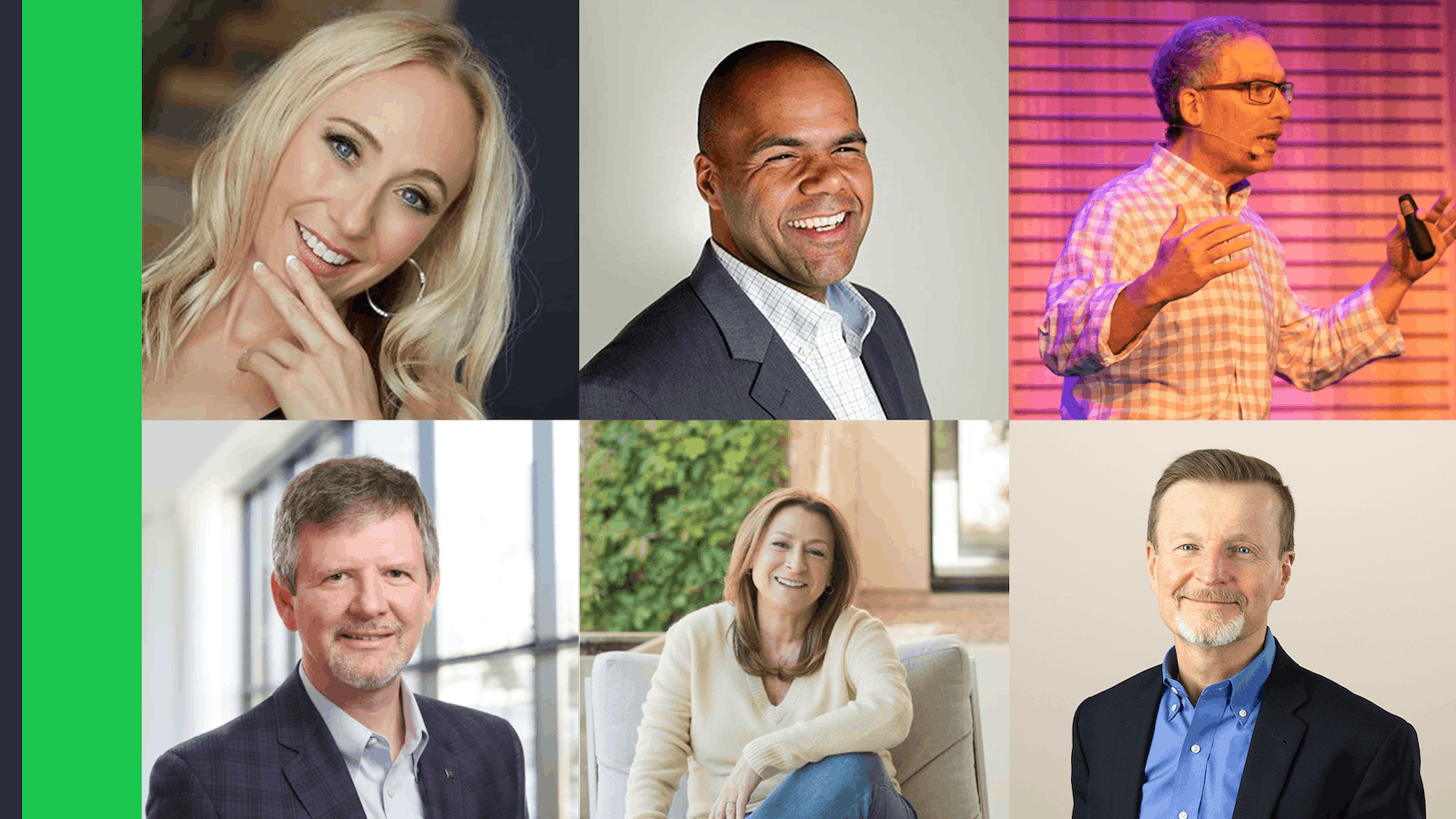 At iAdvize, we know that customer experience (CX) is an innately human discipline. And it's always evolving. That's why we never stop looking for great ideas and insights from CX thought leaders.

We believe it's important for all of us who care about customers to stay in touch with the latest trends in CX and customer service. So we've put together a list of the top 15 CX influencers to follow.

You can gain wisdom from following any or all of the people on our list. Because they're all amazing resources for CX knowledge, we've alphabetized them by last name instead of providing an ordered ranking. Check them out on Twitter, LinkedIn, other social sites, or follow their podcasts, tips, or blogs.

We're fortunate to have several thought leaders on our list scheduled as guests on our iAdvize Conversation With live streams. Tune in for insights from Shep Hyken, Adrian Swinscoe, Nate Brown, and other CX innovators during our fall 2020 live stream series.
Jeanne Bliss
Jeanne Bliss was a pioneering chief customer officer (CCO) for well-known brands such as Lands' End, Allstate, and Microsoft. A Customer Experience Professionals Association (CXPA) co-founder, she's spent nearly two decades providing CX coaching and consulting to over 20,000 executives. She aims to help companies create genuine experiences that foster enduring memories and help companies create passionate internal and customer advocates.

You can find Jeanne on Twitter (@JeanneBliss), LinkedIn, and Instagram (@CustomerBliss), or follow her blog.
"What's on the inside shows up on the outside. The most beloved and prosperous companies enable their people to live the best version of themselves." ~Jeanne Bliss
Kerry Bodine
With expertise in human-centered design, journey mapping, marketing, and branding, Kerry Bodine founded the customer experience consultancy Bodine & Co. in 2014. Her consultancy works with executives to co-create innovative products, services, and experiences that can define their company's future. Kerry also spent seven years as a vice president and principal analyst in the customer experience practice at Forrester Research.

Follow Kerry on Twitter (@KerryBodine) or on LinkedIn and keep up with her latest ideas on her blog.
"The Holy Grail of delivering a great customer experience is really about customer loyalty, and that is not created overnight. Customer loyalty is about many consistently good interactions over long periods of time." ~Kerry Bodine
Nate Brown
Having spent the first decade of this career managing a complex technical support environment for Occupational Health and eLearning software, Nate transitioned to Customer Experience 2015. Nate currently serves as the Chief Experience Officer for Officium Labs and can be found at a variety of conferences speaking and training on the CX topics he loves. As a passion project, Nate created CX Accelerator, a first-class virtual community for Customer Experience professionals.

Follow Nate on Twitter (@CustomerIsFirst) or on LinkedIn. You can also join his CX Accelerator community to connect with other CX professionals.
"If you are not excited about #CustomerExperience work, you aren't doing it right! The honor of making people's lives better and easier through outstanding experience design is a wonderful calling. We have the capability to reduce customer stress, improve business results, and enjoy an incredibly fulfilling career in the process." ~Nate Brown
Annette Franz
Author and speaker, Annette Franz is the founder of Customer Journey, Inc., a CX consulting company. A CXPA board member and leader, Annette has earned a reputation as a top CX thought leader on social media. Annette is passionate about the impact of employee experience and company culture on the customer experience.

Follow Annette on Twitter (@AnnetteFranz)or LinkedIn. You can also read his latest insight on his CX Journey blog.
"What is necessary is to listen to your customers: understand their needs, expectations, and jobs to be done, and design an experience that meets those needs. The same goes for your employees.
Continuous improvement is important. Needs change. Expectations change. Customers change. The business changes. Continue to innovate a great experience. Remember, it's a journey." ~ Annette Franz
Lynn Hunsaker
Lynn Hunsaker previously led customer experience and marketing at Applied Materials and Sonoco. A CXPA board member, Lynn is the Chief Customer Officer at ClearAction Continuum and a co-founder of the Clear Action Value Exchange. She is also a recognized author of CX benchmarking studies and handbooks and has served as an instructor several colleges in California, including UC Berkeley.

Follow Lynn on Twitter (@ClearAction) or LinkedIn or visit her ClearAction Continuum blog.
"Customers see your company in terms of your people's behaviors — not just the behaviors of customer-facing people, but everyone who sets and drives policies, processes, and handoffs throughout your company and its broader ecosystem." ~Lynn Hunsaker
Shep Hyken
A New York Times and Wall Street Journal bestselling author and world-renowned speaker, Shep Hyken is the Chief Amazement Officer of Shepard Productions. He's worked with hundreds of companies, large and small, to help them build loyal relationships with customers and employees.

Find Shep on Twitter (@hyken), follow him on LinkedIn, or tune in to his Amazing Business Radio show for interviews and insights from CX experts. And stay up-to-date with his latest CX ideas on his blog.
"Customer service is not a department; it's a philosophy. Creating an amazing customer experience is within everyone's grasp and beyond that, it is everyone's responsibility. A great service experience can serve as a differentiator and competitive advantage for your business, so it's imperative to make it a priority. After all, without customers, you don't have a business!" ~ Shep Hyken
Harley Manning
Harley is a research director in the customer experience practice at Forrester, and the co-author of Outside In: The Power of Putting Customers at the Center of Your Business. He founded Forrester's customer experience research coverage when he joined the firm in 1998 and today leads a team of analysts that cover enterprise-level customer experience topics ranging from strategy to metrics and business models. Previously, he spent 18 years designing and building interactive services for companies such as Dow Jones, AT&T, MCI, Prodigy, and Sears.

Follow Harley on (@hmanning)or LinkedIn. You can also read his latest insight on his Forrester blog.
"Focus on attracting customers who will find the experience your firm offers extremely compelling. Otherwise, marketers will shovel prospects in through the front door while customer experience (CX) professionals watch dissatisfied, one-and-done customers flow out through the back door, never to return." ~Harley Manning
Flavio Martins
Flavio Martins is the VP of Operations and Customer Support at DigiCert, Inc., a leading provider of enterprise authentication services and high-assurance SSL certificates trusted by thousands of government, education, and Fortune 500 organizations. Flavio is an award-winning customer service blogger, customer service fanatic, and on a mission to show that organizations can use customer experience as a competitive advantage.

Follow Flavio on Twitter (@FlavMartins), find him on LinkedIn, or read his Win the Customer blog.
"Customer service is active, not passive. Too many of us are stuck on "I want to...", "I'm going to..." and not enough of "I'm doing." "I did." You have within you all you need to make exceptional customer experiences. Training and practice will help create consistency in your results, but anyone has within themselves the ability to make outstanding things happen. It simply takes action." ~ Flavio Martins
Blake Morgan
Customer experience futurist, Blake Morgan is a speaker and author who is an adjunct faculty member at Rutgers University. Blake has consulted with many top-name brands including Accenture, Adobe, Cisco, and Verizon. She contributes CX thought leadership expertise to Forbes, the Harvard Business Review, and other publications.

Find Blake on Twitter (@BlakeMichelleM), listen to her "Modern Customer Podcast" "Be Your Own Boss Podcast," or read her articles.
Bill Quiseng
Bill Quiseng is an award-winning speaker, blogger and writer in the areas of customer service for front-line associates and leadership for managers. He has over thirty years of luxury resort/club management experience. Currently the general manager of Marriott Vacation Club Pulse San Diego, Bill was the general manager of The Inn at Bay Harbor‐A Renaissance Golf Resort, MI.

Follow Bill on Twitter (@BillQuiseng) or LinkedIn, or keep up with his latest CX insights on BillQuiseng.com.
"Taking care of the customer and caring for the customer are not the same thing. Know the difference." ~Bill Quiseng
Colin Shaw
Renowned as the author of a pioneering book on CX--Building Great Experiences--Colin Shaw is founder and CEO of CX consulting and training company Beyond Philosophy. His company has provided CX consultation to leading brands including American Express, Maersk Line, FedEx, and Caterpillar. Building on his history as an operational executive and consultant, Colin has authored seven books, appeared as a guest on major global media networks, and co-hosted a popular CX podcast.

Find Colin on Twitter (@ColinShaw_CX) or LinkedIn. You can also tune in to his Intuitive Customer podcast.
"The world has changed. Customer behavior has changed. The race is now for organizations to respond. It is clear that Digital transformation didn't go far enough and in many instances just digitized already flawed processes. In the new world, success lies in the fusion between digital and behavioral science to enable the humanization of technology. Only this new understanding will provide a much better, intuitive experience for customers." ~Colin Shaw
Adrian Swinscoe
Adrian Swinscoe is an independent advisor, speaker, and best-selling author on customer service, experience, and engagement. He's worked with a range of well-known brands as well as numerous fast-growing and entrepreneurial firms. Also, Adrian has authored best-selling books: How To Wow and PunkCX.

Follow Adrian on Twitter (@AdrianSwinscoe) or LinkedIn. You can also read his articles or listen to his Punk CX podcast.
"Too many customer experience programmes are formulaic affairs that produce expected yet disappointing results.

This is just like painting by numbers, you may create nice pictures but… it won't be art, and it definitely won't give you a chance of creating a masterpiece." ~Adrian Swinscoe
Bruce Temkin
Bruce Temkin calls himself an "experience management catalyst" with a mission of helping organizations dramatically improve business results by engaging the hearts and minds of their employees, customers, and partners. A former Forrester VP and principal analyst, Bruce is a co-founder of the Customer Experience Professionals Association (CXPA) and has advised hundreds of companies on CX best practices. Today, he serves as head of the XM Institute for Qualtrics.

Follow Bruce on Twitter (@btemkin) or LinkedIn or check out his Experience Matters blog.
"Customer feedback is cheap. Actionable insight can be valuable. Taking action on insight is precious." ~Bruce Temkin
Jim Tincher
Jim is a nationally recognized customer experience expert (CCXP), trainer, and passionate keynote speaker. He sees the world in a special way: through the eyes of customers. This lifelong passion for customer experience, and a thirst for knowledge, led him to found his journey mapping and customer experience consulting firm, Heart of the Customer.

Follow Jim on Twitter (@JimTincher) or LinkedIn or read his Heart of the Customer blog.
"When empathy is high, organizations are more likely to serve their customers better. They invest in the right initiatives and are rewarded with loyalty, which increases profits, which inspires further efforts to improve the journey." ~Jim Tincher
Jeff Toister
Jeff helps companies build customer-focused cultures. He is a best selling author who has written three customer service books, including The Service Culture Handbook. Thousands of customer service professionals from around the world subscribe to Jeff's Customer Service Tip of the Week email.

Follow Jeff on (@Toister) or LinkedIn. You can also read his Inside Customer Service blog or Customer Service Tip of the Week.
"The first step to creating a customer-focused company is to define what a great customer experience looks like through a shared customer experience vision. It's hard to pursue greatness if nobody even agrees on what that means." ~ Jeff Toister