By
Julien Hervouët
, CEO at iAdvize
Experience is the new product. In the era of the experience economy, conversation has become the key strategic component for companies that are thriving.
When iAdvize was created in 2010, and from the very beginning, we recognized the necessity for a more humanized digital experience. We were among the pioneers in this field. Back then, companies were focused on an automated — yet fragmented -- type of eCommerce, and our efforts convincing them to invest in human-centric support seemed like a wild goose chase.
Ten years later, and the world has changed. From the pioneers, we've risen to become the leader in conversational platform experiences.
Across the business landscape, CX is no longer just a priority, it has become the new product.
At the start of this new decade,
conversation is now more than ever the best experience brands can deliver. Messaging has been widely adopted, with 5 billion users worldwide
on their way to becoming the leading interface for managing user experiences.
The fact is consumers are becoming more and more demanding. They seek personalized and authentic expert advice. Who doesn't speak to friends or family that they consider knowledgeable in a certain field, before making a high-value purchase? It's that advice from a trusted expert that is changing how shoppers experience e-commerce. We witness this every day throughout the ibbü community, the on-demand experts available via messaging for iAdvize clients.
Successful companies in the next ten years will have adopted a conversational approach and focused on making customer experience their ultimate priority.
The end of a
"product economy"
era
Change is happening. New doors are opening at the start of this experience economy era.
However, at the start of this experience economy era, we can still change the game. New doors are waiting to be opened.
Buyers no longer only seek the best price. They want to live an experience. An experience that will make a difference in their day, that they can share and recommend to friends and family.
The experience revolution is growing, with 78% of American millennials preferring to spend money on an event or an experience rather than buy a product.
However, a major challenge remains:
The experience gap
The difference between customer experience expectations and what brands are offering has been a crucial topic for players such as Airbnb, Uber, Revolut, Deliveroo and Blablacar, who are disrupting their markets. Customer expectations are evolving, fueled by changing technology, communication and social standards. These companies have taken note of, and managed to address this gap to deliver a premium customer experience.
Conversation bridges
the experience gap
Digital leaders are delivering beyond the status-quo

How can this gap be bridged? The answer lies in conversation. It is the most natural human mode of communication, the unbreakable bond between all individuals.
Online conversation represents a unique opportunity for brands to get closer to their prospects and customers.
Our digitized universe is currently focusing around a specific form of conversation as the global and mainstream channel. Messaging. Adopted worldwide by every generation, messaging is the perfect platform for a communicating in a rich and seamless digital experience.
Messaging can be used to reduce friction points at every step in the customer journey - from awareness, to support, and through the transaction stage.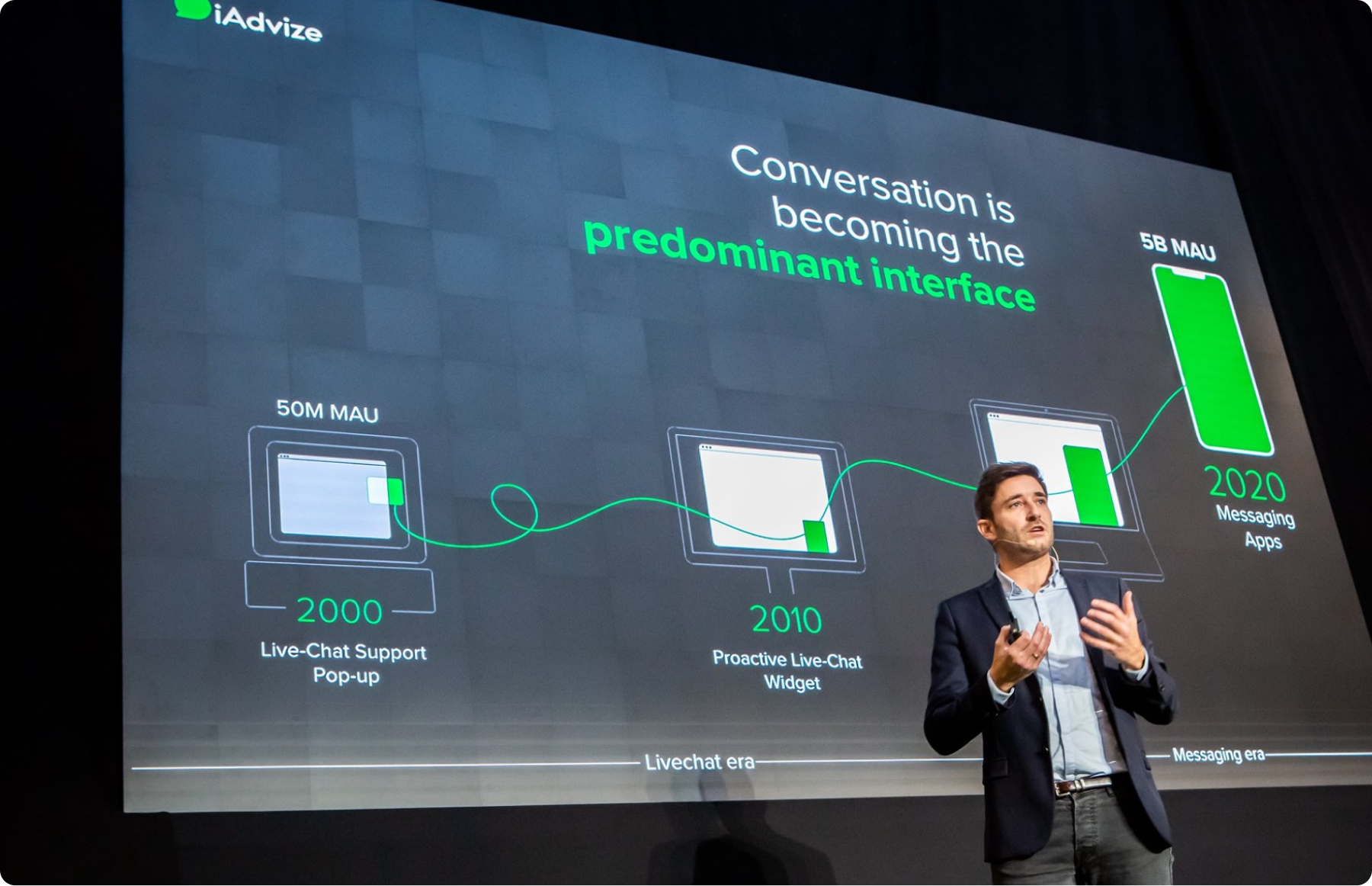 In this digitized universe, conversation obviously happens via a global, mainstream channel which is messaging. Widely adopted worldwide by all generations, this means of communication provides the perfect platform for a rich and seamless digital experience.
Messaging can be used to reduce friction points at every step in the customer journey - from awareness to support, through the transaction stage.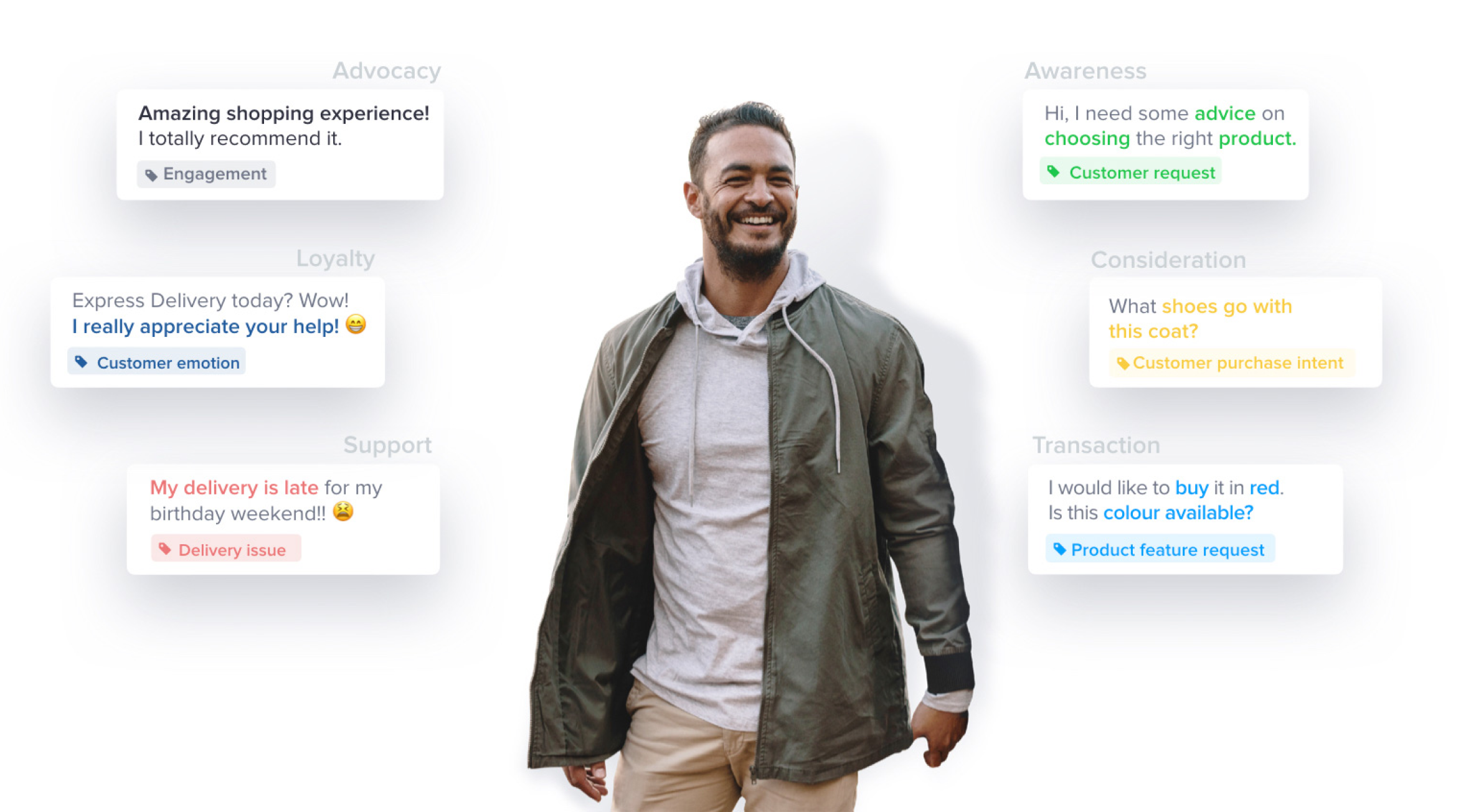 Since 2018, more and more brands have invested in an automated approach to handle large volumes of conversations. However, chatbots still don't completely meet customer expectations, particularly when it comes to delivering a meaningful and memorable experience.

T2 in 3 consumers are skeptical of chatbots and their ability to provide just as great an interaction as a live representative.. Consumers expect not only relevant, but considerate and empathetic communication with brands. In short, it all comes down to emotional intelligence — and therefore humanity. By combining the best of human and AI, conversation can become a powerful customer satisfaction generator. AI cannot replace humans, but it can elevate the entire experience.

The potential of conversation goes well beyond tackling friction points.
Conversations contain millions of key pieces of information (intent, expectations, issues raised, emotions, feedback…).
And when we analyze and learn from the conversations, we're discovering essential strategic insights that lead to further enrichment of the buyer's journey. A conversational experience gives brands the unique opportunity to really understand the consumer, to identify their experience gap, and find a personalized strategy to bridge it.
The future of eCommerce is conversational
In 2020, humanizing the digital experience is no longer a wild dream, it has become an essential survival skill. We will ensure that iAdvize and our conversational platform is the key ally for companies who have made it their goal to rise within this new experience economy.
Looking toward the decade ahead, I am more than willing to bet that the future of eCommerce is conversational.